I bet you know this scenario – you check out a wordless picture book, and then you realize you're narrating it with the skill of an iguana and you think, "HOW DO YOU EVEN READ THIS THING?!"
I remember one of my friends saying, "I hate reading wordless books because it takes so much effort on my part. With a regular picture book I can just read the words and not think about it."
It's true that wordless books take a little more effort. But I'm inclined to think they are worth it.
tips for reading wordless books
Look through it first. I almost never read a picture book before I read it with my girls, but when it's wordless, it really helps me out to have a basic idea where the story is going first so I don't miss critical plot points as we go.
Ask questions. I'm NOT a question asker when I read (we read the whole thing through and then talk about it afterward), but when it's a wordless book, I ask a lot of questions. "What do you think is going to happen next?" "What's she doing here?" "What does he think about that?"
Take Your Time. I'm a super fast reader, but I like that a wordless makes me slow down and pay attention to the details. The illustrations in a good picture book add a whole extra dimension to the story, and I sometimes forget to give them more than a passing glance. I like that I'm forced to look at the illustrations more in this book.
Let your child read it to you. If you have a pre-reader (or a reluctant reader), wordless books are a great way for them to experience books without stress or frustration. And I love seeing what my child notices when she's running the show.
And. . . . to get you started, here are ten of our favorite wordless books: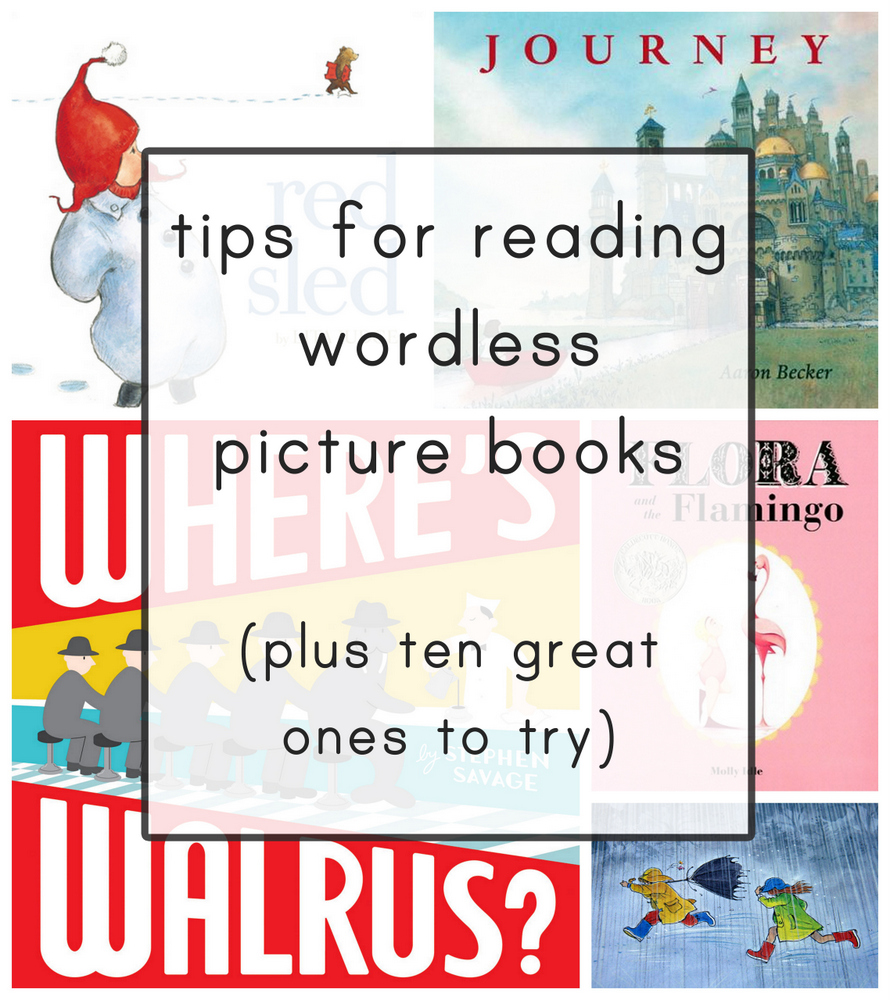 10 fantastic wordless books
Journey by Aaron Becker
Oh Journey. You really are the best picture book I've read in ages. Imagine if you could draw a door on your wall and then step into a magical world. There are lots of comparisons to Where the Wild Things Are and Harold and the Purple Crayon, but this one definitely earns its own place on the bookshelf.
Where's Walrus? by Stephen Savage
This sweet book about a walrus who flees the zoo on a sleepy afternoon and keeps hiding from the zookeeper is a family favorite. (You can watch a little video trailer for it too – Ella and I have watched it probably 50 times).
Rain by Peter Spier
This man is a master. We've had Rain since I was a very small child, and recently, we've discovered his Caldecott-winning Noah's Ark.
Tuesday by David Wiesner
No one does wordless books like David Wiesner. This one is a Tuesday night where frogs take flight. The very realistic illustrations make a terrific juxtaposition to the goofy idea of frogs flying about on lily pads. I also love Free Fall.
The Lion and the Mouse by Jerry Pinkney
I bought this book very shortly after it won the Caldecott and it is just such a gem. It's such a glorious retelling of Aesop's most famous tale.
Fox and Hen Together by Béatrice Rodriguez
Fair warning that this book is WEIRD. But it's also hilarious and fun, and it was Ella's absolute favorite for many weeks until we returned it to the library.
Good Dog, Carl by Alexandra Day
This classic series is about a little boy and his large dog who always manage to get into trouble while the mother isn't watching.
Wave by Suzy Lee
This is a pretty short book, and it's just perfect for a summer when you wish you were at the coast.
Flora and the Flamingo by Molly Idle
This one ups the wordless book ante by adding flaps. The dancing flamingo and exuberant little girl who wants to dance along will definitely make you smile. (There is a Flora and the Penguin coming later this year).
Red Sled by Lita Judge
This book isn't TECHNICALLY wordless, but the only words it does have are the noises the animals make (which is fun to read aloud!) when they discover a sled left outside and decide to take it for a spin. Red Hat, featuring the same cast of animals, is also fab.
P.S. Rainstorm by Barbara Lehman is on my list of wordless books to read. Also, Hank Finds an Egg is a recent find and it's charming.
And if you'd like a printable copy of this list of wordless boks that you can take to your library or screenshot on your phone for easy access, just pop in your email address below and it'll come right to your inbox!
if you liked this post about wordless books, you might like these other posts: