In the last couple of years, I have fallen in love with middle grade books. There are just some top-notch ones out there.Here are eight middle grade books I'd recommend this year, whether you're shopping for a boy or a girl, a reluctant reader or a complete bookworm.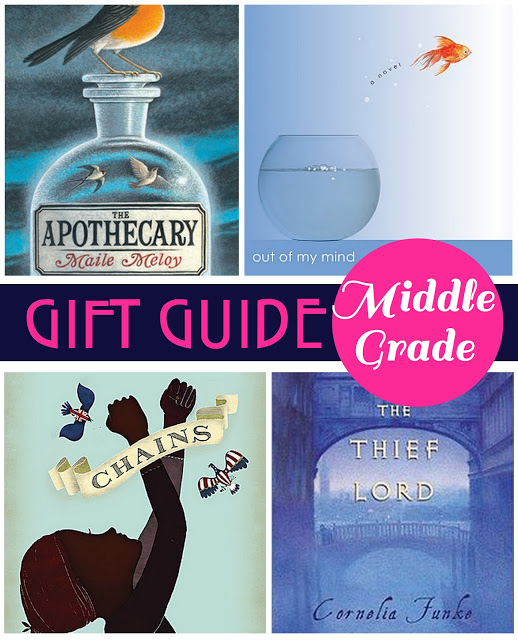 a gift guide of middle grade books
The Apothecary by Maile Meloy. Set in the early 50s, Janie's family moves to London from the US and her friendship with Benjamin, the son of an apothecary, means she's deeply involved when Benjamin's father is kidnapped. And of course, this means that they have to use some of the apothecary's potions which lead to some magical outcomes.
Out of My Mind by Sharon M. Draper. I read this on the airplane when I went to Portland and it just about ripped my heart out. Melody is born with some severe handicaps and many people believe she has no mental abilities at all, but she's actually extremely bright, just unable to communicate much. When she finally gets a computer that allows her to express her thoughts, her whole world is opened up, but she quickly realizes that her peers might not be as thrilled as she is that she can now speak.
Chains by Laurie Halse Anderson. This historical fiction novel about a slave girl during the Revolutionary War won all sorts of accolades a couple of years ago and it deserved them. Isabel has to come to terms with how she, as a slave, fits into America's dream and fight for freedom from England and what she is willing to risk to win her own freedom. Fabulously written.
The Thief Lord by Cornelia Funke. Bart and I listened to this on CD when we were commuting to grad school together and both loved it. Bart, in fact, has tried on multiple occasions to convince me to name a boy Prosper after the main character in this novel (no). I like most of Cornelia Funke's book, but this one, set in Venice, with two orphaned brothers who get caught up with a little gang of street urchins who are supported by another mysterious kid who calls himself "The Thief Lord." Funny, quick-paced, and clever.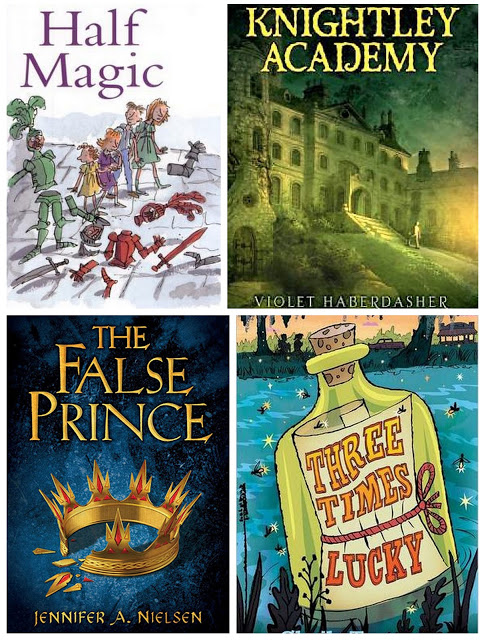 Half Magic by Edgar Eager. I have loved this book for twenty years. Every time I read it, I marvel again at how fun and clever it is. When four siblings find a coin that grants them half of any wish they make, the outcomes are hilarious and sometimes terrifying.
Knightley Academy by Violet Haberdasher. This got touted a lot as a Harry Potter readalike and I can definitely see what they're talking about – orphan kid, selective school, adventure story. But it doesn't have that rip-off feel and I loved it. Henry is a servant, but he manages to take the entrance exam for the prestigious Knightley Academy and get in as the first commoner. But there are a bunch of other students who are NOT happy about having commoners in the school and they are willing to make life pretty miserable for Henry. I haven't read the rest in the series, but when my kids are little older, I plan to read them all!
The False Prince by Jennifer A. Nielsen. This book got all sorts of buzz this year and it was really excellent (it's the first of a trilogy). The kingdom is in disarray and Conner, an ambitious nobleman, recruits four orphans to be possible stand-ins for the king's long-lost son. Of course, then Conner's plan is to act as puppetmaster to the new "king." But one of the orphans, Sage, is so defiant he might get himself killed before he has a chance to be chosen as the false prince. As Conner trains the orphans at his manor home, Sage has to decide how far he's willing to go in pursuit of the crown and a life of riches and lies. And he has to do this all while avoiding the snares the other orphans are setting to secure the spot for themselves.
Three Times Lucky by Sheila Turnage. Eleven-year-old Mo was found floating on half a billboard as a baby during a hurricane. Since then, she's lived with the Colonel who found her (and lost his memory during the hurricane) and Miss Lana – together they run a cafe and Mo dreams of finding her real mother. But when someone in town is murdered, and she and her partner in crime-solving
set out to find the killer, suddenly it doesn't seem quite so important to find her mother. Reminded me a bit of Savvy with the large cast of quirky characters and a spunky main girl (although no magical powers).
And if you'd like a printable copy of this list that you can take to your library or screenshot on your phone for easy access, just pop in your email address below and it'll come right to your inbox!
if you liked this post about middle grade books, you might also like these other posts: