I won't lie – I'd be happy to live somewhere with no winter for the rest of my life.
I never minded the pretend winters in Las Vegas growing up, and I loved the even MORE pretend winters in Arizona (one year that we lived there, I literally never stopped wearing sandals the entire year).
But one upside to living somewhere with snow and legit cold temperatures is that spring is basically the the. best. thing. ever.
In April (or March if we are lucky), that sunshine comes out, things start to look green again, birds are chirping, and my happiness level is through the roof.
I'm all in on springtime weather.
And so it'd be wrong not to be all in on spring books too.
Here are 12 kids books about spring that are helping me soak up this glorious season a little bit more.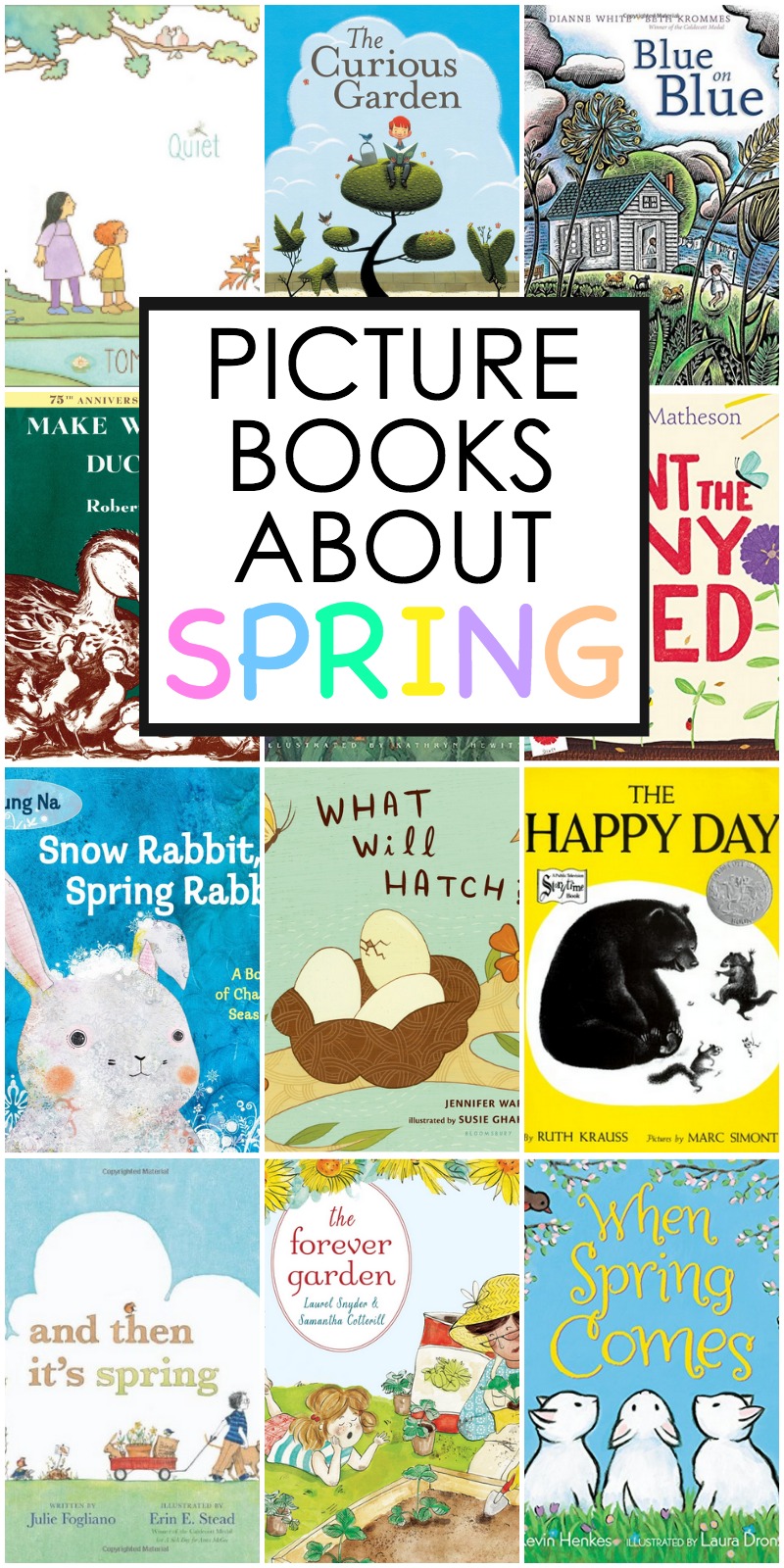 12 Children's Books about Spring
And Then It's Spring by Julie Fogliano, illustrated by Erin E. Stead
I LOVE this book about a little boy and his dog who, after a long snowy winter, look out at the brown everywhere in their yard and decide they're going to plant a garden. Of course, gardening involves a LOT of waiting, but they are patient and eventually, finally, the transformation begins and spring starts to appear.
When Spring Comes by Kevin Henkes
This sweet book, aimed at younger readers, shows the world slowly changing from dark skies and snowy ground into a wonderland of grass, flowers, and baby animals. It is gorgeous. And if you love Kevin Henkes, he also wrote My Garden and Egg, both of which are perfect children's books about spring.
The Forever Garden by Laura Snyder, illustrated by Samantha Cotterill
Honey loves her garden and Laurel, the little girl who lives next door, loves coming over to help Honey take care of the garden. Then Honey has to move, and Laurel is not only devastated to lose her daily dose of friendship from her neighbor but deeply concerned about what will happen to Honey's garden when she leaves.
Snow Rabbit, Spring Rabbit: A Book of Changing Seasons by Il Sung Na
I love Il Sung Na's books and this one, about changing seasons, is no exception. The beautiful illustrations bring to life the animals that fly south for the winter and then return when warmer weather arrives and the animals that snuggle in for hibernation, appearing back above ground when the snow melts.
What Will Hatch? by Jennifer Ward, illustrated by Susie Ghahremani
There is something so magical about waiting for an egg to hatch, and in this book each page shows a different egg and lets you guess what animal will emerge when the egg cracks.
The Happy Day by Ruth Krauss, illustrated by Marc Simont
This book received a Caldecott Honor back in the 50s and it's still so charming, following a group of animals that hunker down when the snow begins to fall and then awake to find that something is different. Could spring finally have arrived?
Make Way for Ducklings by Robert McCloskey
I've loved this Caldecott winner my entire life and the story of two ducks who find a place in Boston to raise their little brood of ducklings just makes the whole world feel like springtime to me, even with it's single-color illustrations.
Plant the Tiny Seed by Christie Matheson
If you've loved her other interactive books, you'll enjoy this fun spring book where you clap, tap, and wave to make the seeds grow into beautiful flowers.
The Curious Garden by Peter Brown
I've long loved this book about a little boy in a city who finds an abandoned garden and decides to take on the responsibility of caring for it, eventually turning it into a botanical wonderland that transforms the entire city. I included this book in my list of favorite titles for Earth Day!
Flower Garden by Eve Bunting, illustrated by Kathryn Hewitt
Gardens aren't just for the suburbs or farms. In this sweet children's book about spring, a little girl and her father work together to create a window box garden for the little girl's mom in their city apartment.
Blue on Blue by Dianne White, illustrated Beth Krommes
I am obsessed with Beth Krommes scratchboard art (she won the Caldecott in 2009 for The House in the Night) and this one about a rainstorm on a farm followed by beautiful sunshine landscape is spectacular.
Quiet by Tomie dePaola
This one isn't technically a spring book, but the feel of it is so spring-y to me that I couldn't help but include it. The world has come alive with bugs, buzzing bees, soaring birds and rustling leaves and everything feels so fast-paced. But if you take a moment to be quiet and still, you can soak it all in instead of letting it rush by you.
And if you'd like a printable copy of this children's books about spring list that you can take to your library or screenshot on your phone for easy access, just pop in your email address below and it'll come right to your inbox!
Any other spring books for preschoolers or elementary kids I've missed?
If you liked this list of children's books about spring, you might also like these posts: