These carrot cake muffins are a delicious treat, perfect for an Easter breakfast or anytime you have extra carrots you'd like to use up! And with the cream cheese filling, you can't go wrong. 
The first time I made these muffins, we lived in North Carolina.
The morning was cold, but clear, and a friend and her two little boys came over for a playdate.
There had been some snow warnings, so after she headed out, Bart fed the girls lunch while I ran to the grocery store to do my weekly shopping.
As I was checking out, it started to snow. Hard.
We lived just a few blocks from the grocery store (like. . . two blocks), so I had no trouble getting home, but within an hour everything was coated (you can see a photo of the view from my office windows that day). By early evening, our entire street was just one blanket of white.
Duke was closed on both Thursday and Friday, and the snow just kept coming down.
People were abandoning their cars in the middle of the road (it took my friend more than two hours to get home – usually a 30 minute drive), and we ended up staying home until Saturday, when the sun came out and the snow started melting quickly.
It was Valentine's Day weekend, but since basically the whole city was shut down, we didn't even attempt to go out.
Obviously, on such a snow weekend, you bake.
And I made these carrot cake muffins I've been meaning to make for some two years, because I'm nothing if not prompt.
It was so peaceful baking during quiet time and nap time, and even all these years later, I still remember that afternoon so fondly.
And these carrot cake muffins? A highlight of that weekend.
I already enjoy carrot anything and filled with sweetened cream cheese?
Sign me up for the next snow day (except don't).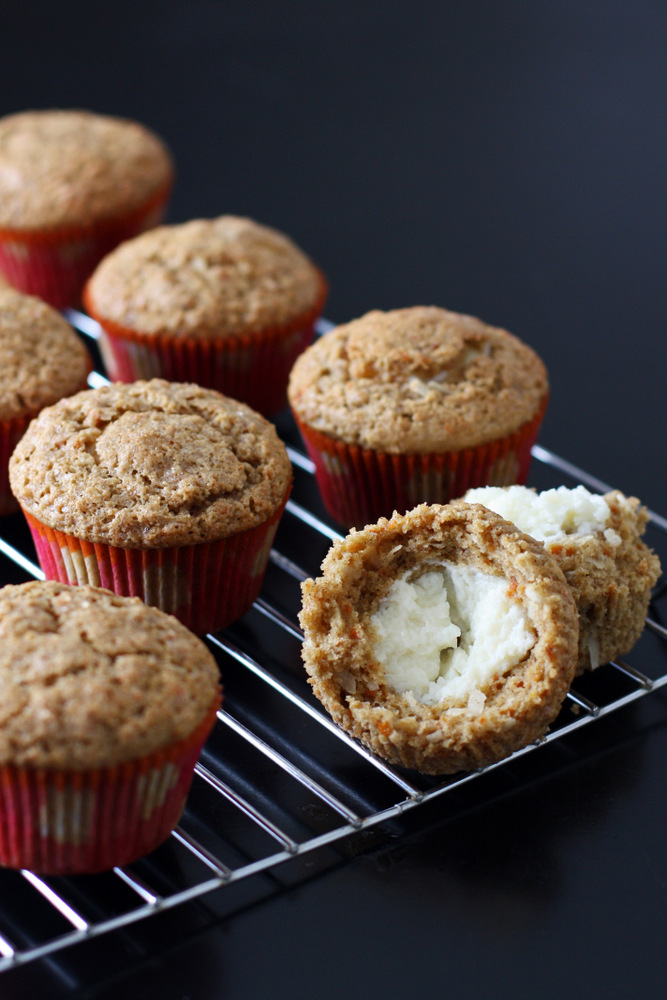 Carrot Cake Muffins Recipe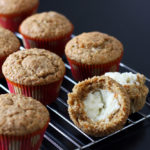 Inside Out Carrot Cake Muffins
Servings
14
muffins (I know, I'm sorry)
Ingredients
Cream Cheese Filling:
6

oz

softened cream cheese

1/4

cup

granulated sugar

1/2

teaspoon

vanilla extract
Muffin Batter:
2

eggs

3/4

cup

water

1/3

cup

coconut oil

1

teaspoon

vanilla

2 1/4

cups

flour

1/2

cup

granulated sugar

1/4

cup

packed brown sugar

1 1/2

teaspoons

baking powder

1/4

teaspoon

baking soda

1 1/2

teaspoons

ground cinnamon

3/4

teaspoon

ground ginger

1/4

teaspoon

ground nutmeg

3/4

teaspoon

salt

1/2

cup

shredded coconut

4

carrots

finely grated

Coarse or regular sugar granulated for sprinkling
Instructions
Preheat the oven to 400 degrees. Line muffin tins with paper liners or grease. Set aside.

In a small bowl, whisk together the cream cheese, granulated sugar, and vanilla extract until smooth. Set aside.

In the bowl of a stand mixer, beat the eggs, water, oil, and vanilla together until smooth. Add the flour, both sugars, baking powder, soda, spices, and salt, and stir until just barely combined. Quickly fold in the carrots and coconut.

Fill the muffin tins 1/3 full with batter, then divide the cream cheese filling between the muffins cups (try to keep it from touching the sides of the muffin tins. Then put an additional scoop of batter on top of the filling to cover the cream cheese. Tins should be about 3/4s full.

Sprinkle with coarse sugar and bake for 22-25 minutes, until the tops are browned and spring back when you press gently on the top.

Let cool for about 20 minutes before serving.