If I lived in Utah, very very near my mother-in-law, I would think about making my own jam (and by that, I clearly mean I would think about going over and sitting on her couch while she made jam and then taking many jars of it home and telling people I made it).
As it is, jam making is not high on my list of items to make myself
because it just seems like an enormous freaking pain and mess and also jam is not very expensive to buy at the store. (Also, it comes in these cute little glass jars, so I have to keep buying it so I can have MORE of those jars). And at the end of the day, it's jam. Which is kind of a normal, non-exciting product.
Lemon curd, though, is pretty much the exact opposite for me. It seems impressive because lots of people have never had it. It costs a fortune at the grocery store. And it takes about eight minutes to make.
Sometimes, when I need a really fast birthday/housewarming/misc present and I don't have time to go to the store, I make a quick batch, pour it into a clean jam jar (see? I need those jam jars), tie a ribbon around it and voila! Fancy.
Or, more often, I make it so we can put it on waffles or pancakes and then I end up making tons more batches of waffles and pancakes and biscuits just so we have something to put lemon curd on (or, I just give in and eat it with a spoon. Or over ice cream).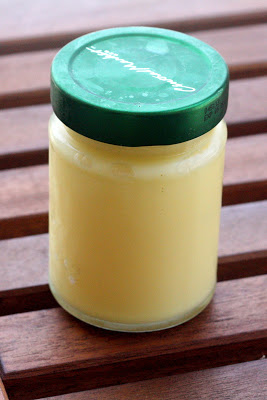 Lemon Curd
Ingredients
1/2

cup

lemon juice

1/2

cup

sugar

3

eggs

6

tbsp

unsalted butter, melted
Instructions
Combine juice, sugar, and eggs in a blender/food processor and blend for about 15 seconds. With the blades running, slowly pour in the melted butter.

Pour the mixture into a saucepan and bring to a low boil over medium heat (this may take a few minutes). Stir frequently.

As soon as it reaches a boil, lower the heat to just above low and stir constantly until the mixture resembles pudding (it should coat the back of your spatula/spoon) and is a little bit shiny. This should only take about two to three minutes after it's boiled. 

Pour into a jar or bowl and let cool a bit before serving or storing.
Recipe Notes
Keeps in the fridge for up to 2 weeks.
adapted from Williams-Sonoma Muffins Cookbook