Have you ever made homemade vanilla extract? It's super simple and is the perfect gift at the holidays (plus, use these gorgeous printable tags to make it extra special!)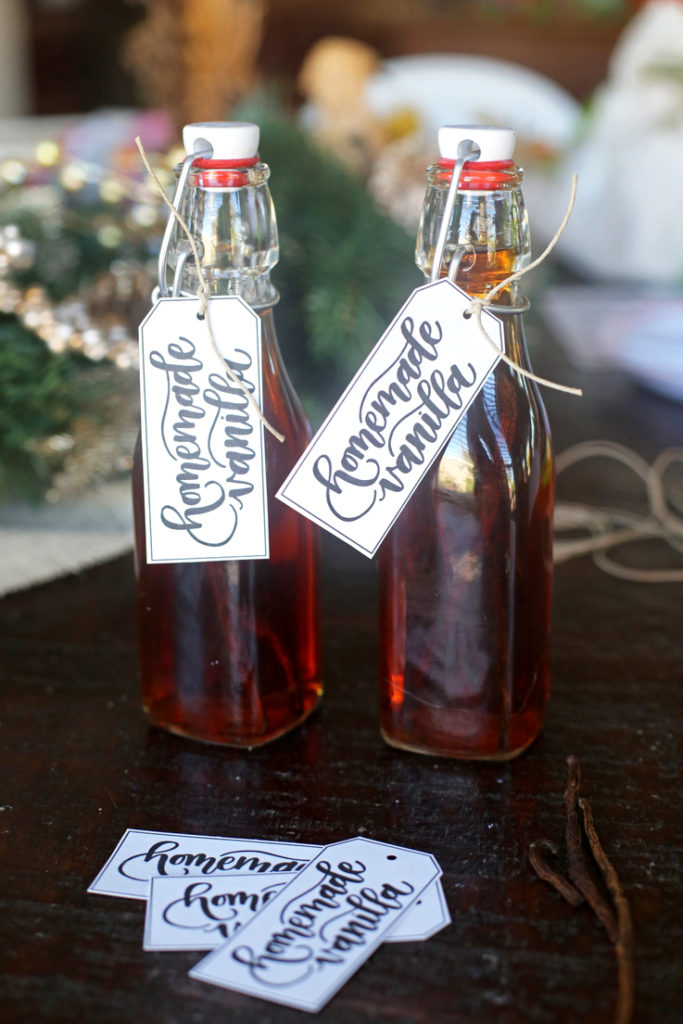 I love a neighbor gift as much as the next person, but I'm always on the lookout for something that isn't a plate of cookies, because by mid-December, the last thing I want is more sugar.
Or at least, the last thing I WANT to want is more sugar.
A couple of years ago, when we spent Christmas with my parents after returning form London, I went around with her to deliver Christmas gifts to a few friends in the neighborhood and she took cute bottles of Mrs. Meyer's Cleaner with a big ribbon and sprig of holly on them. Every single person commented how grateful they were for a useful and non-sweet item.
Two years ago, I made these "Chili in a Jar" gifts, which were super popular because everyone appreciates some real food that takes five seconds to get in the crockpot during the insanity of the holidays.
Last year, I was on the hunt for another good option and settled on homemade vanilla extract.
I've been making my own vanilla extract for about four years, and I'll never go back. It's SO much cheaper than buying vanilla extract and it tastes a thousand times better than artificial vanilla.
And it makes a great gift because it's not super expensive (even though the cost of vanilla beans keeps rising!), it has a personal touch, and they can use it whenever they want, instead of being forced to eat cookies RIGHT THIS MINUTE.
I order my vanilla beans on Amazon because it's the cheapest I've found them.
Also, since it takes a while for it to turn into vanilla, now is a great time to make a big batch, put it away in your pantry or on a high shelf and then when mid-December rolls around, you're ready to go.
I don't have beautiful handwriting, but my friend Lisa from Handlettered Design does the most gorgeous hand lettering and she made these pretty printable gift tags to tie on the bottles – aren't they gorgeous?
If you'd like a free copy of these homemade gift tags, just pop in your email address and I'll send them right to your inbox!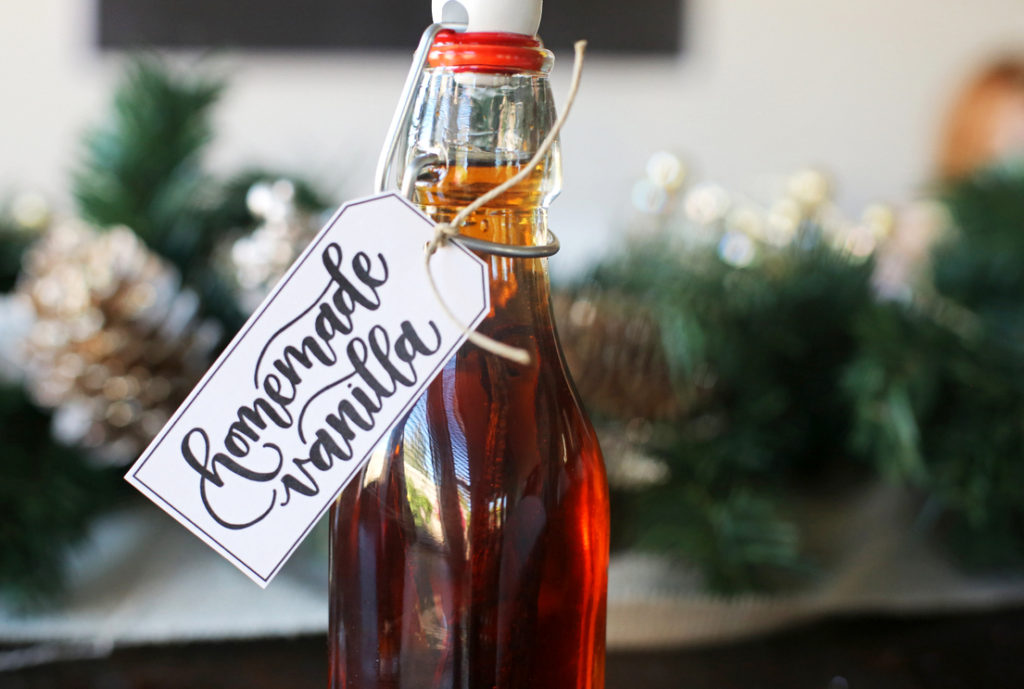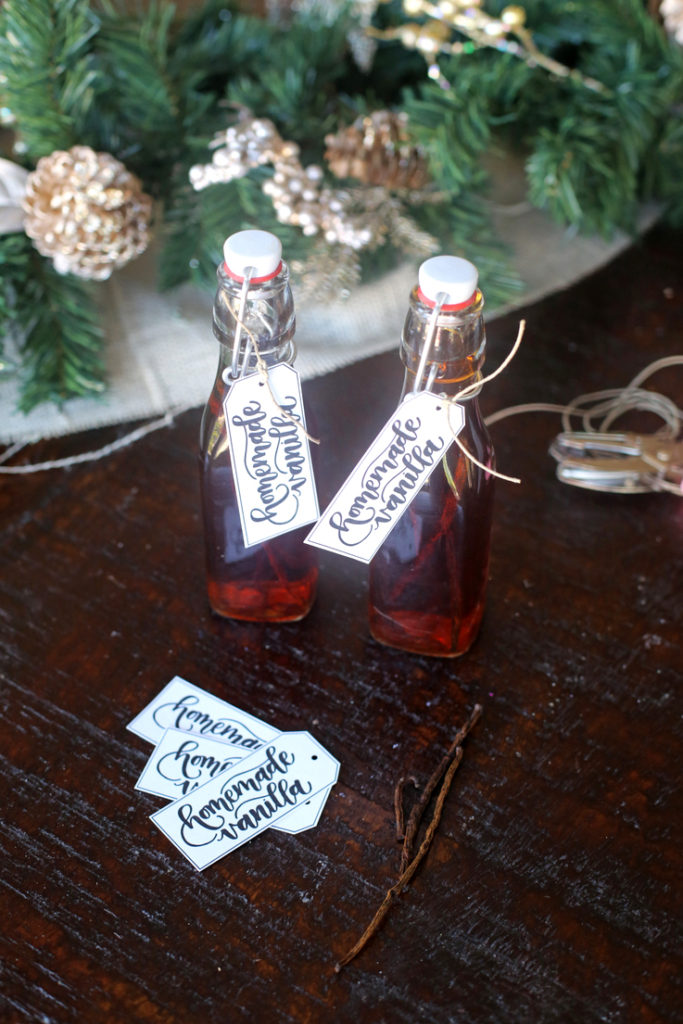 How to make homemade vanilla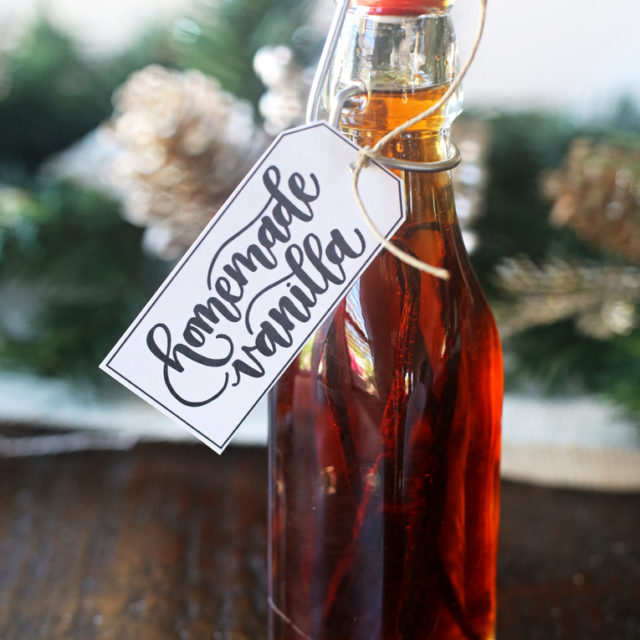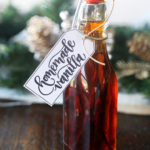 Homemade Vanilla
Ingredients
1

bottle

vodka

don't worry about quality, just buy whatever is cheapest

Vanilla Beans

I buy mine from Amazon (most affordable - http://bit.ly/2z0qSJG)

Glass bottles

I like the ones from World Market (http://bit.ly/2fYwfjC)

Printable Tags
Instructions
For each bottle, you'll want about 3-6 vanilla beans (depending on how fast you want it to turn into vanilla extract and also how strong you want it to turn out).

With a sharp knife, split the bean in half (I cut mine so they are open but still connected like a hot dog bun) and put into the jar.

Fill with vodka, close the jar and shake gently.

Tie on a label and put them away, shaking them every couple of days or weeks, until you're ready to hand them out as gifts!
Recipe Notes
Some people strain their vanilla before they give it as gifts so it looks clearer, but I really like the little flecks of vanilla beans for additional flavor and because I like the look of it in baked goods.
Also, the longer it sits, the better it'll get. My current bottle is about a year old (I just stuck an entire package of 30 beans in the whole bottle of vodka and keep it in my pantry) and it's fantastic.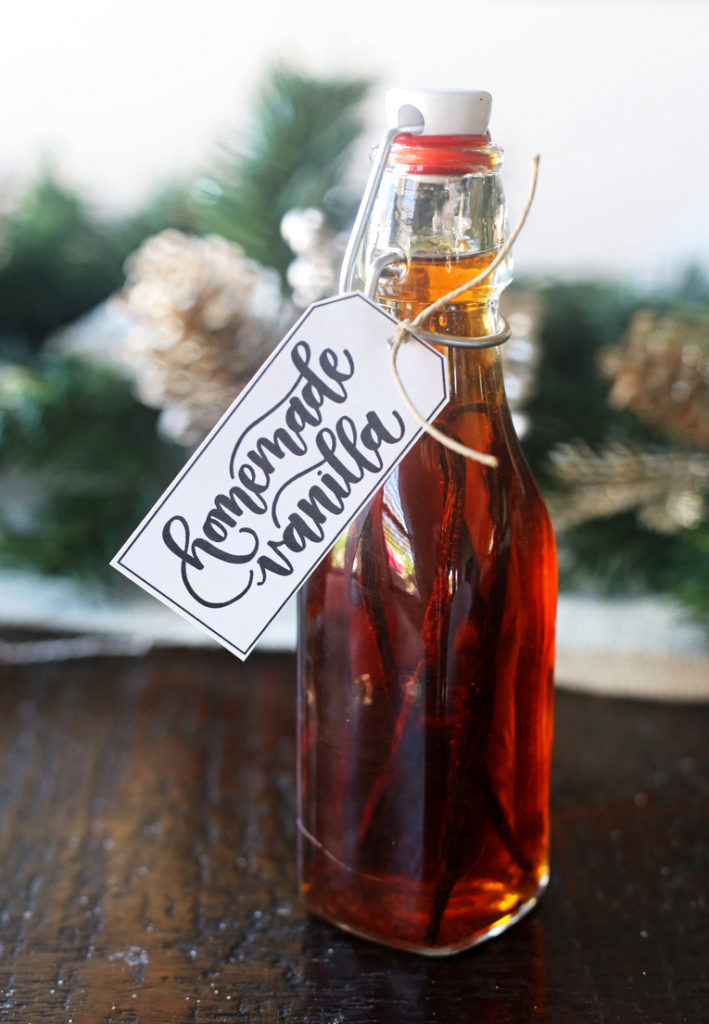 Once you are finished, tie on the free homemade gift tags and put them away, shaking them every couple of days or weeks, until you're ready to hand them out as gifts!
And then pat yourself on the back for being ready for the holidays way ahead of time.
If you liked this post about how to make vanilla extract, you might like these posts too: