This Broccoli Potato Cheese Soup is the perfect winter dinner – cozy, creamy and absolutely delicious! Even the people in my family who don't love broccoli (that's me!) are fans.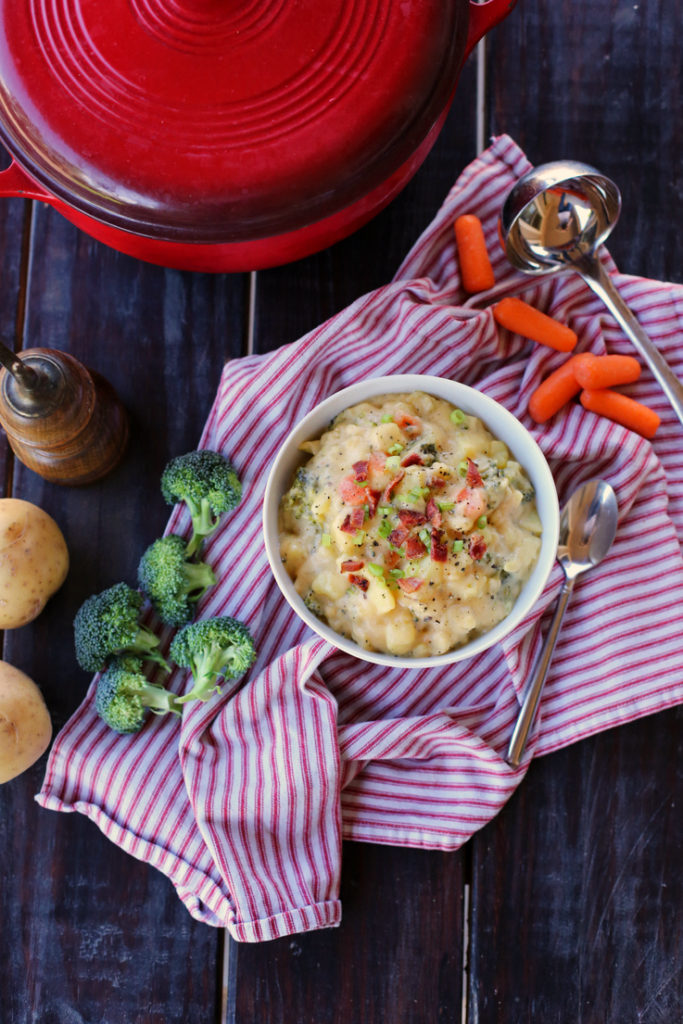 I love Sunday mornings.
We don't have church until after lunch, so it gives us a leisurely morning, with plenty of time to make breakfast, read books on the couch, play some games, give the girls baths, get everyone ready, and have lunch before we head out.
It's really quite delightful.
Of course, it also means that either I have to think about dinner before we go to church or we have to eat pancakes for dinner (for most of the summer of 2016 when I was pregnant and feeling lousy? Pancakes. I believe that's the classic Sunday night dinner of olden days, right).
But when we decided to start having fancy Sunday dinners, I've tried a little harder to get dinner going before we head out to church.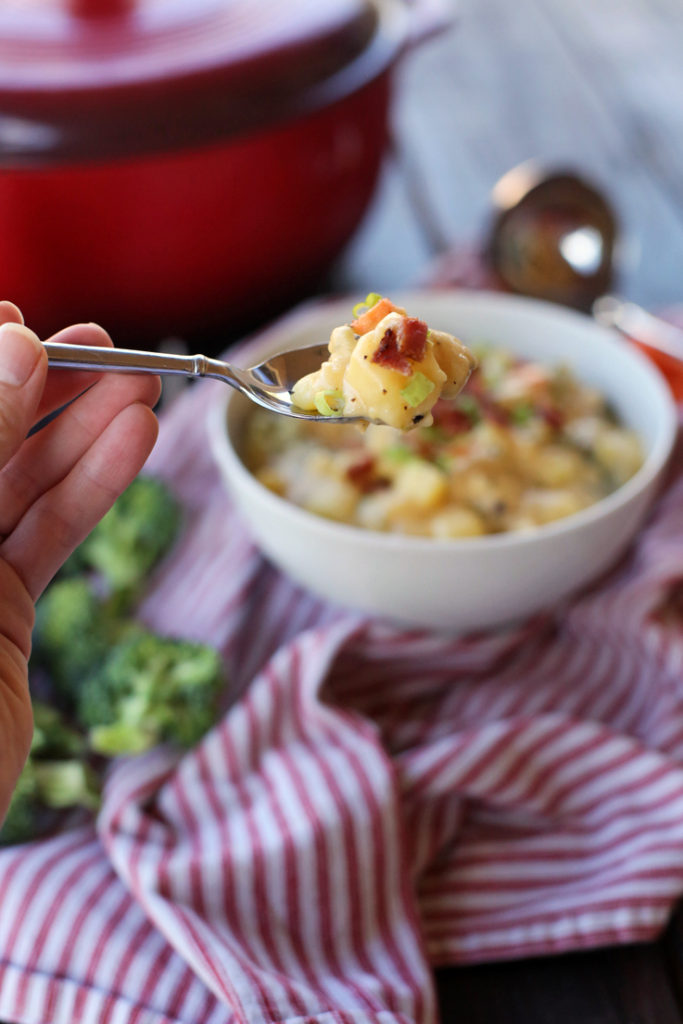 On a recent Sunday, I made this broccoli potato cheese soup in the morning, stuck it in the fridge, and it was all ready to be warmed up for dinner when we got home. Add some rolls (best rolls I've ever made, by the way) and a salad, and voila! Dinner is served.
I may or may not have snuck a tiny bowl before church too. I'll never tell.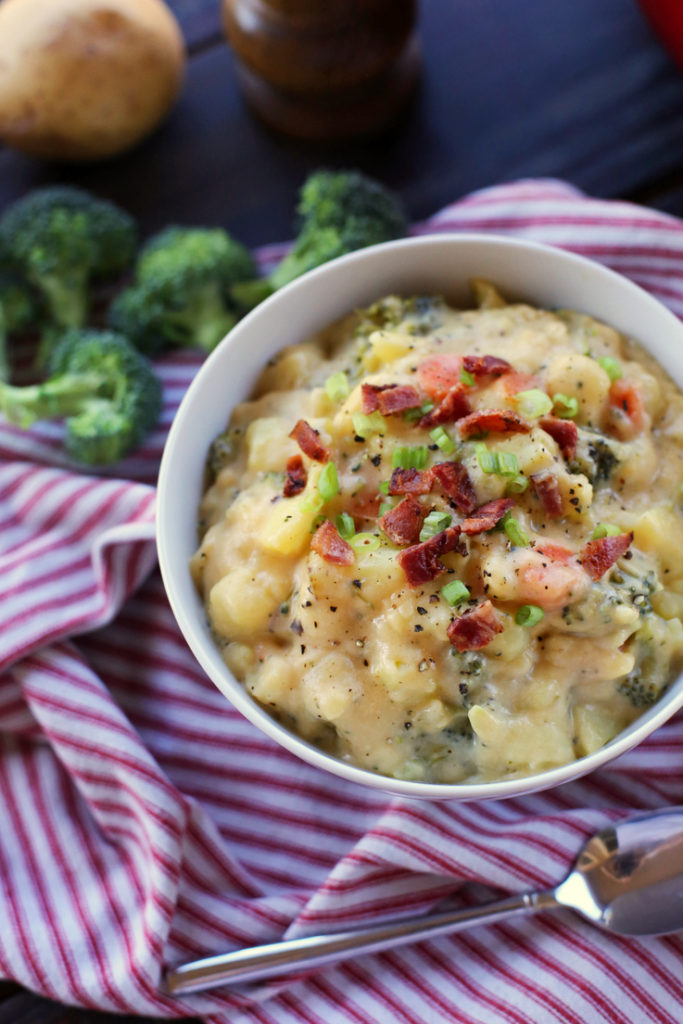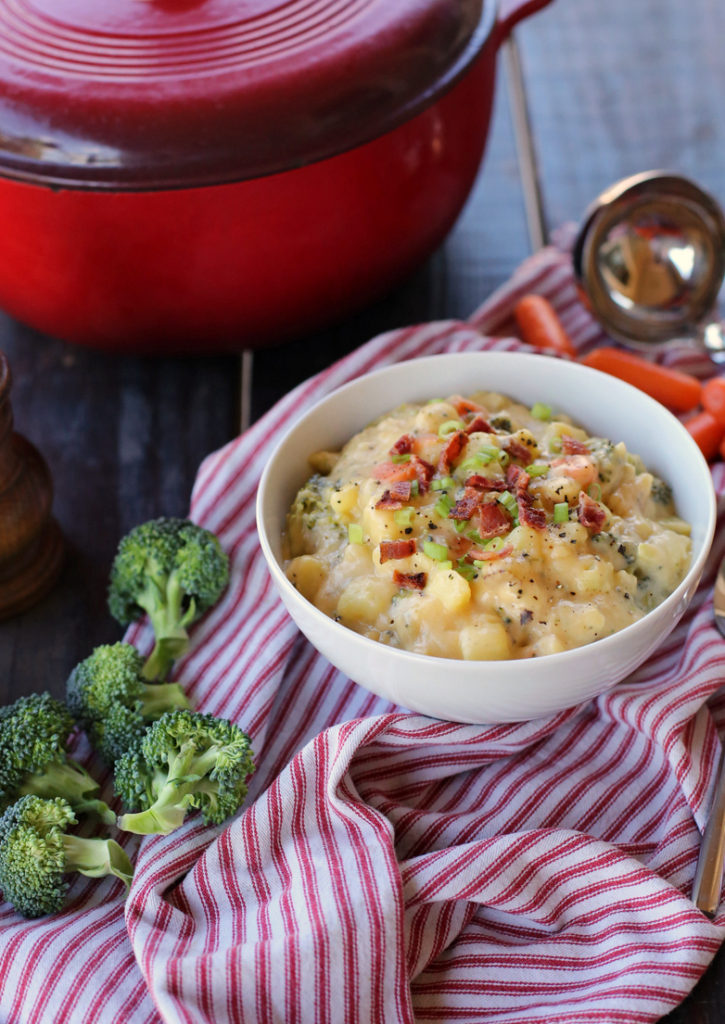 Broccoli Potato Cheese Soup with Bacon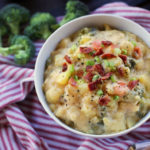 Cheesy Potato and Broccoli Soup with Bacon
Ingredients
3

cups

chicken broth

2-3

medium carrots

sliced thinly (I never bother to peel them)

2-3

stalks of celery

sliced

3-4

peeled and diced potatoes

I used Yukon Gold

1

yellow onion

diced

4

cups

chopped broccoli

6

slices

bacon

1/3

cup

flour

3

cups

milk

16

ounces

shredded cheddar cheese

1

teaspoon

salt

1/2

teaspoon

pepper

1

teaspoon

dried mustard

Chopped chives or green onions

optional
Instructions
In a dutch oven (I have this one from my in-laws a few years ago, and I LOVE it) or stockpot, bring the broth, carrots, celery, potatoes, and onion to a boil, then reduce the heat to a simmer. Stir, and cover the pot and let cook for 10 minutes until the vegetables start to soften.

Meanwhile, cook, in a large frying pan, cook the bacon until crisp. Drain the bacon on a paper towel-covered plate, leaving the bacon drippings in the pan.

Add the broccoli to the large pot of vegetables, cover and let cook for another 10 minutes.

Whisk the flour into the bacon drippings (if it's totally gross to you to use bacon drippings, wipe out the pan and use 3 Tablespoons of butter instead, but really why would you bother cleaning the pan an extra time and waste all the bacon flavor?). Let the flour and drippings cook, stirring constantly, for about 30-60 seconds. Pour in the milk, whisking all the while, and let cook until it starts to bubble and thicken (about five minutes), whisking frequently.

Add the cheddar cheese to the milk mixture in four parts, mixing well between each addition to let it melt. Add the salt, pepper, and dried mustard, then add to the pot of broth and vegetables.

Sir thoroughly to combine, crumble in the bacon slices and salt and pepper to taste.

Top with chopped chives or green onions, if desired, and serve warm!