A few weeks ago, Ella was at school, Ani was at a little Halloween party with some friends, and Tally was napping.
I asked Star what she wanted to do together while she had me all to herself and she immediately responded "Cooking lessons!"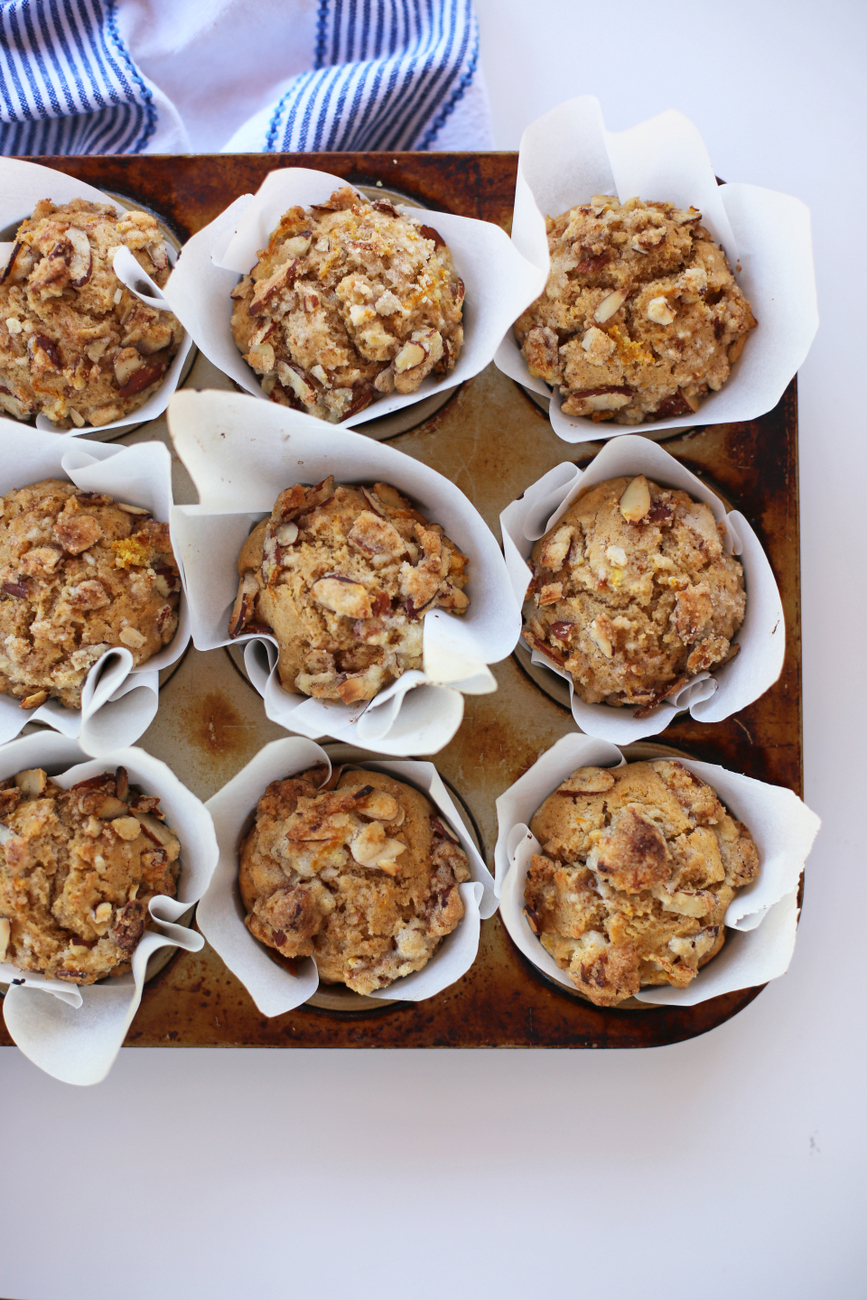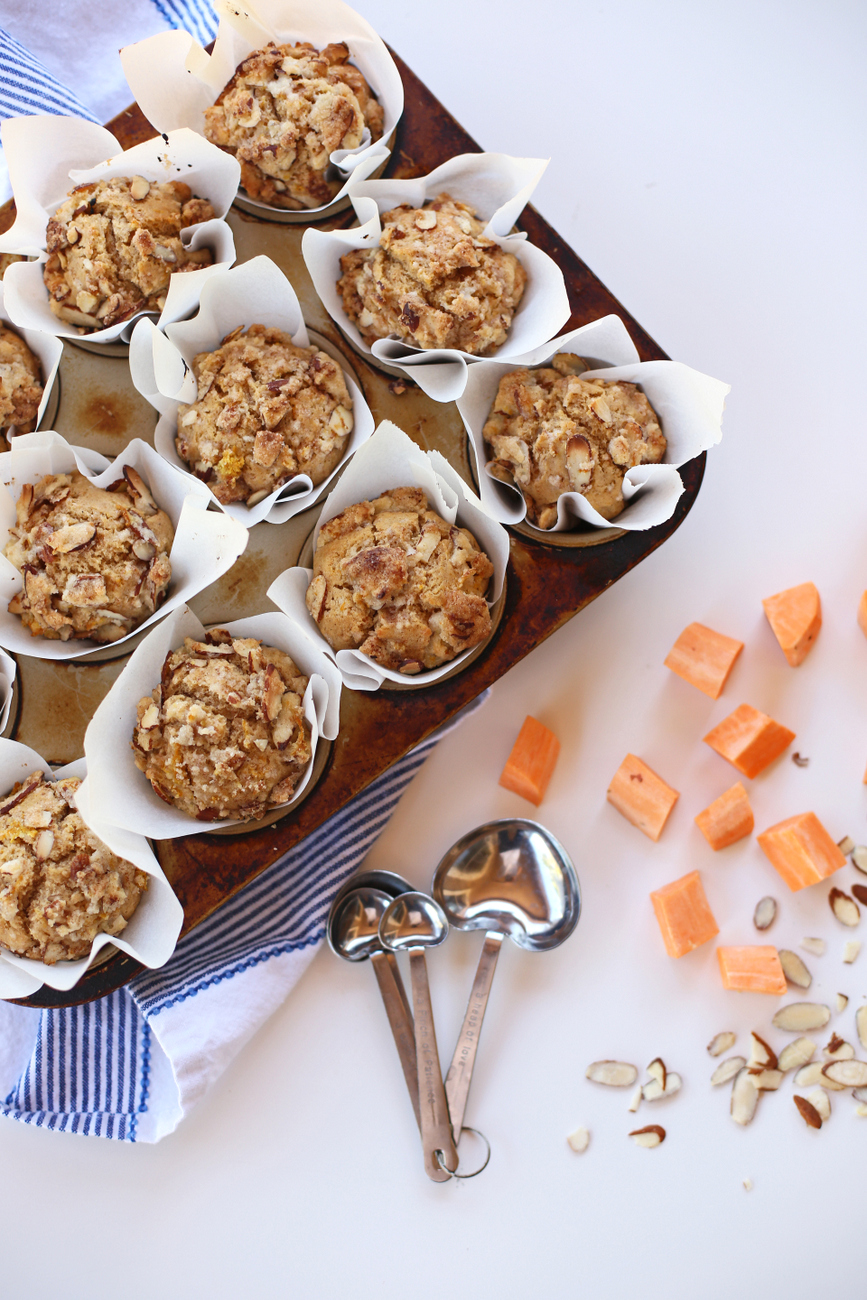 We did a quick survey of the pantry and decided that muffins would be our best bet.
She was THRILLED to get to help and that she got to help put in every ingredient without having to alternate with her sisters.
Halfway through the recipe, though, I discovered that I appeared to be out of oranges. I'm sure the recipe would have been fine without it, but I was sorely disappointed.
Then, just as I was finishing up the batter, Star, who was sitting on the counter, reached behind the fruit bowl and pulled out an orange.
It was like a magic trick.
I was delighted and told her, "You saved the day!"
For the next twenty minutes, she kept exclaiming, "I LOVE saving the day!"
While the muffins baked, she was the happy recipient of the entire spatula and bowl to lick without having to share with anyone else, and then we read a big stack of library books while the house filled with amazing smells. It felt like the perfect fall day.
These muffins are outliers because I think they're good when they're still warm, but they become MUCH better as they sit a little bit and the flavors get a chance to mix a bit more. So if you can handle waiting an extra 20 minutes or so, it's worth it!
Also, I made these parchment muffin liners instead of greasing the muffin tin because they're so easy and I love that they look like a fancy bakery – if you want to make your own, there's a tutorial here.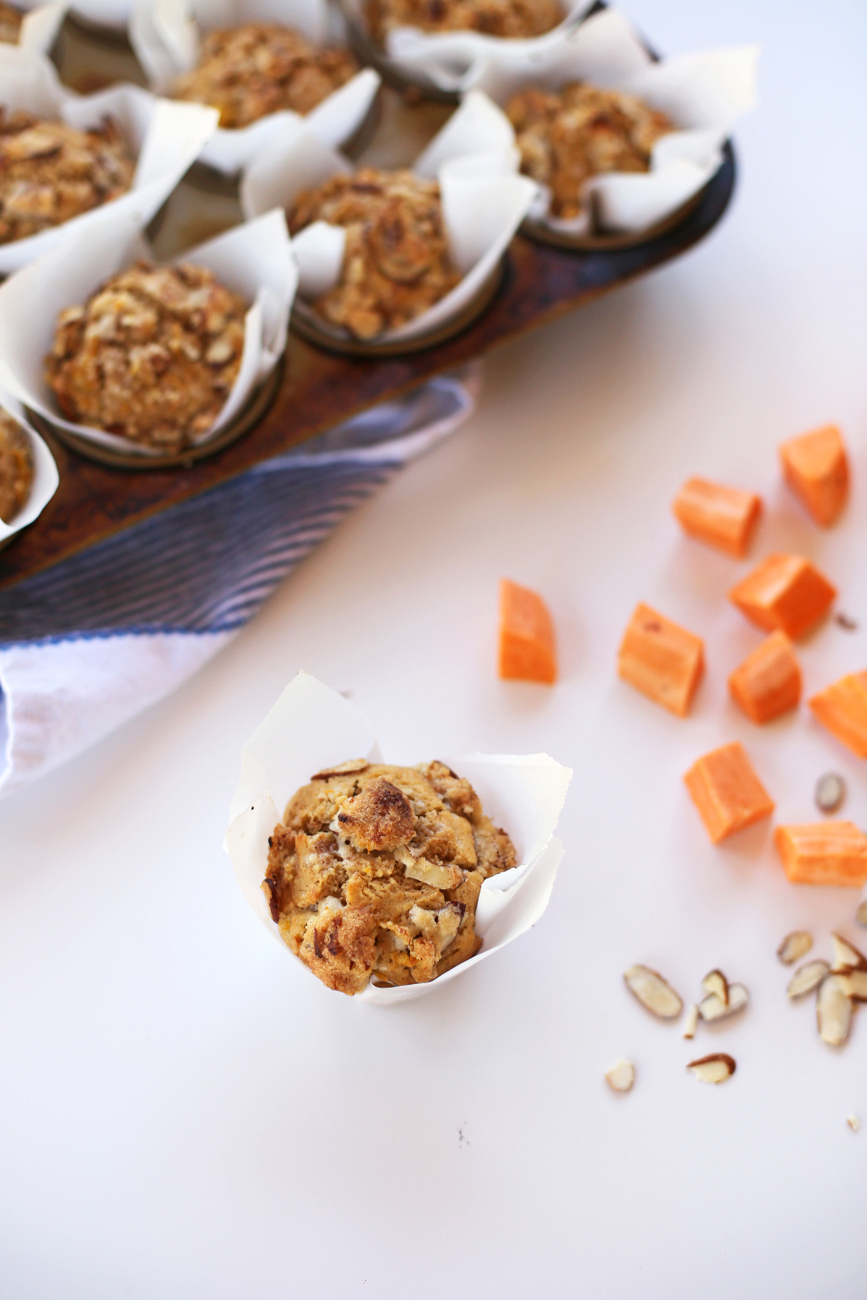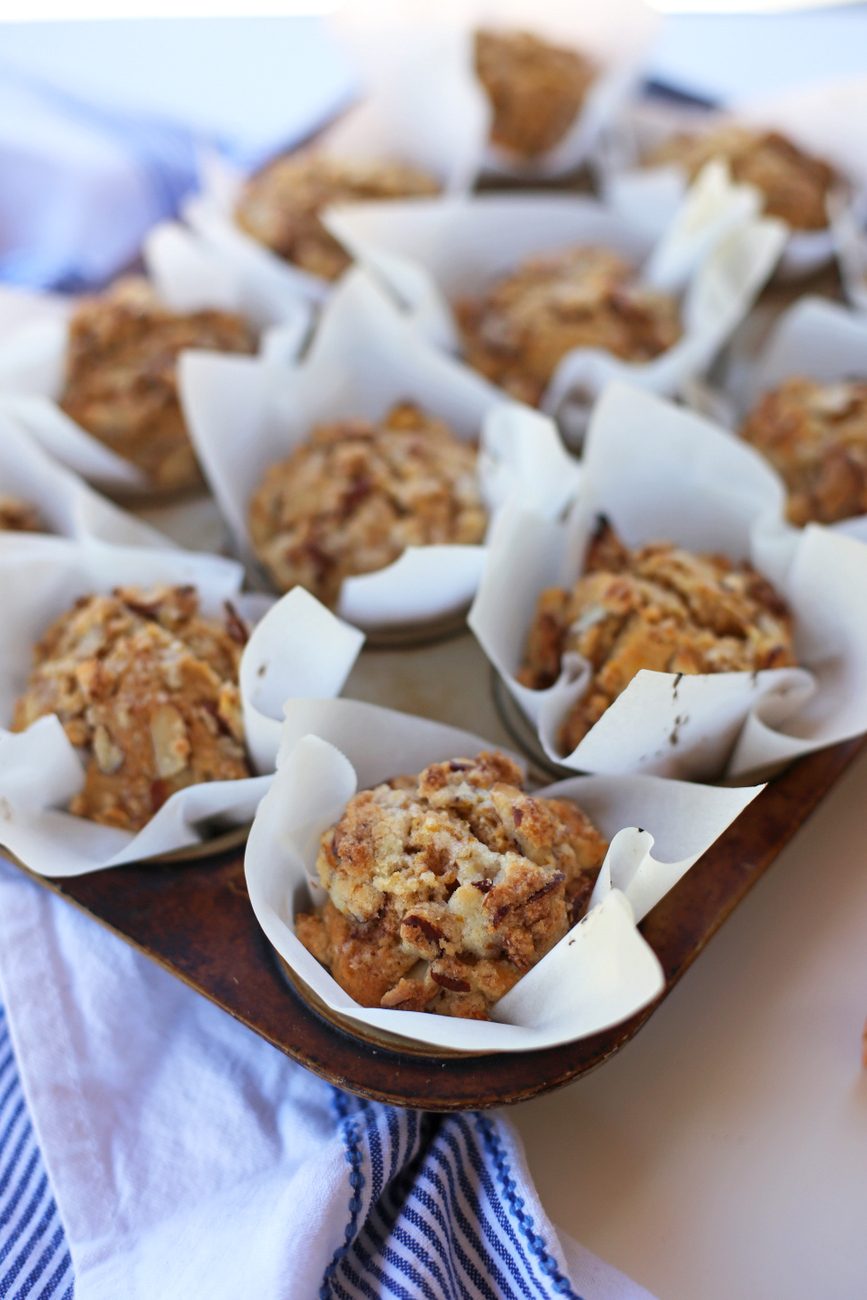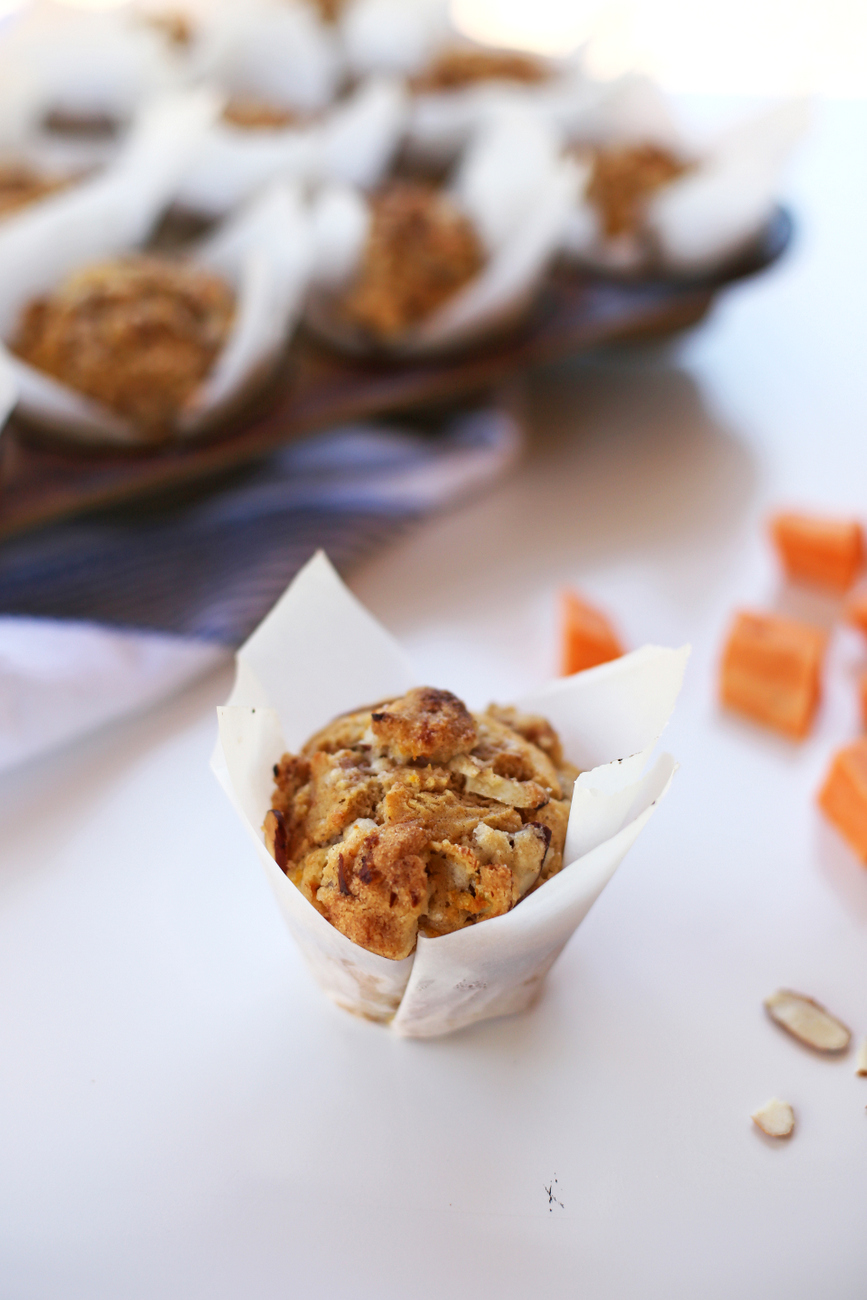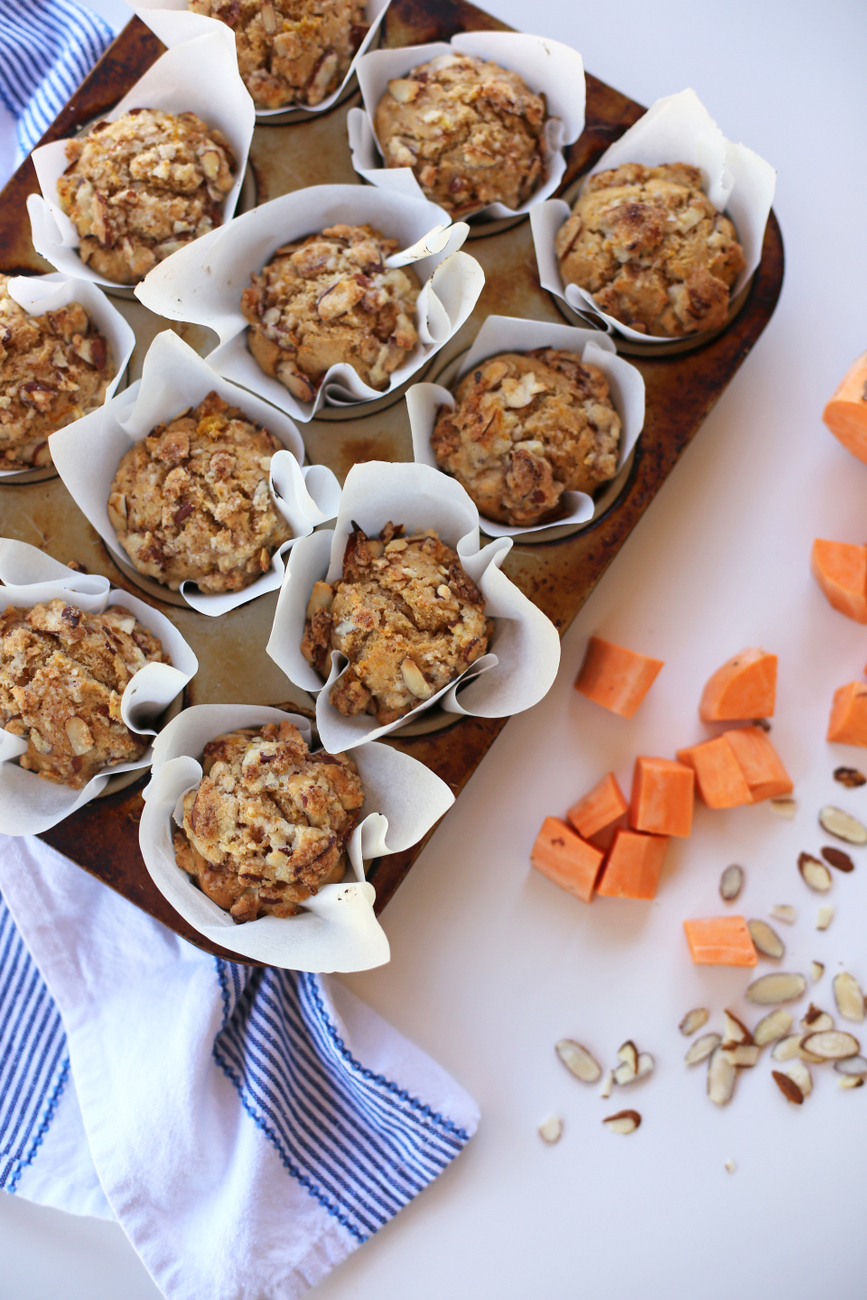 almond and orange spiced sweet potato muffins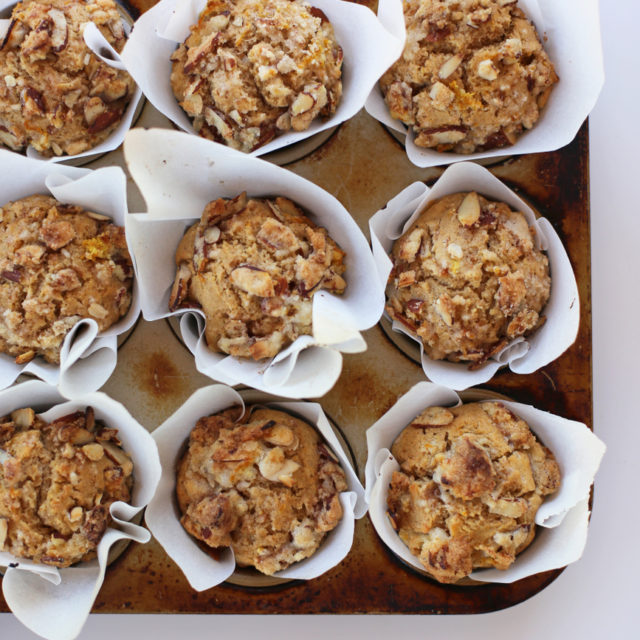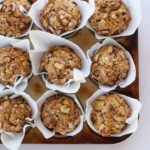 Almond and Orange Spiced Sweet Potato Muffins
These delicious sweet potato muffins have a warm orange flavor, a crunchy cinnamon almond topping, and a hint of fall spice.
Ingredients
Almond Topping
1/3

cup

granulated sugar

3

Tablespoons

all-purpose flour

1/2

teaspoon

cinnamon

zest of half an orange

2

Tablespoons

butter

melted

1/3

cup

sliced almonds
Muffins
2

Eggs

1/2

cup

granulated sugar

1/2

cup

oil

1/2

cup

milk

zest of half an orange

1

14-oz can

sweet potatoes

drained and mashed

1 3/4

cups

all-purpose flour

1/2

teaspoon

cinnamon

1/2

teaspoon

nutmeg

1/4

teaspoon

cloves

2

teapoons

baking powder

1/2

teaspoon

salt
Instructions
In a small bowl, mix together the topping ingredients until crumbly and set aside.

Preheat the oven to 400 degrees. Grease or line a standard muffin tin and set aside.

In the bowl of a stand mixer or in a bowl with a whisk, beat together the eggs, sugar, oil, milk and orange zest for 1 minute. Beat in the mashed sweet potatoes until smooth and evenly distributed.

Add all the dry ingredients on top and then whisk until just combined - do not over mix (it's fine if the batter is slightly lumpy).

Divide the batter evenly between the prepared muffin cups, filling each about 3/4 full. Sprinkle the topping over the muffin batter.

Bake until golden brown and the tops spring back when you press them gently with your finger, about 20-25 minutes.

Let cool for 5 minutes, then remove the muffins carefully from the pan and let cool completely on a wire rack.
Recipe Notes
You can use fresh sweet potatoes if you'd rather. You'll need 14 ounces of sweet potatoes (about two regular-sized ones) - peel them, cut them into chunks and boil in hot water until tender, about 15-20 minutes. Then mash them or blend them in a food processor until pretty smooth.
Adapted from the Williams-Sonoma Muffins cookbook
if you liked this sweet potato muffin recipe, you might also like these other recipes: