These were the first muffins that I made out of the Williams-Sonoma Muffin cookbook that we got for our wedding, and it instantly sold me on this cookbook (I've since made probably 20 recipes from this book and they've all been winners).
But this one remains one of my very favorites. It is ridiculously easy and even more ridiculously tasty. And Ella thought scooping jam in to the dough was the most fun thing ever (while I tried not to hover too much).
The texture is amazing and the little bit of almond flavor really makes them something special. Seriously, I cannot say enough good things about these muffins (but the fact that I ate four of them in one afternoon should be all you need to know).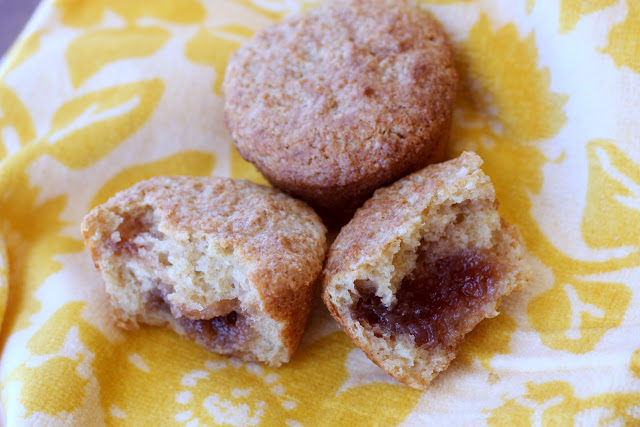 Jam-Filled Muffins
(from the Williams-Sonoma Muffins cookbook)
Makes 12 muffins
6 T butter, melted
2 eggs
1 1/4 cups sour cream
1 t vanilla extract
1/4 t almond extract
2 cups flour (I use all white-wheat)
3/4 cup sugar
1 T baking powder
1/2 t baking soda
1/2 t salt
1/4-1/3 cup jam or jelly (I generally use strawberry, but I've never had a dud flavor)
Preheat oven to 375. Grease a muffin tin.
In a mixing bowl or stand mixer, combine butter, eggs, sour cream and both extracts until smooth. Pour the dry ingredients on top, making sure to put the soda and baking powder on top of the flour, rather than into the wet ingredients. Whisk or mix just until combined. Mixture will be quite thick.
Fill each muffin tin about 1/2 full. Drop a heaping teaspoon of jelly or jam into the middle of each muffin and then cover with batter until the muffin tin is full. Smooth the batter to make sure the jam is covered (I usually just do this with my fingers).
Bake until muffins are golden on top, about 25 minutes. Let cool for a few minutes before removing from pan.