You may have noticed there hasn't been a lot of main dishes around these parts recently (actually, you probably haven't because you have better things to think about, but I have noticed). The reason for that is that Bart is in the throes of busy season at work, which means he eats most of his meals at work (you know, sushi, Indian food, pitas. . .), while I eat snacks at home.
Thus, the recent slew of smoothies, healthy cookies, and granola bars. Those ARE my main dishes right now.
Which brings us to this hummus. It's my dinner multiple times a week. I have big plans to roast a red pepper and blend it in with this, but have not done that yet. I always use dried chickpeas and cook them in my crockpot for about three hours on high (I don't soak them beforehand).
Also, Smitten Kitchen shared a hummus recipe recently and mentioned that her secret to really smooth, amazing hummus was peeling the chickpeas. And I thought, "Well, that's only for insane people."
And then the next time I made hummus, I found myself carefully peeling 2 cups of chickpeas. Give me my "insane person" badge, please.
It's not necessary, although it does make for a nice smooth hummus. It just depends on if you're looking for an excuse to spend 15 minutes of quality time with your audiobook. (Also, I find that cold chickpeas are much easier to peel. I suppose this lets you know I've peeled them more than once. How embarrassing).
And this hummus needs a couple hours in the fridge. Every time I taste it right after I make it, I think, "hmm, a little much." And then two hours later, I'm all "WHOA, BEST HUMMUS EVER."
Even Bart, who does not care for hummus much at all, will eat this one.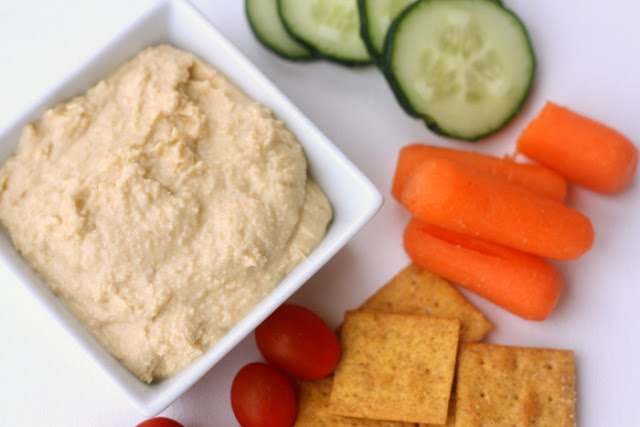 My Favorite Hummus
Ingredients
4

garlic cloves

2

cups

chickpeas

drained, liquid reserved

1 ½

teaspoons

kosher salt

1/3

cup

tahini

sesame paste (you can usually find this by the peanut butter in the grocery store)

6

tablespoons

freshly squeezed lemon juice

2 lemons

2

tablespoons

water or liquid from the chickpeas

8

dashes Tabasco sauce
Instructions
Combine all ingredients in a food processor and blend until very smooth. Refrigerate for a few hours and enjoy!