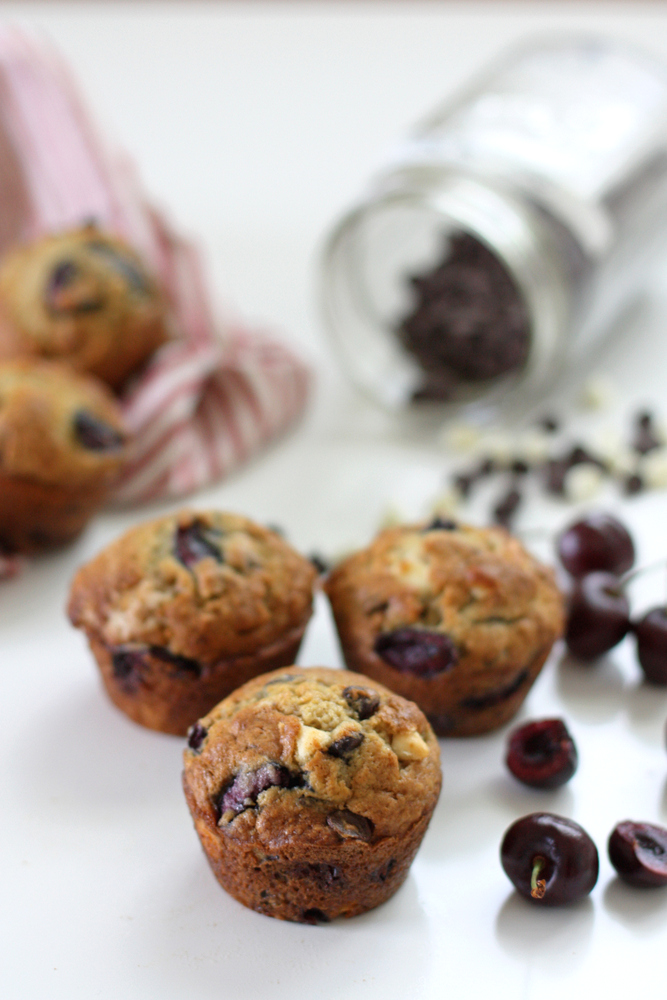 A few weeks ago, cherries were on sale, so I bought a bag, washed them and stuck them in the fridge.
Everyone in the family ate them happily and so, the next week, when cherries were even MORE on sale ($1.99/pound!), I bought another bag.
But this time, no one really ate them. The problem with cherries is that, with the pits still in, there aren't exactly the easiest snack food.
Obviously the only solution was to bake something with them.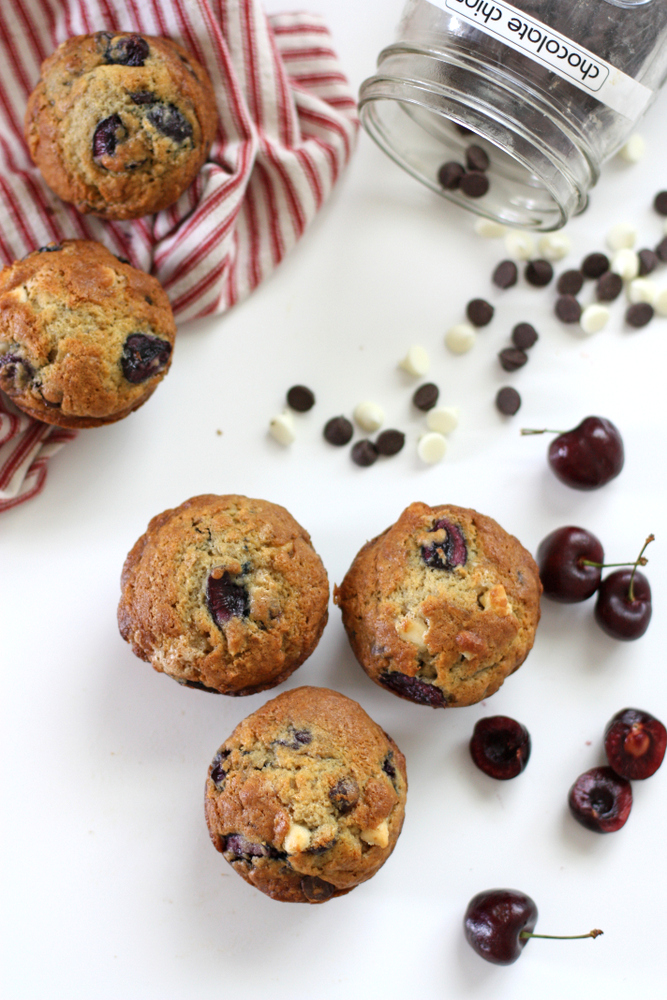 These muffins with a hint of cinnamon, two kinds of chocolate, and fresh cherries were terrific.
Although, when I asked Ella what she thought of them, she said "They're really good. But they aren't, you know, the muffins of my dreams or anything."
So take my enthusiasm for these muffins with a grain of salt, I guess.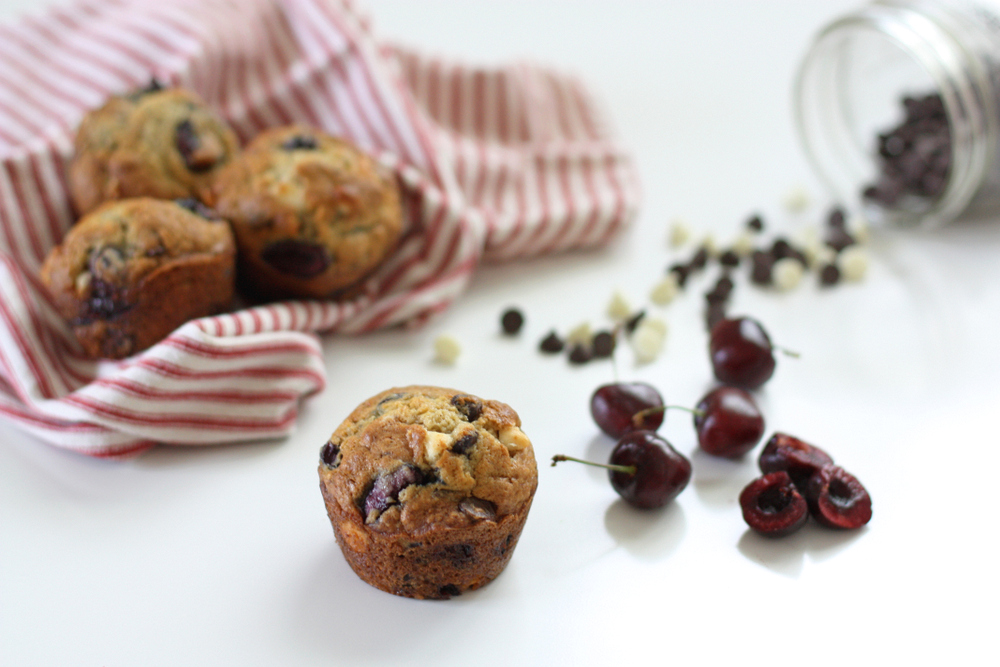 double chocolate cherry muffins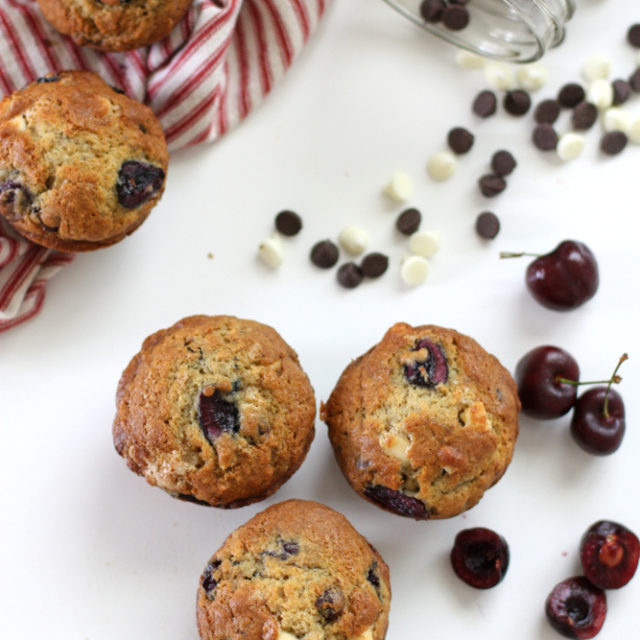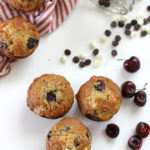 Double Chocolate Cherry Muffins
The perfect summer muffins, filled with fresh cherries and two kinds of chocolate chips. A one-bowl recipe!
Ingredients
1 1/3

cups

fresh or frozen cherries

1/2

cup

butter

softened

1/2

cup

granulated sugar

1/4

cup

packed brown sugar

2

eggs

1/2

cup

sour cream

2

tablespoons

buttermilk

2

teaspoons

vanilla

1 1/2

cups

flour

1

teaspoon

baking soda

1

teaspoon

baking powder

1/2

teaspoon

cinnamon

1/2

cup

white chocolate chips

1/2

cup

semi-sweet chocolate chips
Instructions
Preheat the oven to 425 degrees. Thoroughly grease a standard-size muffin tin and set aside.

Pit and quarter your cherries and then stick them in the freezer while you prep the muffin batter.

In a stand mixer with the paddle attachment, beat the butter and both sugars together until very creamy, about 2 minutes on medium speed.

Add the eggs, sour cream, buttermilk, and vanilla, and beat for another two minutes on medium speed, scraping down the sides as needed.

Pour the flour, baking soda, baking powder, cinnamon and both chocolate chips into the bowl and then beat just until combined (if you over-mix it, your muffins will be tough).

With a spatula, gently fold in the cherries and then divide the batter evenly between the twelve muffin cups (each cup will be pretty full - none of mine overflowed).

Bake for 5 minutes, then, without opening the oven, reduce the heat to 350 and bake for another 18 minutes or until the tops are a deep golden brown and spring back when you gently press the tops with your fingertip.

Let cool slightly before eating.
if you liked this double chocolate cherry muffin recipe, you might also like these posts: