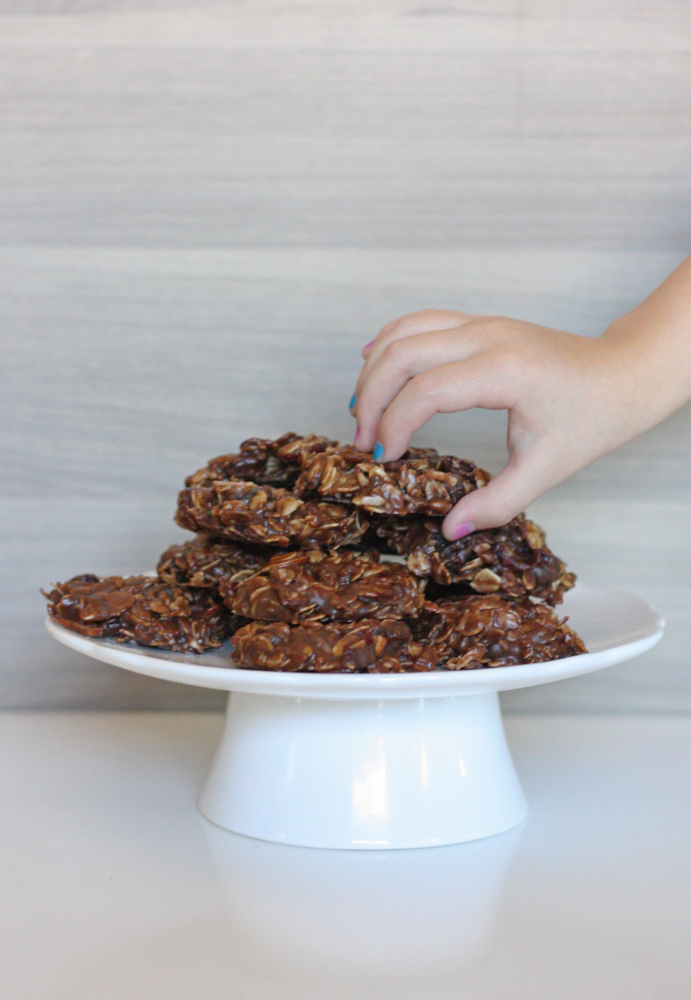 When I read French Kids Eat Everything back a couple of years ago, one of the things I remembered most was how, when their family returned to North America after living in France, her daughter complained that she didn't have time to eat the French-style lunches her mom was packing her because the lunch times at the public school were so short.
I am now experiencing that same thing.
Many days, Ella comes home and says, "I barely ate any of my lunch because we ran out of time."
I've also had to start not quite sealing her lunchbox lid closed because when I do, she can't always get it open on her own and then has to wait for a lunch monitor to come around and open it for her, which cuts even more into her eating time.
Which means when she gets home, she is SERIOUS about having a snack.
We've been making a bunch of popsicles in the last two weeks because it is so hot, but sometimes that just isn't substantial enough to tide them over until dinner.
I'd made these no-bake cookies in the past, but I added a few more things to make them even more substantial.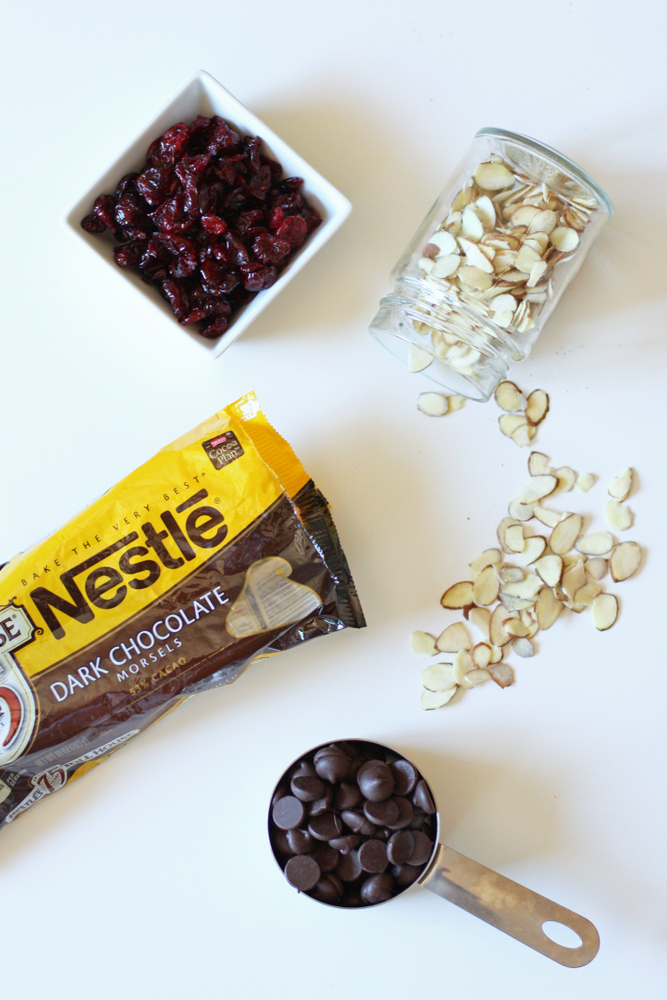 Unlike a traditional no-bake cookie which is basically sugar and oats, these are packed with nutritious ingredients, but still feel like a special treat.
And because I store them in the freezer, they're still an easy way to cool down after school.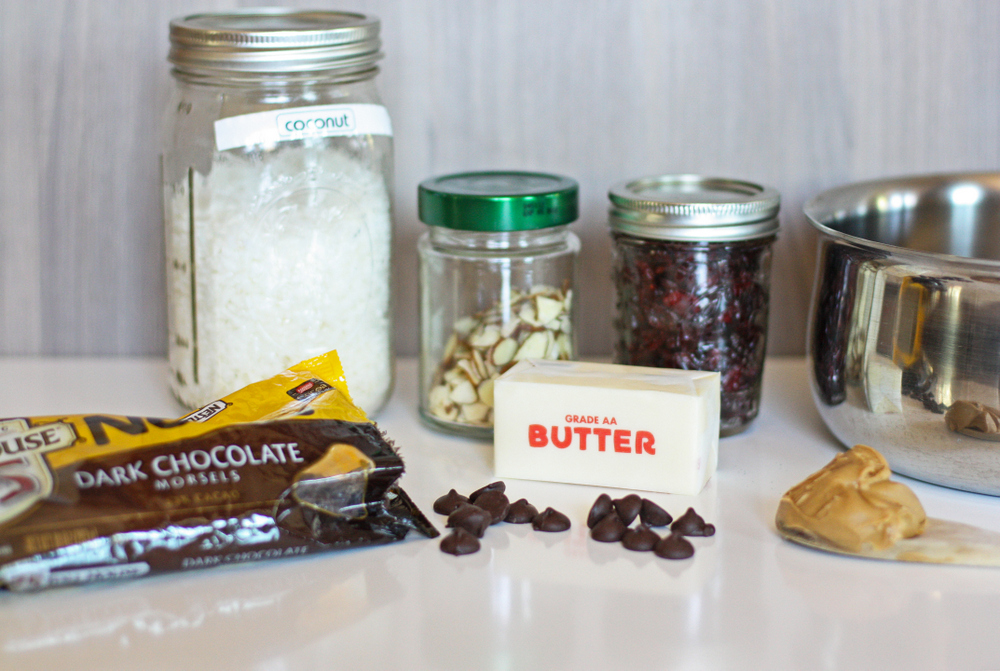 no bake chocolate granola cookies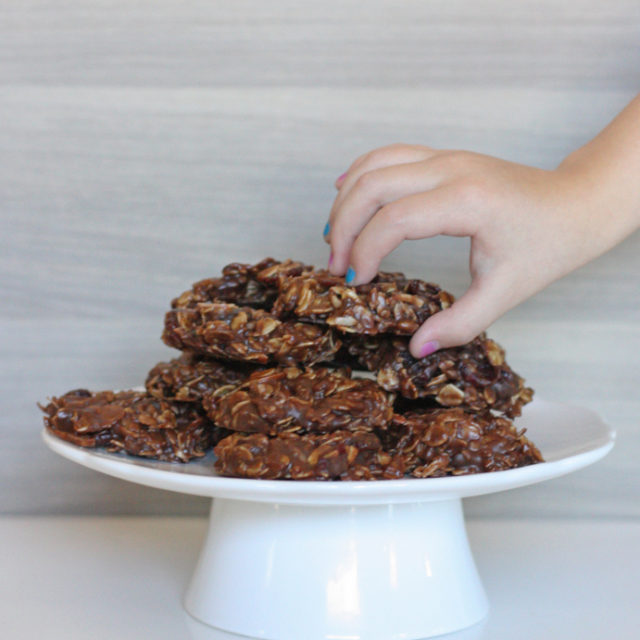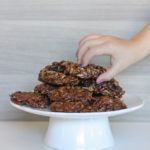 No-Bake Chocolate Granola Cookies
Super easy and hearty no-bake cookies - the perfect after-school snack when it's too hot for traditional cookies!
Ingredients
1/2

cup

peanut butter

1/3

cup

honey

1/4

cup

butter or coconut oil

1/2

cup

NESTLÉ® TOLL HOUSE® Dark Chocolate Morsels

1

teaspoon

vanilla

1

cup

old-fashioned oats

1/2

cup

coconut flakes

I used unsweetened

1/2

cup

dried cranberries

1/2

cup

sliced almonds
Instructions
In a medium-size saucepan, warm the butter, peanut butter and honey over medium heat, stirring occasionally, until smooth.

Remove from heat and mix in the NESTLE TOLL HOUSE chocolate chips and vanilla. Stir until the chocolate is melted, then add the remaining ingredients and mix until well-combined.

Lay a piece of wax or parchment paper on the counter or on a cookie sheet and spoon golf ball-sized scoops onto the paper.

Spray the bottom of a cup or measuring cup with cooking spray and press each ball flat until it's about 1/4-1/2 an inch thick.

Let cool on the counter or in the fridge or freezer.

Once they are set, eat them immediately or transfer them to an airtight container and store them in the fridge or freezer.
For more no-bake inspiration (which I'm all about right now when all I need to cook something is to walk out on my back patio), check out NESTLÉ® TOLL HOUSE® Pinterest Page.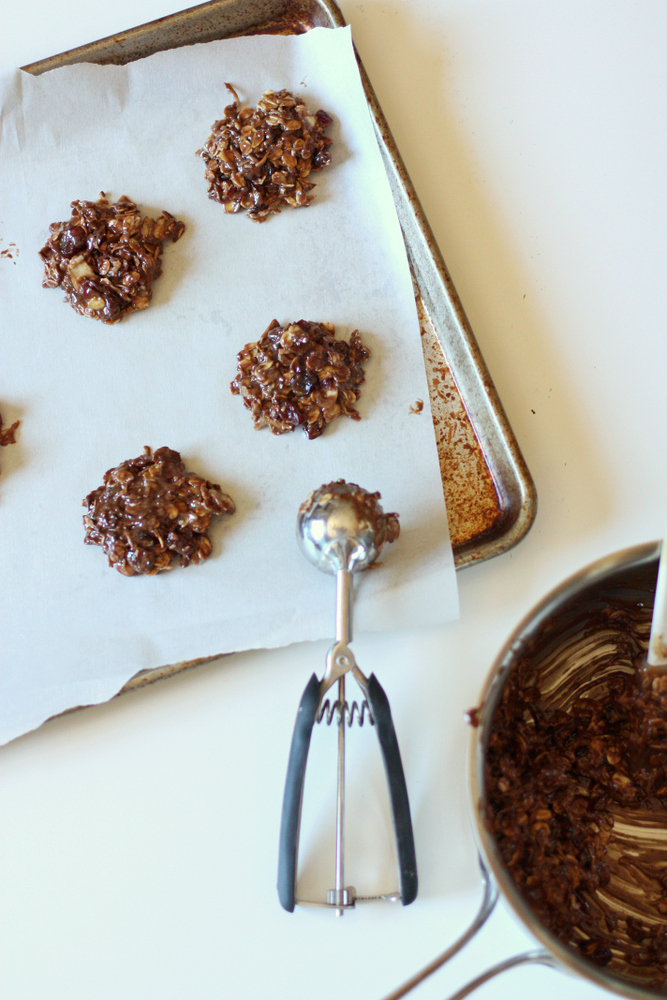 if you like this no bake cookies recipe, you might also like these other posts: