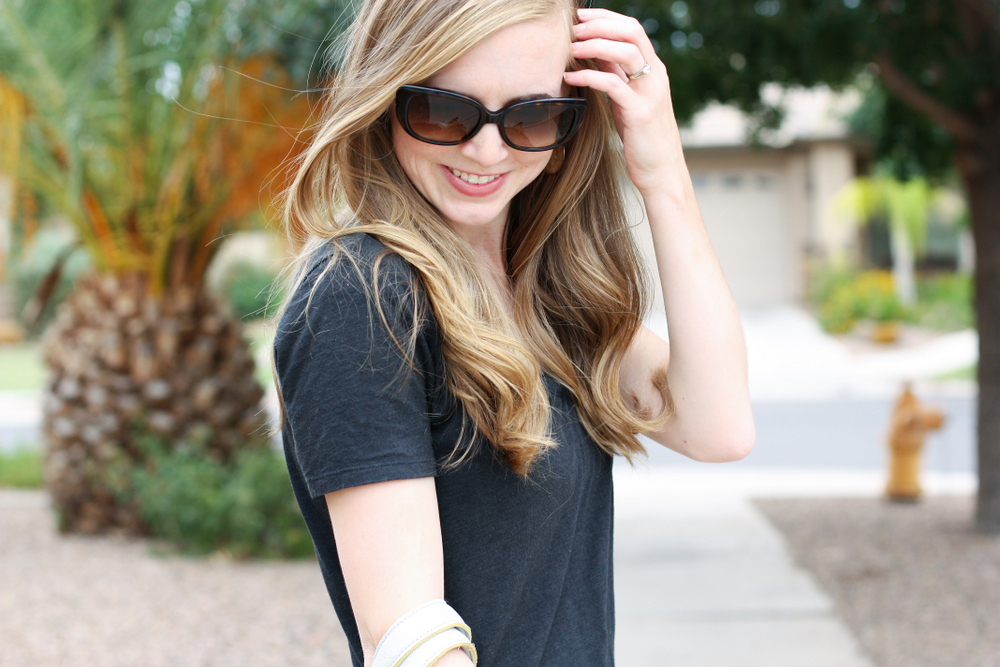 Can we all agree that "momiform" is kind of a dumb word?
 Good. Let's move on.
 I am a total jeans and tee-shirt wearer (although, I'm typing this wearing a skirt because. . . laundry day), and it makes my life easier to wear some basic combination of those two things every day.
But I also want to look like I made some sort of effort, and I've come to realize that what I like most is having some decent accessories that finish off the outfit and that basically go with everything, so I don't have to think too much about it in the morning when what I really need to think about is starting homeschool, packing lunches, and getting my children dressed.
Also, accessories that aren't fussy – I'm not going to be wearing a huge stack of bracelets or a bunch of layers because that's not my life (also I'm lazy, but we can avoid that topic). And in the last year, I've definitely moved toward a few high-quality accessories that I wear over and over, instead of a large array of cheap junk that doesn't fit quite right and wears out in two weeks.
These are the items that finish off my outfit, that I can wear all day without leaving a trail of discarded jackets, jewelry, and uncomfortable shoes behind me throughout the house.
I bought myself a fairly expensive pair of sandals this summer, figuring I could justify it because sandal weather is about nine months of the year in Arizona, and I have worn them at least five days a week since they arrived. They go with everything, from skirts to jeans to shorts, they are neutral enough to work with various outfits, but interesting enough to spice up a basic combo. I haven't regretted buying those sandals for a second.
I don't have a thousand purses, but I have two Lily Jade diaper bags that I really really love and I switch between the two every few months. One is red and one is this silver one, so they both are a bit more fun, and nice enough that I'm happy to carry them even when I don't have a baby around (I also have my eye on one of the patterned Petunia Picklebottom totes).
I wear my wooden watch on a daily basis – I like that it's lightweight but looks substantial, plus since I'm trying to spend less time on my phone, I really need a watch to keep track of school pick-up and drop-off.
And I wear whatever jewelry I got in my most recent Rocksbox (you can get a free month with the code everydayreadingxoxo).
A great pair of sunglasses, and I'm done and done.
Now to just buy another pair of jeans.