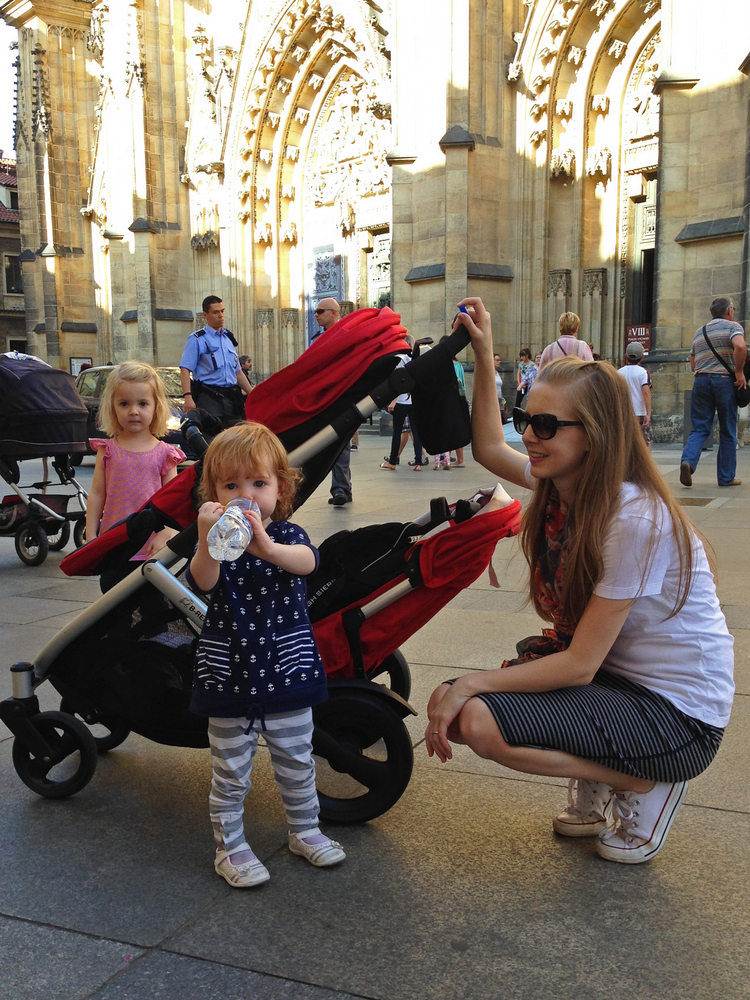 Hauling our stuff all over Europe for a month before settling in London meant packing as lightly as possible, which meant I couldn't really afford to bring things I was going to grow out of in a flash (when we got to Paris, we just took a taxi to our apartment, because the idea of hauling all of our stuff through the metro was just so far from feasible).
So obviously, I've spent a lot of time thinking about what maternity clothing I wanted to pack that would last me from about 15 weeks to 32 weeks. I teamed up with
Old Navy
(my go-to location for maternity clothing) to share some of my favorite items to get you through pregnancy.
Here are the five things in my maternity wardrobe I can't live without (even when I'm not living out of a suitcase). Expect to see lots of them over the next few months, both here and on
Instagram
.
I feel like I'm always hearing people say "oh, I just do that rubber band trick for most of my pregnancy." Just buy the maternity pants. I promise, your life will be better. I'm the world's biggest believer in maternity pants – it's way more comfortable and flattering to wear pants made to accommodate a baby belly than pretending you're still the same size you were when you weren't growing a human.I bought a
pair from Old Navy
when I was pregnant with Ani and wore them about three times a week for about four months. Worth every penny (which, wasn't much, because they cost about $15).
I can't lie – one of the things I'm most excited about when I get back to North Carolina is getting out those jeans. I debated packing them, but since I wasn't pregnant yet when we left the East Coast, I was worried I'd end up hauling them all over the world for eight months and come home all of six weeks pregnant. I'm only regretting this on a daily basis. My most worn pants right now are the black Rockstar maternity jeggings.
2. Black Shirt
I love a black shirt all the time, but I especially love them when I'm pregnant. I bought a couple from Shade last time around, but they've gone out of business (RIP!).
This one
is super similar – I love the elbow-length sleeves and the scoop neck. It looks great with a skirt or jeans or pajama pants (and let's be honest – I wear it the most with my pajamas because I get in my pajamas at approximately 7:05 p.m. every night).
3. Pencil Skirt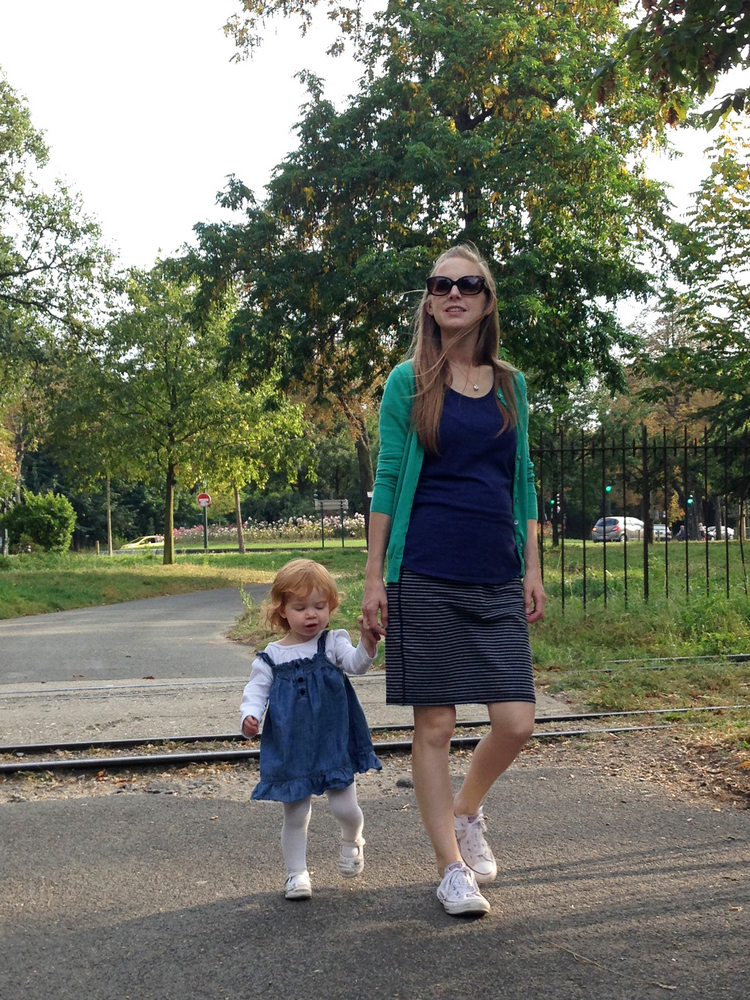 I packed no shorts for Europe (partially because I didn't think I'd need them and partially because I didn't have any pregnancy shorts), which means that when it's hot, which it's been in Paris, I'm all about the 
stretchy pencil skirt
. I have a non-maternity one in a size up and a 
maternity one
 (both of them are striped because I basically like what I like).
Last pregnancy, I loved the 
a-line skirt
 (and I have one of those packed in my suitcase this time too), but this time I've really embraced the clean lines of the pencil skirt. Nice to have something skinny when your waist isn't that something. Plus, it's so easy to dress up with heels and some jewelry or down with a tee and sneakers.
4. Dress
Once I have my babies and start nursing, the dress thing is basically out the window for me, so I am a dress-wearing fiend when I'm pregnant.
This one
is killing it for me this time. I've worn it to church and for other dressy things, but I wore it this week with my converse sneakers and denim jacket while we were walking around Paris.
5. Lounge Pants
Last time around, I remember my pajamas pants getting more and more uncomfortable (eventually I couldn't even get them over my hips), and I made do with a pair of two-sizes too-big hand-me-downs that were so unbelievably unflattering. This time, I immediately ordered a pair of
maternity lounge pants
so I wouldn't spend half of my life feeling completely frumpy.
I LOVE these pants. They are the perfect weight (on the thinner side, which is perfect because I'm always warm when I'm pregnant and I'm a SUPER hot sleeper), the right mix of structured and lounge-y, and black. Yes, you may have noticed that I love the color black all the time, and then times 10000 when I'm pregnant.
And also, how lucky am I that when I'm 34 weeks pregnant, I'll get to basically get a whole new maternity wardrobe (aka, all the things sitting in my garage from my past two pregnancies)? It's going to be like a second Christmas. And if I've eaten too many pastries and none of it fits me, there will be lots of tears.
if you liked this post about maternity wardrobe staples, you might also like these other posts: