Is there anything better than giving a wonderful book to a new parent?
Whether it's a board book to be well-loved (and chewed) or a gorgeous picture book they can enjoy together, there might be no books I love in this world more than ones aimed at babies and their parents.
If you're looking for a baby shower book or something to send to a new parent far away, I hope these books, some new and some old, some classic and some less well-known, will be just what you're looking for!
19 Best Books for a Baby Shower
Littles: And How They Grow by Kelly DiPucchio, illustrated by AG Ford
Here's the problem with babies: they just grow up too darn fast. And if you didn't already know it, this book, filled with all the moments that make up a baby's early days,  will make sure you learn it quickly. Plus, my babies have LOVED looking at all the darling babies featured here.
Two Hands to Love You by Diane Adams, illustrated by Paige Keiser
From siblings to grandparents, members of the new baby's family promise to use their hands to help this baby grow up and explore the world. And the ink illustrations are accented with gorgeous watercolor in yellow and pink – I just love everything abut this beautiful book
All the Awake Animals Are Almost Asleep by Crescent Dragonwagon, illustrated by David McPhail
This bedtime alphabet book with spectacular illustrations and imaginative language is just a treat to read. There is a board book version and a slightly longer picture book version – both are fantastic baby shower books.
Someday by Alison McGhee, illustrated by Peter H. Reynolds
This is one of those books you give to a new parent that's really intended for the parent (although it's certainly delightful for children too). The mom tells her little daughter all about the adventures ahead of her, from the early days of her life to growing up and eventually growing old.
Babies by Gyo Fujikawa
My mother-in-law introduced me to this gorgeous board book featuring all sorts of babies – it was written in the 1960s and had a perfect vintage feel to it. Plus, what baby doesn't love looking at other babies?
Once I Was a Pollywog by Douglas Florian, illustrated by Barbara Bakos
We got this book a few months ago from our Bookroo subscription and it's been a wild hit with both my 2 year old and my 4 year old as it shows different animals as babies and then as adults. It's colorful and happy and I never mind reading it five times in a row.
Brown Bear, Brown Bear What Do You See? by Bill Martin Jr. and Eric Carle
My little brothers were obsessed with this book and twenty years later, my own children absolutely adore this classic book (I'm partial to the board book version) that introduces colors and animals in Eric Carle's signature artwork.
Dream Animals: A Bedtime Journey by Emily Winfield Martin
What would your dream animal be? Close your eyes and imagine it and then dream of where that animal might take you. I love the beautiful rich illustration and the quiet imaginative text.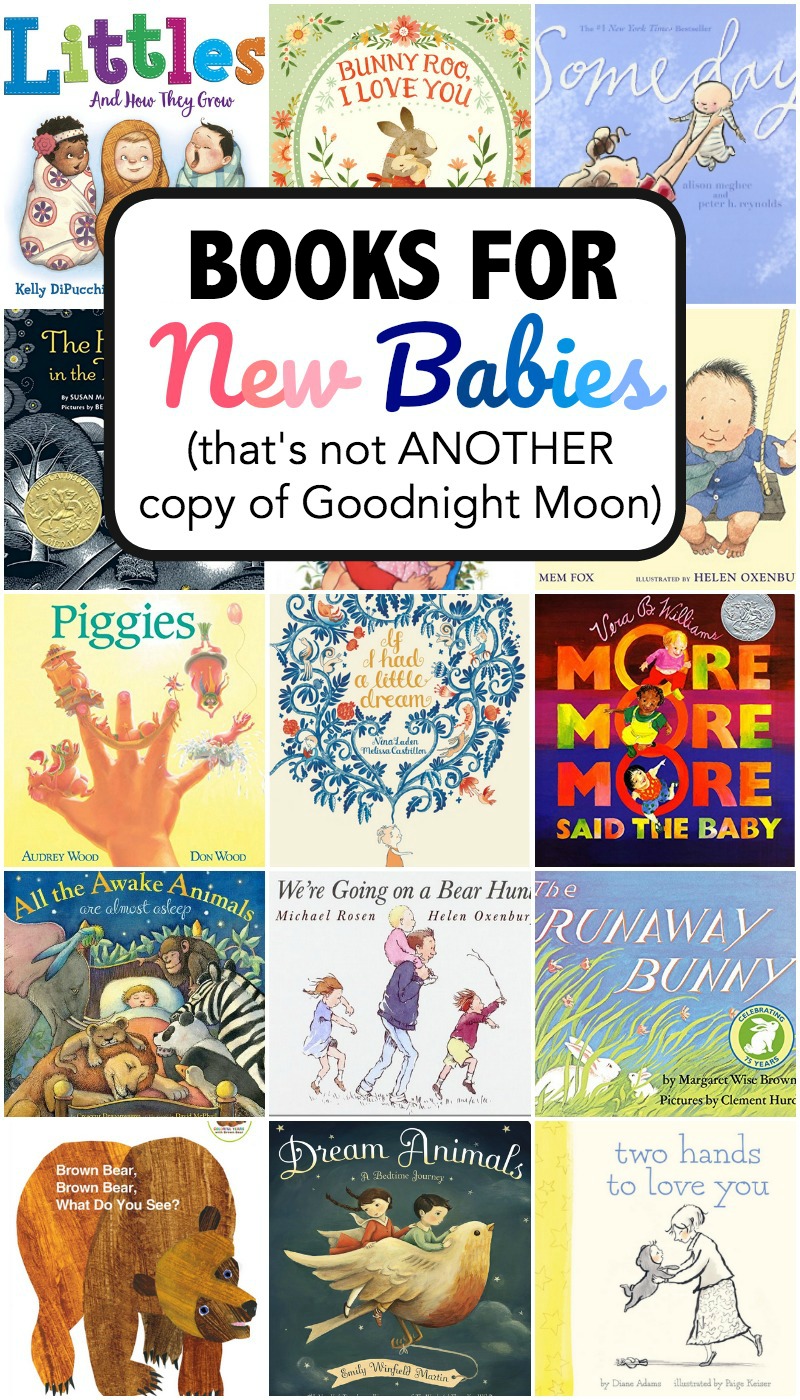 The Runaway Bunny by Margaret Wise Brown, illustrated by Clement Hurd
Written and illustrated by the same duo who did Goodnight Moon, this was a book I'd never actually read until I had my first baby and my husband bought a copy since it was one of HIS childhood favorites. Now I'm equally obsessed with this sweet story about a little rabbit who keeps trying to run away and his mother rabbit who assures him that wherever he goes, she'll be there for him.
Piggies by Audrey Wood, illustrated by Don Wood
If I had to choose just ONE favorite picture book, I think it'd have to be this one. I love the detailed illustrations with pigs packed with personality residing on each finger of a child's hands.
We're Going on a Bear Hunt by Michael Rosen, illustrated by Helen Oxenbury
I grew up on this book and I'm pretty sure at this point in my parenting career, I've read it 1000 times. This story of a family heading off to find a bear, only to discover that bears are actually REALLY SCARY, delights me every time.
If I Had a Little Dream by Nina Laden, illustrated by Melissa Castrillon
Half book, half lullaby, I love this story of a tiny child thinking about imaginary people and places and the illustrations make the whole thing more dream-like, ending with a beloved parent recognizing that this little child is a dream come true. Star especially loved this one.
Bunny Roo, I Love You by Melissa Marr, illustrated by Teagan White
When Star was one, this was her very favorite book and we read it hundreds of times over a several month period. On each page, the baby and mother are depicted as different animals with the mother taking care of her baby and I especially love that Melissa Marr wrote this for her adopted son (you can read her whole story about this here).
"More More More," Said the Baby by Vera B. Williams
We had a copy of this Caldecott Honor book when I was growing up and it's remained one of my favorites. I love each of the adults snuggling, tossing or kissing their little baby, and the baby responding with "more, more, more!" This is reminding me that I don't actually own a copy of this one – I need to get one!
The House in the Night by Susan Marie Swanson, illustrated by Beth Krommes
When I bought a copy of this for my school library, my aide read it for the first time and told me, "I've always given new parents a copy of Goodnight Moon. Now I know what I'm going to give them for their second children." She's not wrong – this book is beautiful and has the same quiet house feel that's so comforting.
Ten Little Fingers and Ten Little Toes by Mem Fox, illustrated by Helen Oxenbury
This one felt like a classic to me the moment it was released about ten years ago and my girls have been equal fans. I love the babies from all over the world, enjoying their different climates, homes, and families, all loved by parents who just want to give those babies a little kiss on the tip of their nose.
All the World by Liz Garton Scanlon, illustrated by Marla Frazee
I got this one when my fourth baby was born and I just can't get over how beautiful it is. It follows people all through the day from the earliest morning moments to the quiet end of the day.
Sleepyheads by Sandra J. Howatt, illustrated by Joyce Wan
I discovered this one through Bookroo and fell instantly in love. In this quiet book, different animals snuggle their baby animals down for the night, ending with a mother rocking her baby to sleep in the nursery. I could read this one a thousand times and not be tired of it.
Here We Are: Notes for Living on Planet Earth by Oliver Jeffers
I love Oliver Jeffers and this one he wrote for his own baby boy. It's a welcome to earth and a guide for living with all the other people and things that share this world with you. It is MAGIC.
And if you'd like a printable copy of this list of books for a baby shower that you can take to your library, store or screenshot on your phone for easy access, just pop in your email address below and it'll come right to your inbox!
I'd love to hear your favorite baby shower books to give to new babies and new parents!
If you liked this post about baby shower books, you might also like these posts:
Reader Interactions