Looking for this book list full of books similar to Wonder that you can take to your library or screenshot on your phone for easy access, just pop in your email address below and it'll come right to your inbox!
I first read Wonder about a decade ago and was blown away by how good it is.
And, of course, I wasn't the only one – it's been a wildly popular book almost since the moment it was first released, both with parents and teachers and with young readers.
My girls and I listened to it a few years ago and we all really loved it.
If you're a fan of the book Wonder, here are some other books to check out!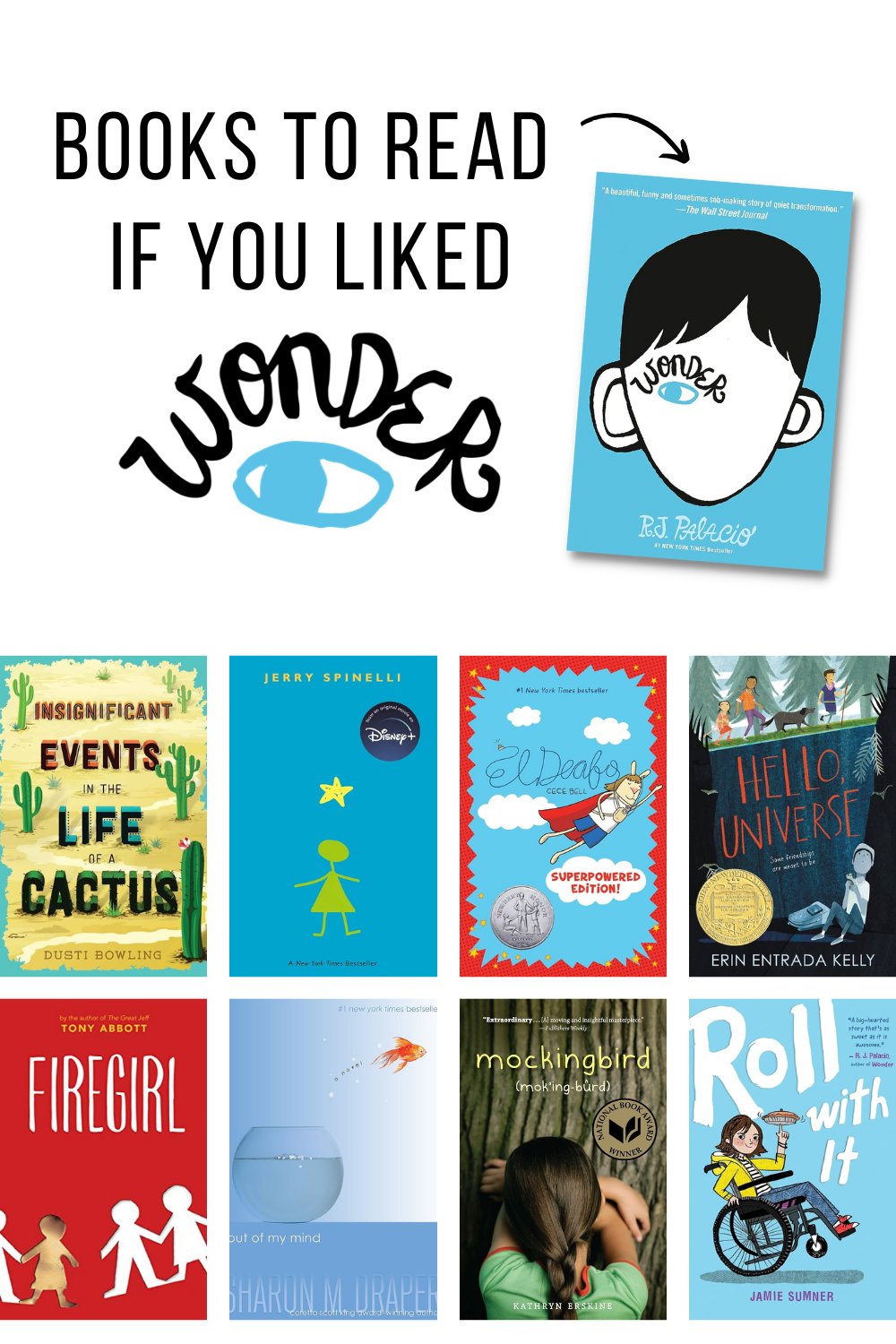 9 Books to Read If You Liked Wonder
Insignificant Events in the Life of a Cactus by Dusti Bowling
My big girls listened to this one repeatedly. Moving is never fun, but it's especially unpleasant for Aven who was born without arms. A new town and school means she'll have to explain herself repeatedly to a bunch of strangers. But in her new town, she make friends with Conner, who also feels like an outsider in their school. And together, they embark on solving a mystery at the dilapidated theme park her parents are running.
Stargirl by Jerry Spinelli
Stargirl arrives at Micah High and enchants everyone with her strange and wonderful personality, particularly the narrator, Leo. But when she begins cheering for both the home team and the opposing team, the school turns on her. And Leo, desperately in love with her, pressures her to conform. I read this one during my masters in library science and absolutely loved it. (Full review here)

El Deafo by Cece Bell
This Newbery Honor title is based on the author's experience moving to a new school. And it's an extra tricky transition for Cece who is deaf. But when she realizes that her super-powerful hearing aid lets her hear everything her teacher says – not just in the classroom – Cece starts to feel like a superhero!

Hello, Universe by Erin Estrada Kelly
This one won the Newbery and follows four children in a neighborhood who are all dealing with their own struggles and come together to solve a problem. It's a sweet story that's perfect for enjoying as a family. 

Firegirl by Tony Abbott
A new girl (Jessica) shows up in Tom's seventh grade class. She has been badly burned and has moved to the area to be close to the hospital, but her arrival makes the class quite uncomfortable. She has skin grafts all over her face, most of her hair is gone, and her hands and arms are scarred. Even though Jessica only stays a few weeks, her influence on Tom is profound. The reading of this is short, but the tone and themes are memorable and powerful. (Full review here)
Out of My Mind by Sharon M. Draper
Melody is 11 and because she has cerebral palsy, she can't walk or talk or write. In fact, most of the people she interacts with think she has very low brain function. It turns out? She's actually super smart. If she can just figure out how to let anyone know it. This one is TERRIFIC.

Mockingbird by Kathryn Erskine
Mockingbird is about a girl with Asperger's syndrome whose brother was recently killed in a school shooting, manages to be meaningful, appropriate, and even (surprisingly) funny. I was far more impressed with this book than I expected to be. (Full review here)

Roll With It by Jamie Sumner
Ellie loves to bake and dreams of being a celebrity chef. She also has cerebral palsy. And she's just moved with her mom to live with her grandparents because her grandfather seems to be developing Alzheimers. That's a lot, but Ellie is going to handle it.

Starfish by Lisa Fipps
I read this one last year and it was excellent, but also heartbreaking. Ellie has been bullied for her weight since she was little (including by her mother), and finds solace in the swimming pool – a place that she can be unapologetically herself.

I also asked on Instagram for other suggestions for books like Wonder – I haven't read any of these titles (yet!) but if you're looking for more books similar to Wonder, these are probably worth checking out!
The Miscalculations of Lightning Girl by Stacy McAnulty
After a lightning strike made twelve-year-old Lucy, a math genius, her grandmother enrolls her in middle school after years of homeschooling. She soon finds out that life is more than numbers.
Across the Desert by Dusti Bowling
Jolene loves going to the library to watch her favorite pilot's livestream adventures, but when the flying turns into a crash landing, Jolene will embark on a journey to rescue her.
Restart by Gordon Korman
After Chase falls off the roof, he comes back to middle school not remembering anything about himself. He has to learn who he was through the reactions of the other kids, but he is not sure he likes the Chase that is being revealed. Will he be able to restart his life and introduce a new Chase?
Fish in a Tree by Lynda Mullaly Hunt
Ally, is a sixth-grader, and her biggest worry is that everyone will find out that she still doesn't know how to read. When she finds out she has dyslexia, she learns how to tackle it and it takes her on a journey from self-loathing to self-acceptance. 

Wildoak by C C Harrington
Maggie's stutter causes her much heartache, but all of her pets, whom she can speak with fluidly, provide her comfort. When she finds Rumpus, an abandoned snow leopard, their chance encounter will change their lives forever.
A Monster Like Me by Wendy S. Swore
Sophie has a blood tumor that covers half of her face, and she is convinced that if she looks like a monster on the outside, she must be a monster on the inside as well. Sophie's goal is to find a cure before her mother finds out she could really be a monster.
Ugly by Robert Hoge
This is the true story of how Robert Hoge, the author, was born with a tumor the size of a tennis ball in the middle of his face and short, twisted legs. He did not let what made him different stand in the way of leading a happy, successful life.
The Truth as Told by Mason Buttle by Leslie Connor
Mason and his friend Calvin are targeted by the neighborhood bullies after their best friend Benny's death. They create an underground haven for themselves, but when Calvin goes missing Mason finds himself in trouble.
Rain Reign by Ann M. Martin
Rose, a young girl with Asperger's, shares a strong bond with her beloved dog, Rain. But when Rain goes missing during a storm, Rose is forced to confront the limits of her comfort levels. Will she leave her routines in order to search for Rain?

Simon Sort of Says by Erin Bow
Two years after a school tragedy, twelve-year-old Simon and his family move to a town in Nebraska, where the internet is banned. Because of the quiet, scientists can scan the sky for signs of alien life, and where, with the help of two new friends, Simon plans to retell the narrative of his life.

One Kid's Extraordinary Journey by Magdalena and Nathaniel Newman
This memoir tells the story of Nathaniel, alternating between his viewpoints and his mothers. Nathaniel was born with Treacher Collins Syndrome which is a craniofacial malformation – and the same syndrome that fictional character Auggie from Wonder also has.
If you'd like a printable copy of other books similar to Wonder that you can take to your library or screenshot on your phone for easy access, just pop in your email address below and it'll come right to your inbox!
if you liked this post about other books like wonder by RJ Palacio, you might also like these other posts: