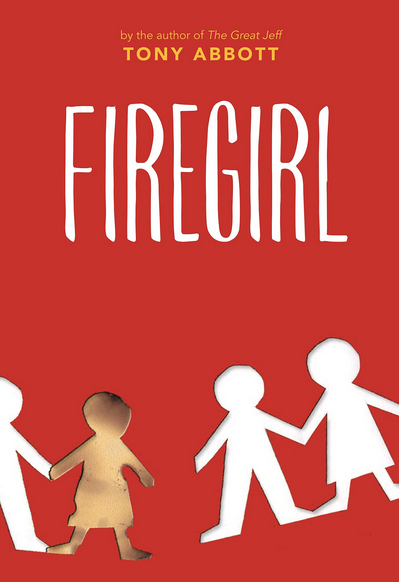 Firegirl is another Bluebonnet book; I love these books because the library has a whole shelf dedicated to them, so I can easily just pick a new one up every time I'm there. Firegirl is one that was quite short (I read it in about 90 minutes), but memorable and thought-provoking.
firegirl
Tom is in seventh grade and a few weeks into the school year, a new girl shows up in their class.
She has been badly burned and has moved to the area to be close to the hospital. As would usually be the case, her arrival makes the class quite uncomfortable. She looks pretty awful, with skin grafts all over her face, most of her hair gone, and her hands and arms are scarred.
Jessica stays only a few weeks, but her influence on Tom is profound. He is horrified to realize that he too is scared of her and that he feels more at ease, happier, on the days she is absent. And yet, he is also very distressed by the mean things his best friend says about her.
Firegirl isn't complex, but it's so very realistic. It's hard to imagine that there is anyone who hasn't had those same feelings of contrasting fear and compassion for someone who is different in some way – a desire to reach out, but a nervousness about the consequences of doing so. Tom is an excellently written character. You're proud of him for the times he does what he know he ought to, but you don't blame him for the times he's too afraid to do what he wishes he was brave enough to do.
The reading of this is short, but the tone and themes are memorable and powerful. I think I'll remember Firegirl for a long time.
If you liked this review of FIREGIRL, you might also like these books: