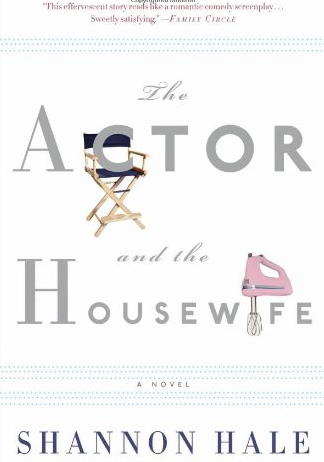 8 of 10: The Actor and the Housewife was not at all what I was expecting, but I loved every page of it. I had absolutely no idea where it was going to go and that is a fun way to read a book. 
You may remember that Shannon Hale wrote her first adult novel, Austenland, a couple of years ago. I read about 20 pages, put it down, and never picked it up again. So I can't compare this one to it in any way.
The Actor and the Housewife by shannon hale

The basic premise of The Actor and the Housewife is that Becky, average Mormon stay-at-home mother of three and hugely pregnant with #4, sells a screenplay. She finds herself in LA, meeting about a contract. While in the meeting, who should march in, but Felix Callahan, one of the biggest movie star heart throbs alive, and a personal favorite of Becky's.
It turns out they are staying in the same hotel and he gives her a ride back in his limo. Later, when she's going to eat dinner in the restaurant in the hotel, the waiter will only seat her at the (smoking) bar since she's alone and it's hotel policy. Felix is there and takes pity on her, asking the waiter to seat them together. During dinner, he looks over her contract and makes some fairly major suggestions about things to change.
And then she goes back to Utah, to her beloved husband and rowdy children and assumes she'll never see him again.
Except that a few months later, he calls her and says that he and his French supermodel wife are going to be in Utah to ski and could they all four get together?
And, against all odds, they become friends. And not just friends, but CLOSE friends. There doesn't seem to be any romantic feelings on either side, but it's enough to make Becky's family a little suspicious (her husband thinks the whole thing is pretty odd, but doesn't have a real problem with it).
This book doesn't fit easily into a genre – it's hilarious and sad, it's romantic and realistic and unrealistic and so many other things at the same time. I can't think of any box this neatly fits into.
If you've read any Emily Griffin books, this book had the same "I have no idea where this story is going, but I trust the author to make it work" feeling her books have (except, you know, a lot cleaner).
It's fairly long book – it took me a three hour plane flight and several more hours in the hotel in Florida to finish it – and it spans some 12 years or more. The pacing, though, never felt slow, and I enjoyed it all.
I wondered how it would work with the main character being Mormon and it being a pretty major part of her life (and the story). I need someone who isn't Mormon to read The Actor and the Housewife and tell me what they think, since I'm, of course, familiar with all the things that were mentioned in connection to her religion in the story.


The Actor and the Housewife just completely hooked me – I loved all the characters, I loved watching the plot unfold, and I had no idea, up the last page, how things were going to end up. Delightful.
I am wildly impressed with Shannon Hale's ability to write in such diverse genres. She is a master.
If you liked this review of the actor and the housewife, you might also like these books: