I am one of those people who LIVES for a summer reading list.
(I know you are shocked!)
Actually, I live for any reading list. I pretty much never met a list I didn't want to read from top to bottom with my library card in one hand.
I also love making these lists to give a little direction to my summer reading and I LOVE going back to look at my previous summer reading lists and seeing how I did (you can see my 2016 list here and my 2017 list here).
I shared the 2018 Summer Reading Guide last week and now it's time to dive into all the books I haven't yet read. Is there anything better than summer reading?
Here's are eleven books on my 2018 summer reading list (so far . . .):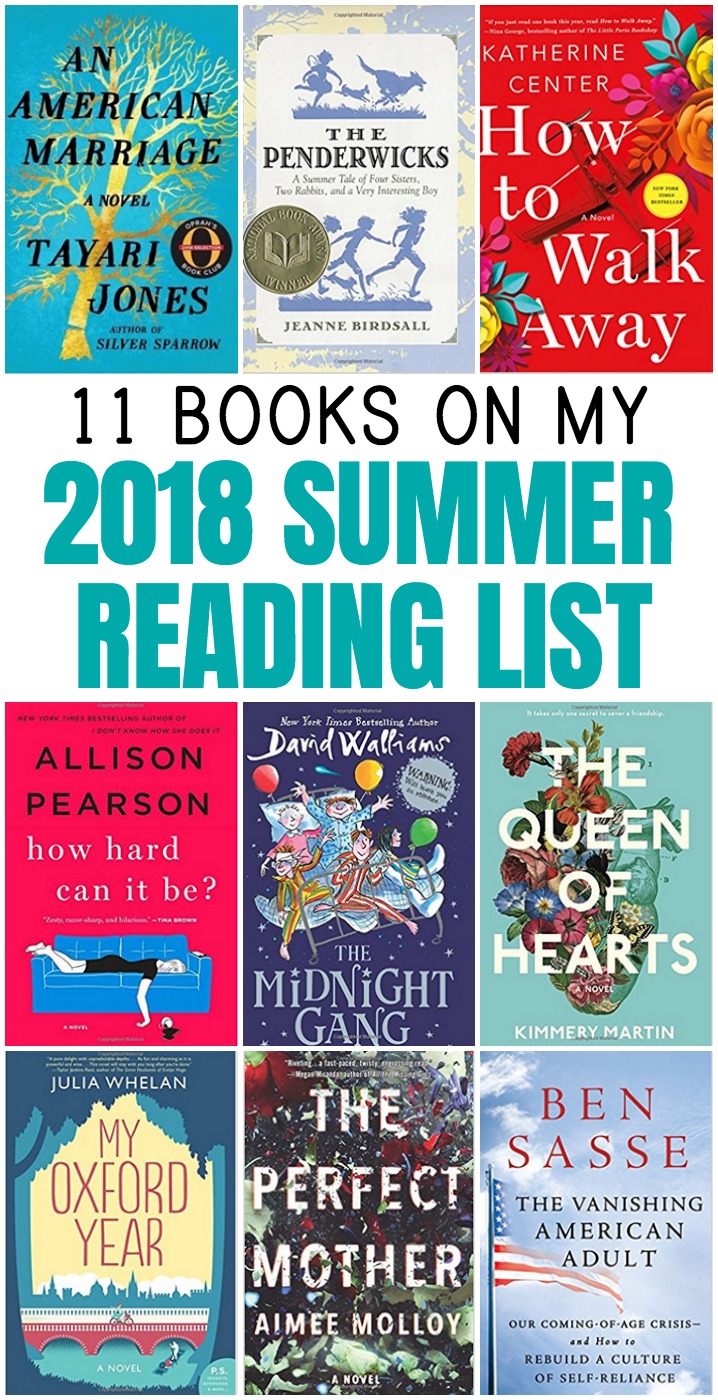 How Hard Can It Be? by Allison Pearson
When I started getting into reading again as an adult, Allison Pearson's I Don't Know How She Does It was one of the first books I read. So obviously, I need to read her new sequel (even if I've heard mixed reviews about it).
The Penderwicks by Jeanne Birdsall
I can't BELIEVE I haven't ever read this. Ella has listened to the whole series and is obsessed with them and with the fifth book (The Penderwicks at Last) just released, now seems like the time. We're actually listening to it right now in the car and I'm enjoying it just as much as I expected to.
The New Jim Crow by Michelle Alexander
After I read Just Mercy, this got recommended about 1000 times to me, both by readers and Amazon. Probably a little heavy for summer reading, but I don't care.
The Queen of Hearts by Kimmery Martin
I'm just diving into this one about two successful female doctors who are best friends and who find their relationship rocked when a doctor they worked with in med school suddenly reappears. I'd describe this as Grey's Anatomy in book form except that I've never seen Grey's Anatomy, so I have no actual idea.
How to Walk Away by Katherine Center
This book was one of last month's Book of the Month Club's picks and the only one of the five May picks that sold out. Well, I'm never one to miss out on a popular book!
The Perfect Mother by Aimee Molloy
Group of moms go out for drinks and one of their babies is taken from his crib at home. This book is EVERYWHERE this summer and I'll be very lucky to get a copy of it before Christmas.
An American Marriage by Tayari Jones
I keep seeing this one pop up on various lists and it just sounds so intriguing! It's about a newly-wed couple that has their life torn apart when the husband is arrested and sent to prison for twelve years for a crime his wife is certain he didn't commit. For five years, they live apart until his conviction is overturned, and now they have to see if their marriage can survive.
The Vanishing American Adult: Our Coming-of-Age Crisis and How to Rebuild a Culture of Self-Reliance by Ben Sasse
This non-fiction book has been sitting on my desk for MONTHS and I've read all of ten pages. But I'm determined to finally crack it open for real this summer.
Hello, Universe by Erin Entrada Kelly
One of my life goals is to read all the Newbery winners (a goal I'm working VERY slowly on), so obviously it's time to read this year's winner.
My Oxford Year by Julia Whelan
I love Julia Whelan as an audiobook narrator (she read Educated, The Great Alone, Gone Girl, The Princess in Black and dozens of other high-profile books) but this is her first book. The reviews are killer and it's already been optioned for a movie, plus I'm a sucker for any book about an American going to live in England so count me in for this one.
The Midnight Gang by David Walliams
The reviews of this all compare David Walliams to Roald Dahl so obviously I had to pick it up. I'm reading it to my girls right now and we're all enjoying it – it's one of those books that's just MADE for reading aloud, plus lots of fun illustrations.
And if you'd like a printable copy of this list that you can take to your library or screenshot on your phone for easy access, just pop in your email address below and it'll come right to your inbox!
I'd love to hear what's on your summer reading list! Because the only thing I like more than making my own summer reading list is getting ideas for MORE titles to add to it.
If you liked this summer reading list post, you might also like