There's nothing I like better than a good audiobooks (but then, you already knew this about me).
It's such a great way to cruise through a bunch of books if you don't have to sit down with a physical book, and it makes things like laundry and dishes a little less terrible.
I've made hundreds of audiobook recommendations over the years, but last month, I was feeling in a total rut and I asked for suggestions on Instagram.
And whoa, there were a million good audiobook recommendations.
Or, you know, more than seventy.
I've listed them all below, and if you've read them or listened to them, I'd love it if you chimed in! If it's one I've read, I've noted it and, when applicable, linked to my review.
My Audible queue is now full to bursting and I can't wait to dive in!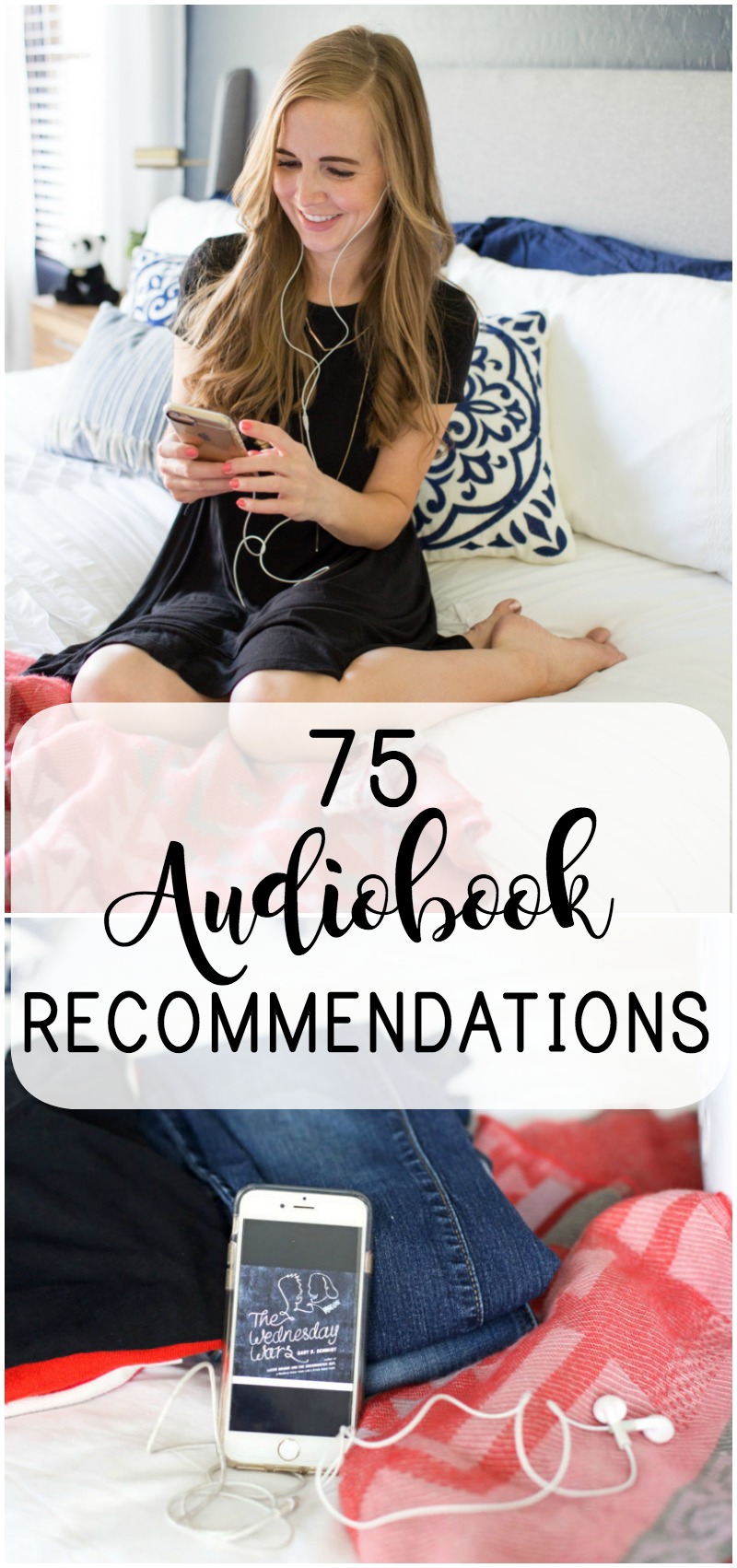 75 best books to listen to
Being A Dog by Alexandra Horowitz

See You in the Cosmos by Jack Chang
The Sparrow by Mary Doria Russell

The Goldfinch by Donna Tartt

Sisters First by Jenna Bush Hager, Barbara Pierce Bush and Laura Bush

The Thirteenth Tale by Diane Setterfield
This book deserves all the love it got. It was one of the first books I read when I got back into reading after college and it's stayed with me all these years. I should read it again. Full review here.
The Lace Reader by Brunonia Barry

The Book of Joe by Jeff Wilser

Nine Women One Dress by Jane L. Rosen
I read this one – it was a quick read of the fluffiest kind.
Graceling (series) by Kristin Cashore
I love this series and the audio versions are phenomenal. I've read them each a couple of times (once on paper and once as audio). Full reviews here and here and here.
The Magic Strings of Frankie Presto by Mitch Albom

The Sign of the Beaver by Elizabeth George Speare

Genuine Fraud by E. Lockhart

What Alice Forgot by Liane Moriarty
This is in my top five books of all time. I love it so so much. Full review here.
A Stolen Marriage by Diane Chamberlain
First Grave on the Right (Charley Davidson series) by Darynda Jones
The Night Circus by Erin Morgenstern
Even Jim Dale couldn't save this audiobook for me. It felt like it went on FOREVER and nothing happened.
Kisses From Katie by Katie Davis
Why Not Me? by Mindy Kaling
The Diviners (series) by Libba Bray
This is the Story of a Happy Marriage by Ann Patchett
The Shoemaker's Wife by Adriana Trigiani
The Wednesday Wars by Gary D. Schmidt
Possibly my favorite book of all time. I just think everything about this book is perfect and the audio is stellar. Full review here.
Just Mercy by Bryan Stevenson

The Power by Naomi Alderman

Little Fires Everywhere by Celeste Ng
I listened to (and was captivated by) her first book a couple of years ago, so I really want to listen to this one.
The Radium Girls by Kate Moore

The Boston Girl by Anita Diamant
Still Life (Inspector Gamache series) by Louise Penny

The Perilous Gard by Elizabeth Marie Pope
A Bridge Across the Ocean by Susan Meissner
Before We Were Yours by Lisa Wingate
I got halfway through this one before it was due back at the library, but I'm dying to finish it!
The Tea Girl of Hummingbird Lane by Lisa See

Eleanor Oliphant is Completely Fine by Gail Honeyman

The Pearl Who Broke Its Shell by Nadia Hashimi

East of Eden by John Steinbeck

Salt to Sea by Ruta Sepetys
I love Ruta Sepetys, but somehow I haven't gotten to this one yet. I keep meaning to!
I Will Always Write Back by Martin Ganda
This book was so good about two young pen pals, one in the US and one in Zimbabwe. Full review here.
Sweetness at the Bottom of the Pie (Flavia de Luce series) by Alan Bradley
I listened to this one years ago and I think I might be the only person alive who was underwhelmed by it. I mean, I liked it fine, but it didn't blow me away like it seemed to every other person. Full review here.
Odd Thomas by Dean Koontz
H is for Hawk by Helen Macdonald

Maisie Dobbs (series) by Jacqueline Winspear
I've read the first couple of this series and the audio is great. I mean, what isn't better with a British accent? Full review here.
Echo by Pam Muñoz Ryan
This audiobook is RIDICULOUSLY good. Basically audio magic. Full review here.
Behold the Dreamers by Imbolo Mbue
Evicted by Matthew Desmond
This one about modern housing, especially in poorer communities, looks fascinating. I checked it out from the library a while ago but never got around to it.
Janesville by Amy Goldstein
The Book Thief by Markus Zusak
I read the physical book and then listened to the audio a few years later. It's SO good and the narration is killer. Full review here.
Turtles All the Way Down by John Green
I started reading the book, but it was so popular I had to return it to the library before I finished.
Beneath a Scarlet Sky by Mark Sullivan

Station Eleven by Emily St. John Mandel
I've had this one recommended to me approximately 1000 times, so it's high on my list!
This Must Be the Place by Maggie O'Farrell
Matriarch: Queen Mary & the House of Windsor by Anne Edwards
Code Name Verity by Elizabeth Wein
Whoa, this book is one of the best ever. Just don't read it while you're driving, unless you are very good at driving while crying. Full review here.
The Screaming Staircase (Lockwood & Co. series) by Jonathan Stroud
I haven't read this one, but we are MASSIVE Jonathan Stroud fans in this house, so it's been on my to-read list for ages.
The Nightingale by Kristin Hannah
Just when you think you're burned out on WWII novels, you listen to this one and remember that there is a reason WWII is such a popular subject matter. Full review here.
Modern Lovers by Emma Straub
Girl Waits with Gun by Amy Stewart
Be Frank with Me by Julia Claiborne Johnson
This wasn't my normal type of book at all, but I listened to it on a road trip when I had nothing else available and it was charming and sweet.
The Color of Magic (Discworld series) by Terry Pratchett
The War That Saved My Life by Kimberly Brubaker Bradley
This was such a fantastic middle-grade novel about WWII. Highly recommended (I read this one, but I've heard the audio is fantastic). Full review here.
The Watsons Go to Birmingham-1963 by Christopher Paul Curtis
This Newbery winner is a classic and I can't wait to read it with the girls in a few more years.
The Immortal Life of Henrietta Lacks by Rebecca Skloot
My book club read this about six years ago and it was fascinating. Totally worth the hype.
Marrow Island by Alexis M Smith
In the Heart of the Sea by Nathaniel Philbrick
Hillbilly Elegy by JD Vance
This book was one of my favorites of 2016. Really eye-opening to a part of the country I didn't know much about at all. Full review here.
The Hate U Give by Angie Thomas
This book will stick with you forever – so so good and thought-provoking. (Lots of swearing in this one).
Mr. Penumbra's 24-Hour Bookstore by Robin Sloan
I listened to this a few years ago when everyone was in love with it, and while I enjoyed it, I think it was a bit too weird for my taste.
Kitchens of the Great Midwest by J. Ryan Stradal
Eleanor & Park by Rainbow Rowell
I love Rainbow Rowell. This one has quite a bit of swearing, but is so sweet and sad and will rip your heart right out.
Wild by Cheryl Strayed
When Breath Becomes Air by Paul Kalanithi
One of my favorite books of 2016! Full review here.
The Gap Year by Sarah Bird
A Long Time Gone by Karen White
Outlander (series) by Diane Gabaldon

The Incorrigible Children of Ashton Place by Maryrose Wood

And if you'd like a printable copy of this list that you can take to your library or screenshot on your phone for easy access, just pop in your email address below and it'll come right to your inbox!
if you liked this post about best books to listen to you might also like these posts: