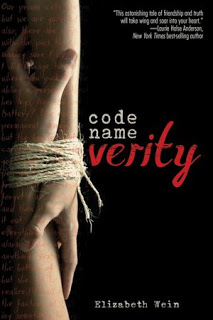 I spent much of the fall in a complete reading slump. I started and gave up on more books than I care to make mention of.
Code Name Verity was the first book in ages that actually compelled me to keep reading (or listening, in this case).
And then I've put off writing about Code Name Verity for months and months because there is just so much to say about it and I feel overwhelmed by my inability to communicate just HOW good this book is. But it's just unfair to keep a book this good to myself (it just got a Printz Honor on Monday, so it's not like I'm the only person alive who knows about this book, and it's been getting mega mega buzz for months, but humor me).
The short version is: Read this book.
The longer version is that this is the best kind of historical fiction, really the best kind of book. It's set during World War II, but it's so different from any kind of WWII book I've read (and I've read quite a few).
Also, Code Name Verity has a lot of twists, so it's hard to write much about this without giving too much away, and you really want to read this book without knowing how things play out.
So. . . you know, very tricky to review.
code name verity by elizabeth wein
The basic gist is this, though. It's about two girls, both working for the British Airforce during the war. Maddie is a pilot, Julie is a spy. And when the book opens, Julie has just been captured by the Nazis, after the crash of the plane that Maddie flying, mourning over Maddie's death and giving in under the torture to reveal the secrets about her mission.
Which, of course, is making her pretty much hate herself (and the other prisoners certainly don't think much of her for caving so quickly either).
I love this new angle for a WWII book, and I love the characters – so fiery and full of life. And I usually don't like the journal/letter format, but Julie's recounting of her friendship with Maddie, her life before the war, and the events before and after her capture are gripping. It's impossible for me to imagine this book having been written in any other format.
I wish I could tell you everything about this book. I read this very excellent review of it on the mock Printz blog and it made me desperate to go read it again – there is so much depth and richness to this book, none of which detracts from the phenomenal story, but that you might not notice with a casual reading (I just went and reread that review again while I was writing this and. .  .whew, I MUST read this book again. But don't read that review until you've read the book because it's extremely spoiler-ific).
And the audio version of Code Name Verity? Stellar. The two narrators have phenomenal accents (how can you not love those?) and they make you feel like you are right in the story.
Even if you're not in the throes of a reading slump, you'll probably love this book.
If you liked this review of code name verity, you might also like these books: