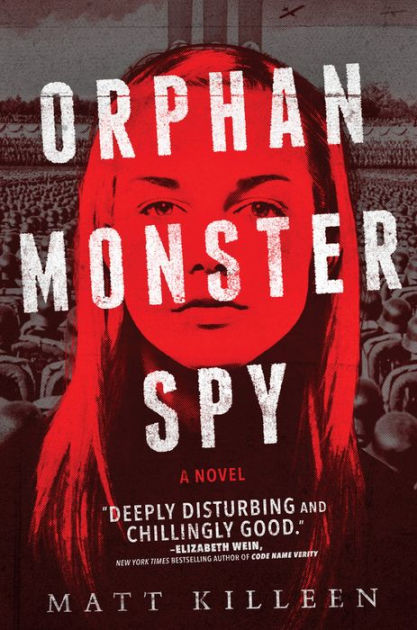 I'm a sucker for good World War 2 books, and as soon as I saw a blurb from Elizabeth Wein (who wrote the super amazing Code Name Verity) on the front, I was sold on Orphan Monster Spy.
One thing that always impresses me is when an author can take a topic as widely written on as World War 2 and make it feel fresh and new.
Orphan Monster Spy is one of those books.
ORPHAN MONSTER SPY BY MATT KILLEEN
It doesn't waste any time jumping right into the plot – on the first page, Sarah's mother is shot and killed at a checkpoint as they try to escape in 1939.
So Sarah is on her own, with no papers and no where to go.
She does have a few things on her side, though.
First, she's blonde and blue-eyed, so although she is Jewish, she can easily pass for a non-Jewish German.
Second, her mother, despite being a serious alcoholic and leaving Sarah to fend for herself most of her childhood, was also a talented actress and linguist and so Sarah has inherited her gift for performing and picking up languages and accents.
Third, she's a gymnast. She trained hard until the German gymnasiums stopped admitting Jews and then she spent the long days at home, while her mother was in a drunken stupor, practicing in the hallways and on the stair railings.
Still, it's going to be hard for any of those to make up for the fact that she has no documentation and that she's alone in a country going berserk.
And then she meets a man who turns out to be a spy and he recruits her to enroll in a boarding school for the daughters of Nazi elites. One of those elites is a scientist who is working on the atomic bomb and Sarah's job is to befriend his daughter, find out everything she can about the bomb and then . . . well, they'll figure out the next part of the plan if and when they get there.
Sarah is such a fantastic heroine. She is very smart and aware, but she also is a teenager with strong emotions that she can't always control, even when it brings her head to head with the bullies at the school.
I also love how much of the book takes place in her head as she watches and weighs her options. The voice of her mother, usually harsh but often also very useful, is constantly playing in her mind as she tries to navigate one tricky situation after another.
I love the flashbacks to her life before she was a spy that help you understand why she is the way she is and how she developed the skills that are now keeping her alive.
And I really loved that I had no idea how this story was going to play out, even up to the very end. There kept being one twist after another and I basically couldn't put this book down.
Fair warning that this book is pretty dark, even by the standards of World War 2 books.
I think part of it is that Sarah is so young (she's 15, but passes as more like 12 or 13, thanks to malnutrition as her mother spent the majority of their meager money on alcohol).
And part of it is that many of the most horrifying parts happen right up close – it's not second-hand or seen from a distance. Sarah is right there, right in the middle of some pretty awful things.
If you're really sensitive to violence? Then Orphan Monster Spy is not for you.
It just came out a few weeks ago, but it's already racking up fantastic reviews and it absolutely deserves them.
Looking for other World War 2 books? These are a few of my favorites: