Every time I mention audiobooks for kids (so, you know, every third day), I get multiple questions about where to find read along books.
With an audiobook, you're generally going to just have the audio (basically like an audio CD) where as with a read along book, your child can see the pictures while a narrator reads aloud the text.
If your kids listen to audiobooks on a tablet but they start playing on it, pop in your email address and I'll send you my best tips for avoiding that!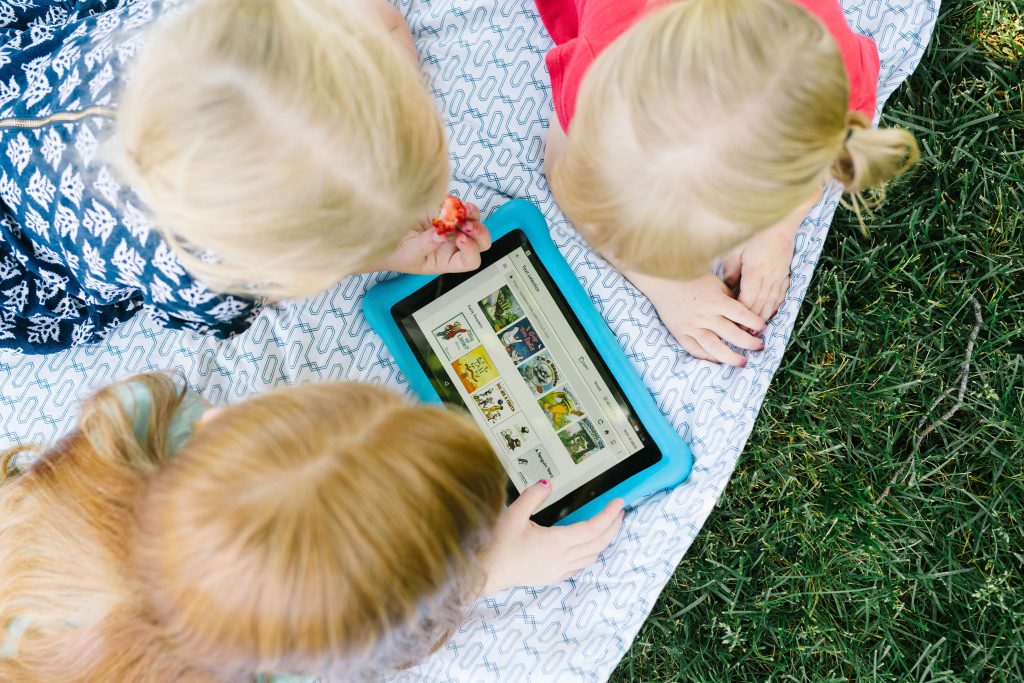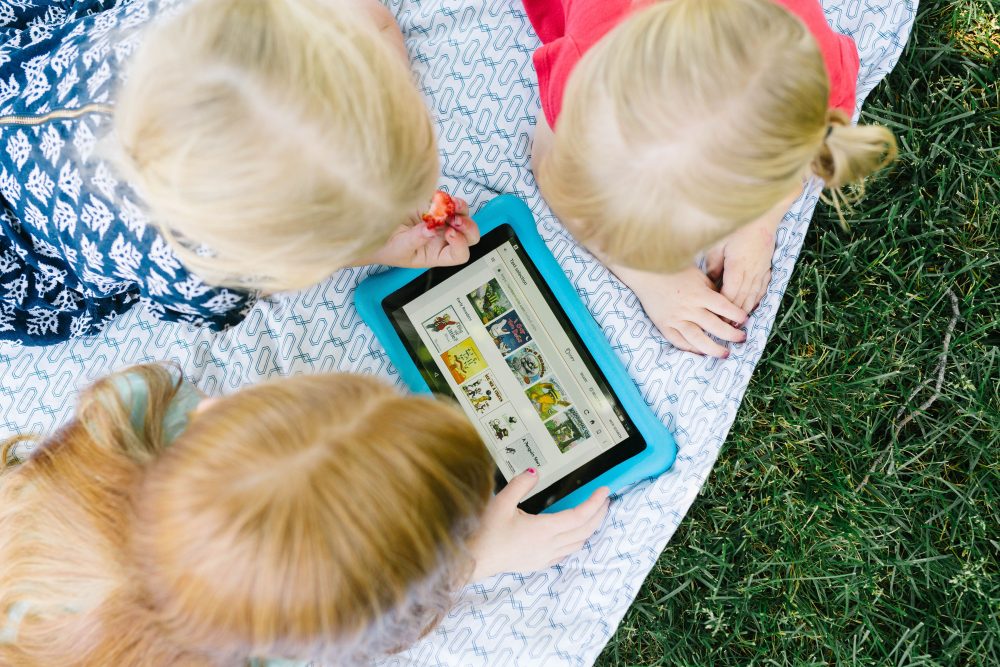 To be honest, we actually don't use read along books ALL that much – my children generally just listen to audiobooks while they're playing with play doh or going to bed – but I know some families absolutely LOVE them.
If read along audio books are what you're looking for to use with your children, these are some of my favorite sources for read along books – I hope you'll find them helpful!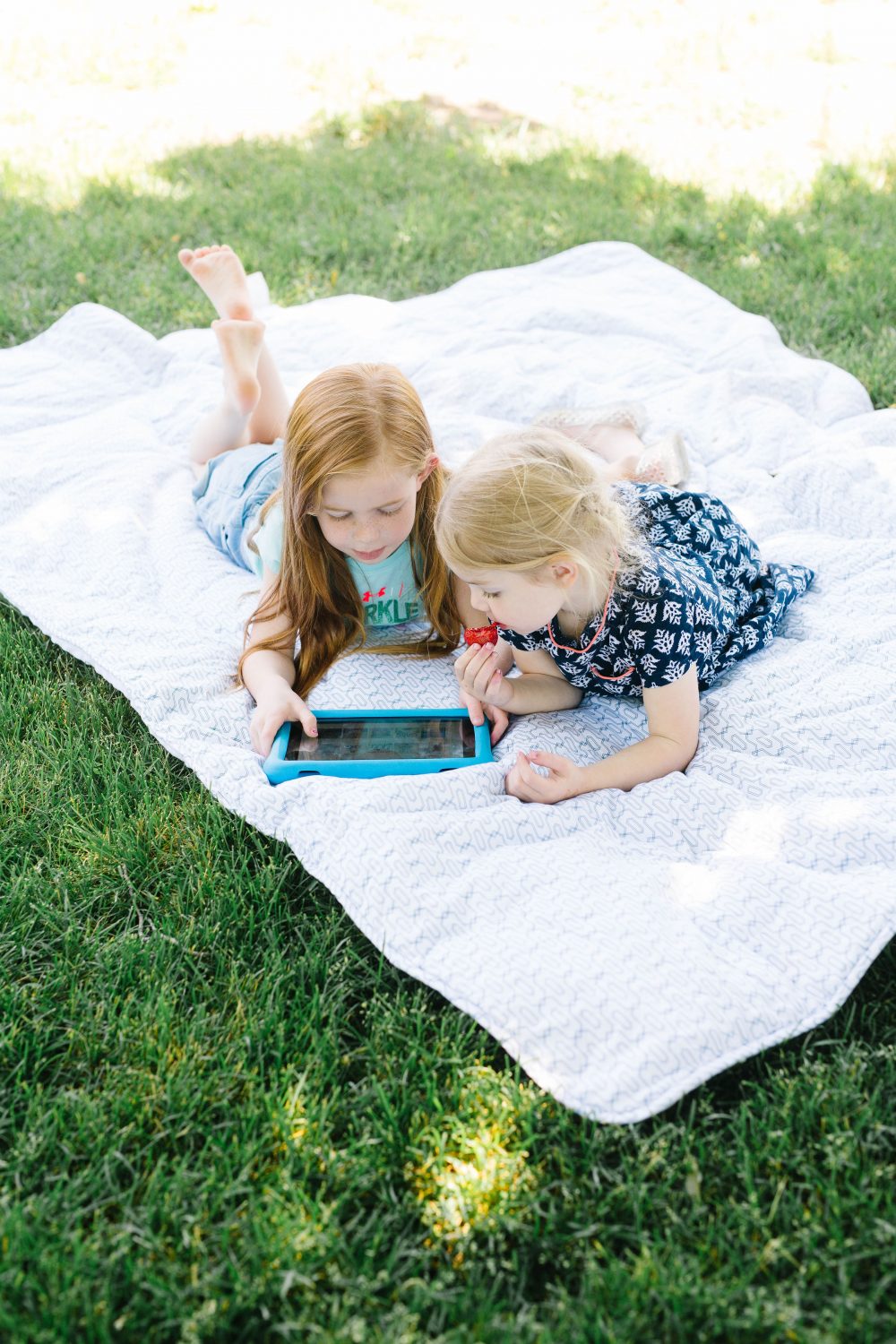 Where to find Read Along Books
The library
My first introduction to read along books was with those little packets that many libraries have with a picture book and an audio CD to go along with it. When Ella was about 2, these started to be lifesavers in the car. Instead of complaining endlessly about being buckled in her carseat, she'd happily turn the pages as the CD read the book aloud to her. If your library doesn't have those (or you've exhausted their collection), you can cobble your own together by getting a picture book and then finding the audio version either on CD or digitally.
DIY read along books
I wrote a full post about this a couple of years ago but basically, you can record your own narration (or have an aunt or uncle or grandparent or older sibling do it!). You can record it on a CD or simply use the recording app on your phone. Easy and extra special to have a voice they love reading them the story. Bonus points if you add page turn sound effects.
Overdrive/Libby (They call them "Read-alongs for Kids")
All Overdrive and Libby collections are dependent on your local library and what they choose to buy for their collection, so it's possible that your library's Overdrive collection won't have a Read Alongs section. Here's their directions for how to find the Read Along books in your library's digital catalog. FYI that these will open in a browser, so if your child is using a tablet where you have the browser blocked, it won't work. (I have a whole post here about how to use Libby!)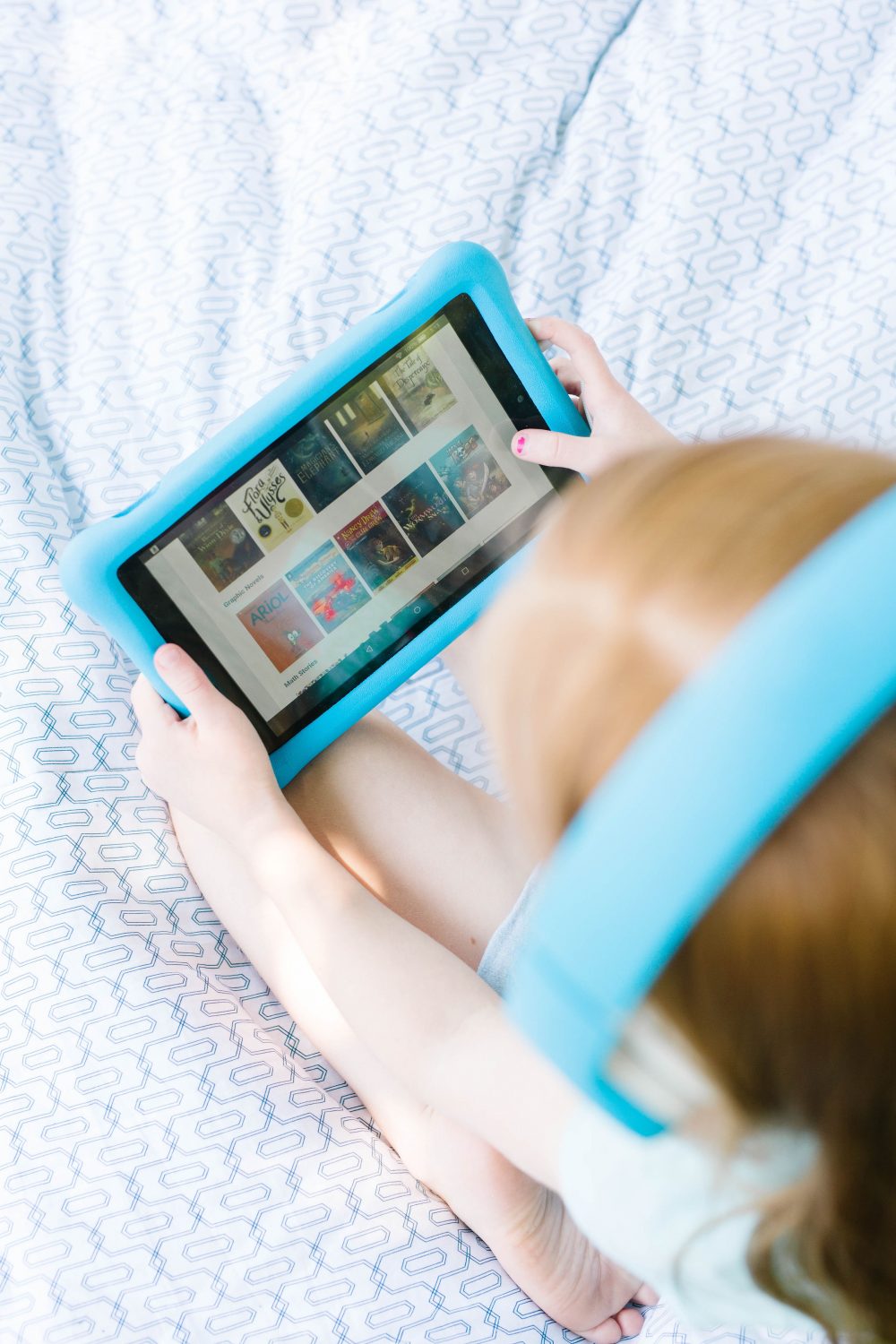 Audible
Audible has about 250 children's audiobooks with synchronized images so they'll show on your phone or tablet as you listen. For more details about how to use Audible, I wrote this whole post, but the take-home message is that for most children's books, especially the picture books, it's better to buy them a la carte instead of through your Audible membership, since most of them are less than $2.
Vooks
Vooks has a whole library of streaming read along books for kids that you can use on a phone or tablet or desktop computer. They're lightly animated, which is different than many of the read aloud book options on this list, and have some music added in. You can do a free 7 day trial or try out a couple of the books they have for free here. I'm pretty impressed with their collection!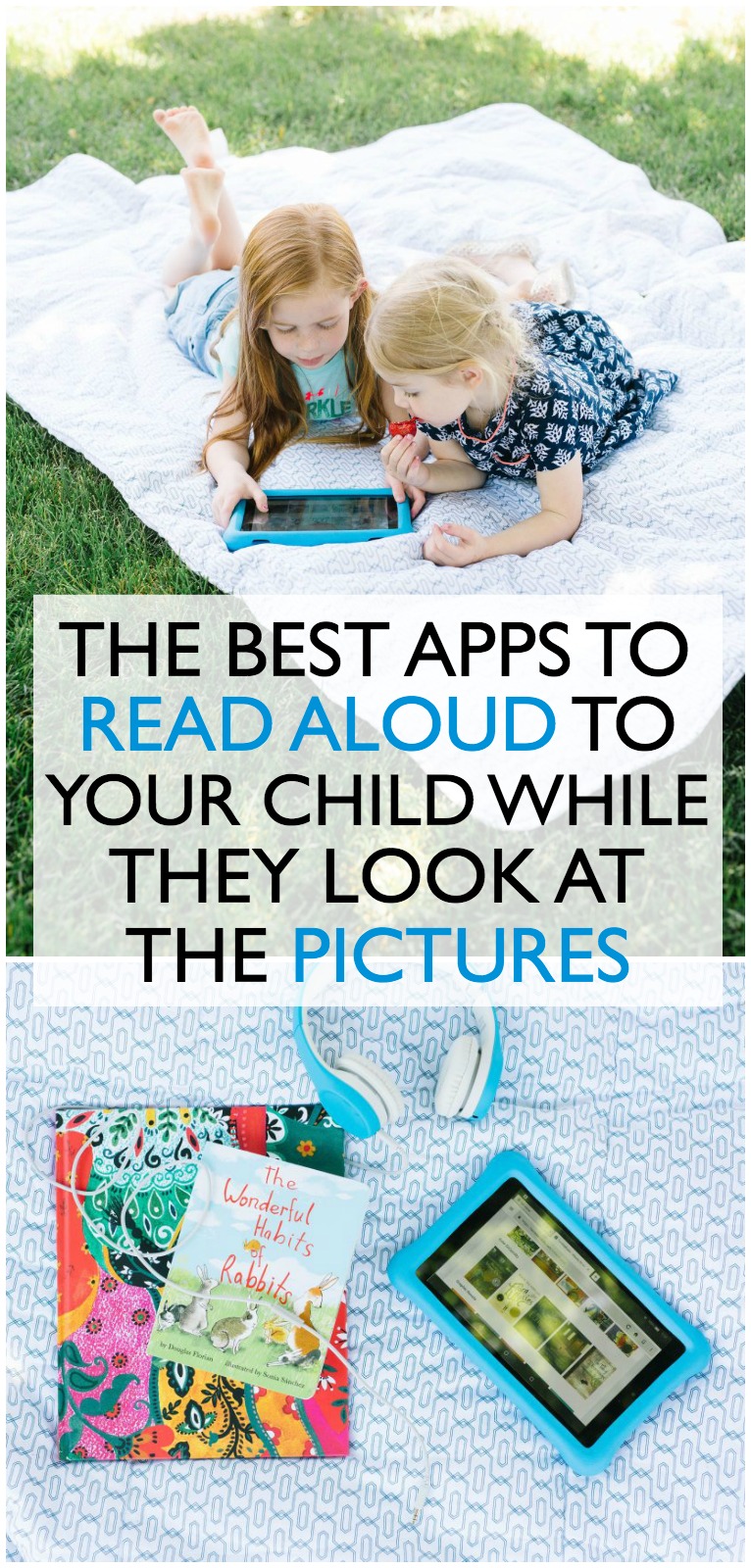 Wonderbook/Vox Books
If you're new to Wonderbook, it's a hardcover picture book or early reader with a little audiobook player built right into the front cover. Press play and it'll read aloud to you while you turn the pages (complete with the little page-turn ding!). My library's collection of Wonderbooks continues to grow and grow and they have books for kids of all ages! Here is a whole post about how they work here!
Tumblebooks
This isn't available to the general public but many many public libraries and schools have subscriptions and you can access them through their sites – they'll generally have a page that tells you the username and password so you can access them or a direct link you enter through. We used Tumblebooks a LOT with Ella when she was younger – she loved to watch a couple of books read aloud to her on my computer and it saved me when I felt like death during my second pregnancy and just wanted to lie on the couch. Their library is pretty robust and I think it's just standard no matter what library or school you're using. Tumblebooks is where I first discovered Mercy Watson!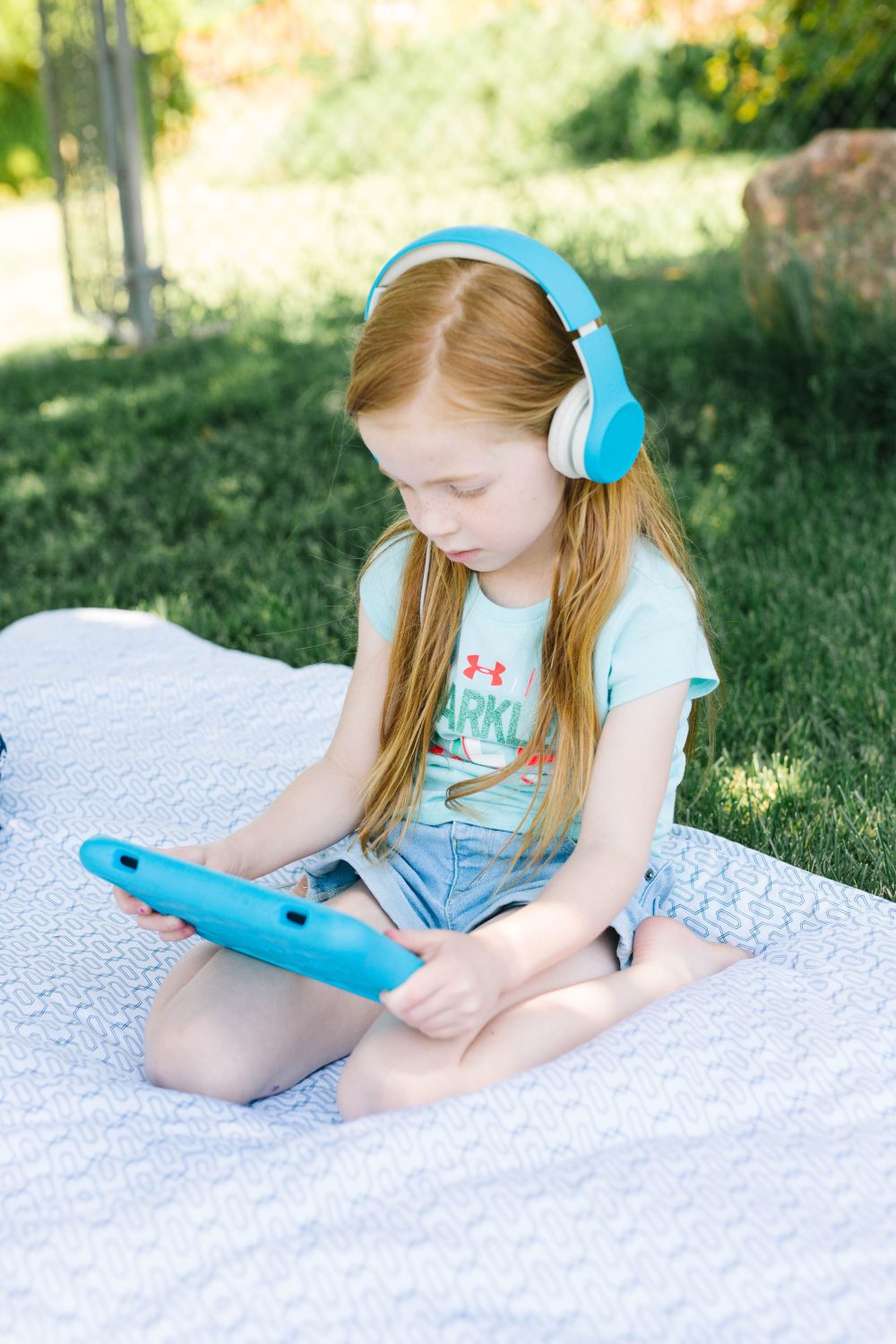 Starfall
Starfall has a collection of read along books – they call it "talking library." It's fairly limited without a membership, but many schools and libraries already pay for a membership for their patrons, so check to see if yours does!
Epic!
Epic! bills themselves as the Netflix of digital books for children and it's not far off, since they have a really great collection (like 35,000+), including e-books and audiobooks and, yes, read along books (under the tab "Read to Me"). They have a bunch of fiction AND non-fiction and it's $8 per month. Plus, you can use it on a phone or tablet or on your desktop. Oh, and there is a free 30 day trial too.
ABCMouse
This program (which works on both computers and tablets/phones) has a section called Storytime and they have a lot of books, although it doesn't tell you which ones have narration, so it's just trial and error to figure out which ones will read to your child. You can get 2 months of access for $5, which is a screaming deal.
Any other ways that your family accesses read along books? I'd love for you to share any programs or apps I might have missed so this post can be even more useful for other families!
If you liked this post about read along books, you might also enjoy these posts: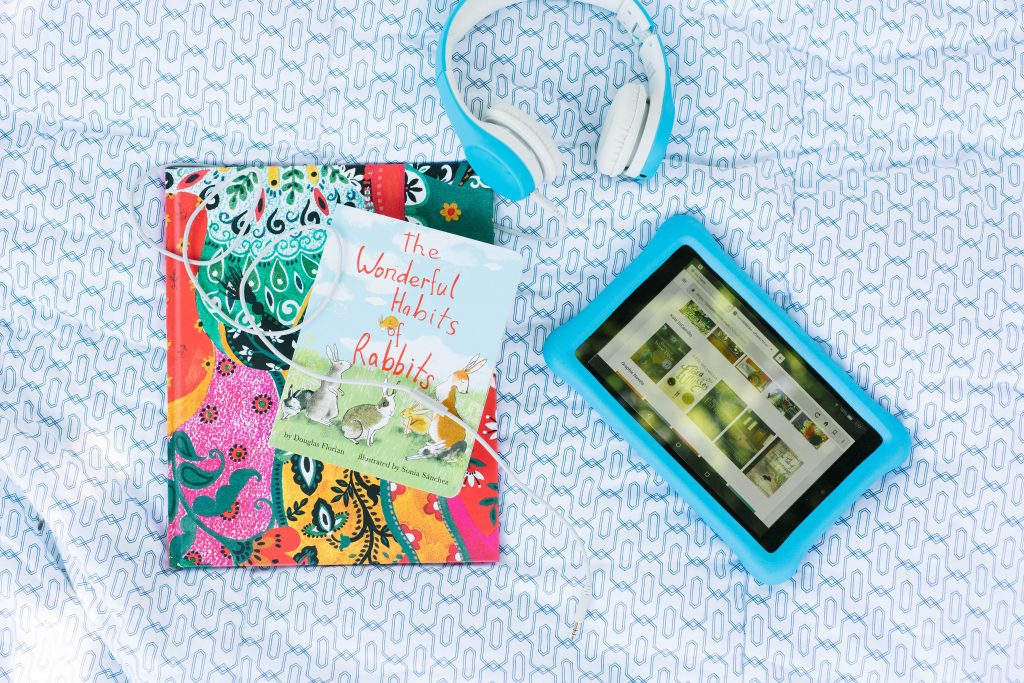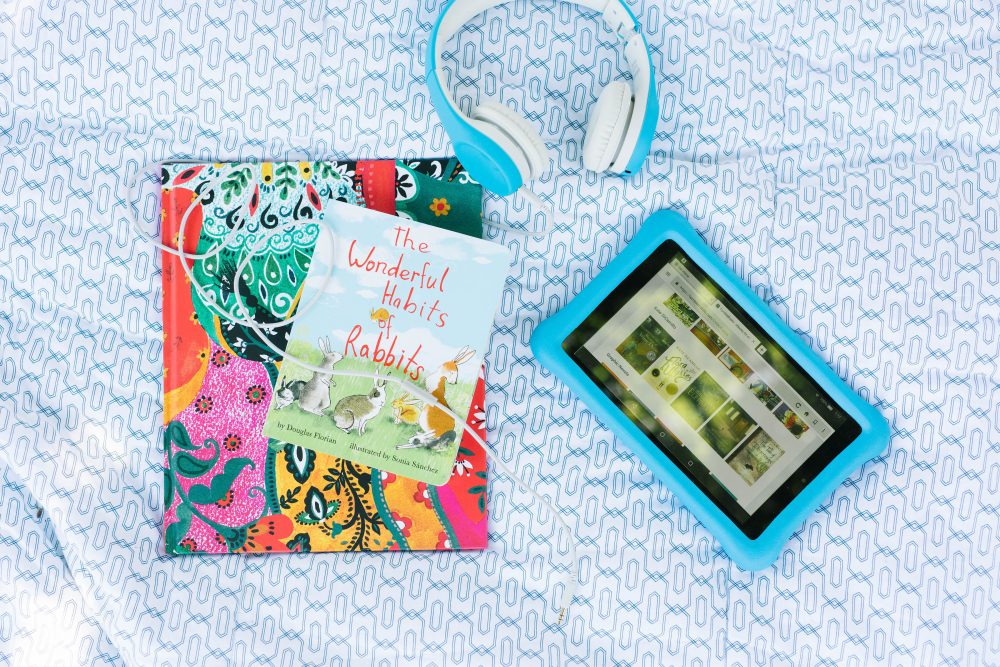 Photos by Heather Mildenstein