Wondering how to use the Audible app to listen to audiobooks? This is a quick overview of the two basic ways to use Audible, plus answers to the most common questions about using the Audible app! And you can sign up for a free trial here and get a free audiobook of your choice!
If you are looking for the way to share an Audible book with a friend, pop in your email address and I'll send you the step-by-step instructions!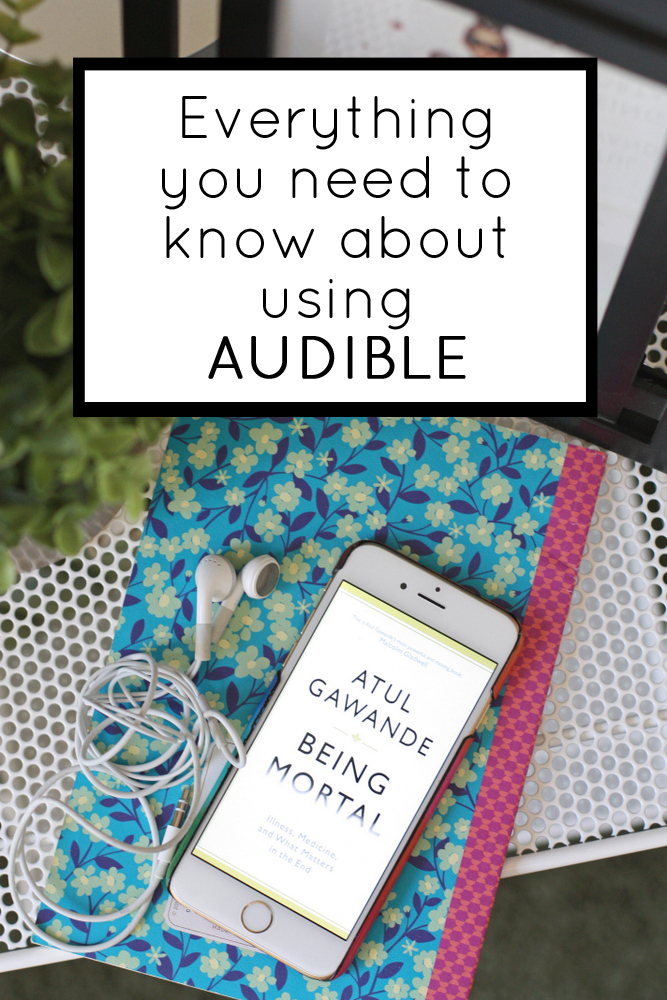 Every time I mention Audible, I get a ton of questions about how to use Audible to listen to audiobooks, so I wanted to give an overview of how it works, plus answer some other questions.
Basically, there are two ways to use Audible.
You can use these two methods independently or in combination (which is what we do at our house).
First, there is the subscription model
As you'd probably expect, you pay a monthly fee and get a certain number of audiobook credits.
The base level is $14.95 a month and you get one audiobook credit.
That credit lets you buy any book in their catalog (and their catalog is MASSIVE – definitely the biggest one on the market). Many audiobooks run closer to $30 each if you were to buy them piecemeal, so an Audible subscription gives you a fantastic deal on them.
You also get 30% off any additional audiobooks you buy.
You download the Audible app and any audiobooks you purchase appear in your library. Download them when you're ready to listen and you're ready to go. Also, with any Audible book, you own it – it never gets returned, even if you cancel your membership.
Or, even cheaper, is a free month-long trial where you get a free audiobook for signing up. In this case, you can even sign up, download your free audiobook and then immediately cancel your subscription.
As always, I recommend that if you sign up for a free or discounted trial, set a calendar alert a day or two before it converts to a regular subscription so you can decide if you want it to continue or if you want to cancel.
The second way to use Audible is by buying audiobooks one by one
You don't have to have a membership and you can just download the Audible app, then buy an audiobook when the fancy strikes you (or a smoking sale comes along) and it will appear in your library. Yours forever.
This is generally a terrible idea if the book is more expensive than $14.95 (if it is, you might as well just get a membership, use your credit and cancel your account), but if the book is LESS than $14.95, it's better than using your Audible credit.
So when a good sale comes along (like this one last fall), I'll never use my Audible credits for those sales – I'll just buy them straight up with cash. (Or, you know, a credit card).
That's it!
But, of course, there are always a bazillion extra questions to answer, so I'll try to do that here with questions I've been asked a bunch of times:
Frequently Asked Questions about Audible:
Why would I use Audible if my library has Overdrive? 
I totally get this! I love Overdrive and am so grateful for my libraries that have it. But those hold lines can be SO long (I'm on a few where it will be more than six months until a book comes up) and then you have to make sure to get through it in the allotted time before it goes back to your library. So Audible is awesome for when you want to listen to something right away and then have as much time as you need to listen. And also when you want to be able to listen over and over again (which is why we own a lot of children's books from Audible).
What happens if I don't use my credit? 
Credits roll over until you get to five (or a higher number if you have a more expensive plan). So if you have a month where you don't get around to picking a book? No sweat. Just pick two the next month.
What if I don't like the book I picked?
Best news – Audible guarantees all their audiobooks, so if you don't like something, you can just exchange it, no questions asked. No risk.
How much do you spend on Audible per month?
We have a regular $14.95/month plan and then I buy one-off audiobooks when there is a good sale or if there is something I really want. And then I use Overdrive or Scribd for the rest of my audiobook needs.
How do I find good sales on Audible? 
I don't have a rock solid way, but they do have a deals page with the daily deal and any audiobooks that are a below-average price. I also try to mention it when I notice one on Facebook or Instagram.
Can you share an account? 
Yes! You can just sign in with the same log-in on multiple devices and you'll see everything in your library. So Bart has the Audible app on his phone and I have it on mine. That way we can listen to the same things if we want or both have access to all our children's books on there.
How does Audible compare to Kindle Unlimited? 
Kindle Unlimited is $9.99 a month (or you can get a free 30 day trial here) and you have unlimited access to the Kindle Unlimited e-book collection and thousands of audio books that are associated with those e-books. I have to say that I'm not personally wowed by Kindle Unlimited. I don't read a ton of e-books (maybe a dozen or so a year?), and their audiobook collection is QUITE limited. Some books that are on Kindle Unlimited are not available as audiobooks through Kindle Unlimited (like Harry Potter, for instance) and as I browsed through, I wasn't struck by many that I was just dying to listen to. I'd much rather just be able to choose exactly the book I want from the Audible catalog.
How does Audible relate to Prime? 
They only play together a bit. If you have Prime, you get free access to Audible Channels which are basically their own podcasts and also some free audiobooks available for streaming. You don't own any of those audiobooks and the selection, of course, is significantly smaller.
Do Audible picture books have page turn signals? 
There may be a few, but I have never listened to one that does have that little "ding!" Which leads to the next question. . .
Do your children look at your phone or follow along with a picture book while they listen? 
No. Pretty much never. We almost always listen in the car or if they listen at home, it's while they do puzzles, color, paint, play with Legos or do some other activity that keeps their hands busy.
Are there options to listen to picture books with the images showing at the same time? 
Yes! There are about 300 on Audible where it will show basically a slideshow of the illustrations while the narration plays. You can see them all here.
What devices do you use to listen? 
We listen primarily on our phones (if we're in the car, it plays over the speaker system through a bluetooth connection) but we sometimes hook it up to our Google Home and we can use the Audible app on our girls' tablets (although mainly they use the Overdrive or Libby apps on the tablets during quiet time).
How do I keep my child from clicking all over the place on a phone or tablet while it plays? 
There's no easy way that I know of to have separate profiles, but with an Apple products, you can turn on guided access so they can't click out of the app that is running (we started using this years ago when we'd travel and our toddler would continuously click out of her show and then have a heart attack). Or, because there is nothing to really see for most audiobooks, you can just turn it on and then lock the screen and let it run.
Any other questions?
This is pretty much my favorite topic and I'm happy to try to find answers about all things Audible if I don't know them. Let me know how I can help you!