Looking for almost free audio books for your child to listen to? Here are more than 35 audio books for kids available from Audible that are less than $2. Listen to these stories for kids on the road, while your child colors or plays with Legos, and as they drift off to sleep! These are the best audiobooks to add to your collection. 
A year or so ago, I talked all about how to use the Audible app and while I was working on that post, I stumbled on a gold mine of audio books for kids from Audible that are under two dollars.
The best audiobooks, I think, are ones that don't break the bank or mean you have to eat rice and beans for a month.
I mean, they're not quite free audio books, but it's just about as close as you can get. Many of these stories for kids are less than $1 (some as low as 59 cents) and I added three in here that are under $4 because they were so good, I couldn't stand not to include them.
All of these are audiobooks you can purchase a la carte without an Audible subscription and just have them download right to your free Audible app.
Also, many many many of them have synchronized images so the illustrations from the books will show up in the app as a slideshow as the narration goes along. If the images are something you're looking for – and I know from the comments and direct messages that many of you are! – this is really handy.
Here are the more than 40 audio books for kids that I found currently available for a steal of a deal! (And if you need a quick refresher on how to use the Audible app, this post should have you covered). I think these are some of the best audiobooks!
Also, a warning that Audible and Amazon change the prices allll the time, so if you see something you want, I'd recommend snagging it before it's suddenly a $10 audio book.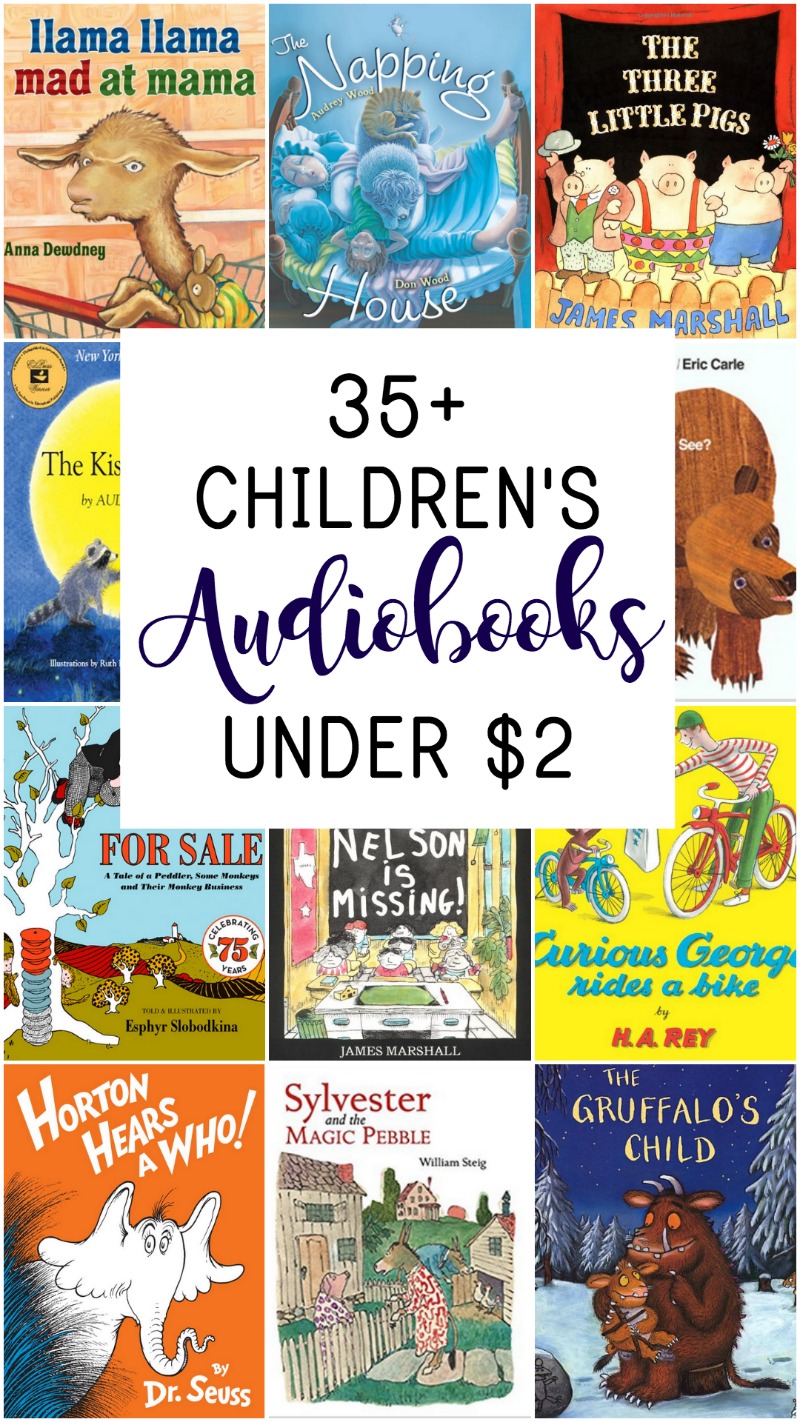 Audio books for Kids under $2
The Little House by Virginia Lee Burton ($0.59 with synchronized images)
This little house is built on in the country, but eventually the city grows up around it and after decades, it's almost forgotten in the middle of the bustling metropolis.
Mike Mulligan and His Steam Shovel by Virginia Lee Burton ($1.95 with synchronized images)
This is probably my favorite vehicle-related book about Mike who is certain his steam shovel isn't out-dated and worthless. And he's going to prove it.
Caps for Sale by Esphyr Slobodkina ($1.95 with synchronized images)
When a cap salesman takes a lunchtime nap under a tree, he awakens to find all his caps missing. This is one of the best audiobooks – Ella and I listened to this one hundreds of times back in 2012 when she first started enjoying audio books for kids.
Owl at Home by Arnold Lobel ($3.41)
This is one of the audio books for kids that's not under $2, but considering it has multiple chapters, I think it's worth the extra $1.50. We have listened to this one approximately 493 times. It is one of Star's VERY favorites (here are five other short story collections on audio we love).
A Weekend With Wendell by Kevin Henkes ($0.95 with synchronized images)
I love every one of Kevin Henkes' mouse books. They all are just bursting with personality.
The Velveteen Rabbit by Margery Williams ($0.95 with synchronized images)
The classic story of how a toy becomes real. This one is also LONG, so this is one of the best audiobooks because I feel like you're really getting your money's worth.
Horton Hears a Who! by Dr Seuss ($2.79)
Dr. Seuss books were made for audio, in my opinion. This one, about Horton the elephant who is determined to save the Who city, is one of my faves.
Peter's Chair by Ezra Jack Keats ($0.95 with synchronized images)
Not as well-known as The Snowy Day, but still a complete winner from Ezra Jack Keats.
Llama Llama Mad at Mama by Anna Dewdney ($2.80)
Those Llama Llama books are so delightful to listen to aloud with their great rhyme scheme.
Red Riding Hood by Donal Donnelly ($0.95)
I love listening to classic stories and my children never get tired of them.
The Peter Rabbit Collection by Beatrix Potter ($0.69)
This has EIGHTEEN stories for less than a dollar. Probably the best money you'll ever spend in your entire life.
Doctor De Soto by William Steig ($1.95 with synchronized images)
When a fox has a toothache, of course he goes to Doctor De Soto. But this dentist mouse is wary that after he fixes the problem, he'll be the fox's lunch.
The Kissing Hand by Audrey Penn ($1.95)
Another perfect one for listening to at bedtime.
Brown Bear, Brown Bear, What Do Your See? by Eric Carle and Bill Martin ($1.95)
Do you have a child who would like to read this book 10,000 times straight through? Me too. An audio version is an easy way to save your voice and your sanity.
Little Bear's Visit by Else Holmelumd Minarik ($1.95 with synchronized images)
I love all of the Little Bear books and they're a great value because they have several little chapters. They're just some of the best stories for kids!
The Three Little Pigs by James Marshall ($1.95 with synchronized images)
A classic re-told as only James Marshall could do it.
Burt Dow: Deep Water Man by Robert McCloskey ($1.95)
When you go out expecting a fish and catch something a lot bigger instead, you know it's going to be one of those good stories for kids!
The Day Jimmy's Boa Ate the Wash by Trinka Hakes Noble ($0.95 with synchronized images)
This one has synchronized images and I think in this case, you definitely want them!
The Snail and the Whale by Julia Donaldson ($3.95)
We've been reading this one non-stop at our house about a snail who doesn't listen to the naysayers who say snails should just stay at home and hops a ride on a whale's back to see the world.
Brave Irene by William Steig ($1.88)
When the dressmaker falls ill and can't deliver the ball gown she's been creating for duchess, her brave daughter Irene volunteers to make the trip to the palace with dress, despite the fact a snowstorm is blowing in. I'm pretty sure Ani listened to this one every night for six months a couple of years ago.
Whistle for Willie by Ezra Jack Keats ($0.95 with synchronized images)
I love how this appeals to practically every child, whether they are desperate to learn the secret of whistling or they're old hats!
Sylvester and the Magic Pebble by William Steig ($1.95 with synchronized images)
One of my favorite Caldecott winners, this one is about a young donkey named Sylvester who finds a magic rock that grants wishes, but on his way home to tell his parents, he encounters a lion and, in a panic, accidentally wishes himself into a rock. How's anyone ever going to figure out that the missing donkey is actually a rock? This is one of my all-time favorite stories for kids of any age.
A Kiss For Little Bear by Else Homelumd Minarik ($0.95 with synchronized images)
I love this sweet story and the audio version so much about Little Bear and his imagined adventures.
Miss Nelson is Missing by Harry Allard ($0.95 with synchronized images)
Possibly in my top five children's books about a teacher who, when her classroom turns out of control, takes matters into her own hands by sending in the terrifying substitute, Viola Swamp.
Goodnight Moon by Margaret Wise Brown ($0.87 with synchronized images)
Turn this on repeat and let your child listen all night long.
Millions of Cats by Wanda Gag ($0.95 with synchronized images)
I grew up with this book, and I'm surprised how many people aren't familiar with this award-winning title from 1928 about a lonely old couple who decide a cat is what the need to complete their home.
Llama, Llama Red Pajama by Anna Dewdney ($2.80)
For every parent who has ever had a child who doesn't want to go to bed.
Strega Nona by Tomie de Paola ($1.95 with synchronized images)
Who doesn't love this story about Big Anthony who foolishly breaks Strega Nona's rules and creates the biggest pot of pasta you've ever seen?
Where the Wild Things Are by Maurice Sendak ($0.95 with synchronized images)
This is always in the top five picture books of all time. And for good reason.
Curious George Rides a Bike by H.A. Ray ($1.95 with synchronized images)
I love an audio book version of Curious George because these books are LONG – I'd much rather have a professional narrate George's naughtiness than do it myself.
The Napping House by Audrey Wood ($0.95 with synchronized images)
Audrey Wood is one of my favorites in the picture book world, and this one delights my children ever time.
Harold & the Purple Crayon by Crockett Johnson ($0.87 with synchronized images)
A classic in every way. This one is also much better because of the synchronized images.
The Snowy Day by Ezra Jack Keats ($0.95 with synchronized images)
Perfect for February, a little boy discovers all the wonder of a snowy day, from snow angels to poking holes in the snow with a stick.
Let me know if you grab a few – I'd love to hear which ones of these audio books for kids caught your eye!