When it comes to audiobooks, Audible is the biggest name in the game.
They have the biggest audiobook collection (including many audiobooks that are available only through Audible – some audiobook listeners see this as a plus and others hate that Audible is restricting access to these audiobooks across other platforms), terrific customer service, frequent audiobook deals, and access to the Audible Plus library of included audiobooks with your membership. Plus, Audible plays so nicely with Alexa devices which means you can listen without hooking up your phone or tablet (especially handy with kids)!
But they're definitely not the only player in the audiobook space and there are some great Audible alternatives that support local businesses, are less expensive, or give you a different audiobook experience.
Here are seven of my favorite Audible alternatives to meet all your audiobook listening needs
(For the record, I use all of these Audible alternatives on a regular or semi-regular basis. I pretty much always have an Audible subscription and then I use the others to fill in the gaps).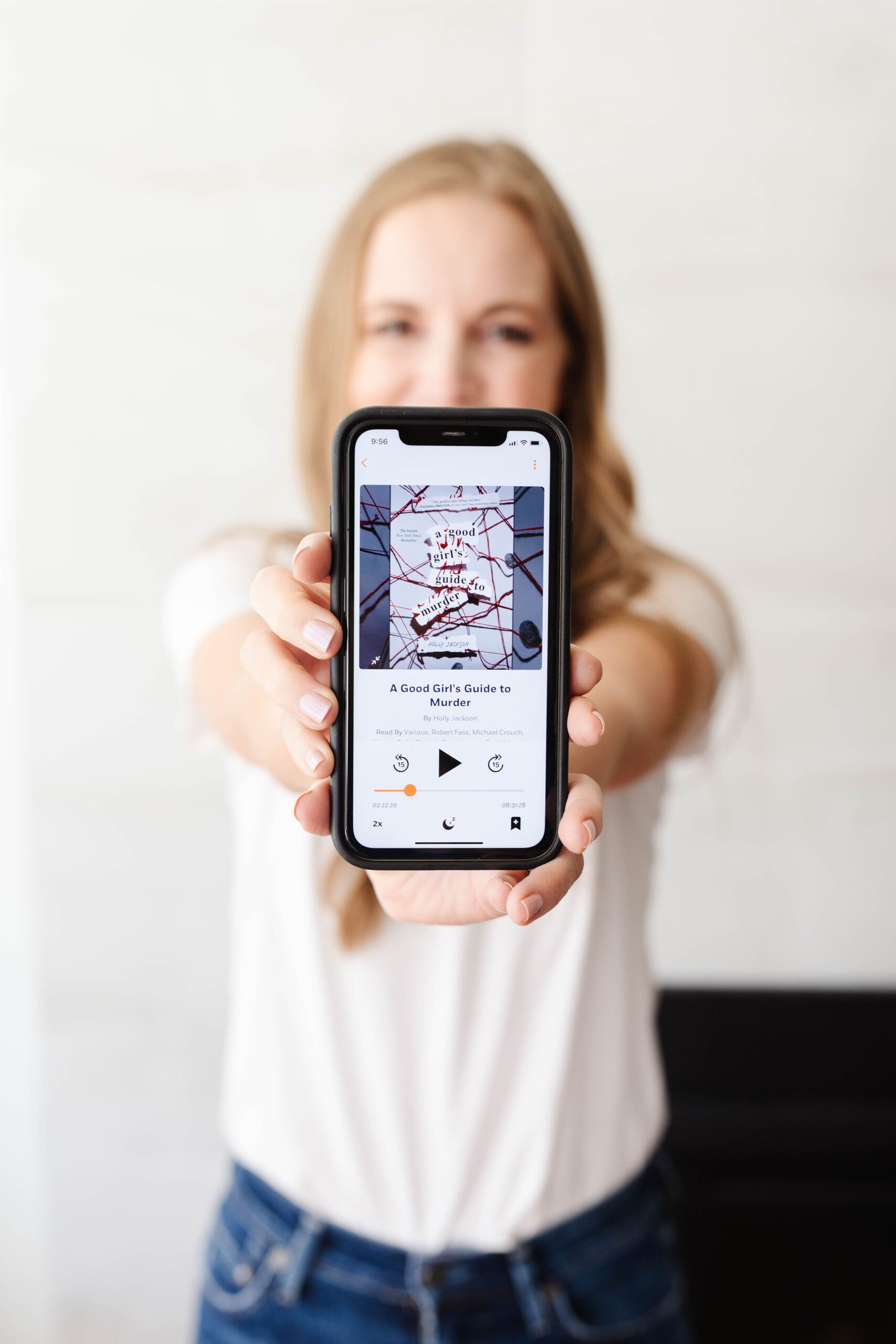 7 Audible Alternatives for Audiobooks
LIBRO.FM
I'm a huge fan of Libro.fm which has a similar setup to Audible – the subscription for both is within a few cents of each other and for about $15 per month, you get one credit to spend on any book in their catalog, which you'll own forever. Your membership also supports local bookstores (you can choose which bookstore you want part of your subscription to go to), which is awesome. Libro.fm also has excellent deals on audiobooks all the time and, unlike Audible, you DON'T have to have a membership to access the deals (although you'll sometimes get a bigger discount if you have a membership). You can also use Libro.fm books to make Yoto cards, which isn't allowed with Audible audiobooks. If you'd like more details, I have a whole post about how Libro.fm works here!
CHIRP AUDIOBOOKS
I love Chirp audiobooks because it's not a subscription site – instead it's just a flash deal site for audiobooks and there's no membership required! Just grab an audiobook for a smoking deal and own it forever without committing to a subscription. I have a post here with more details about how Chirp works!
AUDIOBOOKS.COM
This is another audiobooks site similar to Audible or Libro.fm with a subscription model and a cost around $15/month. I usually sign up for this one when there is a good deal going on (like two free audiobooks with a 30 day trial) and then cancel after I've selected my books and downloaded them. That two free audiobooks deal is going on right now, if you want to grab it!
SCRIBD
We've had a subscription to Scribd for the past 3 years – if you don't care about owning your audiobooks and you're more concerned about access to a lot of audiobook options than specific titles, Scribd is for you. You can listen to as many things as you want (although occasionally, it'll make you wait until the next billing cycle to listen to more than 3-4 really popular titles. You'll still be able to listen to plenty of other things in the catalog) and there are a surprising number of new release and bestsellers included in it. I've listened to lots of fun things over the years and my kids have listened to a million Boxcar Children and Dragon Master books through Scribd. You can try it for a month for free here and I have a whole post with more details about Scribd here.
LIBBY/OVERDRIVE
We use Libby daily in our house through our local library and it's fantastic, not least of all because it's FREE! The collection depends on your library and what they've purchased (so my Libby collection will look different from yours). If you want a free alternative to Audible, you really can't do better than Libby!
HOOPLA
Hoopla is another library audiobook platform which means that if your library has it, it's free for you! Hoopla generally doesn't have hold lines – instead you're limited to a certain number of checkouts per month (your library sets the number of checkouts). I have a whole post about Hoopla here, if you want to know more.
BOOK OF THE MONTH CLUB
I've been a subscriber to Book of the Month Club for years and I'm THRILLED that they've recently added an audiobook option. Weirdly, they have almost no info about it on their site but if you go to the app, you'll see that there is a button for audiobooks at the bottom and you can use your credits for an audiobook instead of a hardback book! It's $15.99/month and fun to be able to switch between getting an audiobook and a hardcover depending on what kind of mood you're in. (You can use this link to get your first credit for $5!)
Any other favorite Audible alternatives? I'd love to hear what audiobook platforms work best for you! (And if you have any questions about any of these audiobook platforms, leave them in the comments and I'll do my best to answer!)
if you liked this post about audible alternatives, you might also like these other posts: