I've written a LOT of posts about audiobooks over the years, but somehow I've never written a post about how to listen to audiobooks on an Echo Dot.
My three older girls use the Echo Dots in their rooms to listen to audiobooks almost daily for the past two years and we've loved them.
If you're not familiar with the Echo Dot, it's a smart speaker from Amazon that lets you listen to music, audiobooks, and ask questions.
Because it's a smart speaker and internet enabled, some families feel uncomfortable with having an Echo Dot or other Alexa Echo device in their home or having their kids use it.
It's been a great fit for our family, but if it's not for you, there are lots of great other options to listen to audiobooks like the Yoto Player or an old-school CD player.
Here's what you need to know about listening to audiobooks on Echo Dot: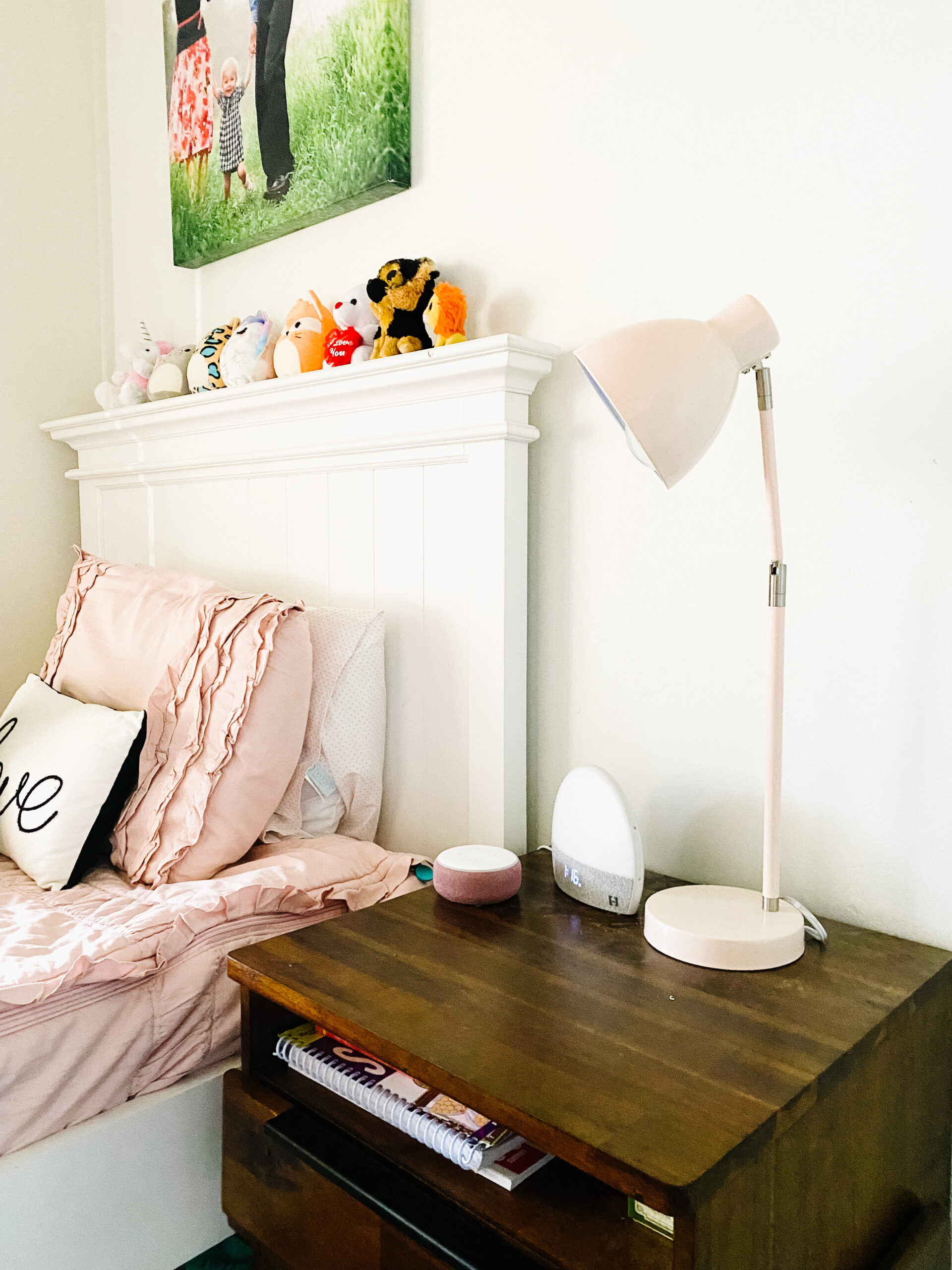 How to Listen to Audiobooks on an Echo Dot
How much does an Echo Dot cost?
Usually the Echo Dot is $49.99 but during Prime Week, they're on sale for $19.99 so this is the best time to grab one if you're in the market (I bought ours at this same price a few years ago). They also have the Echo Dot Kids which is $24.99 (normally $59.99) and includes a year of the Amazon Kids subscription. The good news is they ship free and have free returns, so if you try it out and decide it's not for you, it's simple to return it.
What are the best ages for an Echo Dot? 
I think around 5 and up. Much younger than that and they'll probably mostly be frustrated by the voice commands.
How do I set up my Echo Dot? 
The good news is that Amazon has made it really easy to get it set up. Once you get your Echo Dot, download the Alexa app to your phone and then follow these directions to set it up. If you have trouble setting it up, Amazon has terrific customer support that can help troubleshoot.
How do you set up an Echo Dot as a Bluetooth speaker?
As soon as your Echo Dot is fully set up, it's automatically a Bluetooth speaker, so you can connect your phone or tablet to it and anything you're playing from that device will play on the Echo Dot! No special set up required.
How to set up voice commands on an Echo Dot?
Once your Echo Dot is set up, the voice commands are automatic. You don't have to do anything special to set them up, although as it learns your voice it'll get better at responding to your voice commands.
What audiobook platforms can you listen to via voice commands? 
Audible, of course, is by far the easiest because it's owned by Amazon and so they play together pretty seamlessly. As long as your Audible account and Echo Dot are all set up on the same Amazon account, you can just say, "Alexa play [book title] on Audible" and you're off and running.
Aside from Audible, Hoopla also has an Alexa skill that you can set up in the app and then you can use voice commands to play Hoopla audiobooks. It's a little glitchy and it took me a couple of tries to get it up and running but once I did, Ani uses it all the time.
Chirp also has an Alexa Skill so if you buy an audiobook deal through Chirp, you can listen to it via voice commands on the Echo Dot.
For platforms that don't have a skill (this will include Libby/Overdrive books from your library, Scribd, etc), you can play them through the Echo Dot by using it as a Bluetooth Speaker.
How do you get library content on the Echo Dot?
Aside from Hoopla, the Echo Dot isn't likely your best option for listening to library audiobooks (in my opinion). You'll need a phone or tablet to open the Libby/Overdrive app and then connect to your Echo Dot via Bluetooth and you'll need to control it all through the phone or tablet. If library content is your number one priority and your library doesn't have Hoopla, you may not love the Echo Dot.
Can it play audiobooks or just read an ebook in the alexa voice?
Both! If you're playing a Hoopla or Audible or Chirp audiobook via voice commands or streaming a Libby or Scribd audiobook via Bluetooth, it'll be the full audiobook performance. You can also have Alexa read you most Kindle ebooks by saying "Alexa, play the Kindle book [book title]."
Are there any free books to listen through the Dot?
There are! You can ask "Alexa, tell me a story" and she'll read you some stories. If you have an Amazon Kids subscription has more than 1000 hours of Audible books included and you can see them all here. The Amazon Storytime skill also has a lot of free stories.
How do your little girls know what is available and how to ask?
My three older girls use the Echo Dots (my 5 year old almost never does aside from asking our one in our living room to play songs from Spotify) and they're pretty good at remembering what's available (every now and again they'll ask me to pull up Audible on my phone so they can look at the options). I know some people have printed out a little "menu" of audiobooks that are available so their child can remember which ones. For most kids, once you've taught them how to ask Alexa to play an Audible book once or twice, they'll be up and running with no trouble.
What are the parental controls on an Echo Dot? 
For any Alexa device, you can turn on Amazon Kids settings in the Alexa app. It'll let you set time limits, filter explicit content, and turn off purchasing options. To be frank, I found the Amazon Kids settings so irritating and difficult to deal with (including making it impossible to let my kids listen to Audible Plus audiobooks) that I just turned them off. They know not to use it too late or ask inappropriate questions or make purchases and after a conversation about that, they know that if they abuse those privileges, they'll lose their access. You'll know your child best and if they can handle that kind of freedom or if it'll be better with the parental controls on. You can also see everything they ask Alexa or listen to from the app.
How to avoid kids buying things on there?
You can turn off voice purchasing in the Alexa app. Push the "More" button in the bottom right corner and then choose "Settings" and then "Account Settings" and then choose "Voice Purchasing." Select "Purchase controls" and then you can decide what settings you want (you can turn it off entirely or make it so you have to have a four digit voice code to make a purchase or only recognized voices).
Can you make kids profiles?
Yes! Set up an Amazon Kids account (directions here) and then you can match each account to the dot. You can set age limits, times of use, and more there.
Do you have to turn the Echo Dot off of Kids Mode to listen to podcasts?
There is a very small number of podcasts that are included in the Amazon Kids mode (you can see them all here), but if you want other ones you'll need to turn off Kids mode (which is another reason we don't keep it in kids mode).
Can they listen to books I add to their "family library" when it's in Amazon kids mode?
Yes, if it's an Audible book you own. If it's in the Audible Plus library, it won't let you add it to their library so they won't be able to listen.
Are the instructions different for each different dot generation?
They're pretty much all the same. We have an Echo and several Echo Dots and they all function basically exactly the same.
if you liked this post about how to get audiobooks on echo dot, you might also like these other posts: