You know that I live and breathe audiobooks over here and my girls listen to them constantly as well.
We get many of them from the library, but I also keep my eye out for Audible deals so I can scoop up children's audiobooks for our own permanent collection.
We listen to them in the car while we run errands, I play them through our Google Home while the girls color at the table or I make dinner, and Star often will listen during quiet time if she wants to be in with me while I work.
I also love to let me my girls listen along with a copy of the book (whether from the library or our own copies) so they can see the illustrations.
Last year, I shared a bunch of Audible deals and this week, a whole slew of wonderful titles are on sale (many of them for less than a dollar or two!) so if you need something to keep your children entertained during holiday road trips or on long snow days, snag a few while the prices are so low!
And if you aren't familiar with how to use the Audible app (it's free!), I wrote a whole tutorial about it here.
I hope you'll love these Audible deals as much as our family is loving them!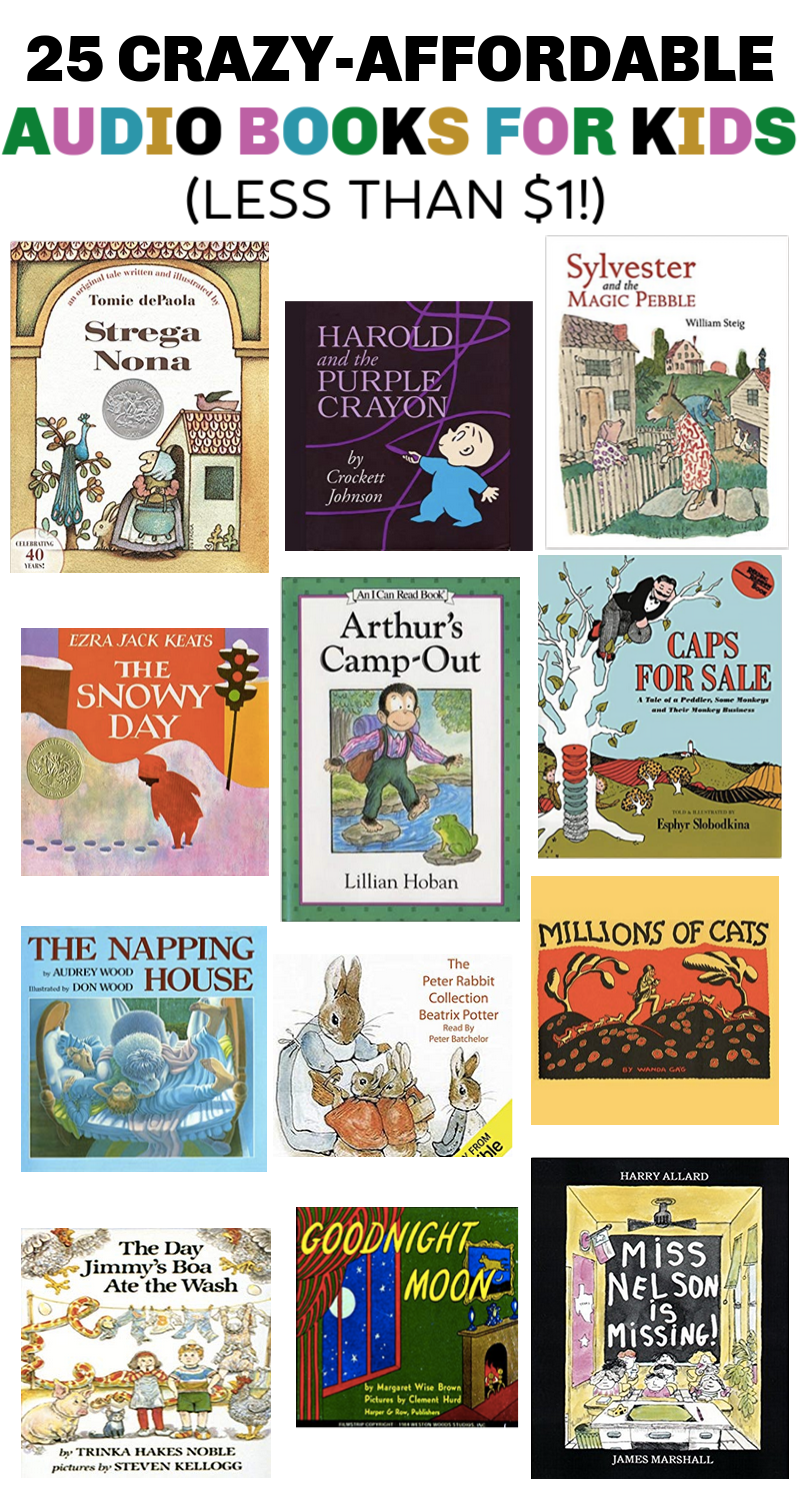 25 Amazing Audible Deals for Children's Audiobooks
Strega Nona by Tomie de Paola ($1.95)
This is my number one favorite Tomie de Paola book and the audio version is so fun about an old woman with a magical pasta pot that gets misused by curious Big Anthony
My Father's Dragon by Ruth Stiles Gannett ($0.95)
I'll be the first to admit that this is not my favorite book (I think it kind of drags along), but it's so beloved by most people and the price is SO low that I can't not include it.
Princess Cora and the Crocodile by Laura Amy Schlitz ($2.44)
Ani and I read this together last year and got a huge giggle out of this tale of a crocodile and a princess who switch places.
Arthur's Campout by Lillian Hoban ($1.99)
I love the stories of Arthur the Monkey (this is written by the woman who did all the illustrations for the Frances series!).
Owl at Home by Arnold Lobel ($3.41)
I love Owl at Home and have read it to my girls dozens of times over the years and the audio book is top-notch (You can also snag his book, Uncle Elephant, for$3.41.
Sylvester and the Magic Pebble by William Steig ($1.95)
One of my favorite Caldecott books, this one is about a young donkey who finds a magic pebble and then, in a moment of desperation, wishes himself into a large rock.
The Peter Rabbit Collection by Beatrix Potter ($0.69)
The WHOLE collection for sixty-nine cents – this is the Audible deal to end all Audible deals. You can't even buy a soda at McDonald's for that. It's nearly 3 hours long, so it's pretty much the best money you could ever spend.
Five Children and It by Edith Nesbit ($0.82)
My dad read aloud this story of five children spending a long summer in the country who find a magical creature that grants their wishes (but always in a way that makes them as inconvenient and annoying as possible). I read it to my girls a year or so ago and we all really enjoyed it.
A Little Princess by Frances Hodgson Burnett ($0.94)
I loved this even more as an adult than a child and Bart kept listening in because it's just so great.
Mike Mulligan and His Steam Shovel by Virginia Lee Burton and Ezra Jack Keats ($1.95)
Admittedly, vehicle books are not my area of expertise, but this one is a classic about Mike Mulligan who wants to prove that his steam shovel can dig a whole cellar in a day.
The Snowy Day by Ezra Jack Keats ($0.95)
Winter is basically here – you need this book to remind you how magical snow is. You can also grab Whistle for Willie for 95 cents!
Caps for Sale by Esphyr Slobodkina ($1.95)
I'm fairly sure I've listened to the audio of this one at least 100 times – it was one of the first audiobooks Ella started listening to in the car when she was about 2.5!
Harold and the Purple Crayon by Crockett Johnson ($0.95)
A classic, but I take no responsibility if your child writes all over the house with a purple crayon.
The Napping House by Audrey Wood ($0.95)
I've loved this book my entire life. It's just such a fun rhythmic tale of a house where everyone is sleeping. Until everyone ISN'T sleeping.
A Weekend with Wendell by Kevin Henkes ($0.95)
Kevin Henkes really does it right and his books about the mice are my very favorites.
Where the Wild Things Are by Maurice Sendak ($0.95)
This book is almost always listed in the top spot when it comes to classic children's picture books and for good reason. I love this story about Max going to bed without supper and discovering a world where the Wild Things are.
The Velveteen Rabbit by Margery Williams ($0.95)
Is it just me or does this book have a Christmas feel to it, even though it's not technically a Christmas book?
Miss Nelson is Missing by Harry Allard ($0.95)
You KNOW I love this book about a teacher who can't control her class and so brings in a terrifying substitute, Miss Viola Swamp.
The Day Jimmy's Boa Ate the Wash by Trinka Hakes Noble ($0.95)
I just finished folding all my laundry, so actually the idea of a snake eating teh wash doesn't sound so bad compared to folding and putting away 28 tiny pairs of pajamas.
Millions of Cats by Wanda Gag ($0.95)
This Caldecott title isn't nearly as well-known as some others, but it's been a family favorite of ours for decades.
Goodnight Moon by Margaret Wise Brown ($0.87)
Save your voice and let a professional read it on repeat 43 times before bed.
Little Bear's Visit by Else Holmelumd Minarik (($1.95)
I am obsessed with Little Bear and basically want to be Mama Bear. That's normal, right?
Papa is a Poet by Natalie S. Bober ($1.95)
This book about Robert Frost, told in the voice of his daughter, about his life growing up on a farm with ambitions of being a baseball player.
Brave Irene by William Steig ($1.88)
Irene braves a storm to deliver a dress her seamstress mother has been commissioned to make.
Frog and Toad Are Friends by Arnold Lobel ($3.41)
You'll get your money's worth out of this one, since it has four chapters and they're all SO good (Arnold Lobel narrates them himself!)
Let me know if you pick any of them up and how you like them!
If you liked these Audible deals on children's audiobooks, you might like these posts too: