You know that I live and breathe audiobooks over here and my girls listen to them constantly as well.
We get many of them from the library, but I also keep my eye out for Audible deals so I can scoop up children's audiobooks for our own permanent collection.
We listen to them in the car while we run errands, I play them through our Alexa while the girls color at the table or I make dinner, and my little girls will often will listen during quiet time.
My girls are generally doing something else while they listen, but you can always grab a copy of the book (whether from the library or your own copies) so they can follow along while they listen.
This week, there are a whole slew of wonderful titles are on sale (many of them for less than a dollar or two!) so if you need something to keep your children entertained during summer road trips or on long hot afternoons stuck at home, snag a few while the prices are so low!
And if you aren't familiar with how to use the Audible app (it's free!), I wrote a whole tutorial about it here.
I hope you'll love these Audible deals as much as our family is loving them!
(P.S. The picture books are at the top of the list with longer chapter books at the bottom)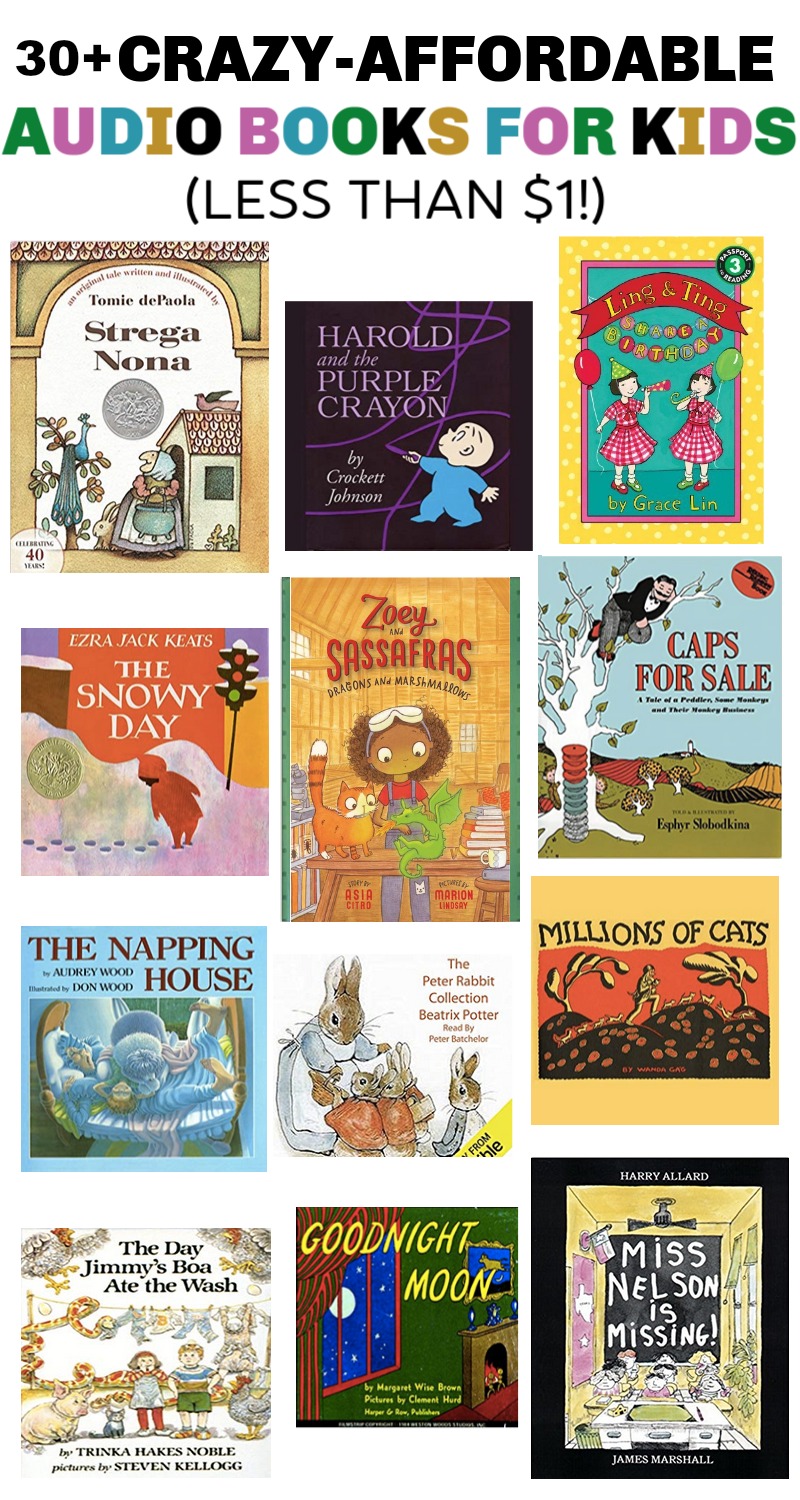 30+ Amazing Audible Deals for Children's Audiobooks
Strega Nona by Tomie de Paola
This is my number one favorite Tomie de Paola book and the audio version is so fun about an old woman with a magical pasta pot that gets misused by curious Big Anthony
Sylvester and the Magic Pebble by William Steig
One of my favorite Caldecott books, this one is about a young donkey who finds a magic pebble and then, in a moment of desperation, wishes himself into a large rock.
Mike Mulligan and His Steam Shovel by Virginia Lee Burton
Admittedly, vehicle books are not my area of expertise, but this one is a classic about Mike Mulligan who wants to prove that his steam shovel can dig a whole cellar in a day. It also includes three other books, so it's a steal!
The Snowy Day by Ezra Jack Keats
This book is perfect if you need a reminder of how magical snow is. You can also grab Whistle for Willie for 69 cents!
Caps for Sale by Esphyr Slobodkina
I'm fairly sure I've listened to the audio of this one at least 100 times – it was one of the first audiobooks Ella started listening to in the car when she was about 2.5!
Room on the Broom by Julia Donaldson
Not just for Halloween, this sweet story is about a witch who loses her hat in the wind. It also has music plus a read along track!
Harold and the Purple Crayon by Crockett Johnson 
A classic, but I take no responsibility if your child writes all over the house with a purple crayon.
The Napping House by Audrey Wood
I've loved this book my entire life. It's just such a fun rhythmic tale of a house where everyone is sleeping. Until everyone ISN'T sleeping.
The Pout-Pout Fish by Deborah Diesen
I wasn't familiar with this book until a friend introduced it to Ella when she was 2 and it quickly became one of her all-time favorites.
A Weekend with Wendell by Kevin Henkes
Kevin Henkes really does it right and his books about the mice are my very favorites.
Where the Wild Things Are by Maurice Sendak
This book is almost always listed in the top spot when it comes to classic children's picture books and for good reason. I love this story about Max going to bed without supper and discovering a world where the Wild Things are.
The Velveteen Rabbit by Margery Williams
Is it just me or does this book have a Christmas feel to it, even though it's not technically a Christmas book?
Miss Nelson is Missing by Harry Allard
You KNOW I love this book about a teacher who can't control her class and so brings in a terrifying substitute, Miss Viola Swamp.
The Water Princess by Susan Verde
Georgie spends her days walking to and from her village collecting water. Is there any way her family and friends can find better access to clean water?
The Day Jimmy's Boa Ate the Wash by Trinka Hakes Noble
I just finished folding all my laundry, so actually the idea of a snake eating teh wash doesn't sound so bad compared to folding and putting away 28 tiny pairs of pajamas.
Millions of Cats by Wanda Gag
This Caldecott title isn't nearly as well-known as some others, but it's been a family favorite of ours for decades.
Goodnight Moon by Margaret Wise Brown
Save your voice and let a professional read it on repeat 43 times before bed.
Papa is a Poet by Natalie S. Bober
This book about Robert Frost, told in the voice of his daughter, about his life growing up on a farm with ambitions of being a baseball player.
Brave Irene by William Steig
Irene braves a storm to deliver a dress her seamstress mother has been commissioned to make.
Little Bear's Visit by Else Holmelumd Minarik
I am obsessed with Little Bear and basically want to be Mama Bear. That's normal, right?
Charlie & Mouse & Grumpy by Laurel Snyder
These books about two little brothers are some of our favorites and each of the four beginning chapter books in the series are on sale for $1.32 so . . . you might just want to get all four!
Ling & Ting Share a Birthday by Grace Lin
We are OBSESSED with Ling & Ting at our house – each volume has 5 or 6 delightful little chapters and this birthday focused one is a favorite.
King & Kayla and the Case of the Lost Tooth by Dori Hillestad Butler
We discovered the King and Kayla beginning mysteries when I was working on this book list and they're so charming. As far as I can tell, you can get any of the books in the series for $1.71 each!
Owl at Home by Arnold Lobel
I love Owl at Home and have read it to my girls dozens of times over the years and the audio book is top-notch (You can also snag his book, Uncle Elephant, for $2.39).
Frog and Toad Are Friends by Arnold Lobel
You'll get your money's worth out of this one, since it has four chapters and they're all SO good (Arnold Lobel narrates them himself!)
My Father's Dragon by Ruth Stiles Gannett
I'll be the first to admit that this is not my favorite book (I think it kind of drags along), but it's so beloved by most people and the price is SO low that I can't not include it.
Princess Cora and the Crocodile by Laura Amy Schlitz
Ani and I read this together a few years ago and got a huge giggle out of this tale of a crocodile and a princess who switch places.
Rosie Revere and the Raucous Riveters by Andrea Beaty
If your child loves Rosie Revere, check out the new chapter book series featuring your favorite characters from the picture books!
Zoey and Sassafras by Asia Citro
This is the first book in this early chapter book series (it's about 55 minutes long) about a little girl and her cat sidekick who cure magical animals.
Gooney the Fabulous by Lois Lowry
My kids get a huge kick out of Gooney Bird Greene who is unlike any other child at her elementary school and bursting with stories of her adventures.
Freddie Ramos Takes Off by Jacqueline Jules
When Freddie comes home to find a mysterious package with his name on it, he's delighted to discover that it's a pair of magical shoes that make him super speedy. All six books in the series are available for less than $3 each!
Pony-Mad Princess by Diana Kimpton
Being a princess is fun, but not NEARLY as fun as being with ponies in the royal stable!
The Reluctant Dragon by Kenneth Grahame
Can you believe I've never read this by the same author as The Wind in the Willows? For less than $3, this is the time to remedy it.
The Absent Author by Ron Roy
After they listened to a million Boxcar Children, my girls loved this mystery series too – this is the first book in the series!
The Peter Rabbit Collection by Beatrix Potter
The WHOLE collection for sixty-nine cents – this is the Audible deal to end all Audible deals. You can't even buy a soda at McDonald's for that. It's nearly 3 hours long, so it's pretty much the best money you could ever spend.
Aesop's Fables for Children by Aesop
Your child will hear these fables referred to their entire life – it's nice to have them know them well!
Bedtime Inspirational Stories: 50 Amazing Black People Who Changed the World by L. A. Amber
Some of these people you'll be familiar with and others you'll never have heard of – it's a terrific collection!
Five Children and It by Edith Nesbit
My dad read aloud this story of five children spending a long summer in the country who find a magical creature that grants their wishes (but always in a way that makes them as inconvenient and annoying as possible). I read it to my girls a year or so ago and we all really enjoyed it.
And if you'd like a printable copy of this list that you can print out or screenshot on your phone for easy access, just pop in your email address below and it'll come right to your inbox!
Let me know if you pick any of them up and how you like them!
If you liked these Audible deals on children's audiobooks, you might like these posts too: