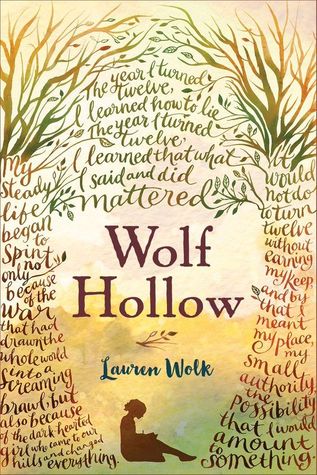 I've had a copy of Wolf Hollow by Lauren Wolk sitting on my shelf for MONTHS.
One great review after another came in and I kept not getting to it.
Then, I posted a photo of it on Instagram just before Christmas as one of the books I was hoping to get to over the break, and someone suggested that the Wolf Hollow audiobook was excellent.
Well, that was all the encouragement I needed and after months of postponement, I listened to the whole thing in two days.
And everyone was right – it was SO good.
It's been a while since I listened to a middle grade novel, and it was just such a treat.
wolf hollow by lauren wolk
This one is set in World War II, but the war is very distant background to the story.
Instead, the focus is on Annabelle who lives in a small town in Pennsylvania.
Her life is very ordinary, with a loving set of parents and three rambunctious little brothers, and a quiet life on their farm.
But then, Betty Glengarry arrives in town, coming to live with her grandparents, and for whatever reason, she takes an instant dislike to Annabelle and starts threatening her (and the threats aren't idle either – within a day or two, those threats escalate into physical violence).
Fortunately, Annabelle isn't on her own – a man named Toby is keeping an eye on her.
Toby is a WWI veteran and he's considered fairly strange by most of the community, but Annabelle's family has treated him kindly, letting him live in one of the smokehouses on their property, and they aren't bothered by his unkempt appearance and the fact that he almost never speaks. No one knows much about him or what happened to him during WWI, but everyone mostly leaves him alone.
But Annabelle isn't the only one who discovers that Toby's watching Betty's bullying unfold. Betty also finds out that he's lurking around and if she didn't like Annabelle, it's NOTHING compared to how much she appears to hate Toby and when a terrible accident takes place in the community, Betty attests that Toby was the perpetrator.
Annabelle doesn't believe this for a second, but when Betty goes missing, everyone is sure that Toby's behind it, and it's up to Annabelle to try to prove his innocence.
I love a book where you don't know how things will play out, and this was exactly that, up until almost the last pages.
Annabelle is the most likable character, with a lot of gumption and courage, but she's also only eleven and she makes some missteps in her attempts to deal with Betty's bullying and later to prove Toby's innocence that make her very real.
The audio version of Wolf Hollow was terrific, and listening to it was a completely immersive experience – I felt like I was right there in the hills of Pennsylvania, wondering who was at fault and who to trust.
When I was writing this post, I looked at a few reviews and noticed that there has been a lot of comparison between Wolf Hollow and To Kill a Mockingbird, which, frankly, never even crossed my mind, but now that it's been mentioned, I can absolutely see some similarities. It has that same rich character development, family ties, and conflicts between justice and prejudice.
If you're looking for something wonderful to read, I highly recommend Wolf Hollow by Lauren Wolk.
And I can hardly wait to see what Lauren Wolk writes next.
If you liked this review of wolf hollow, you might also like these books: