Anyone else have a child obsessed with dinosaur books?
They're a perennial favorite with children and for good reason – there is something just so appealing and fascinating about these extinct animals.
Plus, they come in such a wide variety – vicious and calm, big and small, land dwellers and flier – that it's not hard to find a dinosaur you love.
I've collected some of my favorite dinosaur books here, in case you have a dino lover in your house too.
(By the way, you'll notice that almost every one of these dinosaur books are fiction – if you have favorite non-fiction dinosaur book recommendations, I'd love it if you left them in the comments!).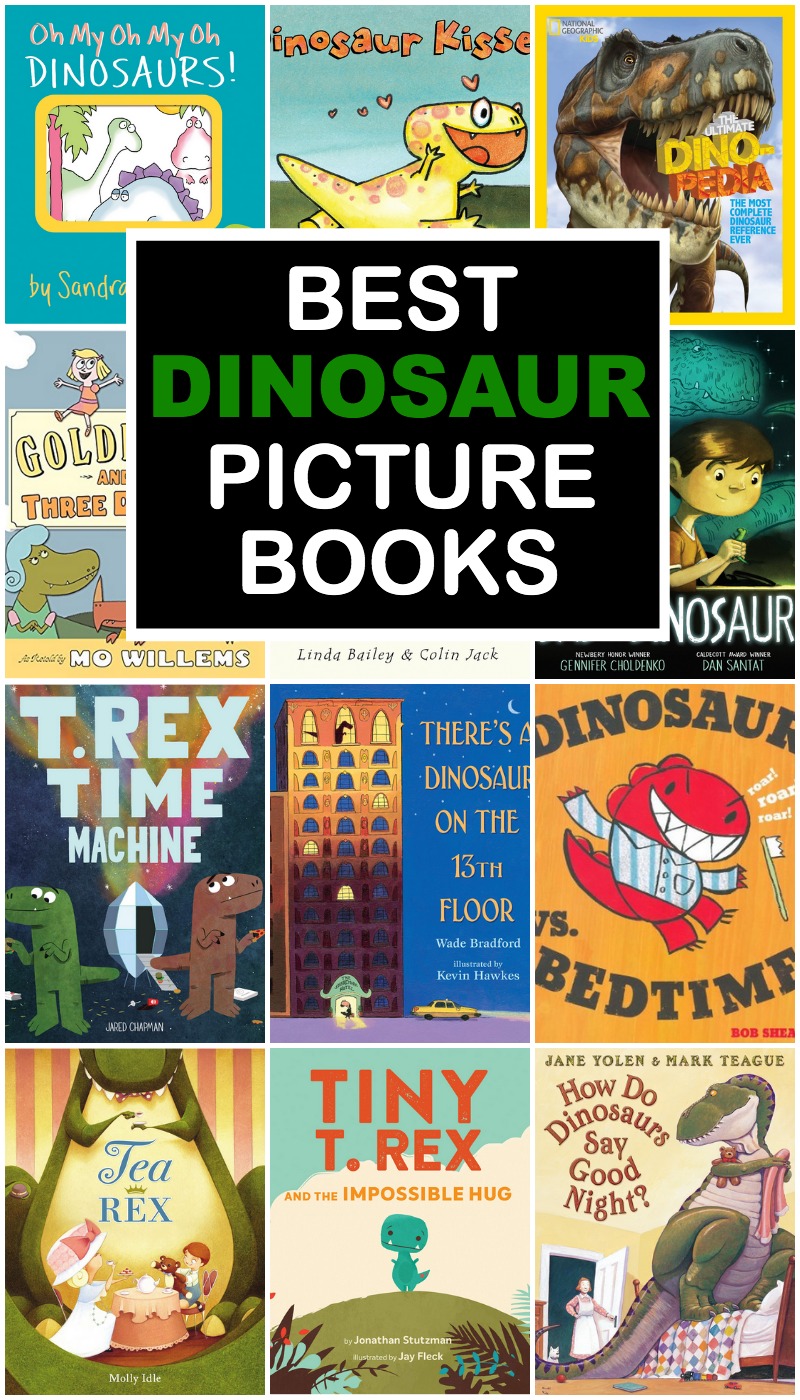 Our 17 favorite dinosaur books
We Don't Eat Our Classmates by Ryan T. Higgins
In this goofball dinosaur book, It's the first day of school and Penelope Rex CANNOT WAIT. She is thrilled for the chance to make friends, but then she remembers that humans are delicious. What is going to keep her from gobbling up all those potential friends?
Tea Rex by Molly Idle
This is possibly my #1 favorite of all the dinosaur books we've read. A little brother and sister duo can't wait to host a tea party but when the dinosaurs show up, they might not be quite ready to follow the rules of etiquette that such a proper tea party requires.
Tiny T. Rex and the Impossible Hug by Jonathan Stutzman, illustrated by Jay Fleck
Just the title alone makes me laugh and the book, about a T. Rex who is determined to hug his friends lives up to the title.
How Do Dinosaurs Say Goodnight? by Jane Yolen, illustrated by Mark Teague
This beloved series is packed with books about dinosaurs who do all sorts of things, from using their manners to going to bed, and none of them are duds.
There's a Dinosaur on the 13th Floor by Wade Bradford, illustrated by Kevin Hawkes
This book is pretty new and my girls and I LOVE it. A man arrives at a hotel, exhausted and anxious to collapse into a comfortable bed, but on each floor, the room is already occupied by an animal. You can guess what animal is waiting for him on the 13th floor. . .
Goldilocks and the Three Dinosaurs by Mo Willems
Mo Willems, you just never disappoint. This riff on the famous fairy tale follows Goldilocks into a house that appears safe and empty but might actually have some devious dinosaurs waiting just outside, ready to scarf down a delicious little girl treat.
If You Happen to Have a Dinosaur by Linda Bailey, illustrated by Colin Jack
Have you ever thought about how USEFUL it would be to have a dinosaur? They can act as umbrellas or an alarm or even be much more convincing than that old "dog ate my homework" excuse. Of course, there are also some things dinosaurs aren't much good for at all.
When Dinosaurs Came with Everything by Elise Broach, illustrated by David Small
Errands are so boring. But when you discover that today only, dinosaurs come with every purchase? Well, errands just might not be so bad.
Dad and the Dinosaur by Gennifer Choldenko, illustrated by Dan Santat
I can hardly read this book without crying. It's fine. A little boy uses his small toy dinosaur to be brave when he feels scared. But when he loses that little dinosaur, only his dad is going to be able to help him.
Edwina: The Dinosaur Who Didn't Know She Was Extinct by Mo Willems
Edwina, who happens to be a dinosaur, is the perfect neighbor. She makes delicious cookies and plays with the children in town. But Reginald Van Hoobie-Doobie (doesn't Mo Willems always have the best names?) is SURE that dinosaurs are extinct and he's going to prove it.
T-Rex Time Machine by Jared Chapman
When a time machine arrives in their world, two curious dinosaurs decide to check out that time machine. And when they arrive in the modern world? Well, sign them up for drive-through hamburgers. But not everyone is thrilled about a couple of T-Rexes showing up in their town.
Dinosaur Versus Bedtime by Bob Shea
This series just amuses me to no end where a dinosaur has a showdown with various childhood situations (bedtime, potty training, etc). The bold illustrations and sparse text are perfect for preschoolers and fun to read-aloud as an adult.
National Geographic Kids Ultimate Dinopedia : the Most Complete Dinosaur Reference Ever by Don Lessem, illustrated by Franco Tempesta
Here is your token non-fiction dinosaur book and of course it's going to be National Geographic because I am obsessed with their books for kids. They're packed full of interesting info and I've never seen a dud yet.
Time Flies by Eric Rohmann
This Caldecott Honor book is the wordless story of a bird trapped in a dinosaur exhibit at a museum who is transported back to the time of the dinosaurs.
Oh My Oh My Oh Dinosaurs by Sandra Boynton
I've basically never met a Sandra Boynton book I didn't like and when it comes to dinosaur books, you won't be surprised to know that this one is just as good as her others. The perfect simple rhyming board book that will make you and your child giggle.
What the Dinosaurs Did Last Night by Refe Tuma, illustrated Susan Tuma
This book done all in photographs is super clever and fun about how, when your back is turned or you go to bed, dinosaurs go wild in your house, making big messes you just can't explain unless you know that there were dinosaurs there.
Dinosaur Kisses by David Ezra Stein
Dinah is a newly hatched dinosaur and she is SO thrilled to be out of her egg. She keeps trying different things, from stomping and chomping, until she sees a kiss and is determined to figure out how to do that. But it's hard when your instinct is to chomp and stomp.
And if you'd like a printable copy of this list that you can take to your library or screenshot on your phone for easy access, just pop in your email address below and it'll come right to your inbox!
Any other favorite dinosaur books? Leave them in the comments – it helps make these posts as useful as possible to other readers!
If you liked this list of dinosaur books, you might also like these posts:
Reader Interactions