If you've written off graphic novels for kids as not "real" reading, take a peek at these titles that have massive kid appeal and help even reluctant readers want to crack open a book. These 12 best graphic novels for kids are sure to be a hit!
As a former librarian and now a parent, I feel like graphic novels for kids are a reading secret weapon. 
When I took over the two library collections in my Boston schools, there wasn't a single graphic novel on the shelves, so I got to start two graphic novel collection from scratch.
And it was miraculous to see how my students flocked to them, even the children that never ever showed any interest in other books.
I marked out a section on the shelves for graphic novels, but it turned out to be unneeded because for the ENTIRE year, those books never once went back on the shelf.
One child would drop a graphic novel in the return basket and before I had a moment to return them to the shelf, another child would have grabbed it out and be checking it out.
I love graphic novels for kids because the illustrations help guide the story along and they are usually much less text-heavy, which is fantastic for visual learners or reluctant readers or struggling readers. 
They also tend to be small and paperback, so they can seem much less intimidating than a traditional novel.
And even strong readers can benefit from the opportunity to use their brains in slightly different ways, piecing together the story through both words and images.
Not to mention that graphic novels for kids are just plain fun.
Ella and Ani both devour graphic novels and the graphic novels below have all been vetted by my 600 students back in Boston or my two little in-home reviewers and gotten big thumbs up. 
The best part about these graphic novels for kids is that each of them is a series, so once your child gets hooked, there are many more adventures to be had!
Have you ever wondered if should push your child away from graphic novels? If so, pop in your email address and I'll send you ten reasons you should encourage graphic novel reading!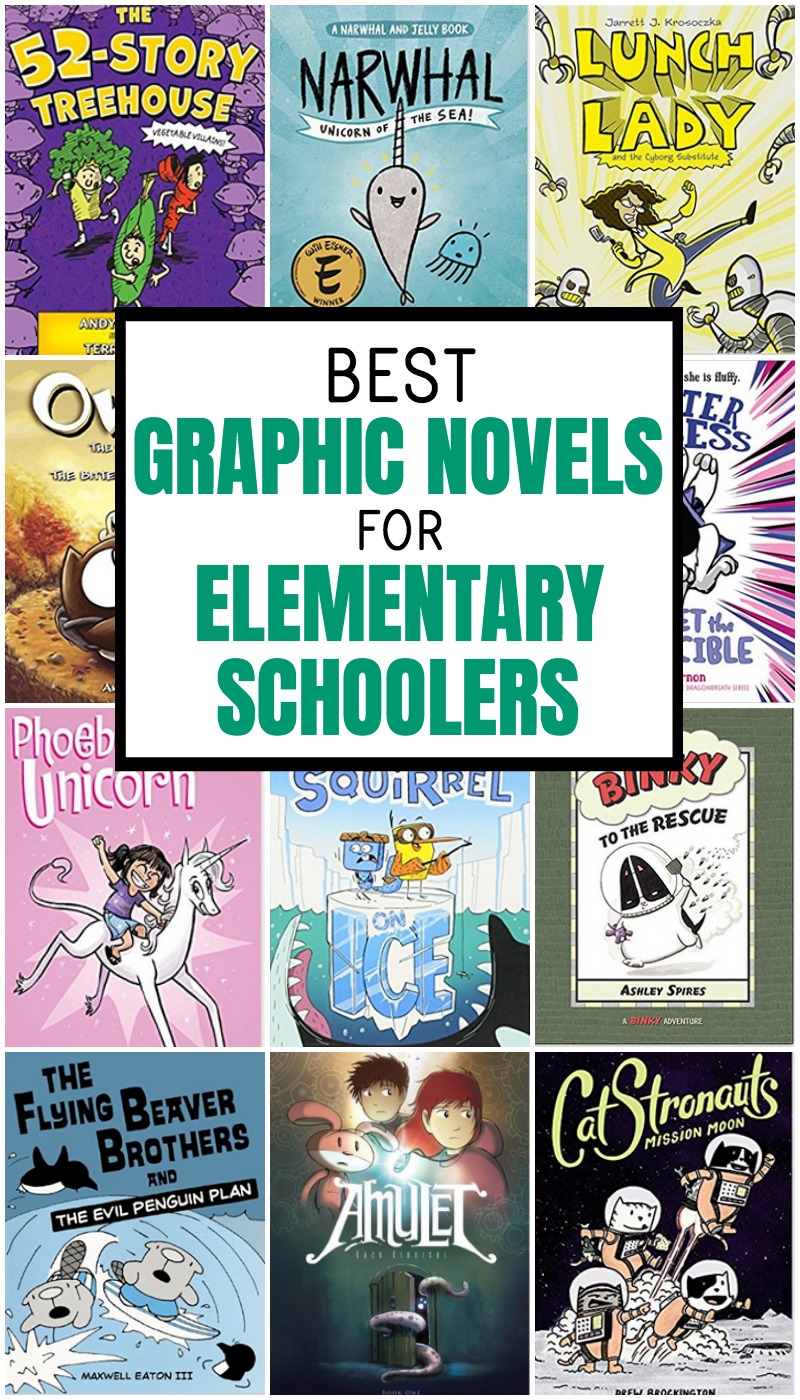 The Best Graphic Novels for Kids
Lunch Lady series by Jarrett J. Krosoczka
This was the first graphic novels for kids series I ever read and I remember clearly reading it on the train in Boston and thinking, "This is SO clever." The black and white with yellow color scheme is so appealing and it's full of nutty adventures and hilarious crime-fighting tools from lunch lady supplies. I've never met a child who didn't love these.
Amulet series by Kazu Kibuishi
After their father dies, Emily and Navin find a new home with their mother where their great-great-grandfather used to live. But far from being a peaceful retreat from their grief, this house is full of new fears, including a basement dwelling creature that lures their mother into a magical underground world. Obviously, they follow her through. And obviously there is no shortage of adventures that await.
Babymouse series by Jennifer Holm and Matthew Holm
This is the most beloved graphic novels for kids series at our house – I think Ella has read them all at least two or three times. They're so cute and they're are a LOT of them. This duo also wrote the Squish series which has also been a hit at our house and has more boy appeal than the all-pink Babymouse series.
The Flying Beaver Brothers by Maxwell Eaton
Ella's review of this graphic novel series: "It is VERY far-fetched. But it's also really funny." I mean, when two beavers start battling it out with penguins who want to turn their island paradise into a frozen resort? What else would you expect?
Bird & Squirrel series by James Burks
CatStronauts by Drew Brockington
I think one thing that's so appealing about graphic novels for kids is that they just lend themselves so easily to a little bit of silliness, in a way another format doesn't. In this one, the fate of the world depends on the CatStronauts setting up a solar power plant on the moon to solve the global energy crisis. Fortunately, this feline crew is more than up to the task in this world where everyone is a cat and EVERYONE wants a tuna sandwich.
The Treehouse series by Andy Griffiths
If your child lives for slapstick, this graphic novel series is for them. Andy and Terry live in a treehouse with thirteen stories. It also has a swimming pool and a bowling alley and it keeps getting bigger and better as the duo add more stories. Chocolate waterfall, anyone?
Owly series by Andy Runton
Poor little Owly. He's so sweet, but he's so lonely. All he really wants is a friend. And in this two-part graphic novel, he might just find one.
Phoebe and Her Unicorn by Dana Simpson
Raise your hand if you have a small unicorn lover at your house? I've got three and this book was a smash hit. Everything in this book happened by accident when Phoebe skipped a rock across the water and, entirely by mistake, smacked a unicorn in the face. And who knew that this leads to getting a wish granted? Possibly the best part is that the unicorn's name is Marigold Heavenly Nostrils.
Binky series by Ashley Spires
I love the true wackiness of this graphic novel series, with Binky, a cat who sees everything around him through a different lens than the rest of the world. We'd probably call that buzzing thing a bug, but he's convinced it's an alien invader. As one does.
Hamster Princess by Ursula Vernon
Ella currently claims this as her favorite graphic novel series. They're more robust than most of the other graphic novels for kids on this list, clocking in at around 250 pages per book and they're hilarious rodent retellings of famous fairy tales.
Narwhal and Jelly Book series by Ben Clanton
These are the perfect introductory graphic novels for kids. They have three little stories, brief text and large illustrations. And they are hilarious – I was reading one aloud to my girls in the backseat while my in-laws were visiting and everyone was chuckling along at the antics of these underwater friends.
And if you'd like a printable copy of this list that you can take to your library or screenshot on your phone for easy access, just pop in your email address below and it'll come right to your inbox!
What best graphic novels for kids have I missed? Let me know in the comments because my girls just DEVOUR them!
If you liked this post about graphic novels for kids, here are some other book lists you might find useful:
Reader Interactions