Since the launch of Raising Readers, the question I get most often (aside from "is my child old enough to start audiobooks?") is "I think I'm ready to start reading chapter books to my child – what's the right age and what books should I start with?"
It depends, of course, on your child. Some three-year-olds might be ready to start and others might be nearer to five when they can handle a longer book.
There's no gold star for reading chapter books instead of picture books, so if your child is struggling to listen to a chapter book, keep on keeping on with the picture books – you want reading to be fun, not something they dread.
In our case, I started reading chapter books to Ella just after she turned three, but I felt like she didn't REALLY get the hang of it until she was about 3.5. And age four was when it really got fun and she would just beg and beg for another chapter.
Ani started listening in to chapter books around the time she turned three, and around four is when she really caught the bug as well.
Also, last year, I wrote a post with some tips for reading aloud chapter books, so if you're looking for a little more guidance in making the jump, these might help you out!
Once you ARE ready, here are 30 books that I've found to be really good for that 3-6 crowd – hopefully one or ten of them will be big hits at your house too!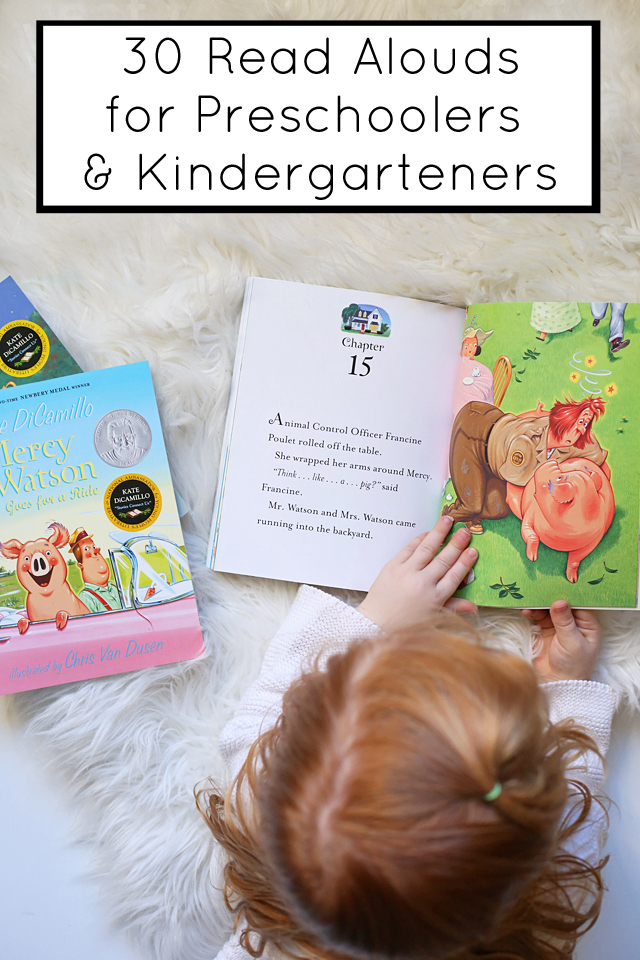 Mercy Watson series by Kate Dicamillo.
This is the perfect introductory series, with full-color illustrations and about 80 pages each (for reference, a standard picture book is 40 pages long). Plus, they're just so darn funny.
Toys Go Out by Emily Jenkins, illustrated by Paul Zelinsky.
The first one is the best, but we read all three and they are all excellent, about three beloved toys who live with a little girl. They're around 150 pages with a lot of illustrations, so they're a nice place to start with chapter books.
Babe the Gallant Pig by Dick King-Smith.
I love all his books, but this is the best. Ella fell asleep during the last chapter on a road trip, and Bart asked me to finish reading it. I need to read this one to Ani now!
The BFG by Roald Dahl. 
I mean, you just can't go wrong with Roald Dahl. This one has his trademark silliness, plus a plot that moves right along.
Wayside School by Louis Sachar. 
I have to admit that I found these a little too wacky as a child (I was basically born 50 years old), but my sisters were obsessed with them, and my girls have loved them too, about a school where instead of being one story with 30 classrooms, it's 30 stories high with one classroom on each level. Of course, on the 13th level, things are always pretty crazy! I think Ella has listened to these on audio at least 5 times.
Little House on the Prairie series by Laura Ingalls Wilder. 
I read this to Ella when she was in kindergarten and we thoroughly enjoyed the first three. I actually like Farmer Boy the best!
The Chocolate Touch by Patrick Skene Catling. 
I read this when I was little and I still remember it so clearly – the idea of everything you touched turning into chocolate is so exciting. Ella loved it too.
A Cricket in Times Square by George Selden.
This one is a classic, but I'd never read it until Ella and I read it together when she was four. It's sweet and little old-fashioned. And it has illustrations by Garth Williams, so of course I was all in.
All-of-a-Kind Family by Sydney Taylor. 
This was one of my FAVORITE series as a child, and one of the reasons I hoped for all girls (never mind the fact that they eventually get a brother after five girls). Reading it to Ella was a dream come true – it's so charming and makes me want to hide pennies for my girls to dust for.
Encyclopedia Brown series by Donald J. Sobol. 
The mysteries in this are very episodic, which makes them great for reading here and there, rather than having to get all the way through. And my girls love trying to solve the mystery without reading the answers in the back.
James and the Giant Peach by Roald Dahl.
For me, this one is just a leeeeeettle on the verge of too weird, but if anyone can pull it off, it's Roald Dahl. We read this one while we were in Europe, but then we went back and listened to the audio this year, and I liked it better with a professional reading it to me.
Ramona series by Beverly Cleary
This is probably my #1 read-aloud series. I just LOVE Ramona (especially after Ramona the Pest, when I find her a little too obnoxious). We've listened to this series on several road trips and I love the narrator a lot. I just think Beverly Cleary is a masterful writer of ordinary children's lives – decades later and they are still so honest and real feeling. (We love love loved Mitch and Amy too).
Poppy by Avi
I love Avi, but this series was new to me when I read it to Ella a couple of years ago. It's got all your classic story elements – a brave little mouse, a scary owl, and a journey only a hero can make.
Mr. Poppers Penguins by Richard and Florence Atwater. 
I'd read this one as a child, but couldn't remember a darn thing about it except that he gets a penguin in the mail. It was so fun to watch this story play out when none of us knew how it was going to turn out.
Mouse and the Motorcycle series by Beverly Cleary
Have I mentioned that I love Beverly Cleary? This one is just as good as any of her other books, but totally different, with a little mouse who meets a boy staying at his hotel and starts riding his toy motorcycle.
My Father's Dragon by Ruth Stiles Gannett
I have to admit this one is not my favorite (I didn't read it until I read it aloud to Ella and I found it SO PAINFULLY BORING), but I'm including it here because it's a total classic and many many people are rabid fans.
Mrs. Piggle Wiggle by Betty MacDonald
I read these aloud to Ella and then she went back and listened to the audio versions at least a dozen times in the past three years. Note that these books have very long chapters and sometimes we broke them in half so I wasn't reading until nine o clock at night.
Hank the Cowdog series by John R. Erickson
These are laugh-until-you-cry funny and I HIGHLY recommend the audio versions. I think Ella has listened to at least 50 of them.
Charlotte's Web by E.B. White
This was our first read-aloud and you better believe I sobbed through the whole last 15 pages.
The Trumpet of the Swan by E.B. White
This is actually my very favorite E.B. White book and I'm pretty sure I read it at least five times as a child.
Frindle by Andrew Clements
Andrew Clements is just a master of the school story, and this is his most popular one, about a boy who wants to get his whole school calling pens "frindles."
Charlie and the Chocolate Factory by Roald Dahl
I think this is his best one. It was the first book where Ella was just on the edge of her seat, and I loved every magical, crazy second of it. It was just as good the second time, when I read it to Ani.
Pippi Longstocking by Astrid Lindgren
We tried this one as a read-aloud a few years ago, but it somehow didn't click. This year, we listened to the audiobooks and our whole family was completely absorbed.
Bunnicula by Deborah Howe
This series was WILDLY popular at my elementary school libraries and when I finally read it to Ella, she was just as absorbed as they had been. Ani, at 3, found them too scary, but Ella at 5 was delighted.
B is for Betsy by Carolyn Haywood.
This was the first book where Ella was actively asking me to read one more chapter. They're just so sweet and old-fashioned.
Ivy and Bean series by Anne Barrows
I always love a good series for this age – you can read the first one together and then let them loose with the audiobooks.
Miraculous Journey of Edward Tulane by Kate DiCamillo
I'm pretty sure Kate DiCamillo is a miracle worker. This book, with gorgeous illustrations, is a perfect classic story about a beloved china rabbit who, as sometimes happens to even the most loved toys, gets lost.
The Children of Noisy Village by Astrid Lindgren
This is the same author as Pippi Longstocking, but it doesn't have that same wild exuberance – it's funny and sweet, but much more toned down, and we loved every chapter.
Matilda by Roald Dahl
Bart read this one aloud to Ella when she was about four and a half, and they both loved it. It was one of my childhood favorites too, but Bart had never read it, so it was fun to watch him experience it for the first time.
Betsy-Tacy series by Maud Lovelace
We only read the first one together, back when Ella was about 3.5, and they really are better I think for more like 4 or 5. Super delightful and old-fashioned.
And if you'd like a printable copy of this list that you can take to your library or screenshot on your phone for easy access, just pop in your email address below and it'll come right to your inbox!
I'd love to hear about your favorite read-alouds! What titles have been popular for your preschooler or kindergartener?
if you liked this post about read aloud books for preschoolers and kindergarteners, you might like these other posts:
Reader Interactions