You know that moment when your child is really starting to get the hang of reading?
It's such a thrill.
And now you need to find some books for your emerging reader.
There are so many great chapter books for this age range (every child is different, of course, but I'd say they're great for advanced kindergarten readers, 1st and 2nd graders, and some 3rd and 4th grade readers).
All of these chapter books are around 100-150 pages and still have quite a few illustrations (although almost always in black and white instead of full-color).
They're the next step up from the books on this list of beginner chapter books which are under 100 pages and have full-color illustrations on every page.
All of these book series also make fantastic read-alouds for preschoolers and kindergarteners (and even older!) or check them out as audiobooks and let your child listen during quiet time or in the car.
If you are wanting more books for your new little reader, pop in your email address and I'll send you 20+ of the best beginner chapter books!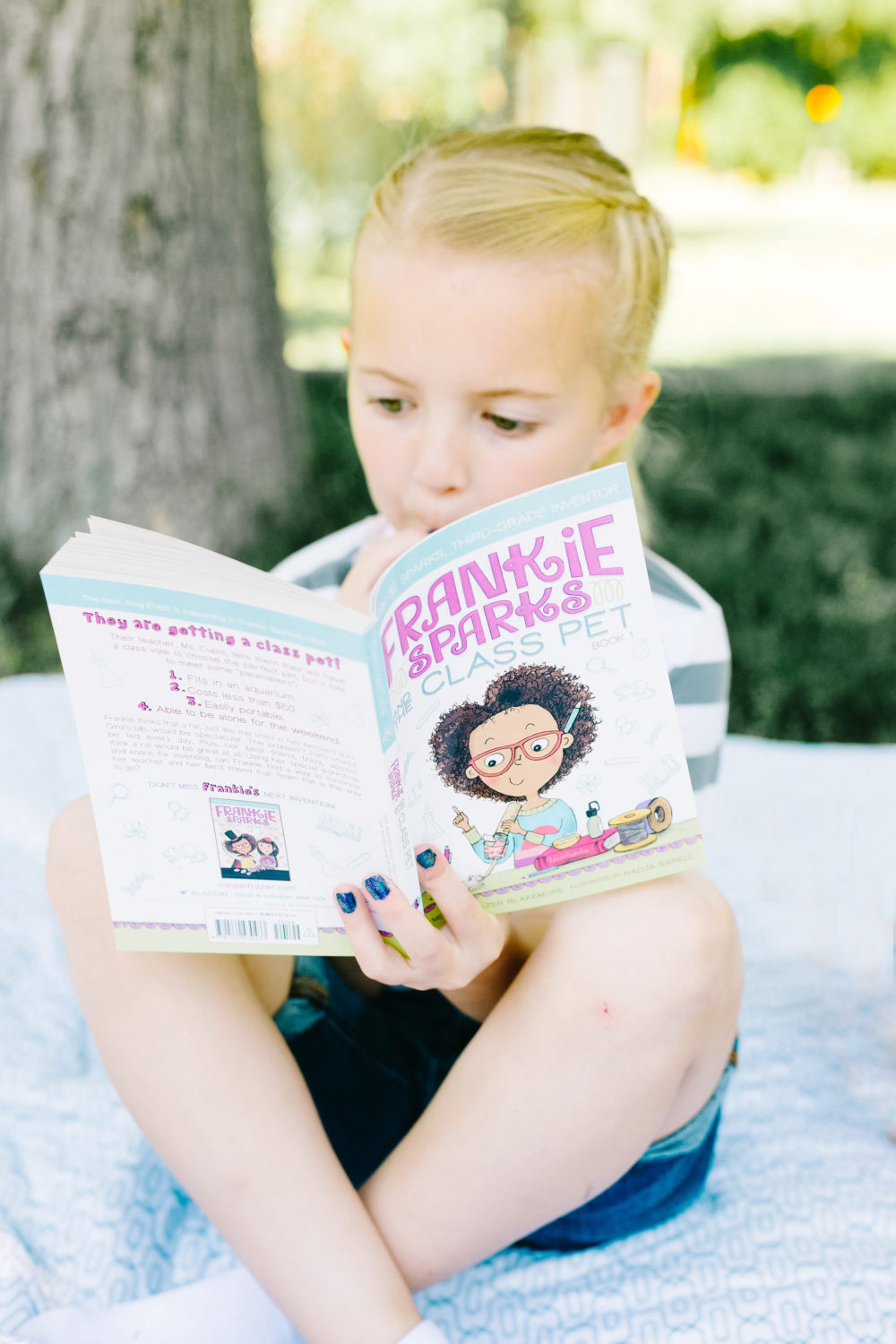 40+ Best Book Series for 1st and 2nd graders
Frankie Sparks, Third-Grade Inventor by Frazer Blakemore, illustrated by Nadja Sarell. As if it wasn't great enough to find chapter book series at this level, this one also has a strong STEM component as third-grader Frankie solves everyday problems with the help of the scientific method. (4 books in the series)
The Kingdom of Wrenly by Jordan Quinn, illustrated by Robert McPhillips. If your child loves a fantasy series, this is a winner, with Lucas, the prince, who becomes friends with Clara, the daughter of the queen's seamstress. Together, they explore the kingdom and, naturally, have all sorts of adventures. (12 books in the series)
Dyamonde Daniel by Nikki Grimes, illustrated by R. Gregory Christie. For any kid who has ever been the new kid in their school or neighborhood, Dyamonde Daniel is the perfect heroine. She's new and she's ready to make friends and find a place to belong in her new school. (4 books in the series)
Mouse Scouts by Sarah Dillard. These little mice girls belong to the Mouse Scouts and work hard to earn different badges. This is such a charming chapter book series. (4 books in the series)
Daisy Dreamer by Holly Anna, illustrated by Genevieve Santos. Daisy Dreamer loves to day dream and, along with her best friends, they love to write stories and doodle. And then one day, one of Daisy's doodles comes to life. (12 books in the series)
Zoey and Sassafras by Asia Citro, illustrated by Marion Lindsay. A series with magical animals, science, and mystery? My girls were INSTANT fans of this book series where Zoey and her cat sidekick Sassafras help a magical animal using science. Also, the audiobook version is $2.50 – my almost 2nd grader LOVED listening. (7 books in the series)
Pony-Crazed Princess by Diana Kimpton, illustrated by Lizzie Finlay. Being a princess is fine. But it's not NEARLY as fun as spending your day in the stables with your beloved pony. (12 books in the series)
Simply Sarah by Phyllis Reynolds Naylor. Sarah doesn't want to be SIMPLY Sarah – she wants to be SPECIAL. But what can she do to make a name for herself? (Psst. . . all four books in the series are included in Kindle Unlimited!) (4 books in the series)
Clubhouse Mysteries by Sharon M. Draper, illustrated by Jesse Joshua Watson. When four boys build a clubhouse, they name themselves the Black Dinosaurs and begin solving mysteries in their town. (6 books in the series)
Lola Levine by Monica Brown, illustrated by Angela Dominguez. Lola does a little of everything, from soccer to ballet to drama, and she does it all with spunk and joy. (3 books in the series)
Greetings from Somewhere by Harper Paris, illustrated by Marcos Calo. With their mother as a travel writer for a newspaper, twins Ethan and Ella find themselves in a new location in every book. And naturally, each new location has a mystery for them to solve. (10 books in the series)
Anna Hibiscus by Atinuke, illustrated by Lauren Tobia. Anna Hibiscus lives in Africa with both her immediate and extended family, including twin baby brothers and there are plenty of adventures to be had in this sweet chapter book series. (7 books in the series)
The Fantastic Frame by Lin Oliver, illustrated by Samantha Kallis. Imagine moving into a new house with a pretty strange things going on next door. And then you find out that the next door neighbor has a magical picture frame where you can enter famous paintings all over the world. (5 books in the series)
Heidi Heckelbeck by Wanda Coven, illustrated by Priscilla Burris. I knew when I picked up the first book in the series for Ella that Heidi turns out to be a witch, but she didn't know that and when she reached the end of the first volume and made that incredible discovery for herself, she went berserk with excitement, leaping around the kitchen as she told me about how Heidi was actually a witch and had magical powers. (30 books in the series)
Katie Kazoo by Nancy E. Krulik, illustrated John & Wendy. Katie Kazoo is sick of being teased by the class bully and wishes she could be someone else. And now, in each book, she is! She changes into someone else and has to keep figuring out how to mange the switch. Right now my 3.5 and 5.5 year olds are listening to these non-stop. The first book in the series is currently available as part of FreeTime Unlimited. (35 books in the series)
The Carver Chronicles by Karen English, illustrated by Laura Freeman. No one likes being the new kid and Gavin. . . definitely doesn't like being the new kid. He's traded in all his old friends for a bunch of kids who have no idea what a great athlete he is. (6 books in the series)
Ruby and the Booker Boys by Derrick Barnes, illustrated by Vanessa Brantley Newton. Ruby Booker is eight and has three older brothers. Who happen to be the most popular boys on their street. But Ruby is more than a match for her big brothers – she's the fabulous, oh-so-spectacular Ruby Marigold Booker!(4 books in the series)
Galaxy Zack by Ray O'Ryan, illustrated by Colin Jack. Zack has left Earth and is starting school with a bunch of aliens at Sprockets Academy. What will life in outer space be like? (17 books in the series)
Juana and Lucas by Juana Medina. These delightful books about Juana and her beloved dog Lucas are peppered with Spanish words and full color illustrations. My 5.5 year old has LOVED having me read these with her.  (2 books in the series)
Digby O'Day by Shirley Hughes, illustrated by Clara Vulliamy. Digby O'Day and Percy are canine best friends and they love to be on the go, whether it's driving in a race or headed out to the beach or up in an air balloon. (3 books in the series)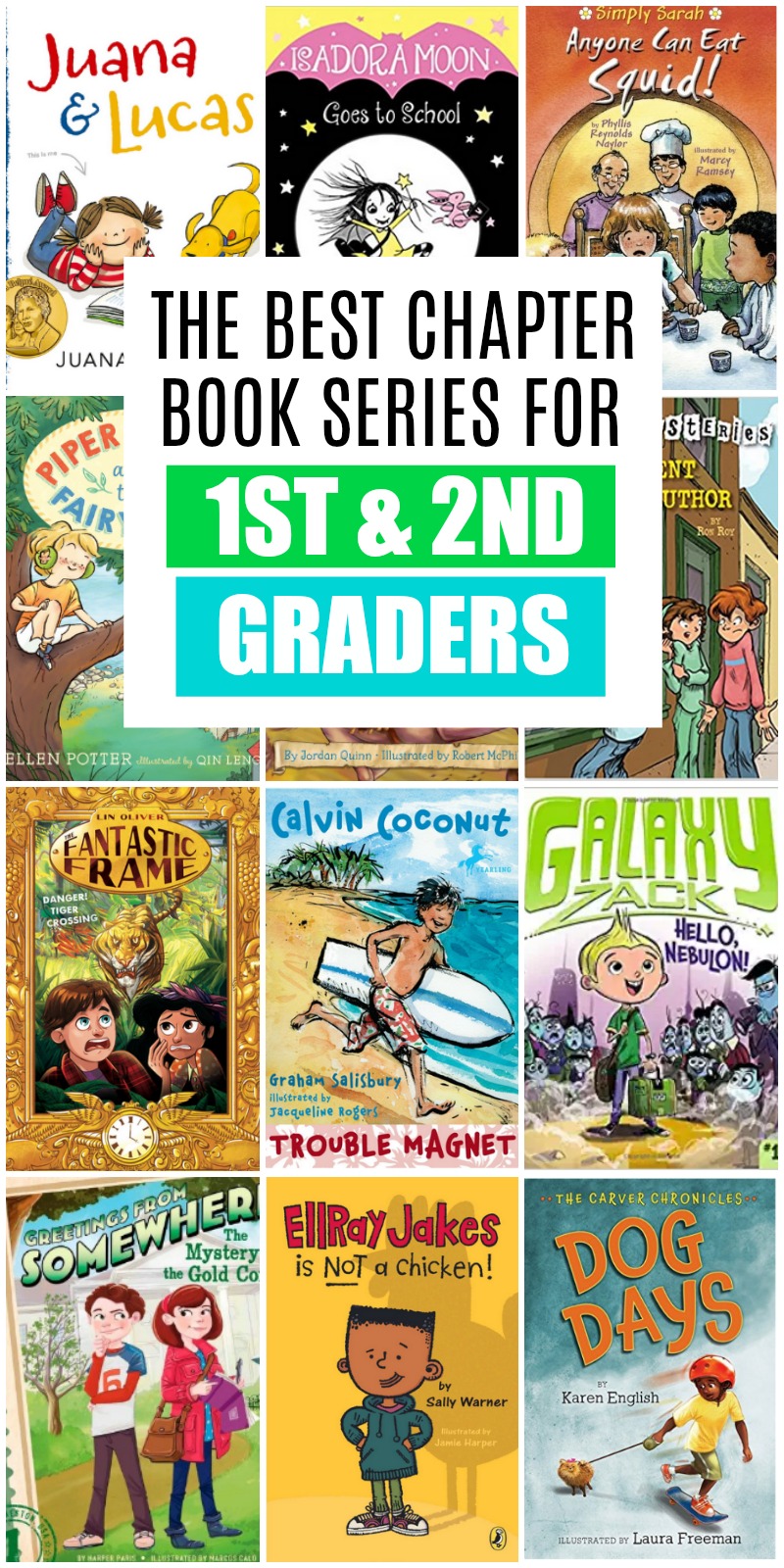 A to Z Mysteries by Ron Roy, illustrated by John Steven Gurney. When Ella was finished with the Boxcar Children for the first time, she was desperate for some more mystery books, and this series was the perfect fit for her. She's gone on to read all of this series as well as the Calendar Mysteries and often revisits both when she's out of new books. (26 books in the series)
Ruby Lu by Lenore Look, illustrated by Anne Wilsdorf. It is GREAT to be Ruby. Except sometimes it's NOT great to be Ruby. For every child who has ever wondered why their parents won't let them drive a car in elementary school, this delightful series will hit the spot. (3 books in the series)
Jasmine Toguchi by Debbi Michiko Florence, illustrated by Elizabet Vukovic. Eight-year-old Jasmine Toguchi just really wants to do something first. As the younger sister, her sister always gets to try everything before she does. But maybe this once, she could be the first do something new.(4 books in the series)
The Chicken Squad by Doreen Cronin, illustrated by Kevin Cornell. When you think chickens, you might think of birds pecking in the dirt. What you SHOULD be thinking is crime fighters and mystery solvers. (6 books in the series)
Gooney Bird by Lois Lowry, illustrated by Middy Thomas. Ella and I listened to one of these together when Ella was just past four, and she wasn't really into it at the time, but a year later, she rediscovered the series and blew through all of these larger-than-life stories that Gooney Bird shares with her new second-grade classroom. (6 books in the series)
Calvin Coconut by Graham Salisbury. This funny series follows Calvin, a fourth-grade boy growing up in Hawaii where he loves to have fun . . . and usually finds himself getting into trouble. (9 books in the series)
Lulu by Hilary McKay, illustrated by Priscilla Lamont. If your child loves animals, they'll love Lulu and the animals she cares for and protects in each of the books of this darling series.  (6 books in the series)
Judy Moody by Megan McDonald, illustrated by Peter H. Reynolds. Judy Moody is full of personality and individuality and has a lot of the same appeal as Junie B. Jones, but I find these books much less eyebrow raising. There is also a spin-off series of 12 books featuring her brother, Stink, too. (13 books in the series)
Zapato Power by Jacqueline Jules, illustrated by Miguel Benítez. It's pretty fun when you come home from school and find a box with your name on it. Even better when you open that box and find shoes that give you super speed! (6 books in the series)
Grace by Mary Hoffman, illustrated by Caroline Binch. Grace has a big imagination and she's full of dreams for what she can do, even if the kids around her are dubious. (5 books in the series)
Isadora Moon by Harriet Muncaster. Isadora Moon is half-fairy and half-vampire. And she loves both parts of herself. But now she has to choose — fairy school or vampire school? (8 books in the series)
Jakes and Raines Mysteries by Sally Warner, illustrated by Jamie Harper. For the kid who loves a book that's funny AND realistic, they can't go wrong with EllRay Jakes. He may be the smallest kid in his class, but that doesn't stop him from getting into big trouble! (11 books in the series)
Alvin Ho by Lenore Look, illustrated by LeUyen Pham. Alvin Ho is VERY scared of everything, especially school, where he never says a word. But when he's at home? He turns into Firecracker Man who isn't afraid of anything.The first book is included in FreeTime Unlimited. (5 books in the series)
The Buddy Files by Dori Hillestad Butler, illustrated by Jeremy Tugeau. How do you make a mystery series more fun? Make a dog named King the one who solves the mysteries! (6 books in the series)
Nikki and Deja by Karen English, illustrated by Laura Freeman. Nikki and Deja are neighbors. And, more importantly, best friends. And they do all the things you'd expect third-grade girls to do together, from homework to jump rope. (6 books in the series)
Captain Awesome by Stan Kirby, illustrated by George O'Connor. Eugene might look like a regular elementary schooler, but he's actually Captain Awesome, who is on a one-man mission to save Earth from super villains. And you wouldn't BELIEVE how many super villains there are at Sunnyview Elementary. (21 books in the series)
Sofia Martinez by Jacqueline Jules, illustrated by Kim Smith. Sofia Martinez has a big personality and loves spending her days adventuring with her sisters and cousins. The first couple titles of this delightful book series are included in Kindle Unlimited. (12 books in the series)
Mighty Meg by Sammy Griffin, illustrated by Micah Player. You know what is a GREAT eighth birthday present? A ring that gives you superpowers. And it's a good thing too because strange things are happening in Meg's town.  (4 books in the series)
Katie Woo! by Fran Manushkin, illustrated by Tammie Lyon. If your child loves school stories, you can't do better than spunk Katie Woo, plus there are SO many books in the series, so you'll be covered for a while! And many of the titles are included in both Kindle Unlimited and FreeTime Unlimited. (49 books in the series)
Piper Green by Ellen Potter, illustrated by Qin Leng. Piper Green lives on an island and takes a lobster boat to school every day. This delightful series includes everyday life with a touch of magic. (5 books in the series)
The Bad Guys by Aaron Blabey. For a child who loves laugh-out-loud funny, this is a can't miss series. Four animals (Mr. Wolf, Mr. Piranha, Mr. Snake, and Mr. Shark) look like bad guys and sound like bad guys. But they want to be good guys. Will anyone believe they aren't up to trouble? (12 books in the series)
And if you'd like a printable copy of this list that you can take to your library or screenshot on your phone for easy access, just pop in your email address below and it'll come right to your inbox!
Any other great book series for those early elementary readers? I'd love to hear!
If you liked this list of the Best Book Series for 1st and 2nd graders
, you might like these posts:
Reader Interactions