Want to try out audio books for toddlers or preschoolers? Here are my best five tips for introducing them to your child, plus our favorite titles to start with!
If there is one staple of my parenting, it is audio books.
I get hundreds of questions about when the right time to start listening to audio books is and, of course, it depends on the child.
I didn't start audio books with my oldest until she was 4 years old, but my subsequent three children have all started showing significant interest around 2.5 to 3 years old.
If you'd like to try audio books with your toddler or preschooler, here are some tips for getting started!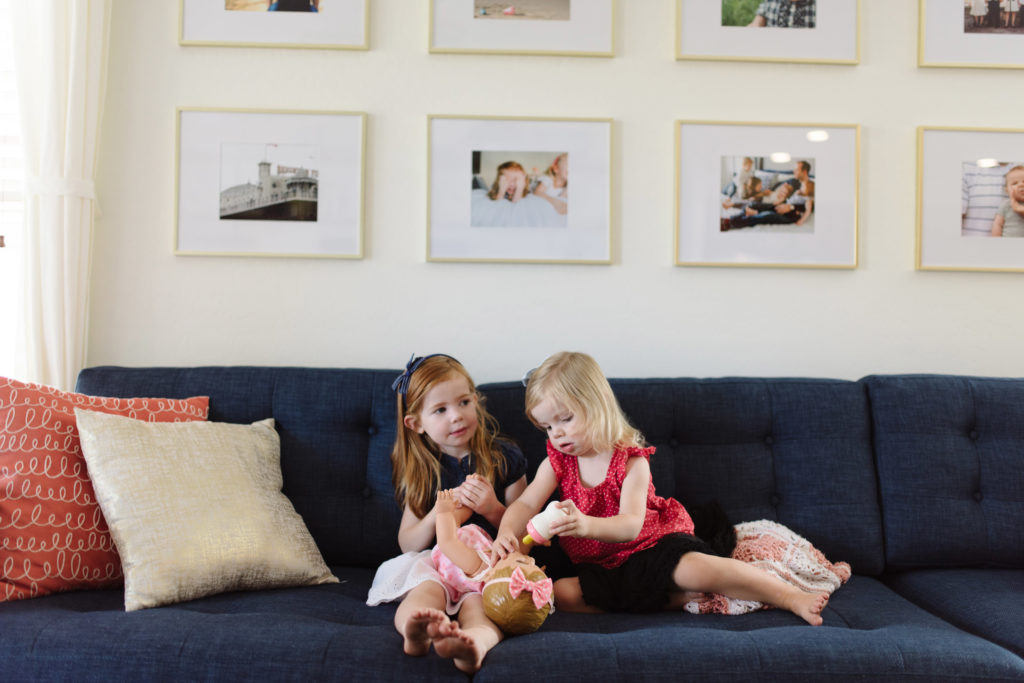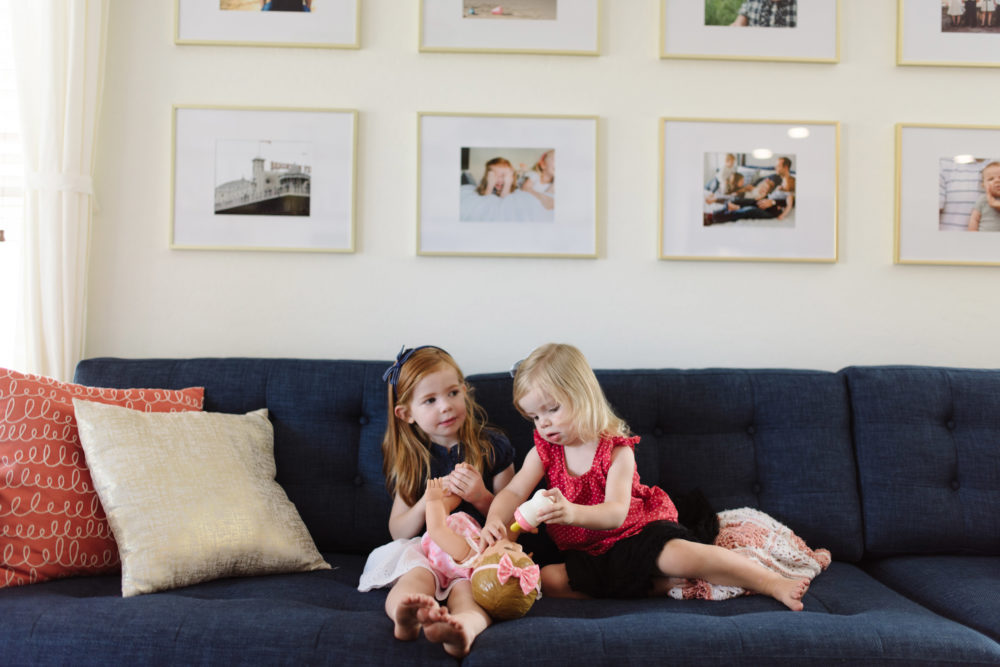 How to introduce audio books for TODDLERS AND preschoolers
A story podcast is a great place to start. If you just want to jump right in and don't want something too long, I HIGHLY recommend a story podcast. The episodes are usually only 10-15 minutes, have great voices and music and sound effects, and are easy to jump in and out of. Our family favorites are Circle Round and Stories Podcast. The only downside is the ad break.
The car or quiet time is the easiest place to start trying audio books for toddlers. The car is boring. And quiet time for a small child is also not the most thrilling (my children all do two hours of daily quiet time as soon as they give up naps). So adding in something interesting like an audiobook is going to be an automatic win. Just turn one on while you're running errands and see what they think.
Don't force them to listen. As with pretty much all advice I give, my best suggestion is to keep it very low-key. If they proclaim that they DO NOT want to listen, just tell them YOU want to listen in the car and they don't have to listen at all. Almost certainly, listening is more fun than staring at their shoes.
Start with books they know. Listening to audiobooks is a skill, whether it's audio books for preschoolers or non-fiction audio books for adults. I can listen to practically anything now, but it took me years to work up to that – at first, I could basically only manage the fluffiest of chick lit or short middle grade novels. Little kids tend to adapt faster because they are used to having books read aloud to them, but I find that it helps them to make the transition if you start with things they are familiar with so they can get used to a different reader and the whole routine of listening to a book (for instance, most picture books have that "ding" on every page to let them know to turn the page).
As they move on to longer books, give them an overview of the story beforehand. Talk about who the main characters are, what the basic premise is, and things they might want to look for in the story. When you're just moving into chapter book territory, it can be trickier to follow along than when you have a picture book with illustrations to guide the way.
Have them do something with their hands. My mom read aloud to us every night until I was in high school, and most of the time my sisters and I would braid each others hair, do our nails or crochet. It's much easier for most people to listen if their hands are busy. It might look to you like they're not really paying attention, but I bet you'll be shocked how much they pick up. I have a whole list of 20+ suggestions for activities here!
Let them quit if they don't like a book. Ella quite liked the first couple of Katie Kazoo books, but then on the third one, she was listening while we were driving to Warwick and we noticed she started skipping ahead. When we asked her about it, she said "it's too scary for me that she's going to turn into a baby." So we just returned that audiobook and picked something else instead. No reason to force her to listen to something she wasn't enjoying when there are so many other options out there.
(P.S. If you're wondering what devices to use to have your child listen on, I have a whole post here about what we use in our house!).
And a few suggestions, if you're looking for somewhere to start with audio books for toddlers and preschoolers:
OUR favorite audio books for TODDLERS and preschoolers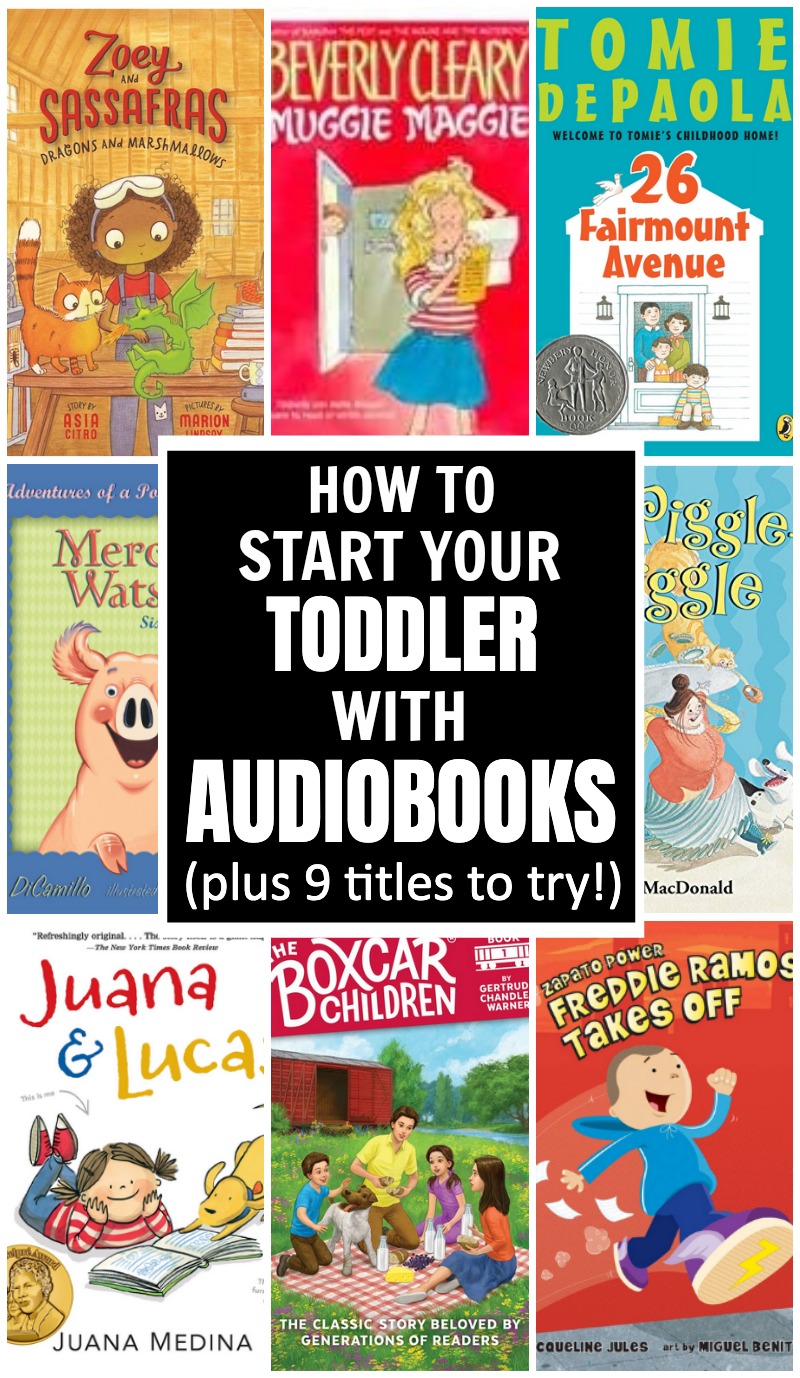 (All of the titles on this list are a little longer – 30 minutes to 2 hours – so you don't have to keep changing CDs or starting a new title every 10 minutes. If you want some shorter options, try these audio book collections). 
Muggie Maggie by Beverly Cleary. This was the first audiobook of any significant length (it's about 40 minutes long) that my oldest daughter really loved about a little girl who does NOT want to learn cursive. It's a perfect lead-in to longer Beverly Clearly books like the Ramona series or the Mouse and the Motorcycle trilogy. 
Zoey and Sassafras by Asia Citro. This is a delightful series about a little girl and her sidekick cat that cure magical animals with their scientific knowledge. My girls LOVE this one (although currently only the first book is available as an audio book).
Mrs. Piggle-Wiggle by Betty MacDonald. We'd read these books before, but my children loved the audio versions and listened to them all multiple times. The chapters are kind of long so I much prefer my children listening to them than me reading them aloud.
Mercy Watson by Kate DiCamillo. My 3.5 year old LOVES these and has listened to them on repeat for the last four months. Who doesn't love a toast-loving pig who is also getting into mischief and then comes out looking like a porcine wonder?
The Boxcar Children by Gertrude Chandler Warner. This is the #1 audio book series for preschoolers in our house. My oldest daughter refused to listen to anything else for four solid months and sobbed when she reached the end of the series. My second daughter also developed a massive love for these audio books when she was 4 and 5 and now my third daughter, who is 5, listens to them every single night (Epic! has a great collection of them and you can try it free for a month here!).
Juana and Lucus by Juana Medina. Juana loves her life in Columbia. She does NOT love learning English, until her grandfather gives her a very compelling reason to start learning it. This one is fun because it also has Spanish words sprinkled into the narration.
26 Fairmont Ave by Tomie dePaola. You probably know Tomie dePaola from his beloved Strega Nona series (and a bazillion other wonderful books), but these short chapter books about his growing up are so sweet and fun. There are four books in the series and each one runs just under an hour.
The Princess in Black by Shannon and Dean Hale. These books about a princess who also turns into a monster-fighting are some of my children's ALL-TIME favorites. They often come packaged with 3 books per set (whether you're getting CDs or Audible copies).
Zapato Power by Jacqueline Jules. These books run about 30-40 minutes each and they feature Freddie, a little boy who comes home to find a mysterious package that contains shoes that give him super speed.
And if you'd like a printable copy of this list that you can take to your library or screenshot on your phone for easy access, just pop in your email address below and it'll come right to your inbox!
Any other questions or suggestions for audio books for preschoolers? I'm happy to try to answer and I'd be thrilled for any more audio titles your children have loved.
And if you're looking for audiobook recommendations for older kids and adults, here are my 25 favorites.
If you liked this post about audio books for Toddlers and preschoolers, you might also find these posts helpful:
Photo by Christie Knight Photography