Want to try out audio books for preschoolers? Here are my best five tips for introducing them to your child, plus our favorite titles to start with!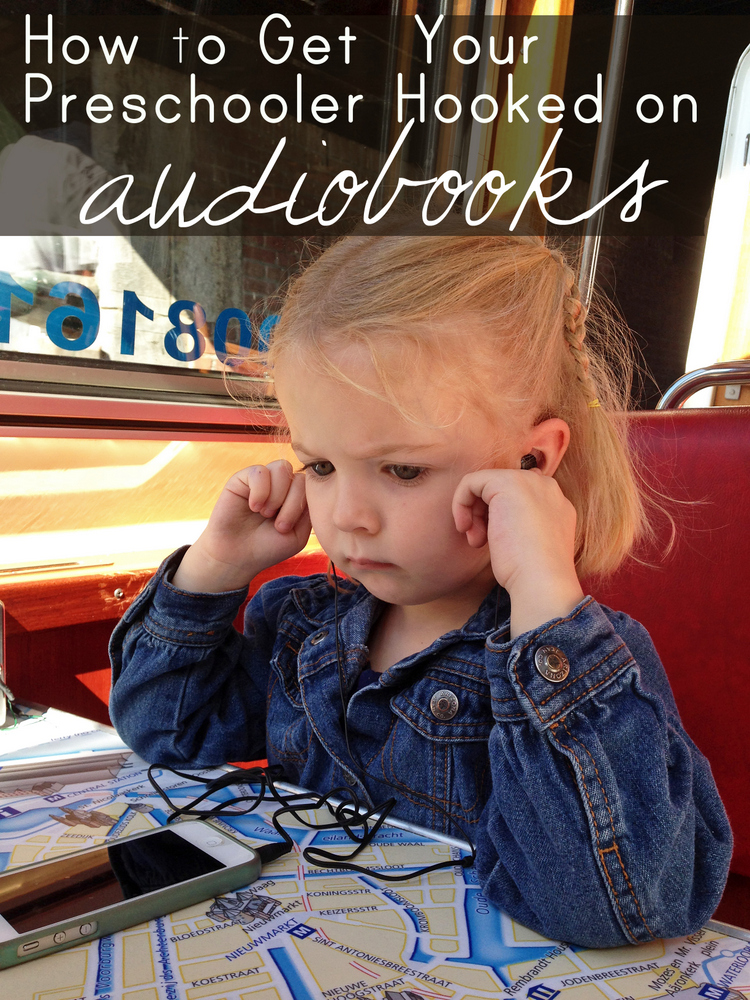 While I'm writing this post, I can see Ella through the video monitor, coloring and listening to yet another installment of the Boxcar Children.
The day we finish up the last of the audiobooks available for Boxcar children will be a really sad day for all of us.
Some days, she asks to do an EXTRA hour of quiet time so she can keep listening (I . . . rarely turn her down).
She started listening to audiobooks last year when it was apparent that naps were a thing of the past and that quiet time was going to be daily, not a few times a week interspersed with naps.
Originally, we picked out those picture book and CD combos that most libraries have. Over the last few years, she'd listen to them in the car while we ran errands and then last year they started making an appearance during quiet time.
Then, in the summer, she listened to The Cinnamon Bear approximately ten million times at my parents house (it's an old radio series that my sisters and I loved as kids that's still available) and Scripture Scouts.
I also picked up some of the new audio recordings of the Roald Dahl books narrated by famous British actors. We eventually had to cut her off at bedtime because she'd lie awake in bed for HOURS listening instead of actually going to sleep.
In the fall, when we were driving all over Europe, I started downloading longer audio books for preschoolers onto my iPhone or iPad (instructions on how to do that here) and since then she's been hooked.
Every day, she does one hour of regular quiet time and then she can spend the second hour listening to her audiobook on the iPad (someone asked how I made sure she didn't play on the iPad during quiet time; I caught her twice playing while she listened and warned her that if it happened again, she'd lose her audiobook privileges. She's never done it again).
Anyway, if you're interested in having your child listen to audio books for preschoolers or elementary schoolers, whether for quiet time or in the car, here are a few suggestions.
How to introduce audio books for preschoolers
Start with books they know. Listening to audiobooks is a skill, whether it's audio books for preschoolers or non-fiction audio books for adults. I can listen to practically anything now, but it took me years to work up to that – at first, I could basically only manage the fluffiest of chick lit or short middle grade novels. Little kids tend to adapt faster because they are used to having books read aloud to them, but I find that it helps them to make the transition if you start with things they are familiar with so they can get used to a different reader and the whole routine of listening to a book (for instance, most picture books have that "ding" on every page to let them know to turn the page).
As they move on to longer books, give them an overview of the story beforehand. Talk about who the main characters are, what the basic premise is, and things they might want to look for in the story. When you're just moving into chapter book territory, it can be trickier to follow along than when you have a picture book with illustrations to guide the way.
Have them do something with their hands. My mom read aloud to us every night until I was in high school, and most of the time my sisters and I would braid each others hair, do our nails or crochet. It's much easier for most people to listen if their hands are busy. I have a whole list of 20+ suggestions for activities here!
Let them quit if they don't like a book. Ella quite liked the first couple of Katie Kazoo books, but then on the third one, she was listening while we were driving to Warwick and we noticed she started skipping ahead. When we asked her about it, she said "it's too scary for me that she's going to turn into a baby." So we just returned that audiobook and picked something else instead. No reason to force her to listen to something she wasn't enjoying when there are so many other options out there.
Get them a decent pair of headphones. And by this I basically mean not earbuds. And also, I should take my own advice and get her a pair. She generally doesn't need them, but occasionally on a plane or when we're out in public or on a family road trip where we don't necessarily all want to listen to 5 straight hours of Boxcar mysteries, it would be really helpful for her to be able to use them. I've heard great things about the Kidz Gear brand from several people and the reviews are really good.
And a few suggestions, if you're looking for somewhere to start with audio books for preschoolers:
My favorite audio books for preschoolers
Any other questions or suggestions for audio books for preschoolers? I'm happy to try to answer and I'd be thrilled for any more audio titles your children have loved.
And if you're looking for audiobook recommendations for older kids and adults, here are my 25 favorites.
If you liked this post about audio books for preschoolers, you might also find these posts helpful: