I do NOT like scary.
Whether it's books or movies or television shows, anything too scary makes me afraid to get out of bed and certain I'm going to get murdered in my kitchen.
But a little suspense?
Sign me up!
There is something so delightful about an intense storyline where you don't know who to trust or how things are going to play out.
Here are fifteen thriller books I've absolutely loved!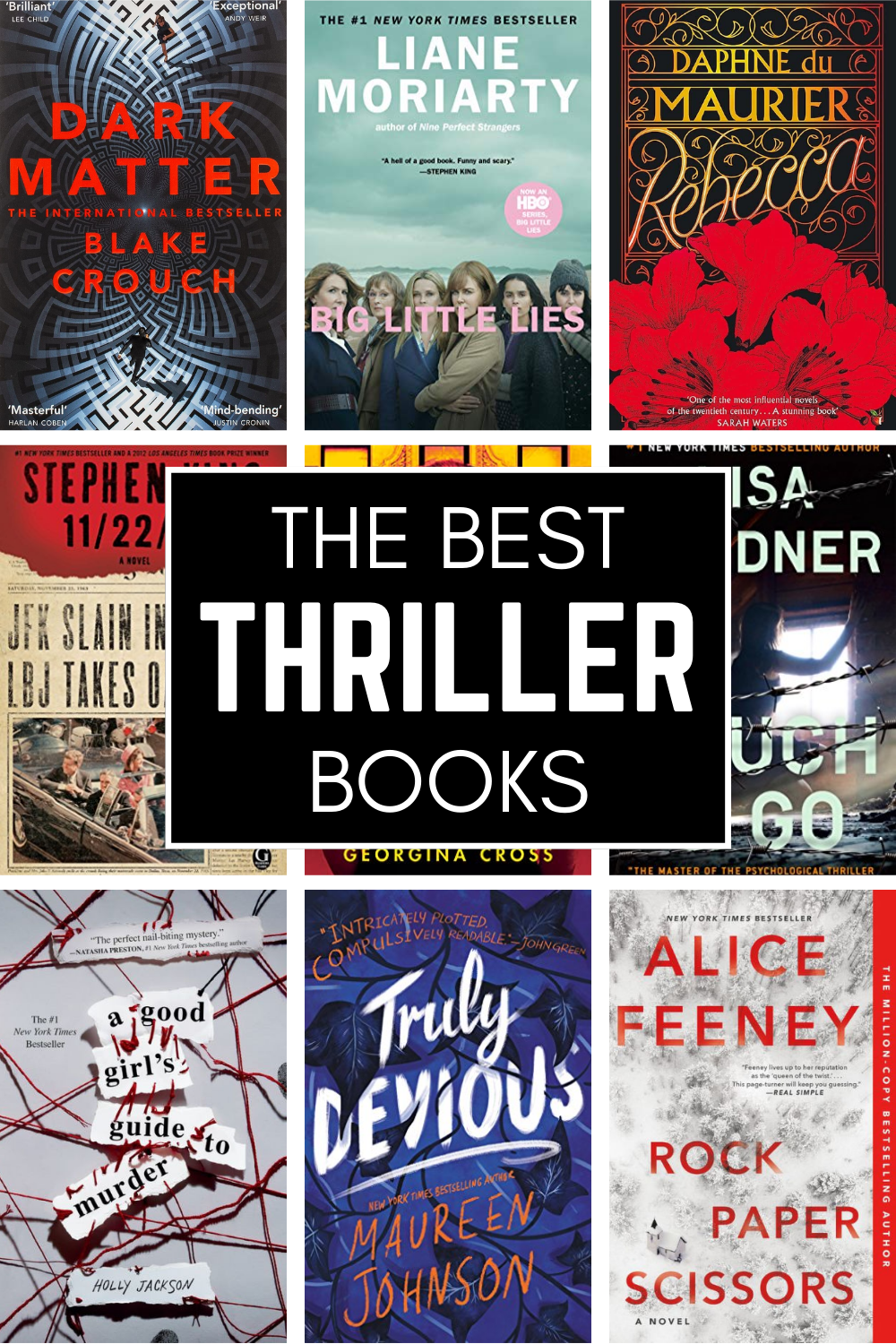 15 of the best thriller books
Rock Paper Scissors by Alice Feeney
This twisty thriller was just at the edge of my creepy tolerance and I loved every second of this story of a couple who win a weekend away in Scotland and hope a change of scenery will save their crumbling marriage. But when they arrive at the church-turned-hotel and find it empty, it's clear that there is more to this trip than meets the eye. How did they win this trip, anyway? With jumping timelines and multiple narrators, the twist in this one completely surprised me. I read a paper copy, but I've heard the audio version is terrific too (the husband's parts are read by the beloved Richard Armitage). 
Dark Matter by Blake Crouch
I read very little science fiction, but this one had such rave reviews that I couldn't help myself and I loved it so much I included it on the 2017 Summer Reading Guide and on my list of books for couples to read/listen to together! Then I gave it to Bart and he stayed up until 2 a.m. reading it (which I don't remember ever happening in our nearly 15 years of marriage). There is a fair amount of swearing in it, so skip it if that bothers you.
The Chemist by Stephenie Meyer
Say what you will about Stephenie Meyer, but she can write some SNAPPY dialogue. This book follows a female interrogation officer for one of the U.S. government agencies. She's known as The Chemist because she uses chemical cocktails to get information out of her subjects, but now she's less worried about her job and more worried about her life because the agency is now trying to kill her. This was just a FUN book with lots of laugh-out-loud moments. (Full review here)
Nanny Needed by Georgina Cross
I blew through this thriller on a single airplane ride and then could not stop thinking about it! Sarah Larsen is desperate for a new job and when she finds a notice for a nanny position in her building's lobby, it feels like a golden ticket. And when she lands the job with the wealthy NYC family, she's ecstatic enough to overlook the red flags that start popping up almost immediately, like the mother who never leaves the apartment on her own or the mystery of the former nanny. This one was just spooky enough to be fun without being actually terrifying.
Truly Devious by Maureen Johnson
If you've been here a while, you know I love a good young adult book and this one features a private school, an unsolved kidnapping, and a teenage true-crime aficionado and new student who is determined to crack the case. This was my Halloween read in October 2021 and I blew through the whole four book series on audio in a few weeks – it's SO FUN.
A Good Girl's Guide to Murder by Holly Jackson
I've been meaning to read this one for years and I finally picked it up for the  2022 Everyday Reading Book Club and it sucked me right in. (I've even listened to the second one in the series!). It's about a high school girl who for her senior project starts investigating a closed case about a murder/suicide that rocked her town five years earlier. But it looks like the past doesn't want to stay buried. The audio of this is full cast and REALLY excellent. (Full review here)
Rebecca by Daphne Du Maurier
I read this one with my mom when I was in high school and have re-read it multiple times. It's about a young woman who marries a rich widower, but feels like she can't get out from under the shadow of his deceased first wife, Rebecca. It's a classic for a reason (note that the first chapter is a bit slow and then you won't be able to put it down).
The Good Sister by Sally Hepworth
This book was one of my favorites from the 2021 Summer Reading Guide! I read this on a spring break trip and blew through it in less than two days. It's the story of two sisters who grew up with a very difficult mother and got each other through it. Now they're both adults and still lean on each other, although Fern relies much more heavily on Rose, who is the more stable of the two. But when Fern discovers that her sister can't have the thing she most wants – a baby – Fern decides this might be the moment she can pay Rose back for a lifetime of taking care of her. What could possibly go wrong?
Touch & Go by Lisa Gardner
If you love a thriller or mystery, this one is a home run. I read it years ago and couldn't put it down – I kept waiting for nap time so I could squeeze in another hour of reading!  Justin and Libby Denbe have the perfect life – beautiful home, great marriage, and a lovely daughter. And clearly someone else thinks so too, because all three of them have been abducted without a trace. Tessa Leoni is the investigator on this case and she's going to have to find them fast – which is hard because there are no witnesses and no random demands. Told from multiple points of view, this story keeps twisting and turning right up until the very end. (Warning that this one has quite a bit of swearing). (Full review here)
The Girl with the Dragon Tattoo by Stieg Larsson
This fast and gripping read is about a deeply troubled computer hacker, with a photographic memory, who teams up with a journalist to investigate the disappearance of a wealthy businessman's niece from 40 years ago. (Beware there are some gruesome and racy parts)
Nine Coaches Waiting by Mary Stewart
I read this one years ago and all the reviews that compared it to Rebecca weren't wrong. Linda is an orphan in her early 20s who goes to be a governess in France for a wealthy young boy who will inherit the whole family estate when he comes of age. Naturally, things get a little frightening very quickly. You'll swear you're at a Gothic manor in the French countryside, all without leaving your couch.
Room by Emma Donoghue
Horrifying, but ultimately full of hope, this book about a little boy raised by his mother in a single room where she is kept by her kidnapper and their eventual escape, explores what happens when the whole world opens up before you. (Full review here)
Big Little Lies by Liane Moriarty
I love Liane Moriarty's books because they're super engaging without being TOO fluffy, and they're long enough that you don't finish it too quickly. It's one of those books where you don't want to know too much about it going in – the main thing you need to know is that a parent died at trivia night at the local elementary school. Was it a murder? An accident? And, through 95% of the book, the biggest question is WHO DIED? (Full review here)

The Firm by John Grisham
Mitch McDeere is a young lawyer fresh out of Harvard Law. When he is approached by a mysterious law firm, he feels like he won the lottery. The benefits, the salary, all the perks…seem too good to be true. After the FBI starts looking into his firm's possible connection with the Mafia, will his choice, accepting a job at this firm, turn deadly? I've read a lot of John Grisham books in my time and this is one of my very favorites.
11/22/63 by Stephen King
I have to recommend this one with a strong dose of warning that there is quite a bit of swearing and sex. But dang, I couldn't put down this story of a man who finds a time travel portal and tries to prevent the assassination of JFK.

And if you'd like a printable copy of this thriller book list that you can take to your library or screenshot on your phone for easy access, just pop in your email address below and it'll come right to your inbox!
if you liked this post about the best thriller books, you might also like these other posts: