Picking out my favorite books of 2012 is one of the things I like best.
Also, looking back over the books I read makes for a fun time seeing different trends in my year. This year? The year of non-fiction, for sure.
But I'm also happy to see some historical fiction, a couple of realistic fiction titles, some YA and middle grade books, and some delightful fluff.
2012 was a good year.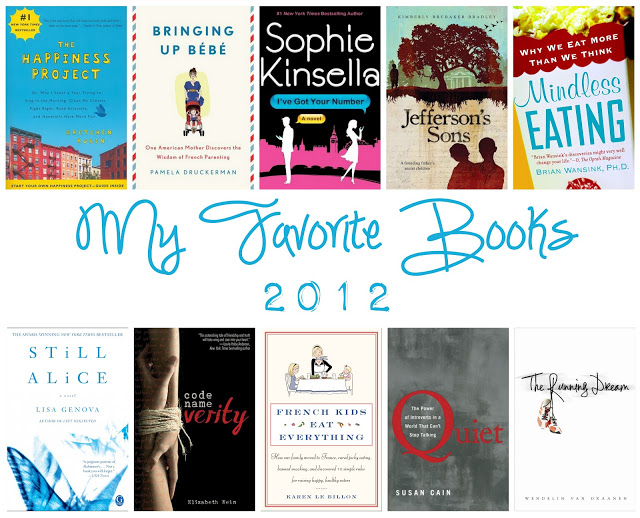 my favorite books of 2012
The Happiness Project by Gretchen Rubin – I just reread this book in the days after Ani was born and I loved it just as much the second time around. So inspiring and interesting. (Full review here)
Bringing Up Bebe by Pamela Druckerman – It's been almost a year since I read this, and I still think about it almost daily. And because it's so popular, I always can find someone to talk to about it. I don't think it's the end-all parenting manual, by any means, but it is certainly FASCINATING. (Full review here)
I've Got Your Number by Sophie Kinsella – No one else does chick-lit like Sophie Kinsella. This was possibly my favorite of her books and I'm dying to check it out from the library and read it again. (Full review here)
Jefferson's Sons by Kimberly Brubaker Bradley – This is such powerful historical fiction; it really changed my views of Thomas Jefferson. (Full review here)
Mindless Eating: Why We Eat More Than We Think by Brian Wansink – Of course there is a food book on this list. I read this while Bart was out of town and I read him probably a quarter of the book over the phone because I COULD NOT STOP TALKING ABOUT IT. Reminded me a bit of Malcolm Gladwell, except all about food.
Still Alice by Lisa Genova – Oh, this book broke my heart. I feel like I understand Alzheimers in a whole new way after reading this. (Full review here)
Code Name Verity by Elizabeth Wein – I have been meaning to write about this book for weeks, and I'm still planning to. In the meantime, know that this YA historical fiction book set in WWII with two girls working with the British Royal Air Force (one as a spy, and one as a pilot) is one of the best books I've read in ages and was pretty much responsible for pulling me out of my Fall reading slump. (Full review here)
 
French Kids Eat Everything by Karen Le Billon – I loved this book and though it was in a similar vein to "Bringing Up Bebe," I thought this was much more useful and applicable for people living in the US. (Full review here).
Quiet: The Power of Introverts in a World That Can't Stop Talking by Susan Cain – This is my bookclub pick for 2013 and I cannot wait for the discussion. Or to read it again, frankly. (Full review here)
The Running Dream by Wendelin Van Draanen– This was one of the very first books I read this year and still one of my favorites. I'm so grateful for two legs. (Full review here)
And if you'd like a printable copy of this list that you can take to your library or screenshot on your phone for easy access, just pop in your email address below and it'll come right to your inbox!


What were your favorite 2012 reads? I'd love more suggestions for things to read in 2013!
if you liked this post about my favorite books of 2012, you might also like these other posts: