One of the most frequent questions I get is about organizing books and what my at-home bookshelf organization looks like.
To be honest, I haven't shared about my bookshelf organization before because it's not that impressive.
You might expect someone with a master's degree in library and information studies and a background as a children's librarian to have a super serious system. . . but I don't.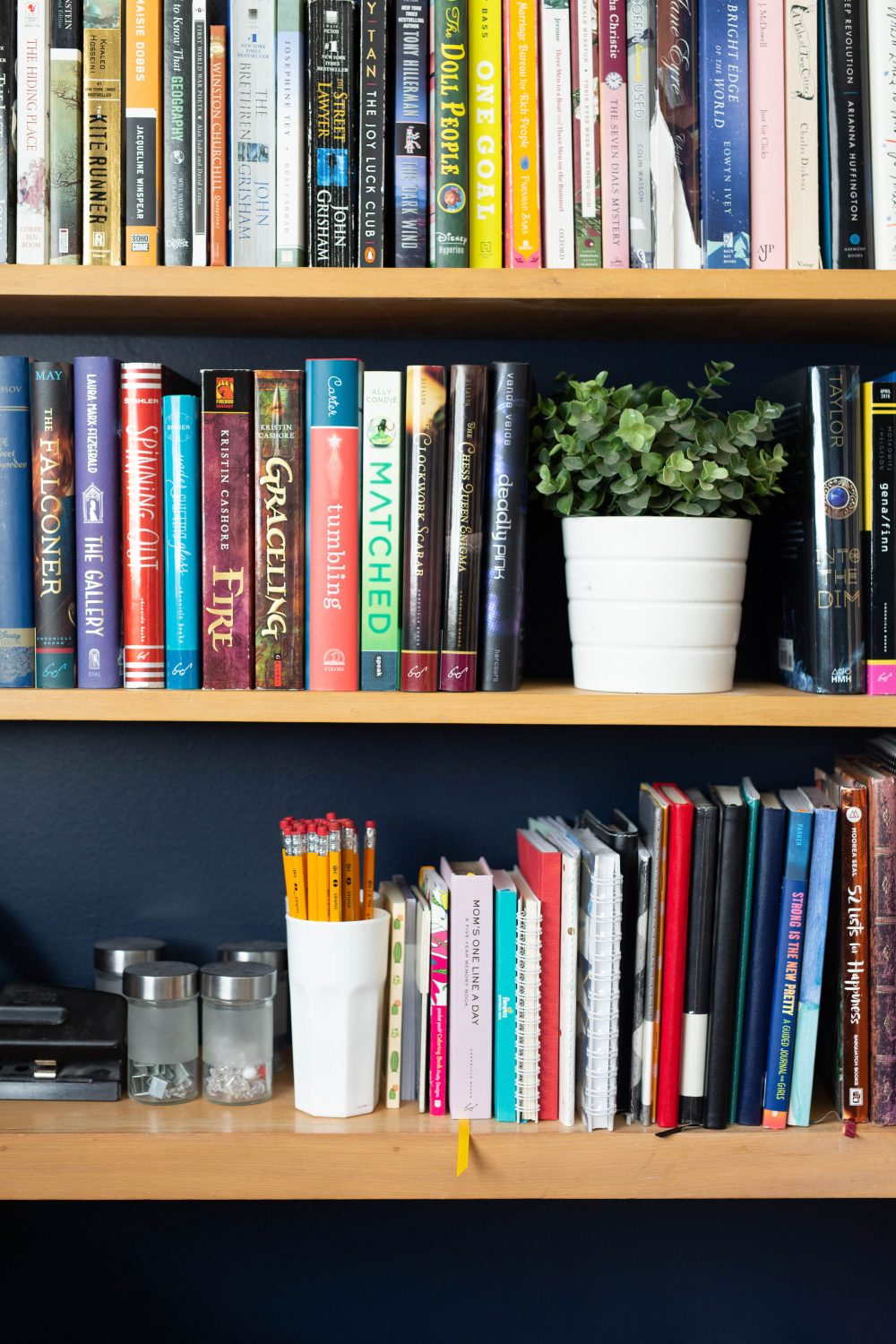 My goal with my bookshelf organization is similar to how I approach most of my life – I want it practical and manageable and something I can keep up with.
Also, because of my job, I have many more books showing up at my house than your normal household which makes organizing books a little bit of a never-ending task.
But if you'd like a peek into my bookshelves, here's how I organize them.
How I Organize My Bookshelves
Office Bookshelves
My office has built-in bookshelves that were put in by the previous owners (sorry to everyone who has ever sent me messages about where to buy them – I have no idea and they're probably 50 years old!) and most of my grown-up books are housed there as well as my review books.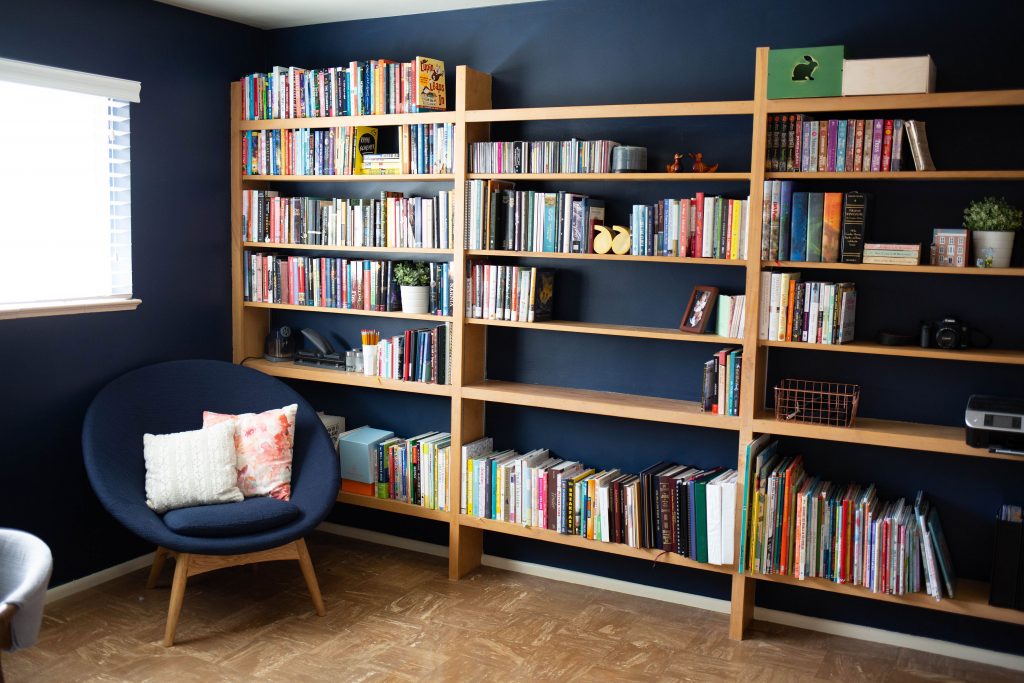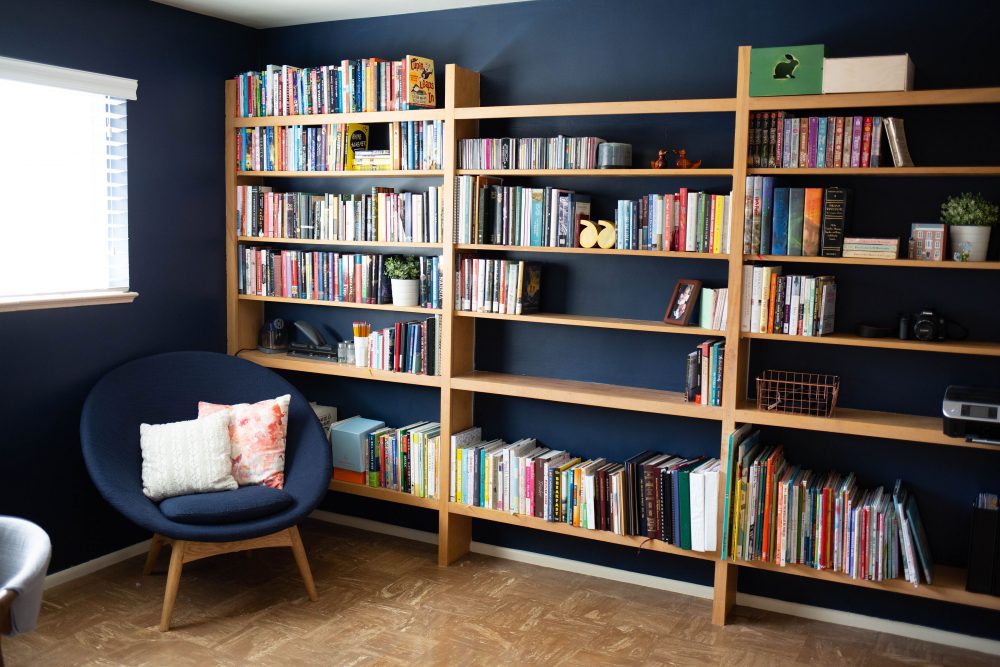 On the top shelf on the left, I put all my advance copies of books that I'm planning/hoping to read. Once I'm done with those books, I set them aside to give away on Instagram every week or two.
Under that, is a shelf of children's novels.
Under that, is a shelf of young adult novels, and below that is a shelf of grown-up novels.
On the bottom shelf, I have all my education/homeschooling books including the sets of learn-to-read books and some workbooks.
In the center column, I have a shelf with religious books on one half and parenting books on the other half.
One shelf under that, I keep all my library books that aren't picture books.
The next row holds my books about books and reading and the bottom shelf has my food books and our personal family photo albums.
On the right column, I mostly have my book collections – Little House on the Prairie, Redwall, Harry Potter and Louisa May Alcott, plus some non-fiction books that don't particularly fit in any other category.
The bottom shelf holds our extra-tall picture books, plus the picture books I've received for review and haven't yet read. Since this photo was taken, the picture book section has gotten so large I now also have three stacks sitting on the floor.
I've also started collecting the books for the Everyday Reading Book Club on the top center shelf.
Playroom Bookshelf
We have this giant 5×5 IKEA bookshelf in our basement playroom (which we bought in North Carolina and now have assembled and reassembled multiple times. . . it's good times every times).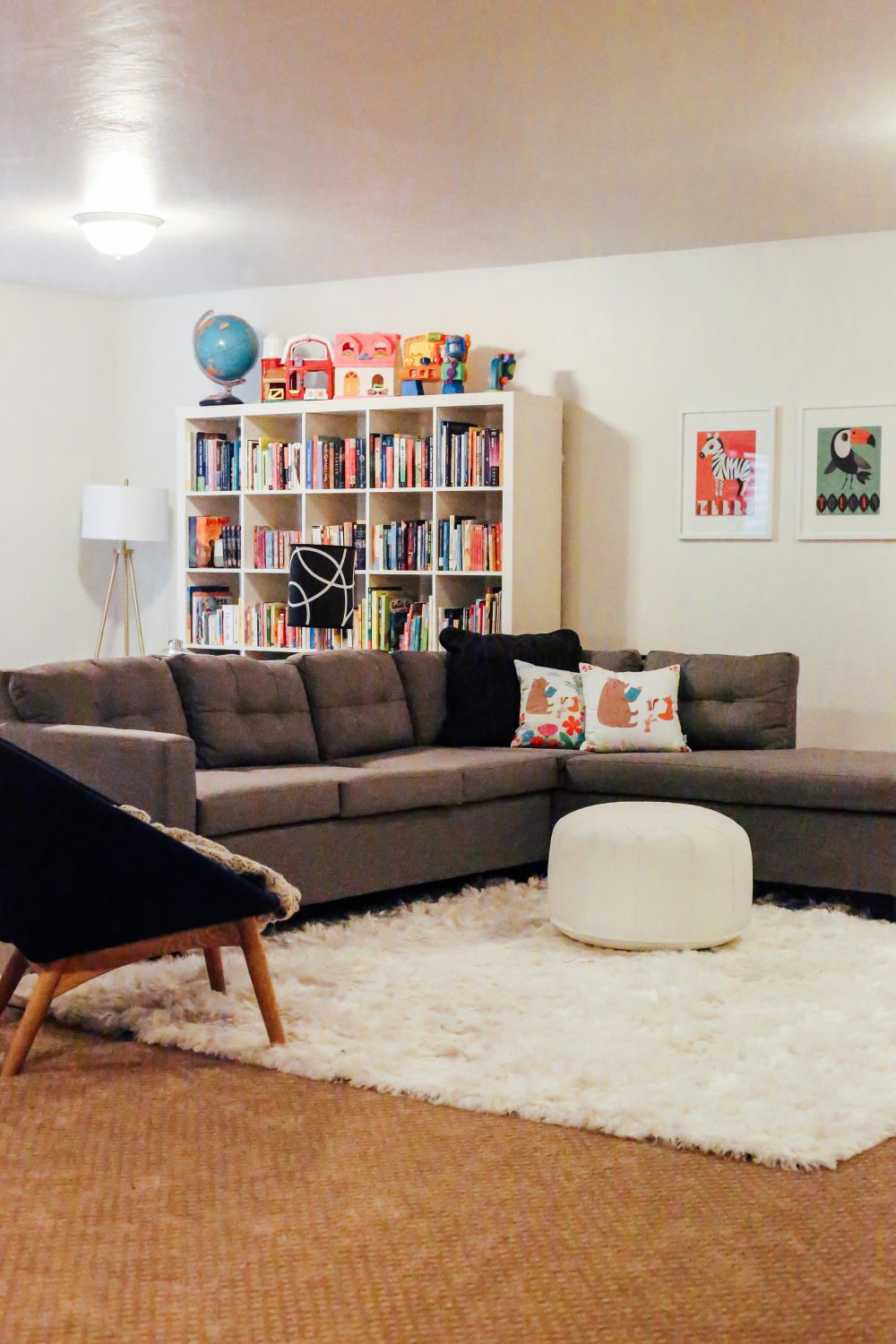 It holds nearly all of our picture books which I don't really bother to organize. When I go through the books once a year of so, I'll put them back with non-fiction books all together and put series together, but on a daily basis, I don't bother with it. I just want them on the shelf and off the floor.
I keep the easy readers and chapter books on the top row and board books on the second row and then the third, fourth, and fifth rows have all the picture books.
Nursery bookshelf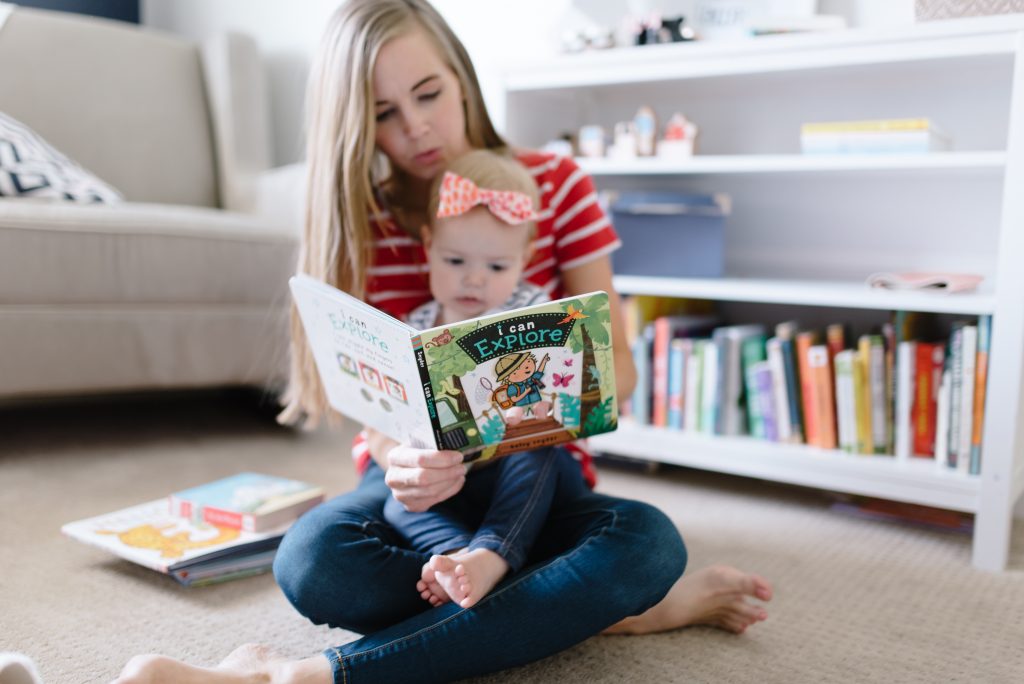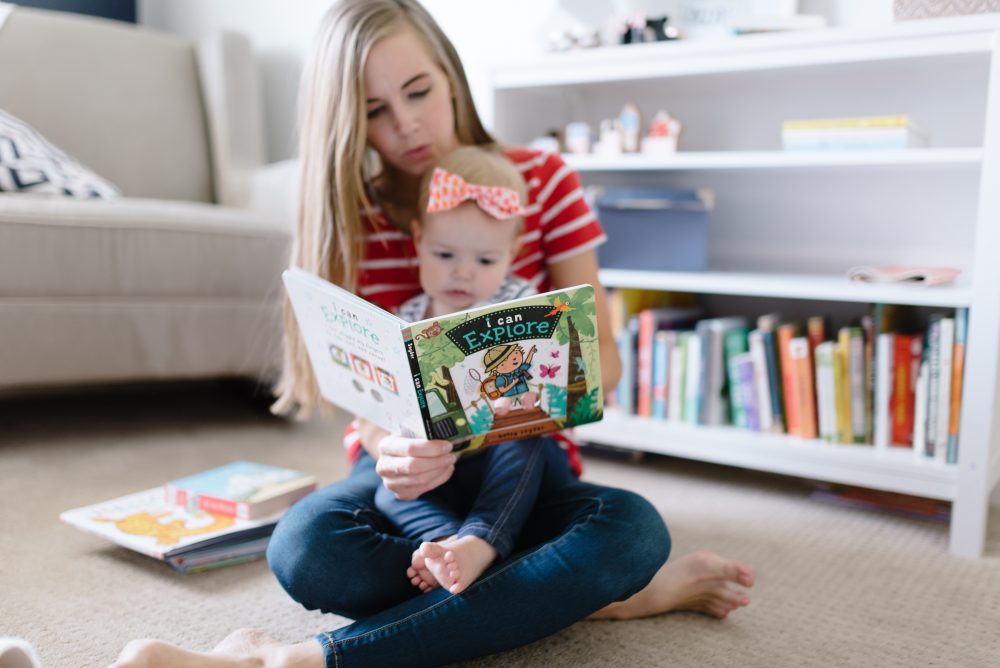 We have an astoundingly large collection of board books so even with 5 cubes of board books on the playroom bookshelf, we still keep a huge board book collection in Tally's nursery with two rows of board books there (this photo is several years old, back when we didn't have QUITE as many). She likes a big stack of books in her bed every nap or bedtime, so they get taken in and out of those shelves constantly.
Library Bookshelf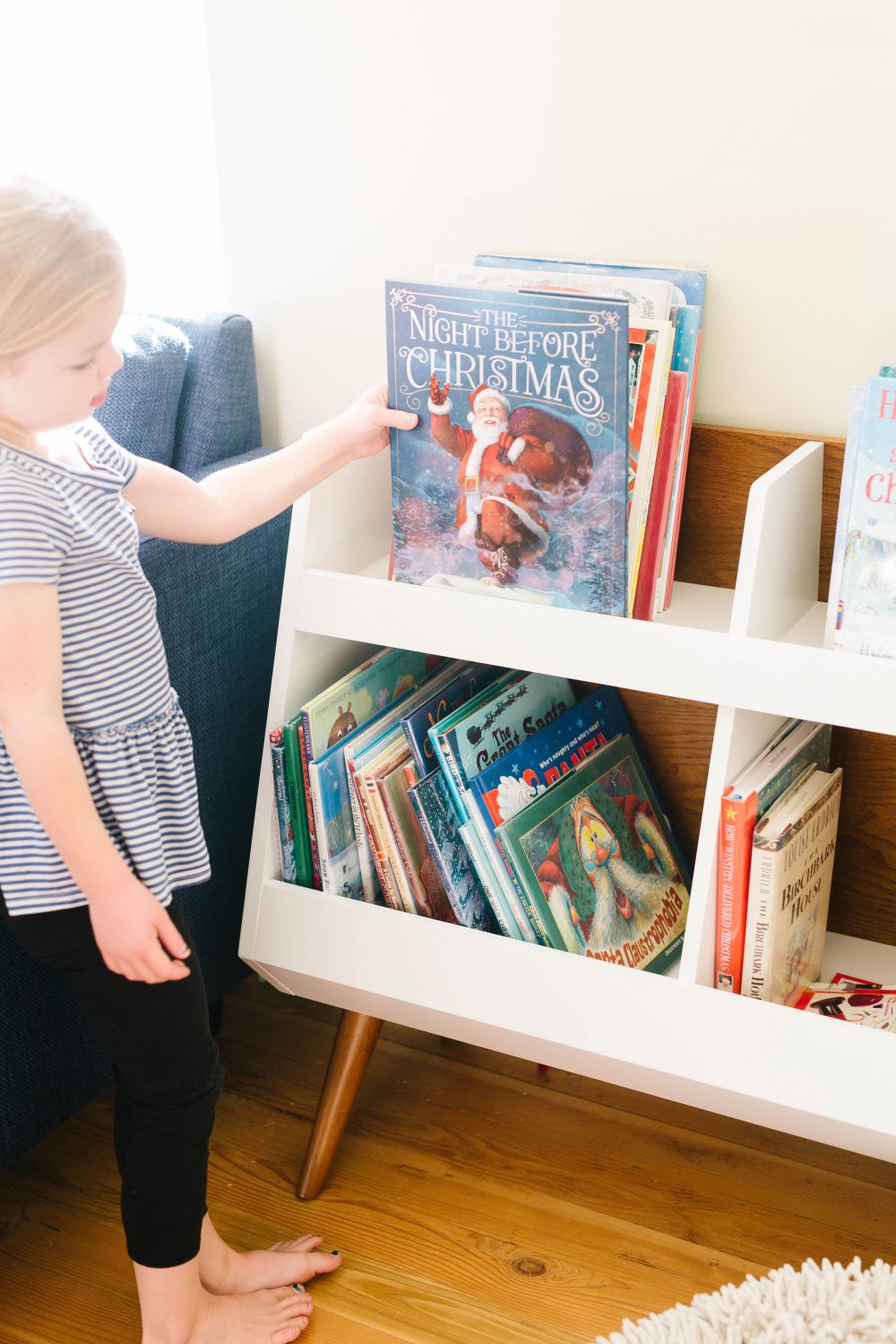 We have this bookshelf in our living room and it houses all our library books (plus our scriptures for daily family scripture study). It's so convenient to have one landing place for the dozens of picture books or easy readers we always have checked out.
Storage Room bookshelf
Our storage room has long narrow shelves so Bart has a full shelf that stores all his business books (he has an impressive collection).
Girls' Room Bookshelf
The girls have a small bookshelf in their shared bedroom and they keep some of their library books or current reads in there and all of their library books on CD.
Holiday Books
I keep all my holiday books in storage and just bring out the relevant holiday books with my holiday decorations. Our current house has tons of shelves in the storage room, so I just put them on those shelves like a bookshelf divided up by holiday so I can grab them easily, but in the past, I've kept them in the boxes where I store my holiday decor.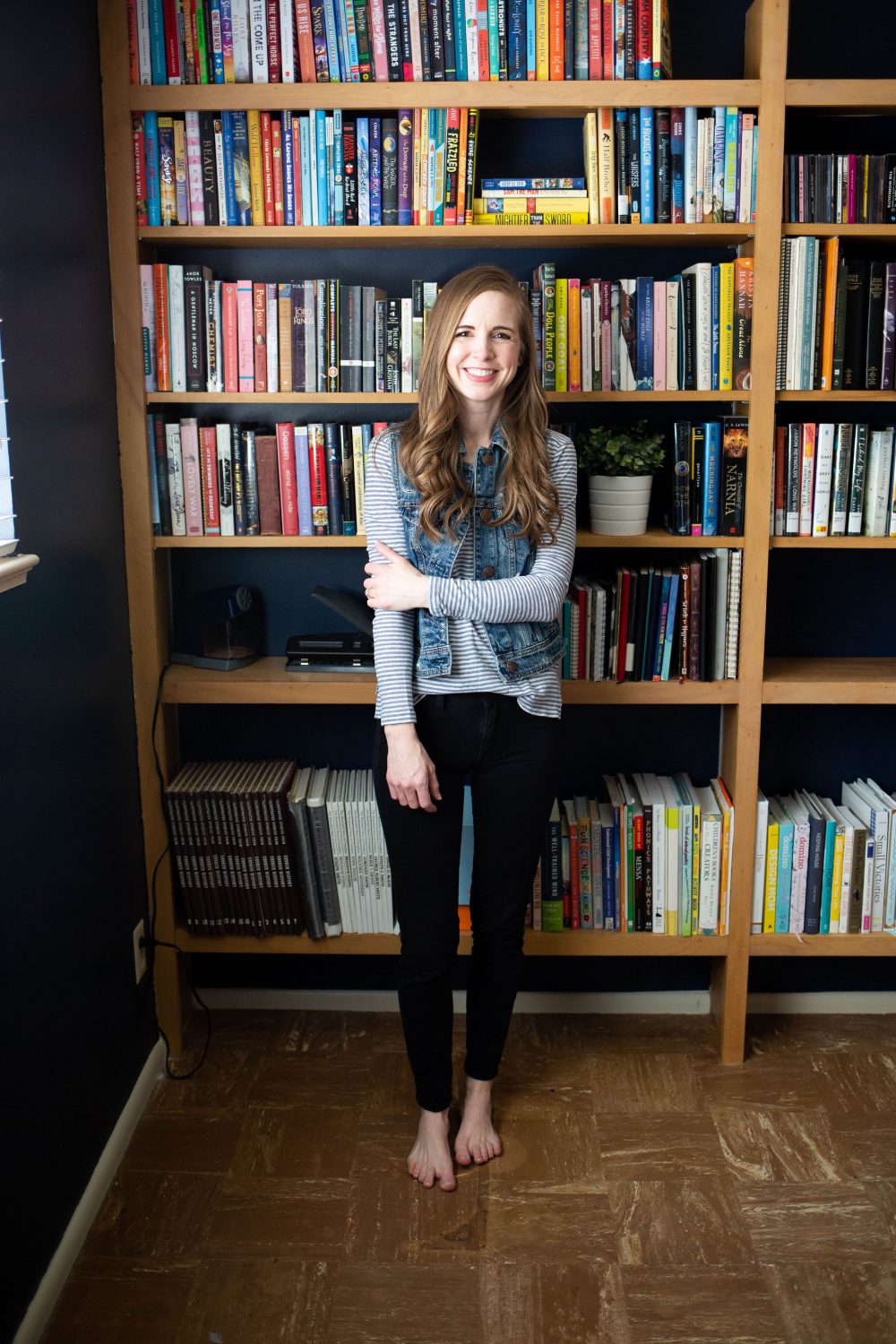 I think that's it!
If you think a little less of me for not having them alphabetized, rainbow-ized, or Dewey Decimal-ized, I completely understand.
If you liked this post about organizing books, you might like these posts too: