I've been a reader for as long as I can remember.
One of my earliest memories of reading was on a long train trip (from Wisconsin to Washington State) with my mom and sisters when I was about six. My mom had brought along Number the Stars, which had won the Newbery a few years earlier, and I picked it up and started flipping the pages.
My mom 100% thought I was just pretending to read it and when I announced that I was done, she asked me some questions about it. To her surprise I actually HAD read the whole thing and was able to tell her (in probably much more detail than she wanted to hear) all about it.
Since then, I've done my best to never be without a book, and reading has been one of the great joys of my life (hence twelve years of writing about books here on Everyday Reading).
But behind that love of books, I also keep some bookworm secrets.
And a chilly Monday morning seems like the right time to spill them here. Here are my 12 bookworm confessions – you might be able to relate: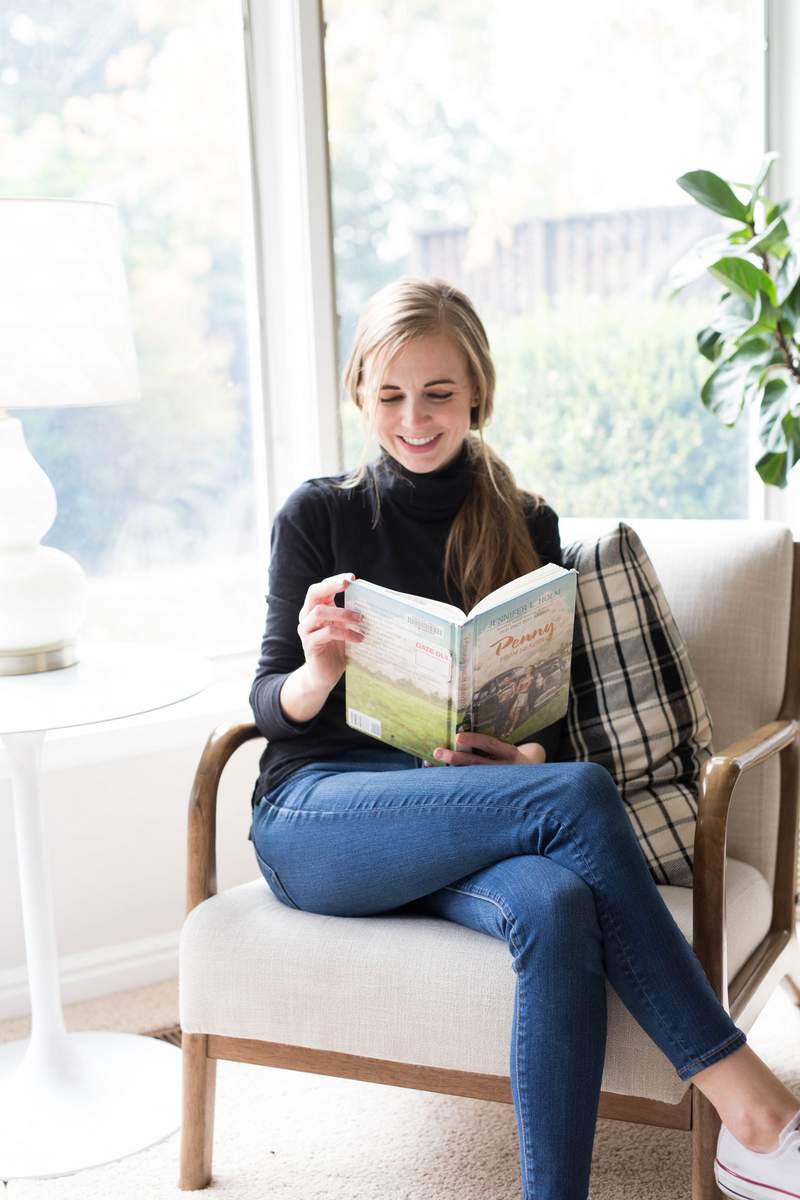 12 Bookworm Confessions
I take my library books on vacation. So far, I've never lost a book on vacation (although we did have to go back to the Boston airport one time to retrieve a library book Bart had left in the seat back pocket).
I don't care that much for Dr. Seuss. There are a handful of his books I like, but overall, I kind of don't get the insane love for him (and most of his picture books are SO. DANG. LONG). It's like they were trying to pretend some of his books are picture books when they're practically chapter books.
I almost never take notes or mark up a book when I'm reading. When I see books that are filled with underlines and notes, I love the idea of having my books so personalized like that. But I never take the time to actually do it myself.
My idea of a bookmark is the library receipt they used to mark my holds. I actually own quite a few lovely bookmarks. But who has time to go dig those out when you're reading? That paper gets the job done.
I have no real organization system for my books. I get asked all the time about my organization system for my books and . . . I don't really have one. The librarian in me is cringing. Most of our picture books go in the big bookcase for our playroom and they are roughly divided into fiction and non-fiction, but there are also board books and a couple of shelves of my books and young adult and middle grade books. I keep most of the board books in the nursery, and the adult books scattered between the upstairs bookshelves.
It never gets easier for me to start a new book. No matter how many thousands of books I read, that first page or chapter is almost always a little bit of a slog until I'm into the story and the characters. When I do start a book that grabs me from the first page, it feels like an extra special treat.
I never sound out character or place names that aren't obvious. I just recognize the name by sight and how it's pronounced isn't part of the equation at all for me. Which is only a problem if I'm going to talk about the book in person afterward. In fact, one thing I love about audiobooks is that I know how tricky names of people and places are pronounced and I get a weird satisfaction for knowing the correct pronunciation (but not enough satisfaction to do it myself, obviously).
I hate to borrow books from other people. It's too much pressure! I want the freedom to return a book to the library unread or to hate a book and not have to report back to the person who loaned it to me that I think the book they raved about was totally boring and I only finished it out of obligation (I learned this lesson the hard way with Eat Pray Love).
The worst part about reading on a Kindle for me is that the text location keeps changing. I'm a pretty visual reader, so I can often remember where on the page something was located, but whenever I read on a Kindle, it's always changing (I don't know what that is?) so it's basically impossible for me to go back and find something.
I lay my books face down with the pages open. I actually didn't even KNOW this was bad for a book until I did it with one of my books when I was a school librarian and my aide was horrified
I'm a fast reader, but I am not a speed reader, nor do I have any interest in learning how to speed read. I read for fun, not to crank through as many titles as humanly possible and to me, speed reading sounds 100% not fun.
I totally eat while I'm reading (including my library books). A long time ago, a friend told me in great detail about how careful she was with her books, including putting them in ziplock bags when she traveled, and I make a promise to myself right there and then to never borrow books from people who cared deeply about the condition of their books. I'm careful, but I can't guarantee the book will come back pristine. So it's just safer not to.
What are your bookworm confessions?
If you liked this post about being a bookworm, you might also enjoy these posts: