Want to keep track of books read by you and your kids this summer? These five simple kids reading log ideas make it easy to remember all the books you've read together or separately and each of them act as a fun book tracker you'll want to keep forever!
I love all reading, of course, but summer reading is especially fun.
It's a time to read more aloud to my girls, listen to more audiobooks, and for each of us to do our own reading.
Of course, with all that reading, you might want to keep track of books read, whether those are books you've read together or ones they've read alone.
There are about one million free printable reading log options out there, but a book tracker on a piece of paper doesn't feel very fun or exciting to my girls and it's just one more piece of random paper I have to keep track of.
If you're looking for a simple kids reading log, one of these ideas might be just the ticket for your family. Bonus that some of them can act as an easy craft project for a summer day.
Simple Book Tracker Ideas for Kids (or Adults!)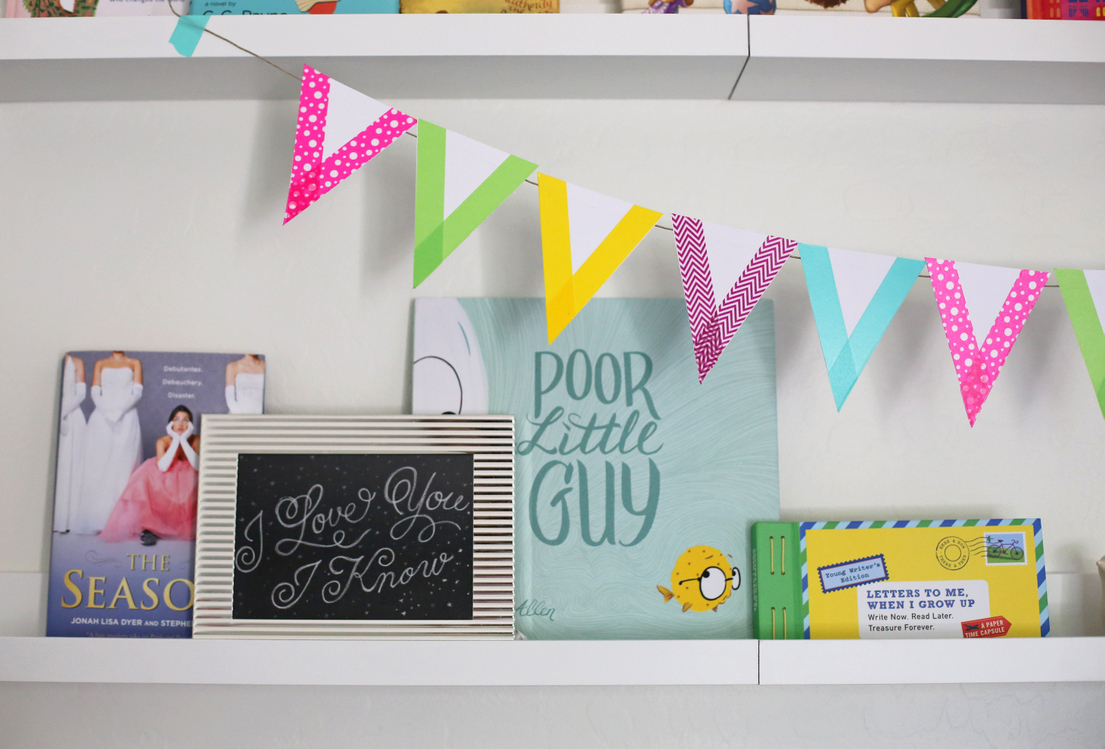 1. Calendar Book Tracker
This is the easiest way to keep track of books read and I love that all it takes is a calendar. You can buy a standard calendar and then when someone finishes a book, just write it in the box for the day they finished. You can have a different color ink for each person in the family or write their initials after the book. It's so easy to have a whole year of kids reading log (and grown-ups too!) in one spot, plus it's interesting to see when you do a lot of reading and when you do less depending on the seasons.
2. Book Tracker Pennant Banner
I made this banner to use as a book tracker a few years ago and it hangs on the shelves in my office to track the books I've read aloud to the girls. Making it is a fun project and each child can have their own banner or they can each get a couple of pennants.
3. Kids Reading Log Paper Chain
I love a paper chain – they're just so festive and fun – and they couldn't be easier or less expensive. You can set a goal for how many books to read during the summer between the whole family or give each member of the family their own color for the paper chain and as you each finish books, write the title on a strip of paper (include the date if you want!) and then staple it to the chain.
 4. Bookworm Book Tracker
My mom made a bookworm book tracker when I was little and I still remember it growing around the top of our playroom as we added books to it. It's so simple and a fun little decoration to a library or playroom or child's bedroom. You could also do a tiny one along the edge of a bookshelf or somewhere else inconspicuous. Or, like a child's height tracker, you could draw it right on your wall as a permanent reminder of the books you've enjoyed. If I moved into a house with one of these drawn somewhere, I would die of joy.
5. A Reading Log Book
Of course, what better book tracker is there than an actual book? There are several fun reading log book options out there where you can keep track of books read and then slide this cute little volume right on a shelf. You can buy your own blank notebook (like a Moleskin) or buy a reading log book specifically designed to act as a kids reading log (this one has a space for the title and author, plus a rating and you tear off a perforated corner on every page to see the bookworm "eat" through the book). Or this reading log book is a simple non-kid focused one that's great for the whole family.
How do you keep track of books read in your family? Leave a comment below!
If you liked these book tracker ideas, you might like these posts too: