After we finished those two, I finally got to put up something I've been looking forward to for some two decades now.
In the Wisconsin house we lived in until I was almost seven, my mom made a big bookworm that circled the top of our playroom walls, listing all the books she'd read aloud to us.
I remember
Stuart Little
on there, along with
Charlotte's Web
and the entire Laura Ingalls Wilder series(
I still own that full set
, which my mom bought from the library when they were replacing it).
Now, I finally got to hang my own in
our playroom
 (I just traced circles with a salad plate, wrote the title and author in the center(ish) and cut them out).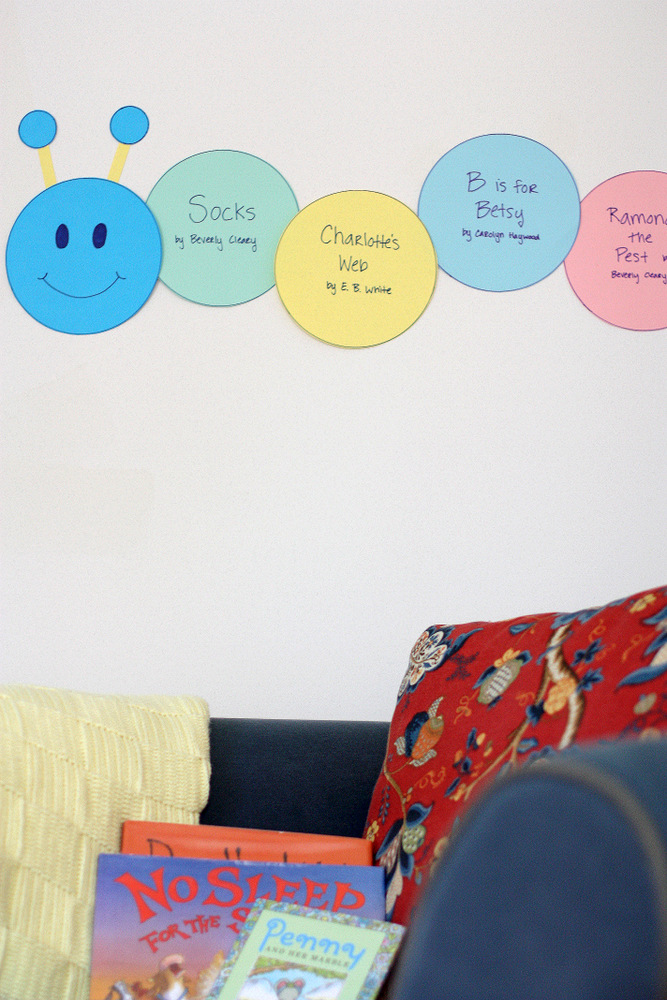 We lost steam a bit after Charlotte's Web, because Ramona the Pest just didn't really hold her attention and we got sidetracked with the holidays.
Then, for Christmas, my mom sent Ella
B is for Betsy
and in mid-January, she requested we read it together. She loved it so much we read it in about a week (we're currently waiting for the next in the series,
Betsy and Billy
, to come up at the library).
After that, we had the momentum to get finally through
Ramona
 (Ella now marches around saying, "I'm the baddest witch in the world. Even badder than Ramona"), and currently we're zipping through
Mr. Potter's Pet
.
I'm loving reading longer books with her, and I have high hopes that by the time we leave this house in a year or so, I'll have to remove dozens of circles from our bookworm. (I don't want to talk about all the blue putty I'll be painstakingly removing from the walls).
If you have suggestions for early chapter books, I'd love to hear them! This is a whole new world for me.