On October 31, 2006, I published my first blog post here on Everyday Reading.
I basically cannot believe that was twelve years ago.
I was 21 years old, working part-time as a nanny while I finished up my last three classes online so I could graduate from college, and we'd just bought our first house a few weeks earlier.
I'd started reading blogs the summer before and Bart had spent the last 4 months convincing me I should start my own since I loved reading others so much.
I still remember sitting in the huge green velvet rocking chair in our little office, finishing that first post, and pushing publish.
If you'd told me what blogging would look like a dozen years later, I probably wouldn't have believed you.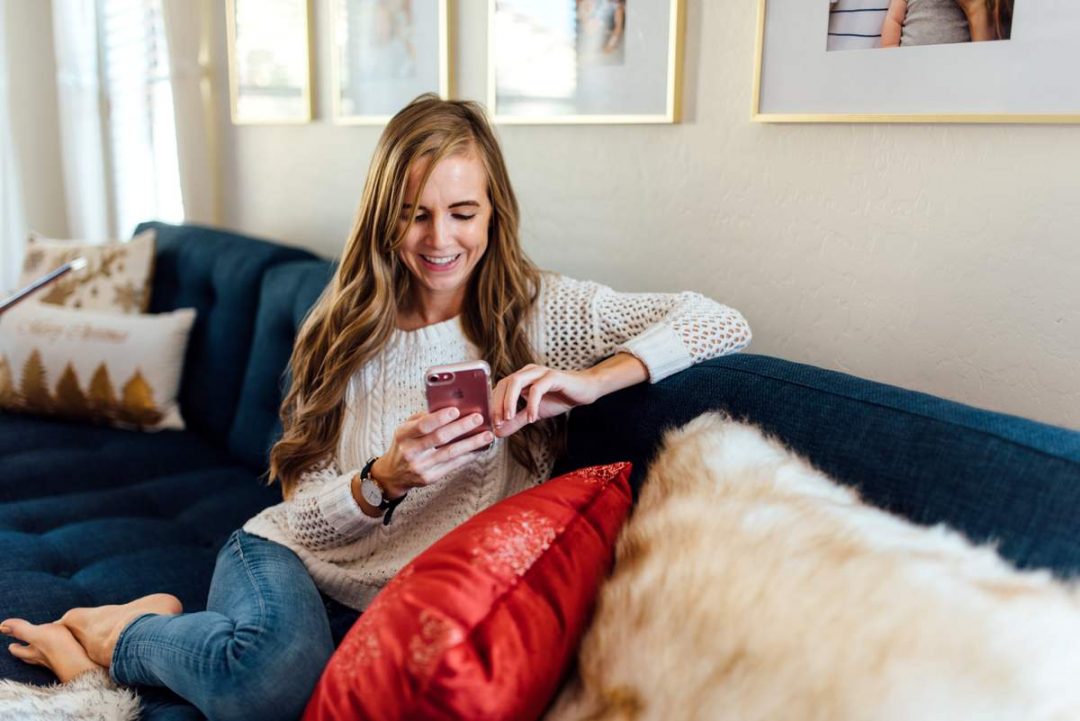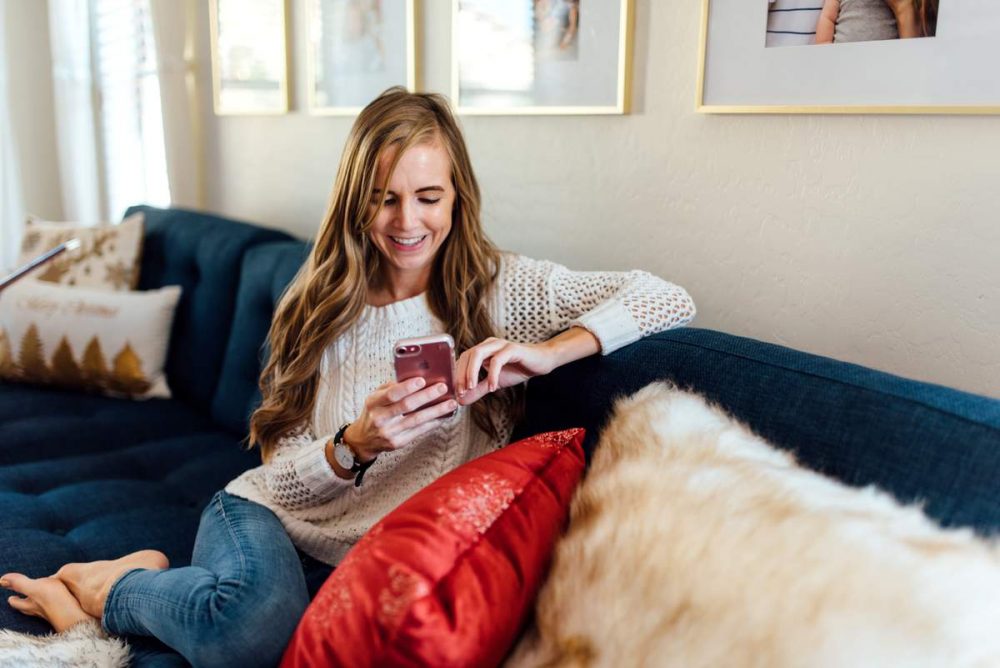 Anyway, in celebration of 12 years of blogging, here are 12 things about Everyday Reading and my blogging experience so far:
1. I've published 2,645 blog posts here since late 2006, which comes out to an average of 220 posts per year and an average of 4.2 posts per week. That doesn't count the contributor posts I've done over the years for other sites like Disney Baby, Brightly and Conde Nast, which probably equals another 750 posts or so.
2. The very first post I ever wrote was this review of Baby Proof by Emily Giffin. Originally, I planned to only do book reviews here, but within a few months, I wanted to write about other things too.
3. I've never taken a blog break. I always say that I really love blogging and one indication of this is that despite four pregnancies and new babies, plus eight cross-country moves, I've never gone for more than about a week without posting something here. I still love blogging and feel so lucky every day that it's how I get to make a living.
4. The most popular post – by a landslide – on my entire site is this banana muffin recipe. It has more than three times as many views as any other post on Everyday Reading. I still remember making those in our little kitchen in London (it was a recipe I'd made dozens of times but never posted) and thinking, "I should snap a photo and put this on my blog." The second most popular post is this review of Blue Apron, and third is this post about 10 ways to use up leftover buttermilk.
5. My favorite part of blogging is storytelling. I grew up in a storytelling family (a fact I didn't notice until Bart and I started dating and he pointed out that he'd never met a family that loved to share stories as much as mine does), and I love relaying a good story. One reason I love sponsored posts is that it's really a fun puzzle for me to talk about a product or service in a way that feels interesting and authentic, not just a "This is a new product. Go buy it" kind of way. Even if you have zero interest in the brand I'm partnering with, I hope you'll still find the post entertaining and fun to read.
6. There are 35,252 published comments on Everyday Reading. Blog commenting has dropped significantly with the introduction of Instagram and other social media platforms, but I still read and appreciate every single comment and try my hardest to answer any questions or respond to feedback there!
7. When I started Everyday Reading, I wrote a blog post and that was it. Now, I have an Instagram account where I share both photos and do InstaStories, a Facebook page, a Twitter account (although I'm not very active at all on Twitter), and Pinterest. I also have an email course called Raising Readers, which thousands of people have taken since I launched it a little over a year ago. Last fall, Bart and I started London Littles, a small business selling children's rain boots. I've spoken at more than a dozen conferences, hosted events, interviewed authors, and worked with some of the biggest brands in the world.
8. No one is more surprised than me to find out I have an entrepreneurial streak. When Bart and I got married, he was hugely entrepreneurial and I was zero percent. Starting my own business sounded like the least appealing thing in the world and I valued security above basically everything else when it came to careers. A decade later, I can't imagine working for someone else – I love the flexibility, the creativity, and the ability to pivot and experiment. When people ask if I think I'll go back to being a librarian when my children are all in school, the answer is an unequivocal "no." (I wrote more about how being a librarian is no longer my dream job in this post a few years ago).
9. I have had at least ten different site designs over the years. In the beginning I did them myself or with the help of Kayla and later on, I bought templates, and now my current one is based on a template and then customized by a designer.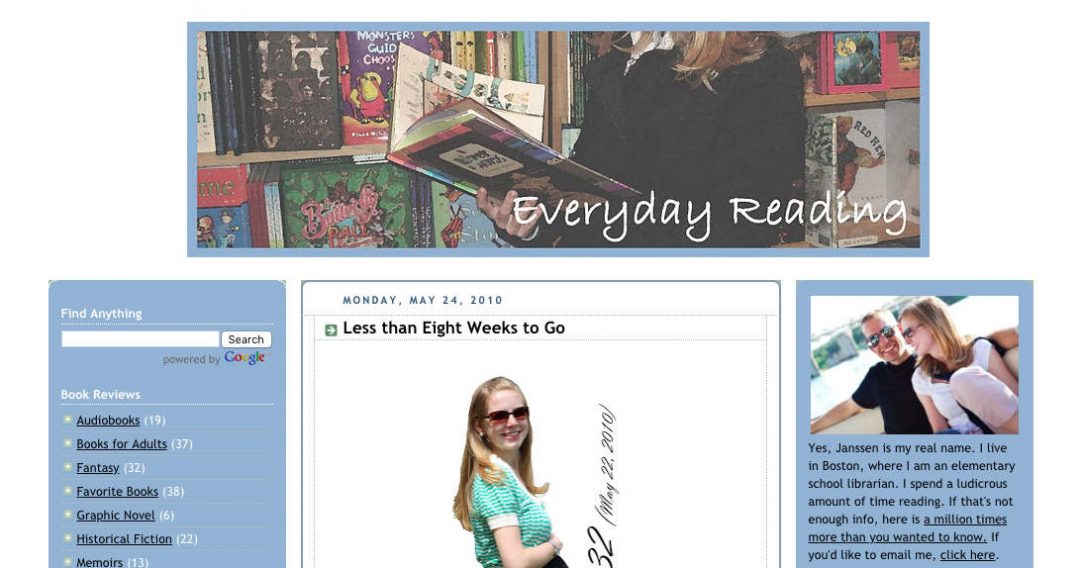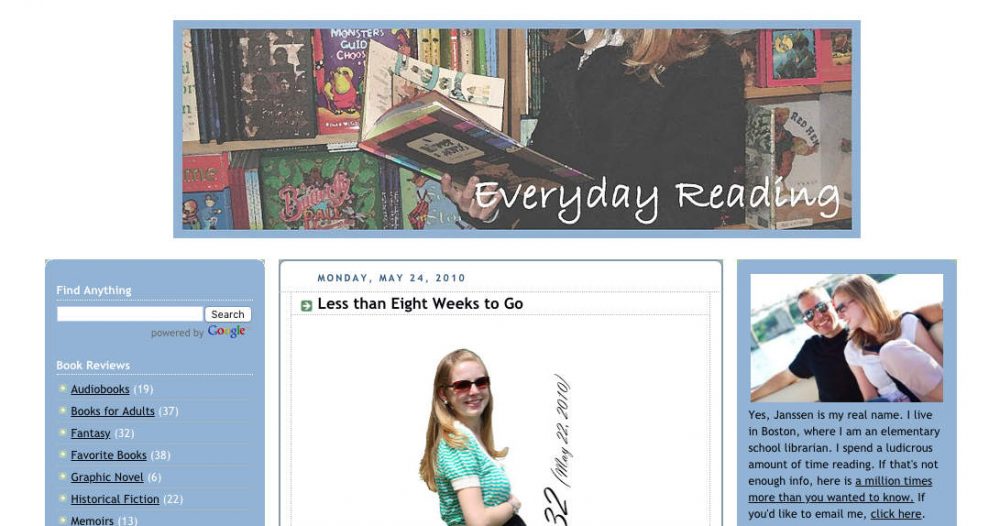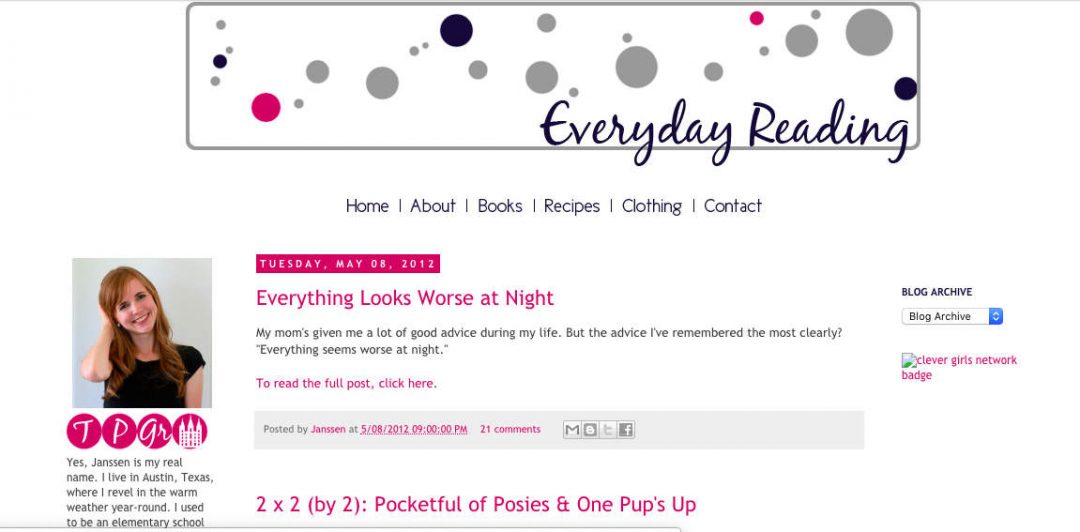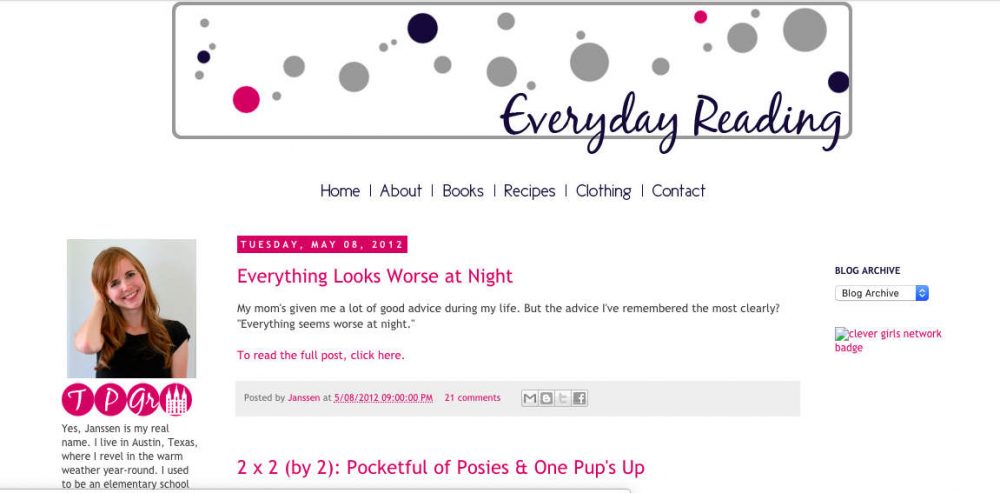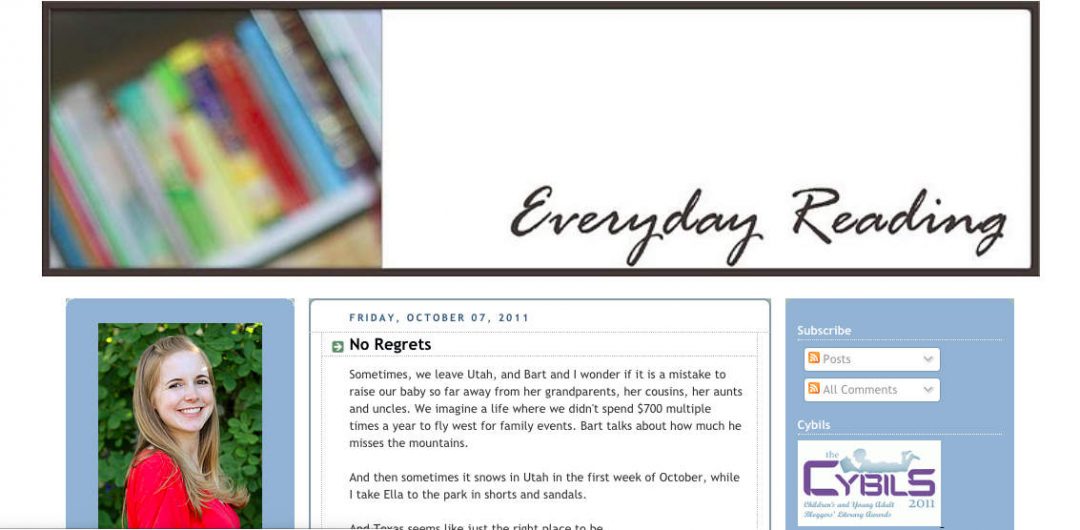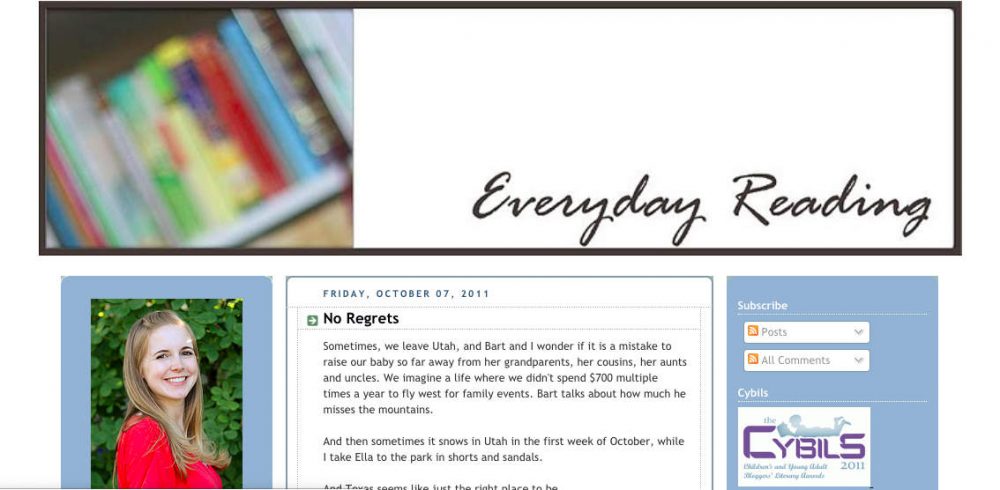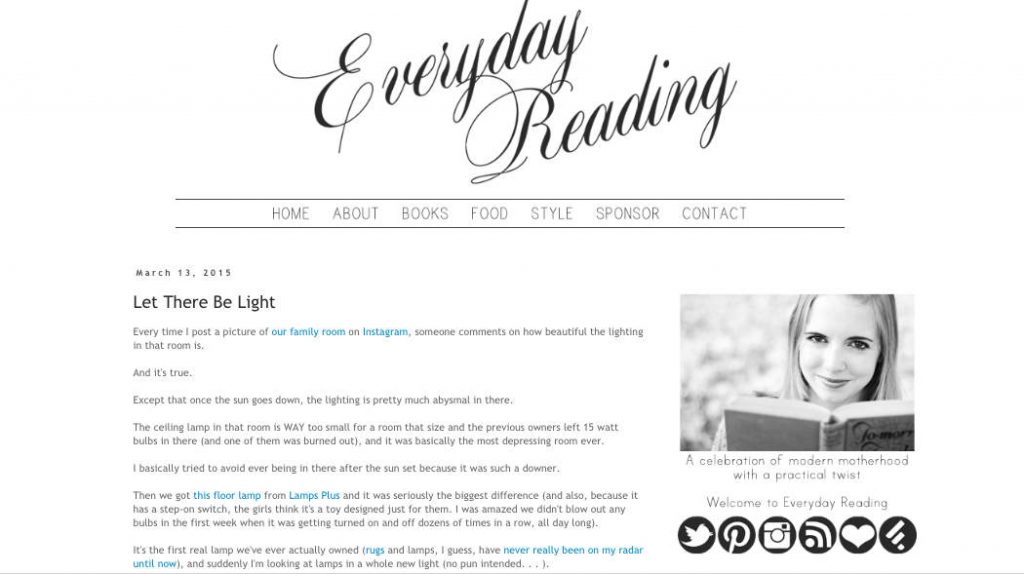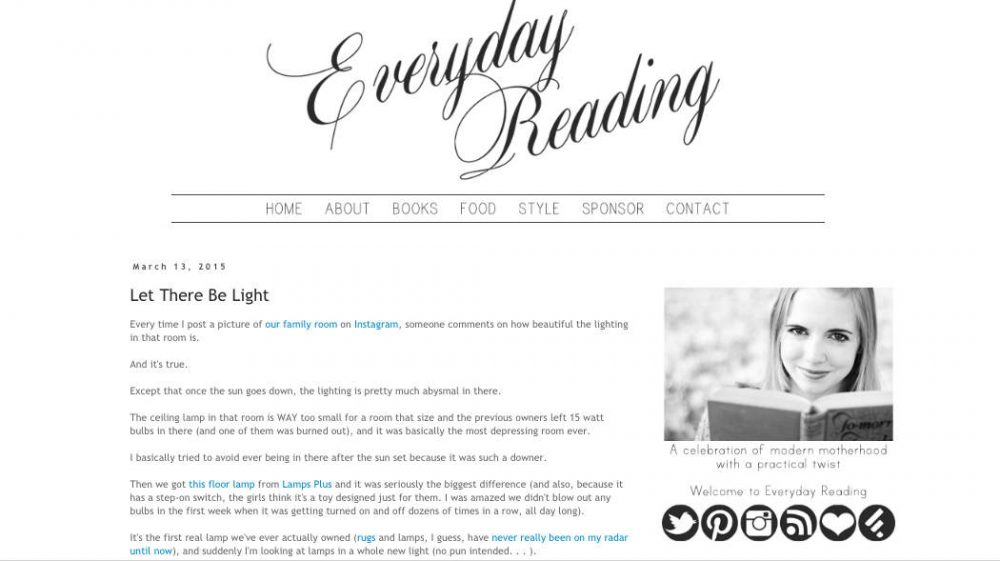 10. Back in 2012, I tried to buy the domain everydayreading.com. I was switching from everydayreading.blogspot.com and the person who owned it was willing to sell. For $50,000. Needless to say, I passed. Using everyday-reading.com has been just fine.
11. I love that blogging is always changing. I hear some bloggers complain about things changing, but for me, that's what keeps it fun. I love the freedom to experiment, to try new things and get quick feedback. A dozen years ago, I almost never posted photos (and when I did, they were approximately the size of a postage stamp) I couldn't have kept Everyday Reading up for the past twelve years if it wasn't always interesting and engaging. I love figuring out how to use new platforms like Instagram or Facebook Live or try out new kinds of posts like fashion or recipes. That doesn't mean it doesn't sometimes get very frustrating, but it's definitely never boring.
12. My biggest goal with Everyday Reading is to be useful. Whether that's recommending a great book, talking about my favorite $18 swimsuit, talking about how to navigate the wild world of thredUP, or laying out the nitty-gritty details about how we do quiet time, I always want Everyday Reading to be useful and interesting. I know better than anyone that not every post succeeds, but it's always my goal, and nothing means more to me than emails or comments or messages from you guys telling me what's been helpful or how you've used the information I share here.
I don't know what Everyday Reading will look like in another twelve years, but for now, I love pretty much everything about blogging.
Whether you're new here or been here since the very beginning, thank you so much for making Everyday Reading such a wonderful adventure. I couldn't ask for a better way to spend my days.
I'll be celebrating tonight with a bunch of Reese's peanut butter cups and Almond Joys stolen from my children.
If you liked this post, you might be interested in these other posts about blogging: