After reading dozens of Blue Apron reviews, I wanted to try it for myself. My neighbor gave me her Blue Apron Free Trial code so we could give it a spin – here's what we thought!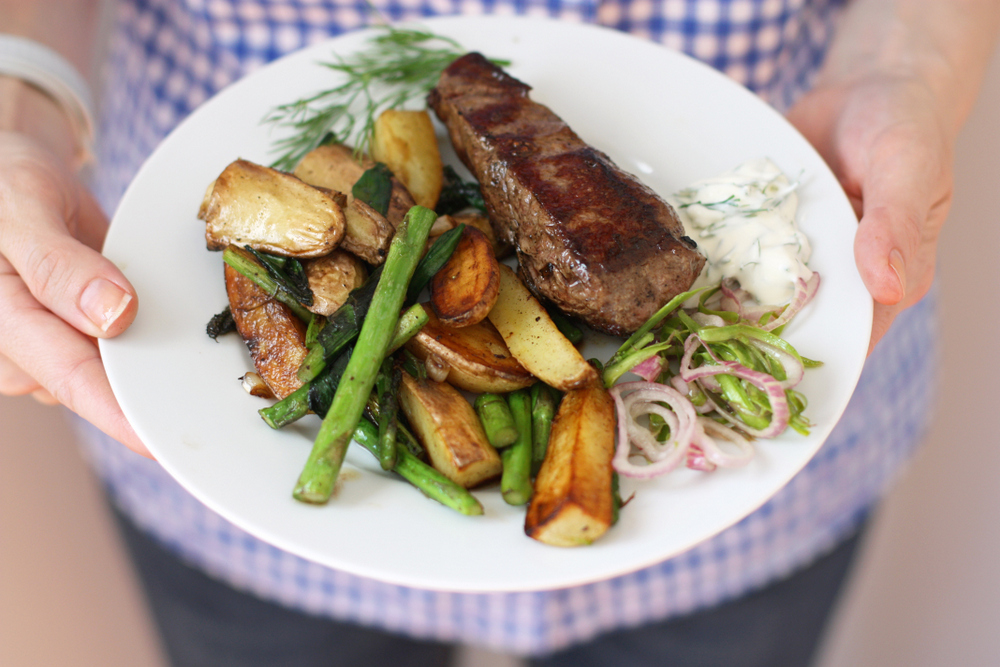 Raise your hand if you've read about 50 blog posts about Blue Apron. Yep, me too.
How Does Blue Apron Work?
If you've somehow avoided the onslaught of paid reviews, the gist is that Blue Apron is a meal planning and delivery service. Every week you get a box with all the ingredients and instructions to make 2-3 dinners.
I liked the concept, but I was hung up on two main things – the cost (which runs about $9-10 per person, per meal) and whether or not my children would actually eat the meals. And, frankly, after seeing some of the things people got in their boxes, I wondered if I would actually eat them.
Fortunately, my neighbor is a Blue Apron subscriber (she loves it!) and when I asked her about it, she offered to give me a free week trial, which is apparently something you can do after you've been a subscriber for a while.
It took me all of five seconds to accept. I set up my account, put in our preferences, and voila – my box was scheduled to arrive later that week.
Blue Apron Cost
I got the plan where you get 3 meals, each of which serves 2 people. The regular cost for this would have been $59.99.
I generally spend about $75 a week on groceries, so $60 for three dinners is an enormous chunk out of my grocery bill.
My first box came on Saturday and when Ella, Star and I were making a library run that afternoon (Bart stayed home with a late-napping Ani), I saw the box on the doorstep and felt an enormous sense of relief that I wouldn't have to figure out dinner. I could just pick one of the three meals out of the box and make it. Score.
We got home from the library, and Bart entertained the girls while I started pulling things out of the box.
Since I love food and cooking, it was kind of like Christmas to open it all up and see all the beautifully packaged ingredients (although I would have liked it if things were divided up by meal, instead of all being mixed together).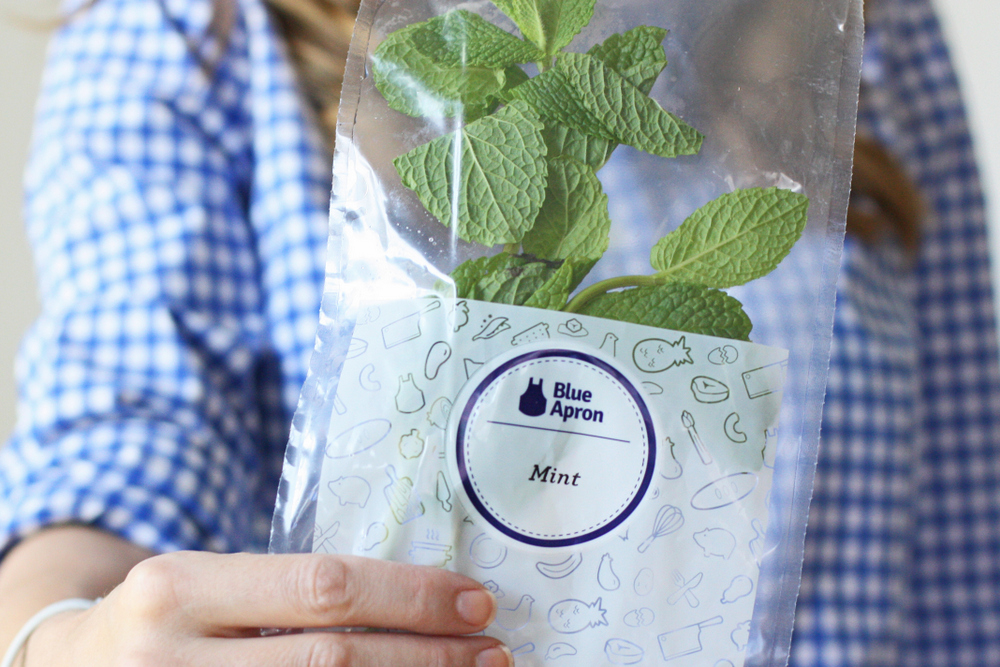 Blue Apron Recipes
The meals for our week were:
I decided to go with the fish since I didn't want it sitting in the fridge for several days, and I got to work.
Each recipe has a beautiful full-page, full-color card with the final dish on the front with which ingredients you need, and then on the back there are step-by-step instructions with photos of how to make the meal.
Immediately I felt annoyed that I still had to wash all the produce – it's one of my least favorite tasks, and I would WAY rather meal plan than wash food.
I also could not get the rice flakes to stick to the fish – they mostly just fell off the fish and burned on the bottom of the pan (the recipe warned that some would fall off, but the vast majority of mine did. I think they were just too big – if I were to make this recipe again, I'd definitely run the flakes through the food processor to make them a little smaller).
And it definitely wasn't a time-saver. It took me about 35 minutes to make dinner and then there were plenty of dishes afterward to cook.
Ella quite liked the fish, but had zero interest in the vegetables, and Ani wouldn't eat it at all. For the first time in my parenting life, I let her have cereal for dinner instead of eating what I'd made. Bart gave it a 6 out of 10. I thought it was fine – nothing I'd want to make again, but I was happy to eat it.
The next two meals were better.
The steak was the best steak I've ever made at home (this is probably because I almost never make steak because I feel like it never turns out that well, which is probably because I buy really cheap steak) and the girls ate it without complaint. My only trouble was peeling the asparagus stalks. I don't know if I have a totally weird peeler or what, but after five minutes of peeling that resulted in only about 2 Tablespoons of asparagus peels, I just skipped the rest of it and threw it all in to sauté.
I was dubious about the turkey, but they turned out to be surprisingly delicious – the bits of dried apricot gave it a nice little sweet taste that I loved. The cucumber salad was only medium for me, mainly because I don't particularly like cucumber, but it was better the next day when I had the leftovers.
is blue apron worth it?
So what did I think about Blue Apron overall?
I liked trying new recipes and using new ingredients, and it's really fun to have dinner just show up on your doorstep.
I feel like tons of the reviews I've read about it talks about how generous the serving sizes are. I totally disagreed. I feel like we eat fairly modestly (I've had several readers tell me that they double almost every recipe I post on my blog because they eat so much more than we do, apparently) and the girls eat fairly little for dinner always (they eat a huge breakfast, medium lunch, and light dinner) and we only had a teeny bit of leftovers one night (the turkey). The fish dish, especially felt very small.
You're legitimately getting one meal for two people – I wouldn't count on it stretching through children or ending up with leftovers.
I also felt like they weren't quite complete meals. Bart really likes to have at least two side dishes, and most of these had just one, so I felt like I needed to supplement (plus, as I mentioned, the meals just aren't that big).
The main bonus, I think, is not having to meal plan, but I don't mind meal planning, plus, even with Blue Apron, you'd still have to come up with 3-4 dinners for the rest of the week. And you can just look on Blue Apron and get the recipes for the week without paying, if it's the meal planning you really really hate.
(Although a lot of the Blue Apron recipes have specialty ingredients that might be difficult or expensive to track down on your own. I suspect that they might do this because it makes it seem like you're getting a better value – it's harder to justify paying $10 a person to make your own spaghetti – and because it's more difficult and expensive to track down those items on your own. I would have had no idea where to purchase yuku juice for the fish recipe).
Lots of people have compared it to restaurant quality meals and I'd agree with that – the food was definitely high quality – but I don't want to eat restaurant meals three times a week. I feel like I have a good variety of meals in our dinner plan, but they're a little simpler and less heavy/fancy feeling than some of these were.
You also can't avoid grocery shopping by doing Blue Apron, unless you only eat dinner 2-3 times a week and never eat anything else. So . . .that doesn't help me all that much.
Plus, there is a fair amount of waste, since everything is individually (beautifully) packaged and you have the big box and the multiple ice packs. Most of it you can recycle, but recycling still isn't nearly as good as not having had the packaging in the first place.
And – the final nail in the Blue Apron coffin for me – the cost is just more than I could justify. I can make meals that we like more, provide leftovers for lunch, and that use less dishes for a lot less than $20 a meal.
Frankly, I'd rather spend my $60 a week and go out for dinner 2-3 times. Last weekend, we went to a Greek place in Chapel Hill and got two large plates that fed all of us for $20. It was fresh and delicious, I didn't have to cook any of it, and there were no dishes to deal with afterward.
Or, for $60 I could buy quite a bit of high-quality semi-prepared food at a place like Whole Foods or Trader Joe's where I could get more food on the table with less hands-on time.
HOW TO Cancel Blue Apron
It was fun to try out and I was a little sad to cancel my account at the end of the week, but I wouldn't pay for it myself. (Bart, on the other hand, was fairly relieved it was over – he was just not that thrilled with any of the meals and was ready to go back to our regular eating).
They don't make it super simple to cancel Blue Apron – you have to send them an email at cancellations@blueapron.com, and then they send you an email with directions for how to cancel. A cancel button would be a lot simpler.
I could see it being a fun gift for a housewarming or graduation present for someone who likes to cook, or a cool at-home-date idea. I also can imagine possibly using it if I lived somewhere that groceries cost considerably more than they do in Durham, North Carolina.
That said, if anyone has free meal trials for Hello Fresh or Plated, I'd happily try those ones out too. You know, as a service to others.
And if you've tried it out (or are a subscriber to Blue Apron or any of the other similar services), I'd love to hear what you think and why you are or aren't a fan!
P.S. I wrote this post about an option that I think is way more realistic time and price-wise for families like mine, if you want to check it out here.