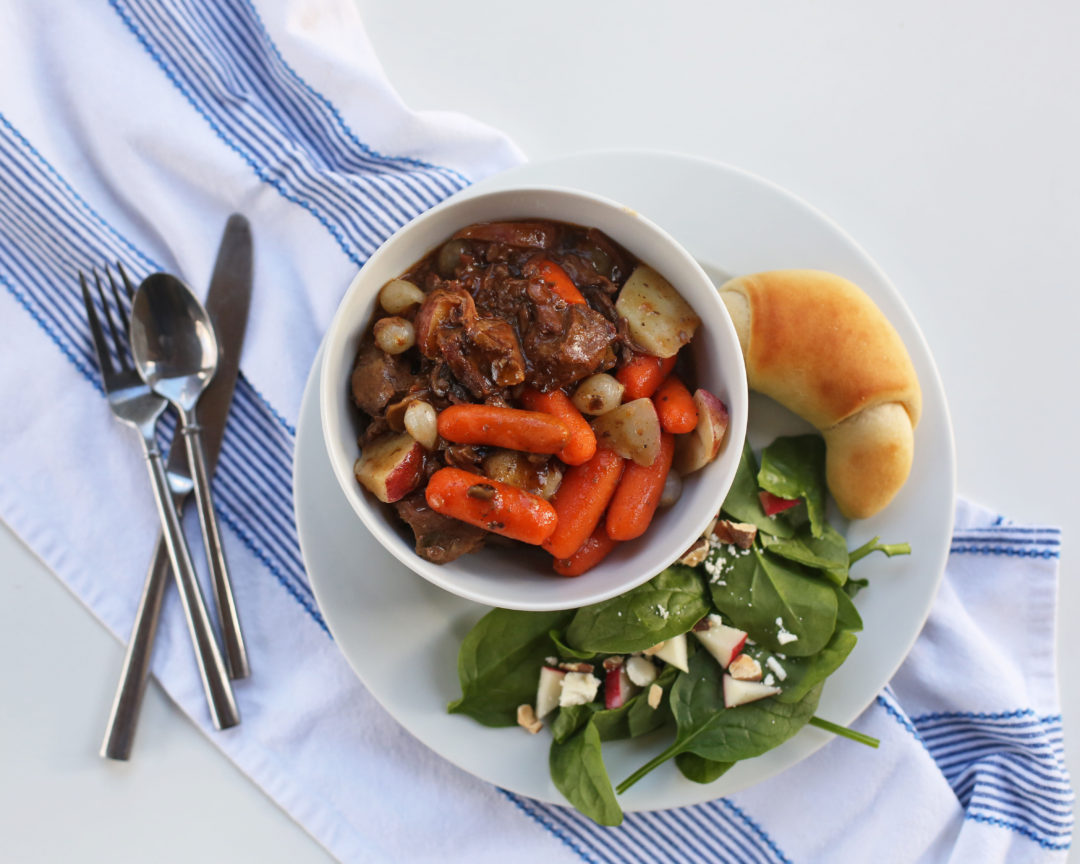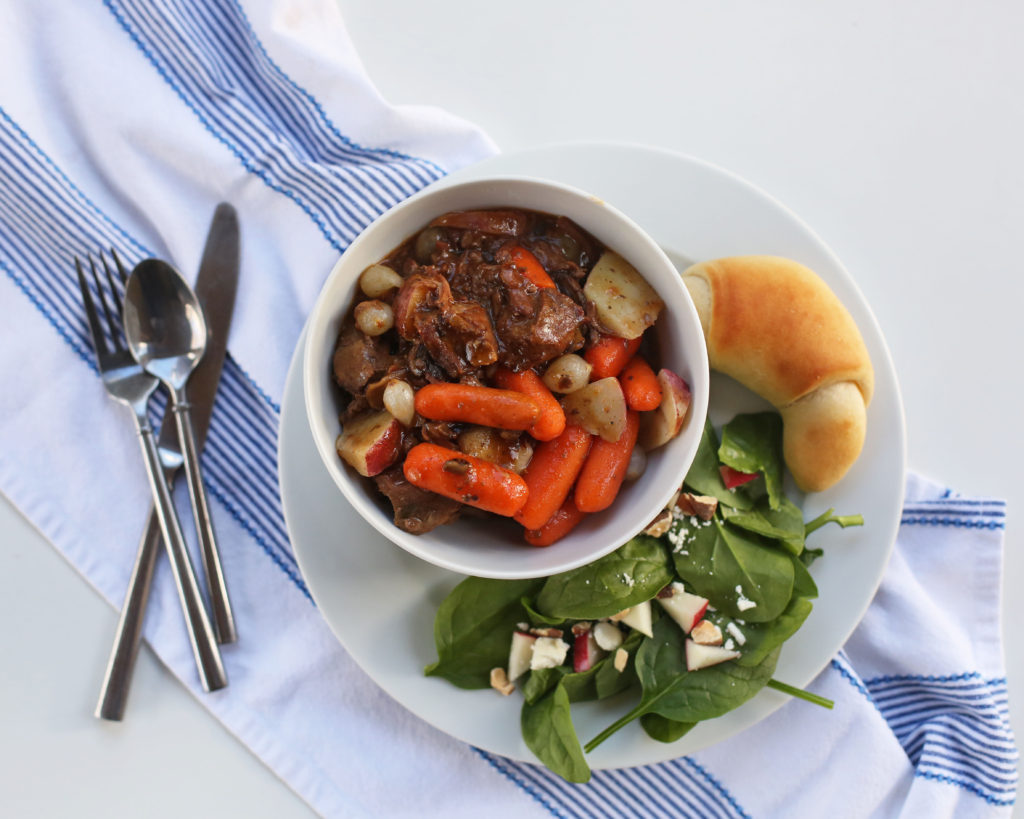 This post isn't sponsored by anyone, although I did get two free Crock-Pot meals, but I just liked the concept so much that I wanted to share! 
UPDATED: After this post went live, Omaha Steaks offered to give away three of their four-meal Crock-Pot kits, so if you'd like to win one of them, head over to my Instagram to enter!
About two years ago, I wrote a post about Blue Apron and how, while I appreciated the concept of the service, it didn't really work for our family because of the cost and the effort involved in making the meals.
It was one of those posts I wrote just for fun because I had lots of opinions and things to say about the service. I didn't know that anyone would actually care.
Somehow, that post went on to become one of the most popular posts on my entire blog. It has over 100 comments on it, with people who LOVE Blue Apron and others who hated it and plenty who were somewhere in between like me, and it still gets new comments on it nearly every week, even after all this time.
All of this was on my mind yesterday when I was putting dinner in the crockpot.
In January, I got asked to do a mini Pinterest campaign for Omaha Steaks and their new Crock-Pot meals. After the campaign wrapped up, they sent me two of those Crock-Pot meals as a thank-you and they arrived, coincidentally, the day we got home from the hospital with Tally.
Talk about a good welcome home gift.
I popped both meals in the freezer and felt delighted with the fact that I had two dinners ready to go once my mom left and nice neighbors stopped bringing dinner in.
Yesterday, while I was getting the girls breakfast, I pulled out the Beef Bourguignon kit and 90 seconds later had it in the Crock-Pot (okay, it took me more like 5 minutes because I started talking about it on my Instagram Stories and then I couldn't stop talking. . . ).
Then we went out for a few hours and when we came home, our house smelled AMAZING. I made some of my favorite rolls to go with dinner and a quick salad, and voila! Dinner was on the table.
Was it the most amazing meal in the universe? No. Was it very tasty and as good as any meals we'd had in the last month? Definitely.
Here's why I like this concept better than Blue Apron.
First, the price is more reasonable. The cheapest you can get Blue Apron is with the four-person plan and it's $8.74 per person. The Crock-Pot meals are all about $6.50 per person (so it's still not the cheapest eating option, but it is cheaper). To be fair, Blue Apron has side dishes, and the Crock-Pot meals are the main dish only.
And I like that you can order as many or few as you want, instead of being locked into doing several meals at a time like with Blue Apron.
Two, it's not a subscription so you don't have to remember to cancel it or postpone it. It's actually stressed me out the two times I've done Blue Apron because I felt like I had to make the meals before they went bad (why this is different from regular grocery shopping, I don't know. It just felt like more pressure. Probably because I don't usually spend $35 per meal when I grocery shop myself). I'd much rather just order a few things I can put in the freezer and use when I'm ready.
Three, the prep time is just night and day different. The Blue Apron meals always require a fair amount of prep (they claim 30 minutes, but usually it's more like 45-60 minutes for me and I feel like a fairly confident cook). With these ones, you just toss everything in the slow-cooker and call it a day. I love having dinner basically taken care of by 8:45 a.m.
Four, I also think the meals are more regular family food. When I looked through their selection of meals, most of them looked like things my family would actually eat. I have to admit that in my second Blue Apron box, I ended up not even making one of the meals because it just was so unappealing to me. I put the meat in the freezer and used it for something else and now, six months later, I still have a bunch of tiny bottles of random condiments for that meal rolling around in my fridge (of course, the fact that I was pregnant and feeling not that great probably was part of the reason I didn't make that meal).
Omaha Steaks only have about a dozen Crock-Pot meal options, but they also have a bunch of 30 minute meals that include side dishes and sometimes dessert, and they start as low as $19.99 (I swear, this whole thing sounds like an ad – I promise it's not) and some, like t-bone steak dinners go up above $100. They also have meals designed for grilling, which I'm dying to try out.
When I wrote my original Blue Apron post, someone asked if I thought it was a good gift for a new parent that they wanted to take dinner to but lived too far away to do it in person.
Frankly, I think not. I suggested that personally I thought gift cards to a local restaurant or take-out place would be better. Blue Apron meals are complicated enough that making one when I had a new baby would not be my idea of a good time. Plus, the clock is ticking on your ingredients since it's all fresh.
This, on the other hand, seems like the BEST gift for someone who has had a new baby. They can just toss it in their freezer until they're ready for it and then it's a matter of minutes to put the whole thing in the slow-cooker and dinner is ready (with a side helping of feeling extra accomplished for "making" your own dinner with a new baby).
I'd never heard of any of this until I did that Pinterest campaign, so I thought it might be new to some of you too. Or it's entirely possible I'm the last person on earth to hear about this.
Are there other Blue Apron alternatives for meals like this? It's exactly the kind of thing I'd love to order when we were coming home from a trip to an empty fridge or to send to a friend who's had a new baby or been in the hospital or started a new job.
if you liked this blue apron alternatives post, you might also like these other posts: