I just love a set of good picture books, and with a new baby, it's extra motivation to pull out a big stack, snuggle up on the couch or the porch, and enjoy both the gorgeous weather and these gorgeous books.
These eight have been in heavy rotation at our house for the past few months.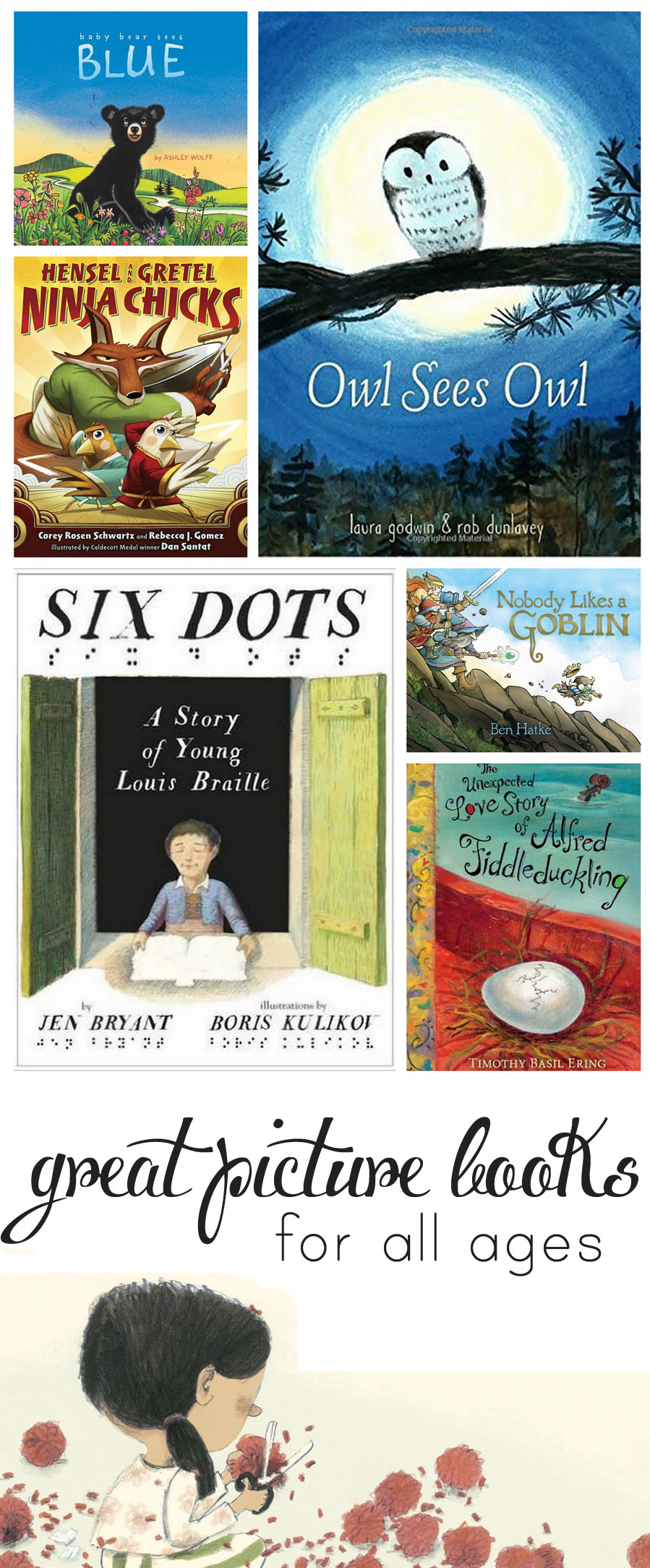 great picture books for spring days
Hensel and Gretel: Ninja Chicks by Corey Rosen Schwartz and Rebecca J. Gomez, illustrated by Dan Santat
I love all the books by this trio, but this one might be my favorite. There's something so hilarious about animal martial artists, plus the rhyming text is spot on and just begs to be read aloud. I also think it's fun that the two ninja chick sisters rescue their parents in this spin on Hansel and Gretel.
Nobody Likes a Goblin by Ben Hatke
Someone recommended this one to me (I think on Instagram? I wish I could remember!) and when we checked it out from the library, it became an instant favorite. A goblin lives in a dungeon with his dear friend, Skeleton, but when adventurers come and steal not only the treasure but also Skeleton, Goblin is determined to do whatever it takes to get back his friend. Even if, as he's warned at his departure, nobody likes a goblin.
The Unexpected Story of Alfred Fiddleduckling by Timothy Basil Ering
This one has been getting a lot of buzz recently and I wasn't sure what to expect. Alfred Fiddleduckling is a duck egg in a violin case, coming home via boat with a farmer. But then a storm hits and the duck hatches at sea, with only the fiddle to keep him company. And lo and behold, he discovers he can play it! I love how I had no idea how this would play out!
Owl Sees Owl by Laura Godwin and Rob Dunlavey
This is basically the perfect bedtime story, with a little owl leaving his sleepy nest and going out on an adventure, which culminates in him seeing another owl (his own reflection) in a lake. The book then goes exactly backward with all the text leading him back home to his safe and cozy nest with his mama and siblings. So brilliantly executed and beautifully illustrated.
Cecil's Pride: The True Story of a Lion King by Craig Hatkoff
I got a Scholastic catalog and Ella went through and circled all the books she wanted, with this one being the one she was most interested in. I was a little wary of it because it's fairly long (I'm kind of a lazy read-alouder), but it turned out to be FASCINATING and I think I loved it as much as the girls did. And at the end, Ella said, "All I want for Christmas is to go to Africa." As you might have guessed, Santa did not bring a safari trip in December. Too bad.
Baby Bear Sees Blue by Ashley Wolff
I can't get enough of the bright, lush illustrations in this one, and it's one of the most fun, original color books I've seen. Plus, it reminds me of Blueberries for Sal, so how could I not love it?
Six Dots: A Story of Young Louis Braille by Jen Bryant, illustrated by Boris Kulikov
When I was growing up, we had a short chapter book about Louis Braille's life, so I've always had quite a bit of interest in him and this is a really great picture book about how he invented Braille. I think Jen Bryant is a genius (A River of Words about William Carlos Williams is one of my favorite picture books).
A Hat for Mrs. Goldman: A Story About Knitting and Love by Michelle Edwards, illustrated by G. Brian Karas
This one is so sweet, with a little girl that lives next door to a fanatical knitter. Mrs. Goldman, though, loves to give away whatever she makes and so when cold weather hits, she doesn't have a hat of her own. Which means the little protagonist needs to make a hat for her delightful neighbor. But knitting, sadly, isn't quite as easy as it looks.
And if you'd like a printable copy of this list that you can take to your library or screenshot on your phone for easy access, just pop in your email address below and it'll come right to your inbox!
if you liked this post of great picture books for spring days, you might like these other posts: