. . . or, you know, the couch or the grass if you don't have a porch swing.
We're in the last weeks of beautiful weather in Arizona before the endless summer heat arrives for good, and we've been spending as much time as possible outside.
So we aren't spending quite as many afternoons snuggled on the couch with picture books as we might be otherwise.
Fortunately, a constantly nursing newborn means we still are squeezing in quite a few books and we've found many new favorites over the past few months.
Here are eight all of us have loved and that we'll be reading many times when summer arrives and we can't leave the house unless it's to flee the state: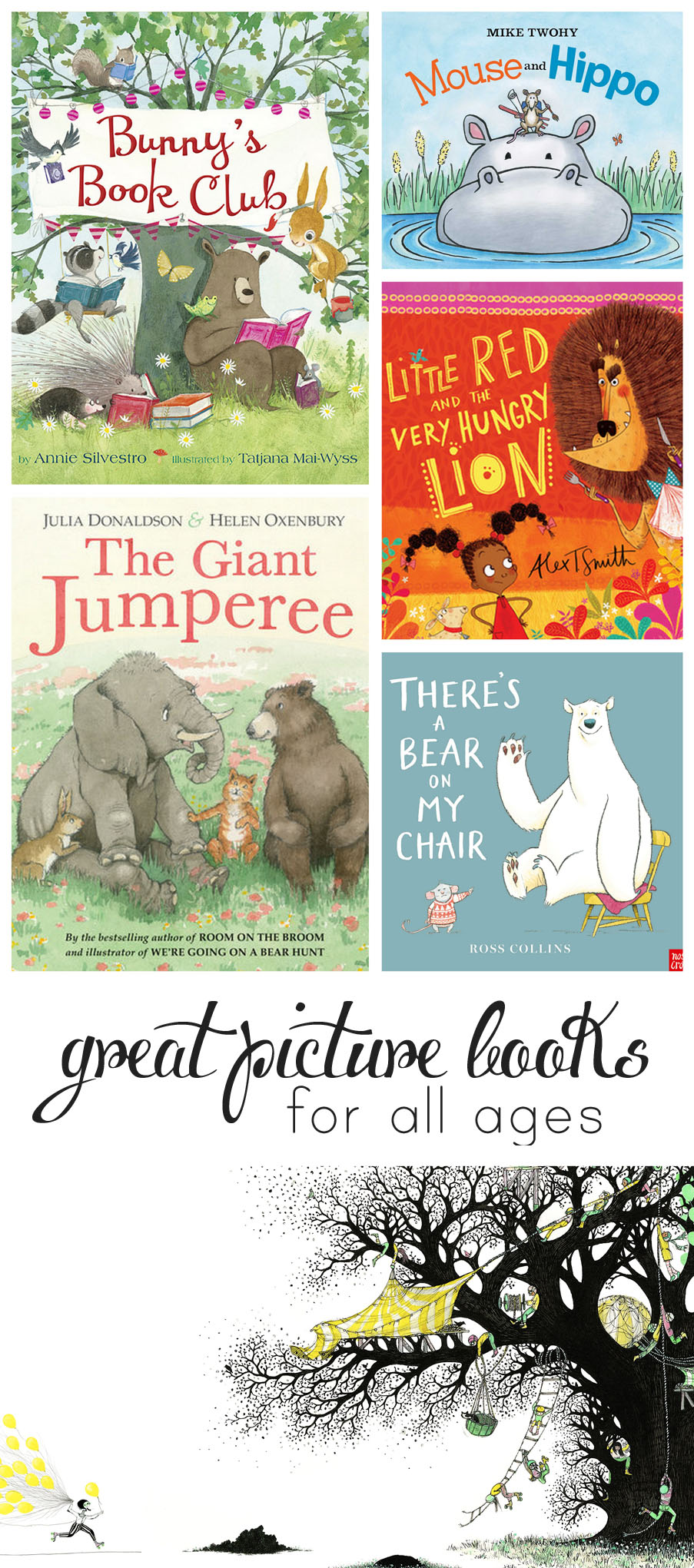 fun picture books to read on your porch swing…or anywhere
Gotta Go, Buffalo: A Silly Book of Fun Goodbyes by Haily and Kevin Meyers
The first time we read this fun lift-the-flap book, we loved trying to guess what animal would be hidden behind the flap. "Toodle-oo. . . "? It's a kangaroo, of course! And the beautiful bright illustrations make it fun to read over and over again. And don't be offended if you come to visit and when you depart, my toddler tells you, "See you soon, big baboon!"
The Book of Mistakes by Corinna Luyken
I've seen books like this before where a mistake (a smudge, a misplaced line, a drop of ink or paint) is turned into a work of art, but I've always found them kind of lame. This one, however, is really fun. The girls read it before I did and swore I'd love it and they were right!
There's a Bear on My Chair by Ross Collins
Some rhyming books make me want to claw my eyes out, but this one is clever and fun and I'm secretly hoping for a sequel to this amusing tale of a little mouse who discovers a bear in his chair and can't figure out how to get rid of him (even if the bear in the chair has good hair and leisure wear. . . )
The Giant Jumperee by Julia Donaldson and Helen Oxenbury
Basically, if you say Helen Oxenbury, I will say "take me to this book." And this one, in partnership with Julia Donaldson of Room on the Broom fame, is just as delightful as you'd expect from this ridiculously-talented duo. A rabbit is returning to his burrow but as he is about to enter, he hears a loud voice from inside declaring that he's the Giant Jumperee and he's scary as can be. Well, what's a rabbit to do? Run away, that's what. And as other animals come to try to enter the burrow, they find it just as terrifying as the rabbit did.
This Is How We Do It: One Day in the Lives of Seven Kids from around the World by Matt Lamothe
This book reminded me that we need more non-fiction picture books in our house. This one follows seven  children from different countries through their day, exploring what their houses, clothing, meals, schooling, and playtime looks like. Ella was completely enthralled by this book and I can't blame her.
Mouse and Hippo by Mike Twohy
After a little water mishap, Mouse offers to paint a portrait of Hippo and it turns out so well that Hippo offers to return the favor. This book made me laugh on nearly every page with the hilarious dialogue between the mouse and the hippo, and the ridiculous portraits they both create. I think I read this one to Star at least thirty times in the first two weeks after Tally was born.
Little Red and the Very Hungry Lion by Alex T. Smith
When I pulled this one out of the library pile, Ella said, "We LOVE Little Red Riding Hood books in this house." And she's not wrong (some of our favorites here). This one features a lion instead of a wolf and Little Red isn't fooled by his disguise for one second, which means the lion definitely gets the worst end of the deal.
Bunny's Book Club by Annie Silvestro and Tatjana Mai-Wyss
Sometimes I find books that feature libraries overly saccharine, but this one was just plain charming. A little bunny, through the summer, listens in on story time when its held on the library steps, but once it moves back inside for the winter, he's determined to get his paws on some books. Turns out a bunny can fit perfectly through a book return slot (do not try this at home). Also, the end papers are made to look like they have one of those old library due date card pockets on it, which delighted me to no end.
And if you'd like a printable copy of this list that you can take to your library or screenshot on your phone for easy access, just pop in your email address below and it'll come right to your inbox!
if you liked this post about fun picture books, you might also like these posts: