Yesterday, we packed away our Halloween books and decorations, which means we needed some new titles to take the place of all things ghosts, pumpkins, and witches.
Plus, the temperatures are dropping down in to the chilly 80s, so obviously it's time to crank up the heater and snuggle in with a blanket. Or. . . a swimsuit and a popsicle.
No matter what your weather looks like, these are eight picture books to read in the morning or whenever you have a minute!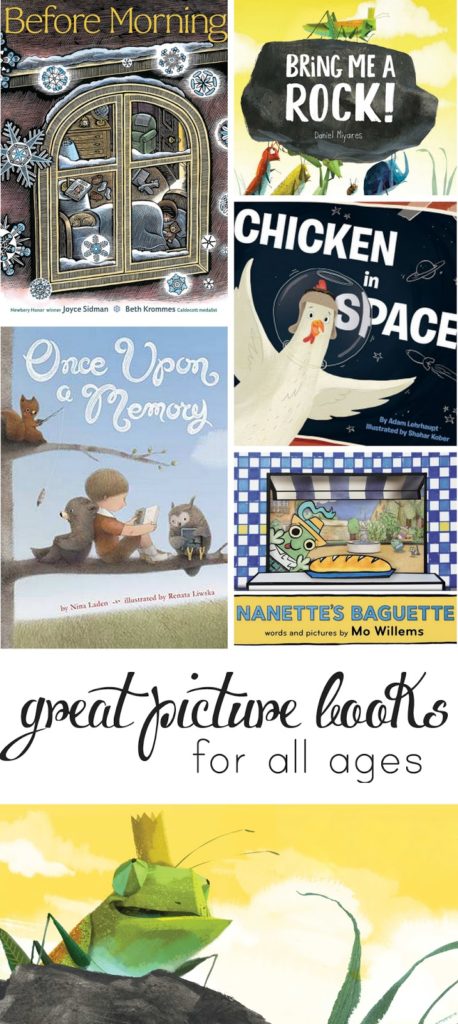 8 BOOKS TO READ IN THE MORNING
Before Morning by Joyce Sidman, illustrated by Beth Krommes
I'm such a huge fan of Beth Krommes' art – those intricate scratchboard scenes are like nothing I've ever seen before, and they're just so peaceful and sweet. In this one, a busy family takes a day off to enjoy a rare snow day when the daughter urges everyone to stay home and spend it together. This is the PERFECT winter book.


Nanette's Baguette by Mo Willems
We got a copy of this as part of my sponsored ambassadorship for Mo Willems this year, and one of our favorite babysitters read it aloud to the girls before I'd opened it, so I got the distinct pleasure of hearing the whole thing before reading it for myself. You'd never guess so many things could rhyme with baguette, but count on Mo to make it happen. Also, the illustrations of the little French village are so ridiculously fun (you can watch this fun video of him creating the village, which is fairly mind-blowing). What will that man do next?


Chicken in Space by Adam Lehrhaupt, illustrated by Shahar Kober
This book just made me laugh. Zoey wants to go into space and she convinces her pig friend Sam to come along with her (he's not sure. . . mainly he'd rather eat some pie than go into space). But Zoey won't be deterred and with every obstacle, she finds a solution, and soon she and Sam are airborne. There are so many fun little one-liners in this book, and you've never seen a pig make better facial expressions.
Once Upon a Memory by Nina Laden, illustrated by Renata Liwska
I love both Nina Laden and Renata Liwska, but somehow I missed this book when it came out a few years ago. Happily, it showed up in our September Bookroo box and I can't stop reading it. The illustrations are super darling and the text is the perfect bedtime story. And when Ani recites it to me, I basically just die from the cuteness. P.S. You can get $10 off your first box with the code JANSBRAD.


Penguin Problems by Jory John, illustrated by Lane Smith
Slap the name Lane Smith on a book, and I'm guaranteed to pick it up. I kept hearing about this one as a hot title for the fall, and finally snagged a copy at the library. And it didn't disappoint. A penguin wants you to know HOW awful being a penguin is. It's cold. It's dangerous. You waddle. Everyone looks the same. Don't even TRY to convince him that there are some fun perks like sliding, swimming, and enjoying the view. Nope, it's just all very bad.


Bring Me a Rock! by Daniel Miyares
There isn't all that much text in this book, but it's the BEST read-aloud book because it's so easy to be animated as you read about the king grasshopper demanding all his bug subjects bring rocks to build him a majestic pedestal. And the facial expressions on the various insects are so hilarious. This might be the perfect picture book.


Milk and Cookies by Frank Asch
I've loved Popcorn by Frank Asch for the last 25 years, but it never occurred to me to check out his other books until this year. In this one, the Bear family goes to visit Grandma and Grandpa and spend the night. Baby Bear wakes up in the night and spies Grandpa in the basement feeding a dragon which creeps into his dreams and eats all the dream cookies and milk. Fortunately, when he wakes up from this scary dream, he discovers that the dragon isn't real and there are plenty of milk and cookies left for him.


Who What Where? by Olivier Tallec
This is a companion book to Who Done It? which my children have adored for the past year.  On each page, there's a mini-mystery to solve, with someone missing a shoe or disguised or half-hidden and you have to determine which of the characters it is. Both of these books are in heavy heavy rotation in our house, and there's something about the unusual shape and horizontal flip of the story that makes me love it even more.
This is my favorite time of year to spend reading with my girls. I can't even WAIT until the Christmas tree goes up. What picture books are you reading and loving right now?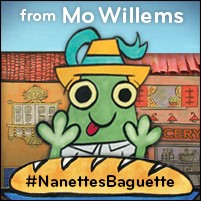 And if you'd like a printable copy of this list that you can take to your library or screenshot on your phone for easy access, just pop in your email address below and it'll come right to your inbox!
if you liked this post about books to read in the morning, you might also like these posts: