You already know that I'm a little obsessed with audiobooks.
And my girls are hooked on them too. Ella spends almost all of her quiet time each day listening to audiobooks while she colors or paints, and Ani loves the audiobooks that come with the accompanying picture book.
A few months ago, one of my friends sent me a text saying her husband was concerned about their children listening to audiobooks and that it might be a crutch that was preventing them from developing reading skills.
Twenty impassioned texts from me later about why audiobooks are basically the best thing on earth, and she was probably regretting texting at all.
Here are eight reasons I'm a huge fan and why I think audiobooks are as good as reading and super beneficial for kids!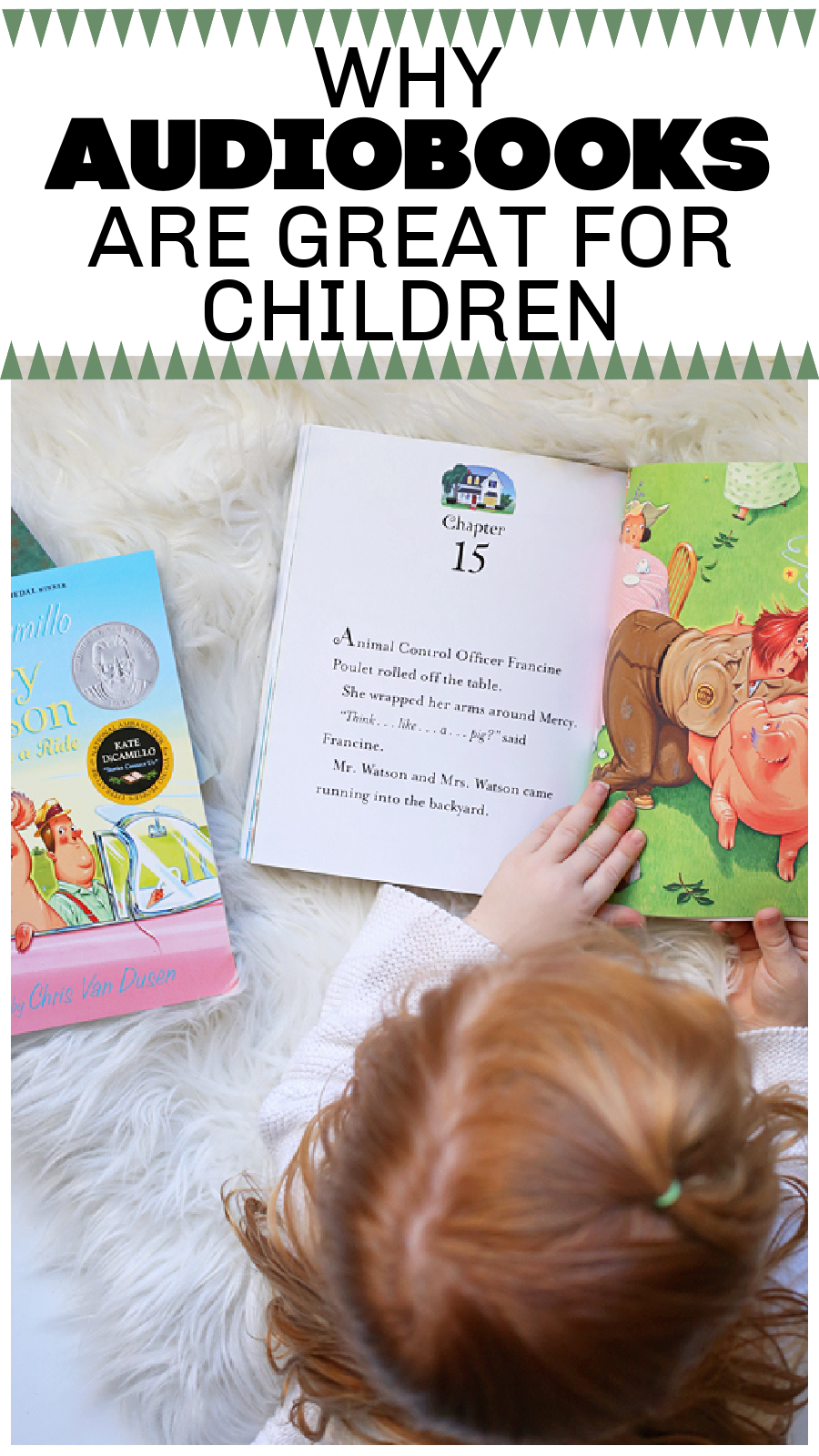 why audiobooks are great for children
They can usually listen at a much higher level than they can read. Your child might be reading at a kindergarten or 1st grade level, but they can probably listen to and have comprehension with something much more advanced (just like a kindergarten teacher might read aloud a Roald Dahl book that your kindergartener would have a hard time reading alone).
It makes reading a fun activity for kids that struggle with reading. If you're a struggling reader, it's hard to ever get to the parts of reading that are actually fun (most of us that love to read don't love it because of the decoding part . . . ), like the story itself. I love that audiobooks mean kids can have positive reading experiences even when they're struggling with their reading skills.
Audiobooks help them develop the skills for more advanced reading. Reading involves more skills than just the technical ability to sound out words, and audiobooks give kids practice in reading skills like keeping track of characters and following a story arc – using many parts of the brain.
For a wiggly child, it can be easier to listen than to read. Reading is a pretty stationary activity, but with an audiobook, they can build with Legos, paint, or just run laps around the room. I remember braiding my sisters' hair endless or painting our nails while my mom read to us at night.
It can help launch independent reading. If your child listens to the first couple of books in a series, it's much easier to transfer to the paper version later on, since they are now familiar with the setting, characters, and basic format of the book.
Following along with the text while the audiobook plays helps build fluency without slowing down the story. Your child gets a lot of opportunity to see the word, move quickly through text, and practice sight words. Or just look at the pictures.
Audiobooks can teach great vocabulary. I love lots of easy readers and early chapter books, but the vocabulary usually just isn't as rich as books at a higher level. Audiobooks introduce a much wider vocabulary than books they can read on their own, and also teaches pronunciation so when they come across those words on their own later, they know what it should sound like.
You can use them to spend quality time together in the car. I love listening to audiobooks as a family when we're on a road trip or just running errands. There are so many books I want to read with my girls and we'll never get through them all with me reading aloud, so this helps us share some of the other books I don't want to miss out on.
If you haven't tried audiobooks out yet, grab one or two at your local library or through your library's online media system and give it a spin – here are
some tricks for getting them started
!
if you liked this post about why audiobooks are great for kids, check out these other posts: