We are serious audiobook lovers around here, as you know.
Ella is continuing to plow through audiobooks at an astonishing rate, which means I spend a lot of time requesting CDs from the library or making long wish lists on Overdrive.
She's been listening for close to a year now, starting shortly after she turned four. Here are some of our favorite titles that she's listened to since then: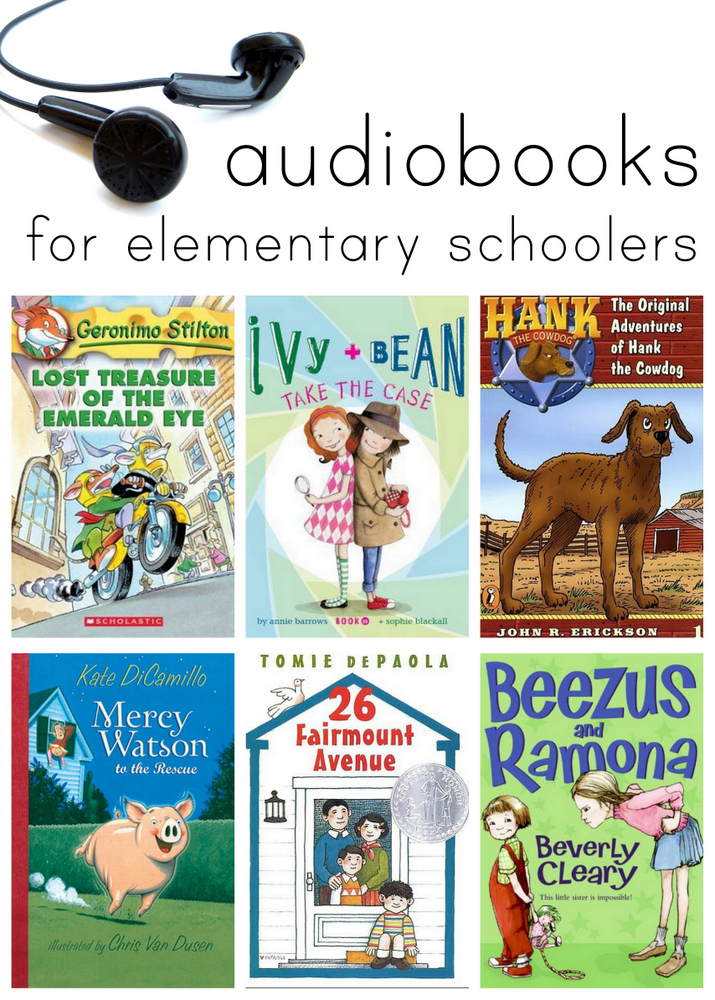 fantastic elementary audiobooks
Trumpet of the Swan by E. B. White 
I was actually a little sad that she listened to this one, since I was hoping to read it with her, but we were in the middle of some other books together and she was dying to listen to this one, so I let her go ahead. And for several days, I kept hearing trumpeting coming from her room as she listened. This story about a trumpeter swan born without a voice and his resulting journey to learn to speak is one of my childhood favorites.
The Mercy Watson Collection by Kate DiCamillo
Ella used to listen to the Mercy Watson stories on Tumblebooks when she was only 2 (although they were a bit long for her then) and now she often listens to them when she's going to bed because she finds them so comforting. Plus, who doesn't want a story of a pig who loves hot buttered toast?
Beezus and Ramona by Beverly Clearly
I might have had to disown Ella if she didn't love these books. She blazed through every one of the Ramona books, recounting Ramona's antics to me (she especially loved when Ramona invited everyone over for a birthday party without telling her mom). She had way less interest in the Henry Huggins books, sadly.
26 Fairmont Ave by Tomie dePaola
I've meant to listen to/read this series for years and never got around to it, but Ella absolutely loved these stories from Tomie dePaola's life as a little boy at home and school.
The Boxcar Children by Gertrude Chandler Warner
I know I mentioned these before, but I couldn't leave them off the list. We got a solid six months of quiet time listening out of this series and toward the end, Ella started re-listening to some of her favorites.
Geronimo Stilton
These stories of a mouse who runs a newspaper and is always falling into the craziest adventures were hugely popular when I was a librarian and Ella's loved the audio versions (which are narrated by Edward Herrmann). Happily, there are TONS of these.
Hank the Cowdog by John R. Erickson
We listened to loads of this hilarious series when I was a kid. Ella was equally enamored with the wacky cow dog who is much dumber than he thinks he is.
Frindle by Andrew Clements
I haven't met many children who don't love Andrew Clements (I love his books too), and it delighted me that Ella enjoyed this fun story about a boy who comes up with a new book for a pen – "frindle."
Igraine The Brave by Cornelia Funke
I definitely think Inkheart is too intense for Ella right now, but she loved this other book by Cornelia Funke about a little girl who dreams of being a knight and she told me after that it was her new favorite book.
Ivy and Bean by Annie Barrows and Sophie Blackall
After the Boxcar Children had all been listened to, this was the next series that really captured Ella and she listened to as many of the stories of this unlikely friendship as the library could provide.
And if you'd like a printable copy of this list of audiobooks for elementary students that you can take to your library or screenshot on your phone for easy access, just pop in your email address below and it'll come right to your inbox!
if you liked this post with elementary audiobooks, you might also like these books: