Summer is officially here (unless your children are not out of school, in which case, never mind).
I think it's easy to make enormous plans for all the awesome things you're going to do with your kids over the summer and then lose steam about 5 minutes into the first day.
You've probably noticed by now that my standard mode of operation is pretty low-key.
The main things I plan to do with my girls is swim in my parents' pool and read books in the air-conditioned house.
I can't help you with the pool part (sorry!), but if you want suggestions for books to read with your kids this summer, I'm your girl.
Each Monday through August, I'll be sharing a themed booklist. It'll include both picture books and a few chapter books for older kids to read on their own or to read aloud.
I'll also usually throw in a couple of simple activities and recipes, if you're feeling super motivated (but if you want to skip those, there will be no judgement. I'm not saying I'll be doing them – just that I'm including them in case you want to be more impressive than I am).
I'll also be sharing additional books, recipes, and activities on Instagram and Pinterest (all tagged with #summerunplugged – and I'd love it if you tagged anything you're doing this summer with it too!).
Plus, each week there will be a giveaway, sometimes for your kids, sometimes for you because. . . it's hard to be the parent when it's 115 degrees outside.
Anyway, with that enormous intro . . . .
This week, it's all animal/safari/ zoo books for kids!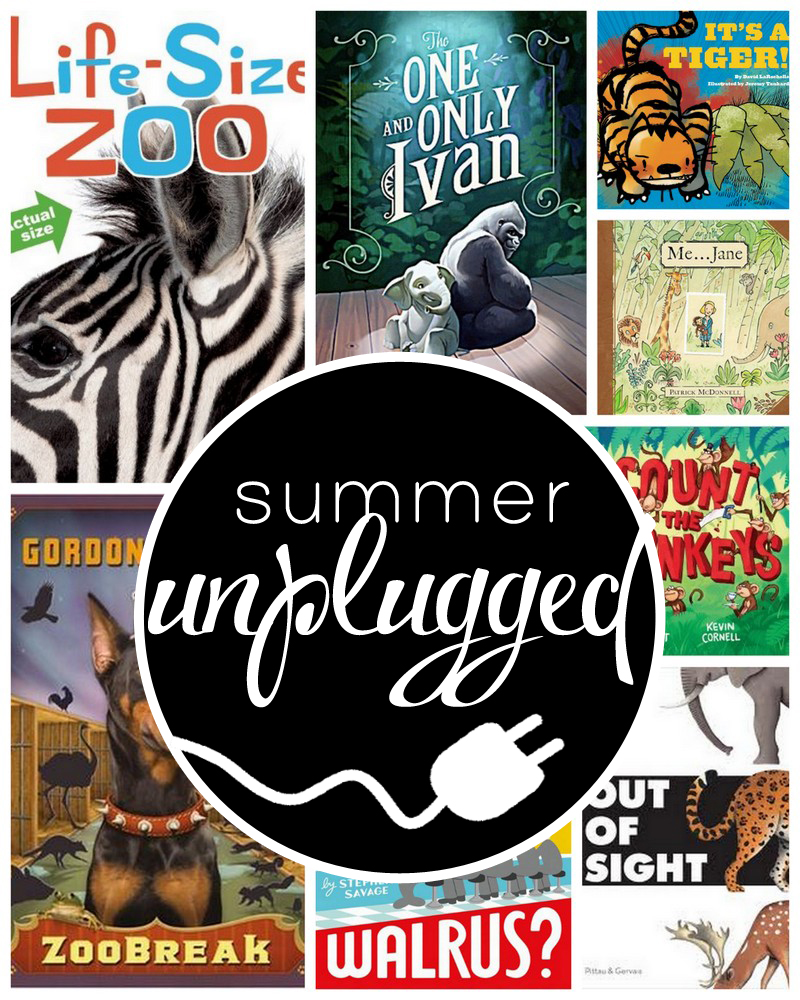 zoo books for kids
Picture Books:
Chapter Books
A Few Crafts, Activities, and Recipes:
And if you'd like a printable copy of this list that you can take to your library or screenshot on your phone for easy access, just pop in your email address below and it'll come right to your inbox!
if you liked this post about zoo books for kids, you might also like these other posts: