I mentioned at the beginning of the year that my goal was to read 150 books this year. I'm just slightly behind schedule, with 34 books read this quarter.
I haven't been doing quite as much reading as I'd like, but I'm feeling motivated to work harder to make it more a part of my life (after attending a panel at Duke yesterday about creativity, I'm somewhat on fire over here).
I'm also changing up my quarterly lists just slightly by highlighting my three favorite books from the quarter before I dive into the full list.
For January, February, and March, my favorite books were:
Are You Experienced? by Jordan Sonnenblick.  My love for Jordan Sonnenblick is well-documented here, and this book might be one of my favorites of his (it's hard to say, when they are ALL so good). I was a little wary of this since it was about a teen traveling back to Woodstock where he meets his dad as a teen himself, and my interest in Woodstock was zero. Now? I want to know everything there is to know about Woodstock. I came home from our cruise and watched a bunch of YouTube videos of the most famous performances.
Rump: The True Story of Rumpelstiltskin by Liesl Shurtliff. Ever since we started watching Once Upon a Time, I've been really delighted by Rumpelstiltskin, and a good re-telling of a fairy tale is one of my favorite kinds of books, so this was just the perfect match. Plus, a good narrator for the audio version? Sold. A great middle-grade read.
And . . .the full list of books I read since January 1: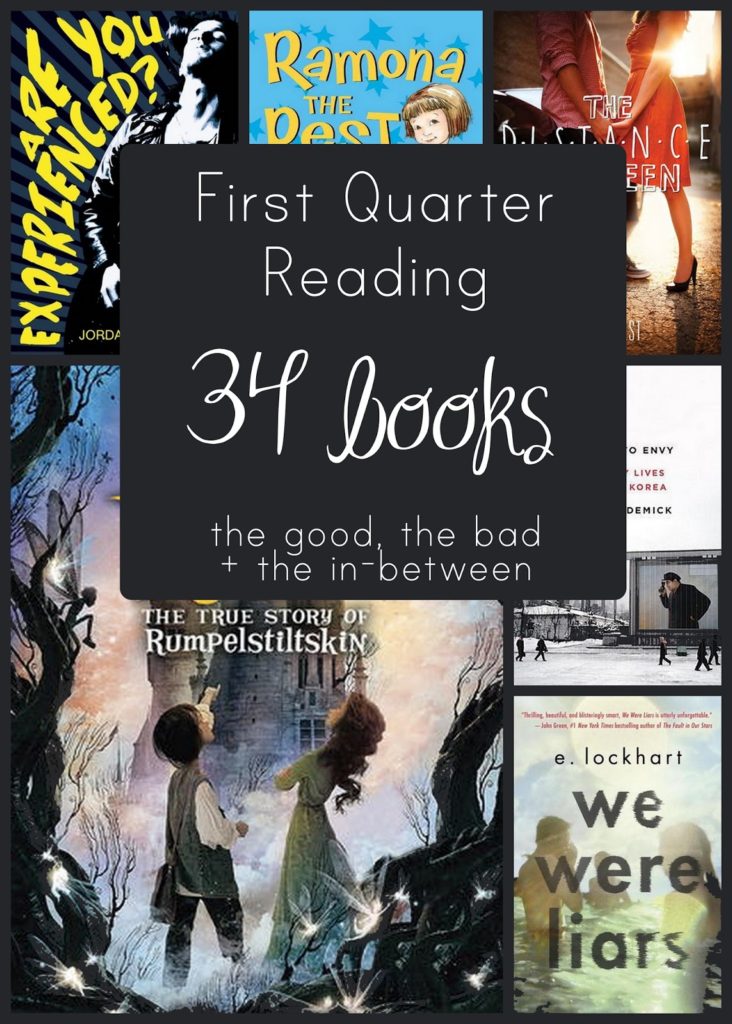 Flora and Ulysses: The Illuminated Adventure by Kate DiCamillo
I listened to this just a couple of weeks before it won the Newbery. Because it was an audio version, I didn't get all the illustrations, which was too bad. I think, though, that I'm just one of the few people who doesn't LOVE Kate DiCamillo (I like her stuff, but it's just not my favorite).
Kate: The Future Queen by Katie Nicholl
I knew basically nothing about Kate, so this was interesting, but I wish I'd picked a different book about her (this one just wasn't that well-done, I thought. The endnotes mentioned she wrote it in six weeks or something really short like that. And. . .it read like it).
We Were Liars by E. Lockhart
I had such high hopes for this one, since so many people had raved about it. But it was just very average – I was never gripped.
Ender in Exile by Orson Scott Card
Pretty good. But let's be honest – I remember almost nothing about it at this point, three months later.
Ink is Thicker Than Water by Amy Spalding
This was an ARC I got through NetGalley and it turned out to be pretty decent.
Shadow of the Giant by Orson Scott Card
I was obviously really doing an Ender series streak here.
Waiting on the Sidelines by Ginger Scott
I started reading this on the plane when I went to Vegas (while my children were miraculously napping/coloring in silence), and it was pretty decent YA. I liked that it spanned four years of high school.
My Story by Elizabeth Smart
This was just so crazy to listen to – it is unbelievable what she went through and how well she seems to have dealt with it (I will say, though, that the writing wasn't great).
Going Long by Ginger Scott
The sequel to Waiting on the Sidelines. Surprisingly good – sequels are usually so lame.
Roomies by Sara Zarr and Tara Altebrando
That Sara Zarr – she is just such a fantastic character writer. I'll read basically anything she writes.
Rereading this made me appreciate all over again how GOOD Rainbow Rowell is. Dying to get my hands on her upcoming book.
Nothing to Envy: Ordinary Lives in North Korea by Barbara Demick
This was our first couples bookclub book and it was fascinating. It's just hard to wrap your mind around how BAD things have been in North Korea in such recent history.
"B" is for Betsy by Carolyn Haywood
This book was a turning point in reading aloud to Ella. She totally GOT this book and begged to read more all the time.
The Distance Between Us by Kasie West
Cute and fun YA romance. A Valentine's weekend win.
The Dream Thieves by Maggie Stiefvater
I have been waiting for the audio of this book for AGES since I loved The Raven Boys so much, but I kind of slogged my way through this.
Being Sloane Jacobs by Lauren Morrill
Watch The Parent Trap instead. Better story about switching places with someone.
"The President Has Been Shot!": The Assassination of John F. Kennedy by James L. Swanson
I'd rather have read the full adult version – this was too short.
Things I Can't Forget by Miranda Kenneally
Ironically, when I added this to the list, I thought "I can't remember what this book was about at ALL!"
The Year of Billy Miller by Kevin Henkes
Another Newbery book this year. Short and. . . cute, I guess. ("Meh" is really the word I'm looking for)
Wild Cards by Simone Elkeles
I have absolutely no idea why I read her books.
Ramona the Pest by Beverly Cleary
I'm not sure Ella was QUITE old enough for this one. "B" is for Betsy was way better for her level.
One Came Home by Amy Timberlake
It took me a long time to get into this one, but it ended up being fairly good.
Are You Experienced? by Jordan Sonnenblick
FINALLY a book I can rave about on this list. Dear heavens, I love Jordan Sonnenblick so much. He's clever and funny and this book delighted me from the first to the last page. And made me want to know everything there is to know about Woodstock.
Fangirl by Rainbow Rowell
I reread this on our cruise and fell in love with it all over again. That woman can WRITE.
Eleanor and Park by Rainbow Rowell
I liked this more the second time (I didn't notice the abundant swearing so much). It's just so heart-breaking, though.
Pushing the Limits by Katie McGarry
Perfect YA beach reading (although, it's not like I need a beach to justify reading YA).
Mr. Potter's Pet by Dick King-Smith
I like his books (he wrote Babe) and Ella really enjoyed this one too.
How Will You Measure Your Life by Clayton M Christensen
I've meant to read this for years, and then it was available on audio when I was out of things to listen to, and it was STUPENDOUS. I might re-listen to it again very soon. So inspiring.
Ophelia and the Marvelous Boy by Karen Foxlee
This was just a leeeetle too much for me. I just don't love fairy tales (unless they are retellings of ones I already know).
This Side of Paradise by F. Scott Fitzgerald
My mom and sisters and I are doing a bookclub this year, and this was our first read. I had low expectations, so I was surprised by how much I liked it.
Betsy and Billy by Carolyn Haywood
Ella liked it just as much as "B" is for Betsy. I love these sweet books.
Bright Before Sunrise by Tiffany Schmidt 
This was pretty solid YA romance. A nice book to read between trips.
Rump: The True Story of Rumpelstiltskin by Liesl Shurtliff
THIS was a great book. I downloaded the audio and just delighted over every word. The story was tight, the narration was fantastic, and the whole plot was very clever. Highly recommend.
Betsy-Tacy by Maud Hart Lovelace
This was a little more advanced than the "B" is for Betsy books, but Ella hung with it surprisingly well.